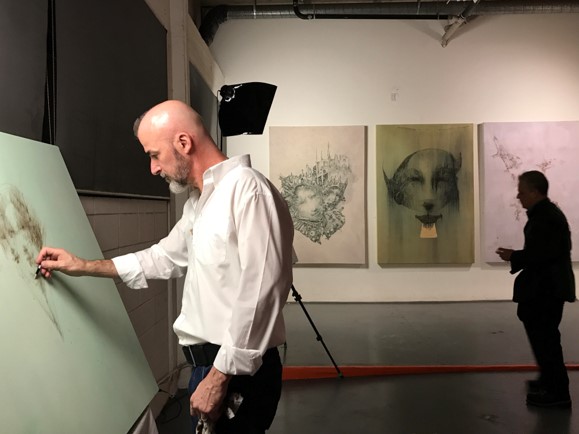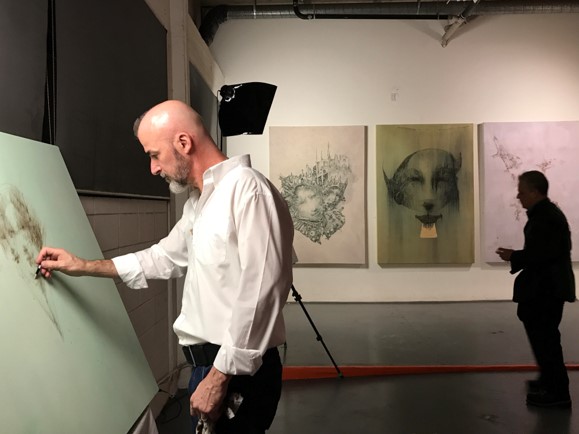 Today we'd like to introduce you to Contemporary Artist Celio Bordin.
Celio, please share your story with us. How did you get to where you are today?
My life is a series of new beginnings, abrupt changes and constant evolution. I did not grow up surrounded by privileges, but I was given a gift: an early, natural talent for drawing. In a way, I understood from the beginning that was an appointed responsibility, and that understanding shaped in me the strong determination to find my own way in the world of artistic expression.
Creating has been for me a need, always. Growing up, I have experimented with different forms of creative expression, from painting and sculpting, to making music depending on the place where I found myself and the means at my disposal.
Since I was very young, I had to work to support myself and my family. I studied art history and art techniques alone, selecting the subjects that most interested me, with an absolutely personal curriculum. What the rigors and demands of the work environment taught me early on were: consistent discipline and hard work.
But when it came to my passion, art, I was free to explore, experiment, invent and refine my message, style, and technique. Guided by instinct, inspired by the work of my favorite Italian Renaissance masters, encouraged by early accolades and successes, I continued on.
My most recent new adventure begins in the woods of Valsesia (Sacro Monte di Varallo) in Piedmont, Italy, rich with the culture of the North Italian Renaissance and with the tradition of great artists such as Gaudenzio Ferrari and Tanzio da Varallo. There, in those remote mountains, are my old Italian home and my studio. (Readers can see a documentary of me working in my Italian home here: https://vimeo.com/118784798).
Three years ago, I was going through a time of doubt about my life, my choices, even my art. Some dear friends told me that my body of work could no longer be hidden in the woods of my childhood. It had to be shared. Their unanimous outpouring had a quality of urgency that stirred my attention. I decided to listen and give my life yet another new start. A really big one this time: I set sail for the "American Dream."
With a suitcase mostly filled with a lifetime of experiences, and a few savings, combined with what some may call courage, others foolishness, I left the Alpine woods of Italy for Los Angeles and the beaches of Southern California. All I knew was that I had something unique to offer, and it was time for me to make my move. Arriving in California as an immigrant artist in a country of immigrants was an indescribable experience.
I immediately fell in love with this multicultural, and multicolored reality. I can definitely say now that my existence has bloomed since being here, and as I learned even deeper levels of appreciation, my artistic expression has also grown. This growth has increased not only my creativity and my gratitude towards those who have helped me but also my desire to help those who are in need and to give hope and courage to those who have lost it.
We're always bombarded by how great it is to pursue your passion, etc. – but we've spoken with enough people to know that it's not always easy. Overall, would you say things have been easy for you?
Coming from the old continent, from a country so poetic and rich with history, romance, and above all, creativity, and arriving here alone and full of dreams, felt a bit like diving into a TV drama, I will not deny it. Sometimes it was crazy and chaotic and definitely polarized in great extremes and opposing realities, not only socio-economic – extreme wealth versus extreme poverty – but also creative, in the sense that I found great artistic idealism and experimentation here, but also repetition, stagnation, and lack of inspiration. With the support and the love of my American wife Linna, and the encouragement and help of yet another best friend, I decided to take the plunge into this new reality, embracing its light as well as its darkness. It has taken me a while to learn how to relate to people here.
Los Angeles, with 36 million inhabitants, is filled with multifarious personality types, including actors… in both cinema and everyday life. At times I have found, even the most fervid declarations of friendship, nothing but a performance. Of course the investing of time and energy for promises made, later revealed to be empty, has caused some disappointments, but these too are experiences that add to one's creative path. I had to master the skill of protecting myself: being more cautious before offering trust, while remaining open to real opportunities.
On the other hand, there have also been wonderful people here that I have had the pleasure to know and appreciate. I found here in LA for the first time, that while it is very easy to meet people, you can also lose them in an instant, almost like a sort of disposable friendship consumerism. This was much different from my personal experience growing up in Italy, where the quality of human interconnections had evolved slowly for me, over a longer arc of time.
In my art, I cannot help but use both time and love. The results have been described as unique and authentic. And that, I realize, this city truly appreciates, much like the discovery of a new, trusted, lasting friendship.
This American adventure of mine has thus far traveled on two parallel if different, tracks: one- incredibly easy and smooth, the other- treacherous and deceiving. These victories and "failures" are of course part of life. These past few years, I am aware that I have been extremely fortunate and I deeply appreciate this incredible opportunity to meet and know a whole new group of people and their culture in its multiple layers, and many dimensions. The challenge to integrate with this new reality, while remaining true to myself and my origin, has been real, and it has given me an abundance of inspiration that is coming to the surface in my newest artworks. Ultimately, my "mountain man" common sense is still my compass to find the best direction for me.
Tell us about your art. What do you do? What do you specialize in, what are you famous for, etc. What are you most proud of as your art? What sets you apart from the others?
In the last five years, I have concentrated myself solely on a particular technique: intricate fountain pen drawings on canvas. Following the Italian artistic tradition, I mix inks to obtain my own specific gradients of colors and shades. I use copper, silver, and gold leaf as accents. I stretch my own canvas and start every new process with excitement and expectation. But in this whole process, the most important thing to me is that viewers find the thread that accompanies them in their own unique journey of discovery inside and through my artwork.
I work with the subconscious part of my brain; standing in front of the canvas, I don't plan what I'm going to do and then execute it, rather my art happens while I am in (and words fail me here) a state of trance; my hand holds the fountain pen, and feels as if it is acting of its own accord, guided by a will and an instinct of its own. I am but the vehicle.
As I work, the fountain pen nib rubs quickly and frantically on the canvas. As the ink begins to heat up, it flows more quickly, becomes alive, generating an intricate series of lines and stains, on and on, until either my hand must stop from exhaustion, or the ink cartridge must be recharged.
Slowly now, the ink penetrates the canvas, impregnates its fiber. Sets. It is thousands and thousands of interwoven lines. I glimpse, and between the weaving, I witness the birth of faces: ephemeral characters, powerful ones, Kings, Queens, Paupers, Heroes, Rascals, Angels, Animals; and architectural compositions: entire cities or landscapes of ancient worlds emerge, each with its own history.
Real, with their own personal narrative, each subject demands to tell their tale: moments are captured in images: fragments of a past lived, different historic periods, far away worlds come back to the present.
Sometimes I feel the painting is already on (or rather "in") the canvas.
My role then is simply to find it and extricate it from chaos.This to me is one of the most intriguing mysteries of the process of creative art. Some have described me as a visionary, a Renaissance man, a Leonardesque artist. I can only humbly say that, like the masters of that time, I work with discipline and strive to perceive and be sensitive and open to the energy of my surroundings.
My art diverges from the contemporary abstract, pop, and minimalist art landscape in the sense that the apparent immediacy of the story evolves and its multiple facets are revealed slowly and gradually through a great amount of detail.
I am well aware of the complex interaction in the world of art dealing; between the pull towards innovation and the firm grip of the status quo. Thankfully, there are dealers, gallerists, critics and courageous curators, who still bet on the talent, authenticity, and uniqueness of intriguing, if unknown artists. At times the difference between anonymity and success is just visibility. I love what I create, and I am set to continue with my research and evolution. I must.
So, what's next? Any big plans?
I want to merge my love of live drawing (where I create a piece of art in front of a live audience) with my love of museums by partnering with museums around the world to create one–of–a–kind, site-specific works and installations inspired by the location, people, and artwork present there.
I also like to do programs where I draw live accompanied by: cutting edge DJs (with varied musical backgrounds), live musicians (including classical ensembles), and even opera singers. I also want to connect with forwarding thinking gallerists, curators, and art dealers who resonate with my work.
Who else deserves credit? Did you have mentors, supporters, cheerleaders, lawyers, clients or teammates who played an important role in success? If so, who are they and what role they planned, how did they help you?
I want to thank my parents, my friends who first believed in me, the dealers who discovered me, and my collectors who buy and exhibit my artwork. Thanks to the C.C. family who so liked my art, they generously granted me free access to studio space in the Los Angeles Art District for almost two years, where I had the space to produce over sixty canvas works of which 16 are large 79" x 55" pieces.
As you know, creating art isn't free. Art supplies are very expensive, and besides, artists need to eat, keep a roof over their heads, and at times even sleep. It is difficult to stay away from the lure of fashionable compromises. The need for an artist to remain independent is paramount to the integrity of his production. For this, I would like to thank VoyageLA for giving me the opportunity to introduce myself to their audience with this interview.
I also want to thank Marina Kaminsky (www.marinakaminsky.com), a very talented artist, president of ADDA "International Cultural Association for the Defense of the Rights of Artists and Collectors" (Instagram: @adda_international), and a good friend to whom I owe a great debt of gratitude for her support.
Thierry Bertini, an amazing Director who created the documentary "H24ars" (https://vimeo.com/118784798) describing 24 hours in my life as an artist in the woods of Verzimo, Italy.
My greatest THANKS I absolutely owe to my beautiful wife Linna for her unwavering love and support, and to the Universe for the gift of life and creativity bestowed upon me.
**Interview translated (It/Eng) by Odette Lionelli lutienne@me.com.**
Contact Info:
Getting in touch: VoyageLA is built on recommendations from the community; it's how we uncover hidden gems, so if you know someone who deserves recognition please let us know here.