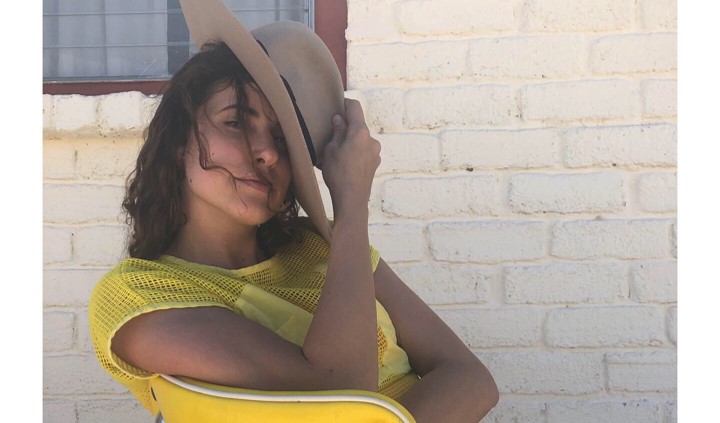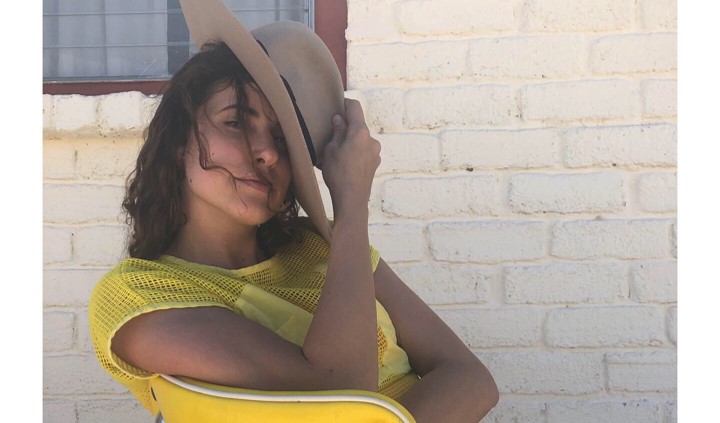 Today we'd like to introduce you to Catrina Del Re.
Catrina, let's start with your story. We'd love to hear how you got started and how the journey has been so far.
It all started when I was born a premature hairy child living in an incubator for eight weeks wondering about the big wide world outside. LOL.  I  still don't show my ape-like baby pictures to anyone, someone could blackmail me if they got ahold of them! Regardless of my hairy beginnings, I was always a creator from my earliest memory. I was an avid reader, hyper creative and always found my thoughts leaned out of social norms. In first grade, I remember I was wearing this expensive disney outfit that I despised, mainly because it had daffy duck on it, my least favorite character. So I fringed the sleeves and made it my own. The same thing happened two years later accept it was the lower portion of my hair, I wanted variety. My mom had grown accustom to me adapting myself over the years.
My first real go at being an actual creative, was around the age of three. I was singing in a local girls choir Sunshine Generation and performing The Christmas story in December with my brother. We painfully and truthfully had to re-enact through acting, sing, using any instrument or form of interpretive movement to tell the story. All the while, my mom and my dad would gleefully record and watch-ah memories- burn all the VHS mom! At six or seven, I was getting good at this whole Christmas production thing. I would sweat over it for a week, my brother would often look at me as if I had lost it entirely. I was obsessed with every detail being in its rightful place. From programs, to props aka- coloring massive amounts of paper yellow and shredding into hay, lighting the stage to popping on surround sound music I was manic on making it worth the tape recorders time, it had to be quality.  My brother and I had quality down to a science at ten. Our meticulously planned out production cued waterworks. We loved to make our mom cry and would make marks on how to escalate the tears for next years performance. You could say my tastemaker self was already highly developed, maybe the incubator was to thank?
Through those impressionable years, it gave me the confidence to delegate my friends in participating in neighborhood performances on our breaks, submit to national campaigns, like Pepsi and Franks looking for national talent, and create stories I thought would be good conversational pieces. By twelve, I was Glory To God-ing in church choir, school choir, playing in theatre, and mastering the flute in school band. My best friend, Anna and I were always in tight competition for first chair. All while, maintaining a healthy GPA, social circle, and leading as captain of my soccer league. I had all the aspirations of being Mia Hamm.
Then I shifted, at thirteen, when my hormones should of been kicking and the loom of teenage angst should of taken their natural course I was drastically losing energy and weight. My world came crashing down in a moment, while I was competing for first in a competitive soccer tournament. I collapsed-my heart was racing a million miles per hour, I couldn't catch my breath.
 When I went to the doctor, I was quickly diagnosed with a hyperactive thyroid; because the disease had barbaric ways of treatment in the past, modern science of slowing a wild thyroid down were a bit more experimentative…aka…swallowing a large pill of Radio Active Iodine– Yep, shutter away- I did.  I had to digest radioactive iodine, while the doctors stood by in hazmat suits. It was something out of a sci-fi film. Which quiet possibly is my reasoning behind why I love sci-fi so much now. It seemed simple enough objectively, "knock it out"  have a small nuclear bomb explosion internally. The result of this modern day, miniture explosion, for me, landed with taking one small pill every day for the remainder of my life. A constant re-adjust from my prior thyroids wild antics.
What however, went unmentioned was the yoyo of regulating. I went from a 1980's anorexic supermodel -but like so hott fashion skinny- to a very round figure. Yes to the more openly acceptance today, but in JT's frosted tips era of the early 2000's and a teen just wanting puberty- I quickly loathed the skin I was in.  In a small window of time, I had gone from the girl doing it all, to losing it all and barely hanging on with an eating disorder of oops' I did it again- over the toilet. I had coined the term "the sick girl," and bullied for my extreme body image fluctuation. My only survival was TV-LAND, Cartoon Network and MTV. The whole experience had left me insecure and introverted dropping me off in a place I wasn't aware existed. The desert of my soul.  Being couch ridden for almost a year,  I did some heavy creating, through journaling, creating stories, collaging, thinking big asking those questions, and daydreaming of characters I could possibly be or create as a performer, Lucille Ball and Carol Burnett became my heros. In his lunch hours my dad and I would watch war films and the history channel and during the summer my mom and I would bing nic at nite and old films. It all aided in me finding my way out back into the world.
In high school, I had began to find my way to the activities I previously had enjoyed socially. I became a captain once more of the FROSH soccer team, clearly the school lacked in Mia Hamms, and enrolled in all things performance. Then it happened, as if it were too much, at once… I started fainting in classes. I'd be wheeled out of class and taken home on numerous occasions, where again I would resort into my introverted flow. It took a year of me fainting for doctors to figure out why. During which I lost friends,  called at one point the "dying girl." and had developed another complex. I ended up with Miners disease, which I have learned as an adult was a direct result of the radio active iodine I had taken.
I refused after my diagnosis, to grow deep into depression again, so I rebelled. All the performing arts at school I wanted to participate in, were closed to me because I was physically unreliable. I refused however to sit and sulk,  I kept going. I worked in the costume department, lighting department, took unusual english, art and social courses, enrolled in a on camera film class off school grounds, and experienced my first Hollywood set as an extra. I became a thespian and won the attention at a state creative school fair for a visual presentation based off a novel.  I was insistent. For a teen who wanted to express and remove herself from her circumstances, creative rebellion in any facility, was the only thing I could find control in.
Three years and a healthy wiser teen later,  I was in an accident leaving my face half-burned, for six months, in my sophomore year of college. I wore copious amounts of scar reducing products, a large hat to block sun and sunglasses, even in class, I remember a few college boys in my Ethics class, irony, would call me two face. I began developing a habit of thinking that I was cursed or doomed every three years. My superstition was confirmed once more, another three years after, when my father unannounced left our family in the dust after a series of mental and physical breakdowns. It would be yet another three years until he would resurface.
I moved to Arizona from Colorado for a change of pace and clear some air. I also, did the thing your not suppose to do, follow a boy- rebellious I know. In my new flow of life, I was approached by model, who told me I should work with this female editorial photographer and start modeling, needing a new creative outlet, I agreed. Diane shot me, became a mentor, and through her mentorship, I began re-aligning my jankedy confidence. It lead me to gain the attention of a local talent manager, which lead me to be cast in a pilot, shooting in sunny Los Angeles. My fate became quickly sealed.  I moved to Los Angeles,the following spring and the boy followed me.
I remember how free I felt when I arrived. The wide eyed, full of hope, heart full of dreams enthusiasm. Along with modeling and acting gigs, I fell more than I booked. Seeking creative fulfillment and a streamlined healthy personal life, was more difficult than I had anticipated. I had quick friendships, and falling outs with creative ventures. The grind of a day hustles and jobs of "would you like another cocktail" "gratuity is not included." also began wearing me out.  I was retreating this time not because of an illness but because I was worn out. Then it happened, in a flash, I discovered Spiritual Psychology, and it changed my perspective. My approach to living out creative pursuits and my overall wellbeing day to day shifted. I had a lot un-realized pain and anger from my past stories, which I kept reliving. I began studying with Kelly, the real life version of The Little Mermaid.  She took the effort to really listen to me and let me vent it out, without apologizing for what arose. She was my fairy godmother, cleaning up my messy bits and showering me with acceptance. The practice, along with meditation, helped me let go of my baggage, and throughout its process had passionately re-aligned me with what I love to do- create and create specifically without getting side tracked or lead down roads not meant for me. She re-adjusted my intuition and I found my way back home, to me, a place I had not truly been to, since before I had gotten sick.
I am. To where and what I was seeking. Every experience was a tool for my soul, an unfolding of self; through the friendships and people woven throughout my experiences. Each providing lessons to teach me what needed to be learned.  It all has ever so poetically led me here and now, to a thriving Cat who has grown to appreciate and unleash herself unapologetically as a creator, actress, storyteller, spiritualist; always learning and operating at a higher level of understanding, communication, and consciousness.
Overall, has it been relatively smooth? If not, what were some of the struggles along the way?
My road was full of bumps and pull off's. If I were to add any other struggles it would be the process of finding my community, to surround my everyday with. Trust was a massive hurdle I had to overcome. It took me a significant amount of time to heal, and allow worth in, to silence my fears of rejection and judgement.
Alright – so let's talk business. Tell us about Royal Misfit – what should we know?
Surprise! I have two companies eek! I am going to indulge in both here if thats alright. Royal Misfit is my first love. She came around about six or seven years ago. It was a combination of of my mom telling me as a child, you should be proud to be Macedonian you are related to Alexander The Great. I knew and believed  in my heart of hearts, I was Royal. Until… I met other Macedonian's here and they all had the same story! Haha. It also was me acknowledging, I had been a Misfit for a large portion of my life it was apart of my essence.
RM's deep roots from concept to being, began when my father resurfaced and I was coping with what that meant for me. I unearthed he was struggling with mental illness, which led me into me spending my time decoding his behavior, trying to figure "him out" and why he always would derail. Through the process, RM found depth. As a storyteller I was profoundly moved in telling anti-heroic stories and diving into complex female characters in my performances. RM  had moved me to travel to various continents, learn from other cultures, dive into the homeless epidemic here in LA and volunteer my time to underprivileged women and girls. She became my catalyst to living fully in my own skin, accepting my past story, flaws and moving through life with aligned passion. RM over time has shifted as I have shifted, what began as a way to identify myself in my career as an actress, additionally became a platform for social awareness, creating poetic content, inspiring healing,  consciousness all while incorporating storytelling and sprinkling rainbow bits of me in.
Whats next you may ask? In the near future, I  am looking to start an online consciousness magazine, called yes you guest it, Royal Misfit. I am looking to launch sometime in late 2020 or early 2021.  The online publication, will be a compilation of everything I love about the sustainable and consciousness realm through visual, poetic storytelling and style.
What I am most proud of about RM is how far it has come and where it is headed. She was and continues to be a source of exploration of self for me, as well as, a vehicle for my voice to grow and change through living a fully creative life. My advocacy continues to lean towards reaching out to other Misfits through consciousness, from all around the world, so we collectively continue to rise up and note out- I can take up space! I am imperfectly human and that imperfection is my foundation to authenticity and living life on my own terms! Okayyyy, Preach!
My other company, I have butterflies just writing it! Rising Antidote Production. I am an executive partner alongside Elina Dmitrieva & Jessica Greer, and our EP is Kaleb Rich Harris. Our origin was in perfect alignment and is quickly becoming something of a story in itself. We are all creators and come from different backgrounds, which makes us versatile and unique when we approach our own intellectual property and others works. A true gem of a company and I could not be happier to rise together with two other magnetic boss babes and dynamic EP!  Currently we are in pre-production for our first large budget film, a period piece named Geraldine. A 1950's housewife sworn to secrecy about her past comes face to face with her injustice ten years later. The story is based on actual events, which shaped millions of women's lives in America and around the world. Her story came to me in a dream.  It was dark, and the air was heavily laced in fear, it was damp and cold. Cue Stranger Things! Then she came in, Geraldine, in a nightgown. It was soiled and appeared to have been worn for days on end. Her face was gaunt, drawn, caked with an endless chain of tears. She quietly, yet with force spoke two words, "Help Us." I awoke gasping. My journey to unearth the story began. Two years later, here we are, ready to share this story with the world. Geraldine for me, was apart of the catalyst to our why in beginning the company.  We are learning a million things per second, and along with side jobs, auditions and shooting schedules, we carve out two days a week to build our company. The beauty of our consistency is the gates keep opening, opportunity keeps aligning and content is unapologetically falling into our hands. We are rising and our power resides in our bond, we are not moving alone in our dreams but merging them, we have a respect for one another and we find joy in what we arepursuing. We are a creative tribe, cackling, laughing, dancing through all the learning curves and successes. I am thrilled for our coming year ekhem, year's plural, for I know we are in for an epic adventure.
What is Your Mission Statement?
Rising Antidote Production aka RAP's mission is to vaccinate the consciousness of media, into a level of awareness one story at a time creating content that enriches minds, elevates the spirit, and gives in to all the senses.
When we own our stories, they no longer own us. We are the creators of our experiences. Life is what you make it and I intend to walk my dreams and sprinkle light and love whenever, wherever I can. Thank you for taking the time and energy to read my interview.  In Gratitude Always. xx
Any shoutouts? Who else deserves credit in this story – who has played a meaningful role?
Yes, so many beautiful people.
Firstly, my mom, Mary, she has been my advocate, through all the ups and downs- I always have her by my side.
Tyler Del Re, You know, you're my rock you keep pushing me even when I want to give up.
Diane Brandon, you saw my creative soul when I was running away from myself. You are apart of why I am in Los Angeles.
Mark Verge, you are an advocate for innovation, and I am forever grateful for witnessing the beautiful ways to pay it forward in business.
Kelly Farrell, you uncovered my light and brought breath back into my soul- allowing to see my greatness at the full magnificence it is.
Contact Info:
Website: www.royal-misfit.com
Email: catdelre@royal-misfit.com
Instagram: @_royalmisfit_
Facebook: catrinadelre
Other: @risingantidoteproduction
Image Credit:
Actor Essentials
Getting in touch: VoyageLA is built on recommendations from the community; it's how we uncover hidden gems, so if you know someone who deserves recognition, please let us know here.