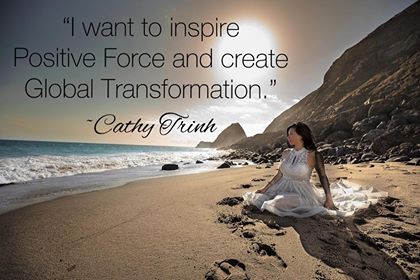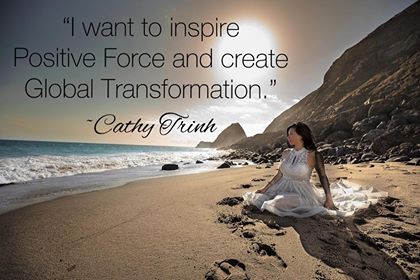 Today we'd like to introduce you to Cathy Trinh.
Cathy, let's start with your story. We'd love to hear how you got started and how the journey has been so far.
I am a Vietnam-born, California-raised, world traveler, motivational speaker, refugee immigrant, cancer survivor, and advocate for mental health. I have also recovered from drug use, alcohol abuse, and self-abandonment, and have answered my life's calling to help others discover their passion by creating a joyful life they love. I do this through teaching soulful life lessons on my Journey.
I consider myself as an expert in mind, body, and soul healing, because I have healed from the depths of despair and unimaginable hopelessness.
On May 29th, 2020, I published the book "The Journey, Mastering the Art of Slowing Down into a Beautiful Existence," which I know in my heart will change the world. It will transform the lives of millions, heal the hearts of many while inspiring positive force and global transformation. My greatest fulfilling life purpose is to help others unblock self-limiting beliefs to gain confidence in creating the life they deserve and to tap into their own intuitive gifts trusting their decisions in building the life they love.
Overall, has it been relatively smooth? If not, what were some of the struggles along the way?
Before becoming a Healer, I experienced great struggles, downfalls, suffering, major life lessons as well as similar abuse as many did. We all have a comeback story and here is mine…
I am a refugee from Vietnam. When I was one, my teenage parents and I were smuggled out of the country by a small fishing boat. After four failed attempts, we set sail into the sea, based on faith alone. By God's grace, we were rescued and spent nine months on an Indonesian island refugee camp. By 1980, we made our way to the US and luckily to beautiful Orange County, California.
I grew up in a blue-collared immigrant home and a gang-infested area in Southern California. I was a good student. A nerdy clarinet musician and average basketball player. Mom was a seamstress and dad drove the metro city bus. My parents struggled to raise three rebellious girls. Overall, life was relatively normal until after a major knee injury during a basketball game.
At the age of 13, I developed body image issues due to atrophy due to the injury, food, and weight problems, and got hooked on dangerous doctor prescribed weight loss pills. For the next six years, I was in a mental prison. I suffered from constant insanity and painstaking need to numb every feeling, anxiety, and problem growing up. Unfortunately, I became a lost girl.
At age 15, I became a victim of a sexual assault. I got picked up and kidnapped by a stranger while waiting for a bus in the early morning. I am part of the 2% statistic who didn't know their attacker. Riddled with shame and guilt because I kept the secret of never letting anyone know I hitchhiked and hopped into a strangers' car, left stranded in the cold morning a city away from home. This event changed my life forever. For the next 20 years, I trudged through life with a "victimhood mentality". I always felt so alone. I was no longer a lost girl, but I was simply a person nowhere to ever be found. I will never let you in and you will never really know who I am.
At 19, I had a mountain of problems while in college and became a full-blown drug addict and alcoholic. I even acted on my thoughts of suicide by drinking and overdosing on pills. I wanted to die because I simply didn't know how to live. When I came to consciousness, I realized I failed my first suicide attempt. My heart broke for me. I was completely powerless and that's when the walls really went up.
By the age of 20, God had revealed himself at least a dozen times for five or more years prior but I didn't want to listen. I was too afraid of being punished for all the pain I caused myself and others. It was a shame because no one knew how badly I suffered. I ended up coping with the pain by myself. I was very lonely.
At 21, I hit my first physical, emotional, and spiritual rock bottom. My life was completely unmanageable. I graduated from college with a huge amount of debt. My credit score went below 500, but my self-esteem was even lower. Self-dignity and self-love were non-existent. Your love was never enough. I said they broke me, but my truth amounted to "Never being good enough." I'm sure you can relate.
At 22, I found my way into recovery and sobered up, but life still happened. It still presented all its pain, trauma, roller coasters, manic episodes, and suffering. I forced myself to live through it with only intermittent levels of confidence and self-esteem.
At 27, I bought a little white picket fence home. Married a man with bipolar manic depression with untreated alcoholism and addiction. Life was nothing short of a disaster. With my new husband in and out of mental hospitals, prison, and support groups, I found peace from time to time. I thanked God for those moments of clarity and happiness. I found myself wandering in and out of therapist offices, support groups, self-help, and personal development programs. Life started looking up. And so I thought. I fought more battles. Although emotional rock bottoms were the worse.
At 29, I lost my home. More trauma came in the form of sickness, chronic pain, mental illness, domestic abuse, and cross addictions. At that point, I lost myself again.
At 30, I gave birth to the most beautiful human being. He saved my broken heart and helped put pieces of me back together before terrible things happened. His innocence gave me purpose and hope. By that point, I had the courage to stop rescuing my spiritually sick and wounded husband and finally got divorced. Luckily, I found my way to my career and continued to play with six-figure incomes and dusted myself off. My phoenix rose from the ashes.
At 40, cancer made its way into my body. I fought hard and regained back control of my life. I'm happy to report I won the battle. No more fighting. Only living. God came back with a vengeance and I've been found.
Today, at age 42, there are no words to describe how grateful I am, for every breath I take, every moment in the day, every bill I pay, every lesson I've learned, every person I talk to, and every experience I've gained while being alive. One day it happened. I found a peace I've never felt before. From being a former drug abuser, alcoholic, cancer survivor, to being a mother, friend, speaker, truth storyteller now with a credit score of over 800.
It has been a long road and a difficult journey. I'm sharing the details of my life in hopes that it would touch and affect at least one person. For those of you who are still sick and suffering, I am proof that there is always a pathway back home.
SoulCare Society – what should we know? What do you do best? What sets you apart from the competition?
As a profession, I am an Executive Recruiter and Partner of a successful executive boutique search firm helping clients hunt for top and talented CFO's and financial executives. I have served as a recruiter for the 20 years in a row, filling one position at a time within my professional community. We have a small, but "Mighty" Mighty team.
My passion and side hustle for the past 18 years have been an Inspirational Speaker, High Performance/Growth Mindset Coach, and Life Mentor. I have sponsored dozens of women with addition in recovery. I am God's humble servant leader and love sharing the message of hope and healing to those who have suffered or are still suffering and want a dramatic change in their lives.
I go into prisons, mental institutions, recovery homes, support groups, churches, women's and men's groups, businesses/corporations, high schools, and Universities to share my testimony of love, light, laughter, and tears – and to teach the ultimate practice of Self-Love through the power of Self-Care.
With tremendous passion, an expressive voice, and unbridled personality, I forged a global community platform to raise awareness for SelfCare by slowing down into a beautiful existence during the COVID era.
I am the Founder and Creator of SoulCare Society, a global women's group with the mission of raising the highest vibrations of positivity, create global transformation, and uplifting every spiritual thought leader on their Journey through love, peace, compassion, SoulCare, and SelfCare.
Within four days of inception, we raised $1,600 to donate to at-risk families and those in need. By the 7th day, our community hit 700+ members of inspiring women from all around the globe. (U.S.A., UK, Nigeria, Philippines.) To date, we currently have over 1,400 women on the same Soul mission. Within one week, we curated a Global Woman's SoulCare Conference series, featuring five women with five powerful inspiring, and soulful stories on a monthly basis!
Our inaugural conference speaker line-up consisted of:
• Dr. Kate Truitt (Neuroscientist)
• Rasha Goel (TV Host/Producer)
• Helen Jiang (Biohacker/Wellness Entrepreneur)
• Dee Lee (Events Expert)
• Norrie McCreary (HR Executive)
We also recognize and acknowledge the achievements of women within our global community by recognizing them as the "Woman of the Week/Month/Year." This has caused a ripple effect with extraordinary energy and miraculous network connections. We are all coming together to help promote positivity, encouragement for one another and prioritize SoulCare through SelfCare. As members of the SoulCare community we help one another live from a healthy Soul, wisely lead others towards authentic transformation, and creating unstoppable positivity.
What uniquely sets us apart is our Global Vision, which is as follows:
We move forward together as a community inspiring positive force and global transformation creating change.




2. We mirror similar soul life experiences and shed light to help on our journey.




3. We highlight personality traits to help change and grow.




4. We support one another and help turn weaknesses into strengths.




5. We balance our energies and show different sides of life.




6. We find patience, understanding and compassion for others.




7. We help others in their healing letting go of certain events emotions.




8. We work together to create, brainstorm ideas and bring visions into the light.




9. We guide one another on the right path.




10. We advance our Soul and Souls journey.




11. We work together to support our global cases and create bigger visions.




12. We step in when and lend a hand where needed.
It's time to Love yourself!!
I am so proud of the work that we are doing in the world and strive to continue to be a contribution to the World. I would like to encourage looking deeper within yourself and the layers unveiled by life to discover hidden gifts and self-potentials that are just waiting to be recognized. We all have it within us.
I also serve as the Vice Chairman of the Board for Sisters Without Borders (www.sisterswithoutborders.com), an international Non-profit organization formed on the foundation of inspiring female leaders around the world, across various traditional boundaries to lead fulfilling and productive lives and become positive role models for the future worldwide. We have created an online university for girls and women creating virtual courses that support their leadership, personal growth and well-being.
Sisters Without Borders is comprised of diverse, strong, smart, savvy, and accomplished and ambitious panel of leaders on the executive board. We value helping all woman globally to have confidence, empathy, strength, perseverance and to succeed in all they do. Advocating liberal arts, global competency, cross-cultural engagement, and positive mindset to empower a strong foundation for self-growth and help build bridges for a brighter future for all women around the world. 
My latest recognition in 2020 is running for 2021 "Woman of The Year" campaign for the Leukemia and Lymphoma Society. I am excited to step up for this challenge and being a voice of hope and positivity for cancer survivors. #LLS #CancerSurvivor 
What is "success" or "successful" for you?
I grew up equating money and power with success, and that framed my definition of success. Over the years, it has changed as a personal mission to help as many people as possible on my journey. For me, success is now focused on the time I invest and dedicate to the work I do that I'm not passionate about and that is fulfilling. In leveraging my zone of genius and creativity, I maximize the potential to help others discover a meaningful way to provide freedom, lifestyle, and experiences that I wish for myself.
To experience daily joy and fulfillment in our work and beyond. I want to live fully my purpose in life and leave a legacy of having made a difference in the world. True purpose and having a positive impact on the lives of people by uplifting them to think and act ways they haven't even considered as a possibility.
Contact Info:

Image Credit:
Mynor Guerro, Caroline Trinh, Jonah Rodriguez
Suggest a story: VoyageLA is built on recommendations from the community; it's how we uncover hidden gems, so if you or someone you know deserves recognition please let us know here.