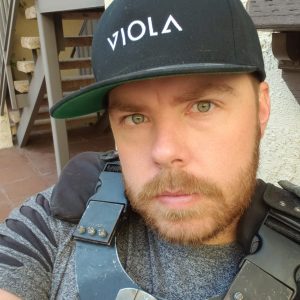 Today we'd like to introduce you to Casey Oberhansli.
Hi Casey, please kick things off for us with an introduction to yourself and your story.
One summer day, my brothers, best friend and I were happily playing a video game (it was summer break) when my mother came in and told us that our sister needed to go to the hospital. My sister had been walking around in pain for several days and at the hospital the doctors found that her appendix had burst. She and mom were at the hospital for a couple of weeks. Dad still had to work and being teenage boys, we naturally spent our alone time very wisely. We practically melted our brains playing videogames. Soon we had enough. We were all more creative minded and after we had gone mad with our freedom to goof off, we realized that we didn't want to waste our summer. Together we decided to try making a video game of our own. The four of us spent the next year teaching ourselves to code, animate, and design levels. We were making great progress until we discovered that my mom's windows 95 pc just wasn't powerful enough to make the game we were planning.
Instead of letting all that work go to waste, I suggested that making a movie might be a fun alternative. We had a blast! We spent so much time laughing that we barely were able to put the project together but in the end it ignited a passion that has lasted me through school and up to today working in Hollywood. For college, I went to Savannah College of Art and Design, where I majored in film and television. In school, I was afforded the opportunity to work with a Steadicam. I loved that machine. After school my interest in the device and way to move a camera continued. In 2012 I took the Steadicam workshop in PA and was able to learn from the inventor Garret Brown. Then I invested in my own Steadicam and moved to Van Nuys, CA. Later I moved to Sherman Oaks. I have continued to work and grow in the indie side of Hollywood. I have worked on Features, Commercials, Music Videos, and more. Today I am continuing my love affair with movies through cinematography, though I am starting to direct more (which was my goal from the start)
Alright, so let's dig a little deeper into the story – has it been an easy path overall and if not, what were the challenges you've had to overcome?
It has not been a smooth road by any account. I think Hollywood is difficult for anyone. The city is too expensive. People expect you to work for nothing but expect 130% for allowing you to work with them. And it's competitive. Doing the work isn't enough, you have to be good at your work. I think those struggles go without saying. I was raised in a small town and though my parents were talented and worked hard, we never had much money. Schooling was difficult to afford. Moving was difficult. It's always been difficult to make "the next move" because money has always been a restricting factor.
As a result, I became very good at doing a lot with very little. One of my school friends, when introducing me, told her friend that, "Casey is the kind of person that you give an impossible task, and against all odds he gets it done. It's been a handy skill because budgets in LA are never enough but audiences don't care about your restrictions. The biggest challenge has been with my family. My father right after I started at SCAD had a rare reaction to an antibiotic that completely destroyed his world. He had gone from the guy who builds houses and still runs or bikes to work just to stay fit. He was the life of the party and had that stripped away from him. Disabled, chronically in pain, mentally checked out, too weary to even run a simple errand. It was a crushing blow to my family. In my last year of college mom was diagnosed with colon cancer. I left school (though attended my last quarter online) to help. Dad still was in bad shape and the cancer treatment place was a good 3hour drive. I calculated that I put 5000 miles on the car taking mom back and forth for treatment. Finally things were stable enough to make the move to LA, although Dad's trauma had now turned to chronic pain that he was struggling to live with. It was heartbreaking leaving but fortunately it is only a 6 hour drive to get home so if I was really needed I could go back and help.
And for the next several years, I had to go back quite a bit. Dad was really suffering and sometimes when I would see the "home" icon on my phone I would feel a pit in my stomach for fear that he was taking another dip. Through a long road, he has finally found a treatment that helps. Unfortunately in 2019, my mother once again was diagnosed with cancer. This time we feared for the worst as the DR. who discovered it felt that it was a very malignant version that might be too fast to even treat. In a rare show of Oberhansli good luck, it turned out that he was mistaken and it was "only" a stage 1.5 cancer. Of course treatment was more difficult on mom as she was older and a little tired of bad news. By comparison 2020 was a little more relaxing, in spite of the world trying to end! These may not be career struggles, but great careers are built out of good foundations, and difficulty in my family definitely made it harder to really focus. Thankfully the strength of me and my family lies in never giving up even at the worse so I have still managed to make good strides.
Thanks for sharing that. So, maybe next you can tell us a bit more about your work?
I love making things that excite people. Growing up, I loved to watch Star Wars, Lord of the Rings, Pirates of the Caribbean, the kind of stories that were mixed with some kind of element that you can't get in everyday life. I love to try and add elements like that into my own stories that I put to film. For instance, my short film coming out this year "Pony Express" is a period piece that includes snakes, horses, gunfire, and costumes. The funds were very low for the project and some people didn't think it was a great idea to try a period piece. But it turned out great. I still have cast members saying that it was their favorite shoot. I always joke that it's very rare for a short film because there are no scenes in an apartment bathroom! I always say that your films aren't judged on how hard you tried (unfortunately), they are judged on how close it is to anyone's favorite movie. There's really no wiggle room. The audience doesn't care that Game of thrones had hundreds of people for VFXs and you only have one or two but that only means that you have to be smart about how your present your work. That is something that I am great at. I complete tall orders because I know how to maximize limitations. I have skills from building, to VFXs, to Shooting, to writing. I can do a lot of the work myself (sometimes it's a double edge sword though because it's obviously not a one person job!)
Alright, so to wrap up, is there anything else you'd like to share with us?
It's hard to be the next James Cameron or Spielberg, all the cards have to fall into the right place in the right order…but it's not so hard to be making movies and doing what you love, that only requires that you don't give up.
Pricing:
Steadicam Day rate 1,000
Camera Rental 400/ day
DPing Starts at 500/day (depending on project)
Contact Info:

Image Credits:
Image 2 and 3: David Salinas Image 4: "Pony Express" image 6: "48 Hours" Image 5: "Eye"
Suggest a Story:
 VoyageLA is built on recommendations from the community; it's how we uncover hidden gems, so if you or someone you know deserves recognition please let us know 
here.