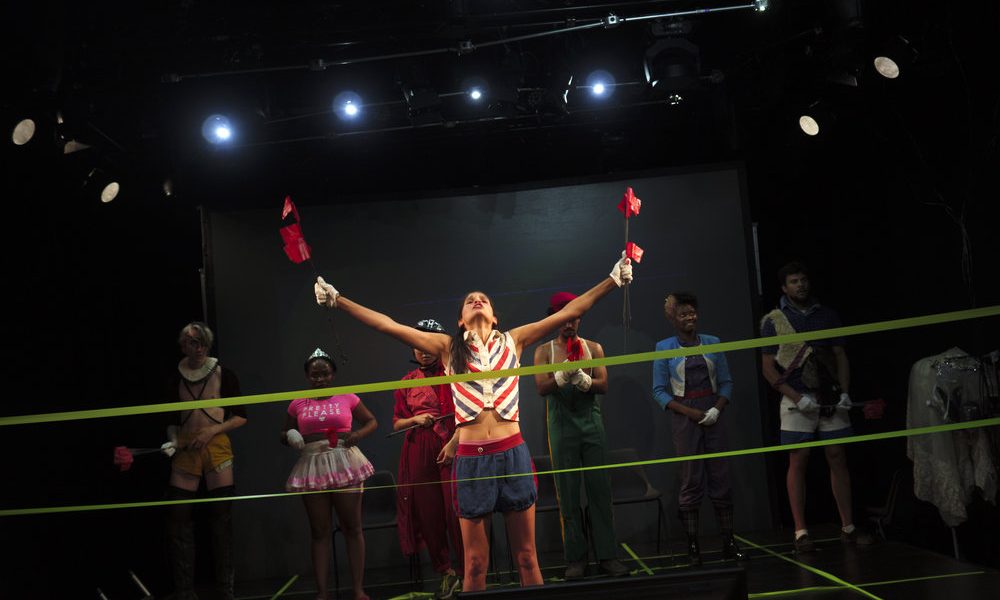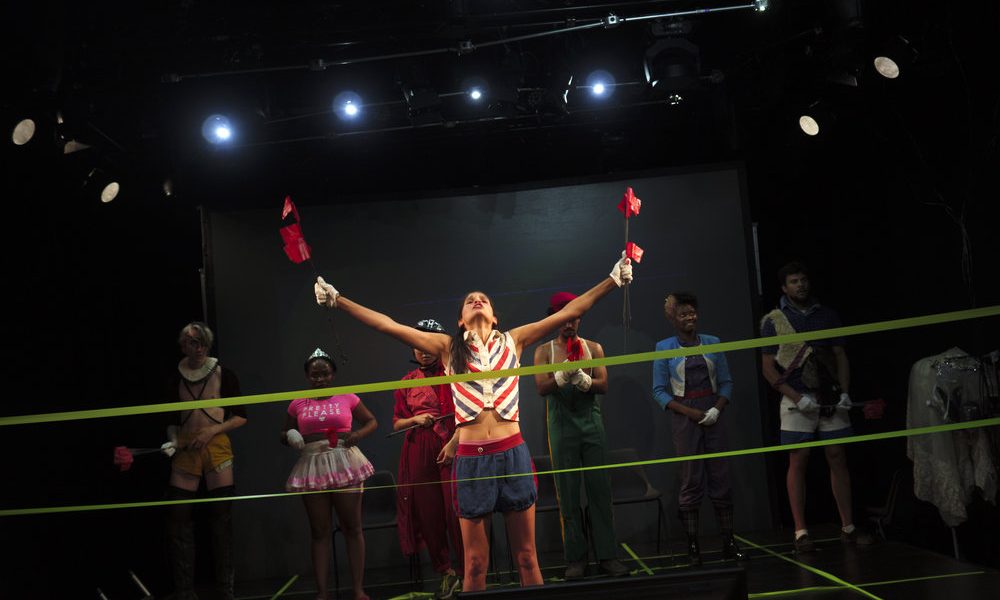 Today we'd like to introduce you to Carolina Vargas.
Thanks for sharing your story with us Carolina. So, let's start at the beginning, and we can move on from there.
I grew up in the countryside in Chile, close to nature, a simple life and my grandparents who are the heroes that lifted our lineage from poverty and lack of education. My childhood, with its light and shadow, is a big force that informs my creative practice till now, it's always present through nostalgia, wildness, drive, struggle, and playfulness.
When I was ten years old, I moved to Santiago, Chile's capital city, with my mom and sister because my parents had gotten divorced. Those were pretty difficult and sad times, but I found relief in reading and training with a cheerleader team everyday for hours.
One day, I woke up with the strange idea/desire of wanting to take dance classes, I didn't know where that came from since dancing was never a thing in my family, but I was obsessed with it, and since there wasn't any money, I reached out to several dance schools asking for scholarships, it didn't matter the style or where I just wanted to dance.
I remember the only school that replied was the ballet academy "Sara Nieto" where after meeting with me in person, I was able to study for five years. It suddenly made sense my like for classical music; it was an early child intuition of what was gonna happen. I remember with big gratitude my first day of class, I got there, and there was a box with a leotard, a pantyhose and ballet shoes waiting for me. I fell in love with it, I felt free, I felt joyful.
When I was fourteen years old, because of my ballet school, I was called to audition for a TV show that was looking for a girl ballerina. I ended up getting the part, and for the next three years, I was part of this huge phenomenon. Amango (the TV show) was about the life of a group of teen artists and friends, it got so popular that we started touring and giving concerts around the country.
My life was going to school, ballet, shooting for the show and concert shows on weekends, it was fantastic!! I felt like playing a very fun game with my friends, we were all so passionate about dancing and singing. When I finish high school, I decided to step away for a bit from TV because I wanted to get formal training as an actress, so after taking a test and auditioning, I got accepted and enrolled the BFA in Acting program at the Pontificia Universidad Catolica de Chile.
I fell in love with theater and practice as research. I was again discovering the world and its mysteries. I kept working on TV but just small parts. I've always been nerdy and studious, so during these years I gained so much referents, knowledge, practice, and questions, suddenly I was immersed in theater, performance studies, and aesthetics.
After graduating I worked on seven theater productions, I taught acting classes for teenagers and did research. I was working a lot and barely making money. It seemed that after stepping away from the TV for some years, the doors were closed. I was feeling with the energy to do more but not having space/time opportunities to create and become.
After seeing my frustration, my partner Sebastian Jaña -brilliant theater director- gave me the idea of applying for a Fulbright Scholarship to get a masters abroad. It was never my dream to leave the country or keep studying, but I just did it, there was nothing to lose.
I was granted a Fulbright Scholarship that brought me to the US and to pursue my MFA in Acting at the California Institute of the Arts. I remember coming to the auditions with a very bad English level, I remember having to type my monologues on Google Translator to listen to the spoken audio of it to know how to pronounce some words and memorize them.
At my audition, Mirjana Jokovic told me that the world was very small and that I was going to learn English sooner or later by being here, that there were no barriers. Hearing those words empowered me tremendously, and I became very excited about the idea of studying at CalArts. Coming to the US and studying at CalArts was the best decision I could've taken!
My world was suddenly wider, I HAD to learn English to the point of improvising and performing Shakespeare in this new language (something that seemed impossible before). I worked as a Resident Assistant at the dorms and Teacher Assistant in different classes, I got to develop different initiatives with the Latino students. I was casted every semester in productions with meaty roles like Medea and Arkadina.
I went to Cuba and Miami with El Acercamiento project, I went to Edinburgh with my experimental theater group Dead Practice. I performed with a Mexican company in the show Durango 66 at Redcat theater and I got more questions and a deeper knowledge on myself. It was such an intense time! Exhausting, wonderful, magic. After graduation, I had to go back to my country while I was applying for an O1 visa ("Artist visa") and thanks to the work I did in Chile and while in the US, It was approved!!
This visa I have right now allows me to work as an actress -and only as an actress which is a big financial issue sometimes- for the next 2.5 years, depending on how I do this time to come, the alternatives I have after that deadline. This after graduation time in the US has been a combination of developing new work with Dead practice and learning about the industry.
I came back to the US last September, and since then I was able to find a commercial agency and recently a manager. I do self-tape auditions, and self submit as many other actors in the US. I became SAG eligible, I've shot two short-films with amazing teams, one music video, one voice over. I'm working in two experimental theater projects (one with Dead practice and one with Barnett Cohen called The Urgency of Quiet), with a Chilean playwright, Leonardo Gonzalez, in a monologue, and doing catering and house-cleaning as my survival jobs.
I'm enjoying the hustle, I try to keep myself grounded, not forgetting what's really important for me in life. I'm here for the long run and I know I'll be 70 years old and I'll still be on stage and on camera. I'm planting strong seeds, and I know they'll grow into fruits some day. Dead Practice, my experimental performance collective directed by Scarlett Kim, has been the time/space where my being if free to become, to feel, to experience, to do and do not.
We always say "we are rehearsing life, it's our survival ritual of becoming" and I cannot find a better way to describe it than that. Currently, we are working on a project that's going to be presented in Prague next June 2019. We are a creative family, and I'm excited to see how life becomes for us.
Since I moved from Chile to the US, being here has been a beautiful, weird mixture of contradictory experiences that for some reason make me feel like this is where I want to be. Deep loneliness, homecoming, introversion, widening my world, empowering, vulnerable, fun, serious, complex, simple, easy, struggle, ease, uncomfortable, wild, quiet. I think I like surrendering and trying to navigate the chaos.
We're always bombarded by how great it is to pursue your passion, etc. – but we've spoken with enough people to know that it's not always easy. Overall, would you say things have been easy for you?
Having my family, my partner and friends in Chile has been a challenge many times because you miss out a lot of important moments in their lives and them from yours.
There's this gap between your experience and sharing which most of the times is fine, but sometimes when I feel vulnerable, I wish to receive physical or verbal contact in response. Now, after almost four years living far from my country, I feel more than ever that I carry every single of them in me, that love generates connections that trespass time and space beyond distance. I don't only feel my living loved ones, but all my ancestors who accompanied me everyday holding my back for me to be here and now.
Anyways, sometimes I just want a hug from my mom or seeing my grandfather's smile. I would say in the practical dimension of things, these last few years the financial struggle has been present in many ways, from wanting more money to get a ticket to travel to Chile, to trying to come up with funds to create and develop a project. Maybe one of the hardest ones has been not having my own home and having to opt for a more nomadic experience in terms of living spaces.
More than my own struggle, the industry struggles with my accent. Many times I have been left out of acting opportunities because of my accent and current impossibility of doing an American accent. This has made me realize that even though there's more diversity, there's still a preconceived idea of what diversity should be within the industry, for example being bilingual with a perfect American accent, I want to be part of the generation who's going to challenge those ideas,
When creating there are lots of struggles too, but those questions are always fueling, not having them would be the obstacle against creation. In my case, channeling isn't possible it everything is understood and controlled. A challenge is the strong desire of people to understand, to identify a linear narrative and feel safe in it. The obstacle of the patterns of our mind/society/experience.
So, as you know, we're impressed with Dead Practice – tell our readers more, for example, what you're most proud of as a company and what sets you apart from others.
Dead Practice is an experimental performance/theater collective that's constantly rehearsing life and becoming as a mechanism of survival and love. We are sometimes interested in representation, we are from different countries, we speak many languages, sometimes we don't speak at all.
We surprise ourselves every rehearsal. We share food. We renew our faith in performance every day and question ourselves in it. We trust each other. We don't have a script and don't do table reads. We are surrogate bodies and the purest version of ourselves at the same time.
So, what's next? Any big plans?
I'm very ambitious, and I have many dreams to embody, I want to "succeed" (such a mutable term) as an actress, woman, citizen, artist, lover. I don't know how they are going to happen yet, but I have the profound feeling that everything will work out the best as it has happened throughout my life, I have an inner peace that keeps me strong even when I'm wondering in chaos.
Last week in Dead Practice's rehearsal I realized that actually THIS IS a beautiful moment, this love gives me energy enough to build my future and dreams. I just want to be receptive to receive the Universe's grace everyday and give back to others.
Contact Info:
Getting in touch: VoyageLA is built on recommendations from the community; it's how we uncover hidden gems, so if you know someone who deserves recognition please let us know here.