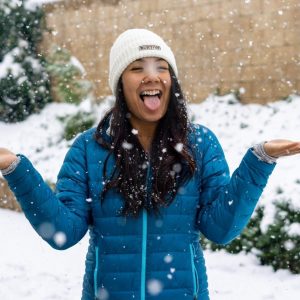 Today we'd like to introduce you to Carmelisa Perez.
Hi Carmelisa, it's an honor to have you on the platform. Thanks for taking the time to share your story with us – to start maybe you can share some of your backstory with our readers?
A few years ago, I was working at a health-tech startup with what I thought was my dream title, schedule and salary but deep down, I wasn't happy. I hated what I did. I was good at it, sure and it paid really well but it didn't fulfill me. It was a particularly difficult time in my life because I felt like I had worked so hard to get this point only to feel disappointed. My family and friends would congratulate me but I felt like a fraud. So, I quickly left that career and decided to pursue marketing through a restaurant group called Lotus Creatives (the group that brought you Shrimp Daddy, Junbi, Wingchix and Chichi Dango). I had no formal education in marketing – better yet, I hadn't even finished college. But… I had been following the founders on social media for many years and they seemed to enjoy what they did. It didn't look like work to them so I took the leap to follow in their footsteps. Thankfully, one of the founders knew me so they took a chance on me and brought me under their wing. Fast forward two years, I now lead a marketing team of four (through Lotus Creatives), am the marketing main point of contact for Junbi franchisees, have started consulting for small businesses within the food and e-commerce industry, and I work mornings at F45 Training – Culver City, a fitness studio that I have loved for many years. Some may say that my schedule is pretty insane, and in a sense, they're right. But I absolutely love what I do now, wouldn't trade it for anything and I'm so happy I had the courage to take the leap when I did.
We all face challenges, but looking back would you describe it as a relatively smooth road?
Oh my gosh, not at all. It's embarrassing to say but I've been laid off or fired seven times and like any other human, it starts to make you question your skills and abilities. I started to wonder if there was something wrong with me. "Why can't I hold a job for more than 16 months?" "Am I being too picky?" "Am I speaking up too much?" "Maybe I should have finished school…. maybe THEN, these companies will take me seriously." But I guess that's where my stubbornness came in handy. I was determined to prove everyone otherwise. Prove that I didn't need a degree to succeed. So I worked my way up into the position I always wanted. Or at least thought I wanted. Unfortunately, when I got there, all my motivation went out the window. The responsibilities I had didn't spark joy and having worked so hard to get there, I started to feel like it was all a waste of time. Not to mention how toxic the company culture was. I had been pushing through, thinking that things would change only to realize otherwise. Add all this on top of a failing relationship, a roommate moving out and your best friend telling you that she no longer wants to work on that side hustle we had been working on for years. I felt like a mess.
So I left in search for something that would spark joy, even if it meant taking a step back. As one can imagine, transitioning careers was tough. Since I had no formal experience or education in marketing, I was starting at the very bottom as an intern. Aka I went from making six figures a year to pretty much nothing. So to help pay for rent, I ran an airbnb out of my apartment, eliminated as many expenses as possible and lived off credit cards. Five months went by and things started to feel like they were picking up. That is until my relationship of three years ended. So I move out, sold my car and started filling in the time gaps in my life with things that sparked joy. Things like working out, dancing, hiking, running. This was a very difficult but humbling time of my life. Even though it was hard, I realized that I much more preferred this lifestyle of filling my life with things I enjoy making very little vs making a ton of money doing things I hated.
Thanks for sharing that. So, maybe next you can tell us a bit more about your work?
I do a number of things.
1. I'm the Marketing Project Manager at Lotus Creatives, the restaurant group that started Shrimp Daddy (Hawaiian garlic butter shrimp), Junbi (Matcha green tea), Wingchix (Tebasaki chicken wings), and Chichi Dango (Hawaiian shave ice) at Smorgasburg LA. But due to the pandemic, three of our four concepts are currently in hiatus and we're focusing on Junbi as we are not only operating two storefronts, but also franchising! It's been a pretty wild ride and I could go on and on about the things I am proud of because we've done a lot in just two years. But if I were to narrow it down, it would be: rebranding Sip Matcha to Junbi, producing photoshoots, creating Junbi's website, starting the Junbi blog, pivoting to e-commerce when the pandemic hit, franchising Junbi, creating the Local Store Marketing guide and all marketing assets for Junbi franchisees, bringing Wingchix to life from conception, and pretty much going from no experience in Marketing to leading a team of 4 and being the main Marketing point-of-contact for all franchisees.
2. I work mornings at F45 Training – Culver City, a class-based fitness franchise. Coming to the gym has far been my favorite way to start my day. I wake up at 3:30am each morning by choice because I asked to work the 4am shift at the gym. Even though the tasks I do are fairly simple, being able to interact with members and curate an experience I've loved for years brings me joy. Plus, I get in a good work out before I leave.
3. I'm a crew runner with Adidas Runners Los Angeles. Pre-pandemic, my main role would be to lead and pace runners during our run meets but lately, we've been doing things virtually so our focus has shifted towards motivating others to show up for themselves. I'm thankful for this group because with their guidance, I was able to run two marathons. Which is pretty wild because less than a year prior, I couldn't even run a single mile without stopping! This group helped me achieve what I thought was impossible so I became a crew runner so that I could show and inspire new runners that we are capable of much more than we think.
4. I recently started consulting for small food & e-commerce businesses! I've learned so much over the past years in terms of marketing and operations that I wanted to share it and help these businesses grow.
We all have a different way of looking at and defining success. How do you define success?
I believe success is subjective, never ending, or as Earl Nightingale said "a progressive realization of a worthy ideal". In other words, it's a journey, not a destination. As long as I'm striving towards MY ideal life, then I believe I am successful. And my ideal life is a life filled with things I genuinely love and enjoy. For example, working out, meditating, creating, eating, taking short trips, snowboarding, dancing, socializing.. all while being able to pay the bills without stress. And I'm happy to report that I'm doing all of those things 🙂
Contact Info:

Image Credits:
Christian Yi, Devin L'Amoreaux, Andy Lau, Russel Balantac
Suggest a Story:
 VoyageLA is built on recommendations from the community; it's how we uncover hidden gems, so if you or someone you know deserves recognition please let us know 
here.