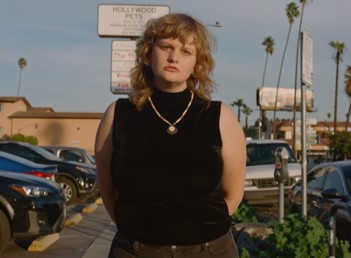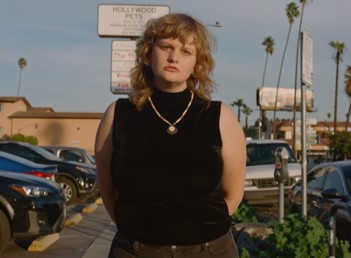 Today we'd like to introduce you to Camille Kolo.
Camille, can you briefly walk us through your story – how you started and how you got to where you are today.
Camille Kolo was born out of a post-college, pre-confidence desperation. Yeah, I was obsessed with the LA music scene, yeah, I loved reading art-y graphic novels and yeah, I'd been honing jokes on customers at my service industry jobs for years, but I felt like a massive poseur in all those environments. I started drawing pages of my first comic 'Gray Area' as catharsis for those feelings of inadequacy. I was comfortable with pencils, ink, and gouache (my parents, two gifted artists, made sure of that) but what I didn't count on was LOVING the printing and stapling process of hand-making zines. A couple of OC Zine Fests and LA Zine Fests later, as a part of the Barf N' Friends collective, I'd learned that the more comics I made, the better I felt. I never would have kept making work without the boundless energy of the talented artists I got to meet and befriend at these DIY events.
In 2018, I caught the eye of Susan Ricketts, owner of Studio 34, a MacArthur Park production house and gallery space. She offered me a solo show with no strings attached. 'Cross My Heart and Hope To Die: A Camille Kolo Solo Show' opened for the month of March in the super old, super beautiful Granada Buildings. It was a delicious chance to try my hand at "art" on a larger scale and to bring in a huge dose of humor. I played with exposing secret inner desires, dug into my generations' love and hate relationship with technology, and messed with cartoons as a form of high art, using acrylics and pens. The show felt like a wedding of sorts; I was totally in love with my own work for the first time in FOREVER, I was blown away by the support of my peers, and I was able to articulate some of my frustrations with being a woman adjacent to the art and music scene. A chance to barf out all that fly-on-the-wall insecurity and trust that Camille Kolo (or whomever I become next) will crank out raw, funny, and genuine pieces for whoever is paying attention.
Has it been a smooth road?
I'm still pretty new to the art world and I've been really lucky in terms of obstacles. I've been able to do pretty much exactly what I want, thanks to steady paychecks from service industry jobs. I've learned to turn down jobs and collaborations when they feel wrong in my gut, even if it means sacrificing a quick buck. It seems like every artist has a story or two about abusive clients or work stolen by corporations. I hate that. I wish there was a clearer way to fight that, as sometimes even the best boundaries don't work.
Personally, I battle with constant inner criticism, especially if I'm attempting something new. I've recently had to embrace the idea that all work is gonna be good for me, even if it's not perfect, even if it doesn't resemble my original plan. If you've ever put on an art show or coordinated a performance, you know nothing ever goes exactly right, but sometimes the mistakes you're fixating on get ignored or even enhance the work. I've beaten myself up a lot over making "messy" work or not rendering stuff perfectly, and I'm tired of that. I want those mistakes in there. If I'm a little sloppy, so what?! All the minutes I spent agonizing could have meant a new project or (lol) a little time off. It's gonna be an uphill battle to ignore the part of my brain that wants to sweat the small stuff for the rest of my life.
We'd love to hear more about your work and what you are currently focused on. What else should we know?
Everyday I'm struck by how many amazing artists exist in every corner of our world. It's pretty daunting to put your hat into a ring with so many heavy hitters. Making Camille Kolo artwork can be really intense sometimes because I'm not looking for "ooohs and ahhhs", I'd rather get a snort or a giggle, any knee-jerk reaction. My goofy comics about kids buying phone cases that'll smash their phones for them or t-shirts showcasing screaming service workers aren't trying to be the most beautiful pieces you've ever seen, they just resonate on some gut level. I'm most interested in capturing tiny little moments that will make people go "oh, that's happened to me" or "I've felt like that". The medium itself (especially in a diary comics format) is really relatable too. I believe everybody should make a crappy little comic about themselves at least once in their lives. It's like cheap therapy. We're all looking to feel seen and understood, and sometimes picking up a zine or sticker can do the trick.
I'm constantly searching for all things genuine to my experience. I find myself dying to walk away from myself in search of something more interesting BUT if I check that impulse I notice my best work sometimes comes when I'm drawing the hisssss of a beer can popping open at a party when I was 17. Or I might find a really special moment in acrylic when I paint a young woman stapling her first show flyer onto the hundreds of lost dog pictures, ripped paper, and staples on a telephone pole. I don't want to be harsh towards my generation (as we're the best) but millennials have access to all these tools that allow us to bend our worlds to our will. While that's incredibly powerful, it's also exhausting. Sometimes, all I can do is rebuild my world (the bad and the good) and make jokes to process it. My art would probably suck if I didn't hide bits and pieces of my highest and lowest self inside it.
I try to come to the table with the opposite of professional ability. I've been using a hand drawn (all the shakes, all the spills, all the accidental fingerprints) style for my recent stuff and while it isn't always the easiest, I notice people react to dry brush and quick loose work. It's a taste of motion and emotion, a little reality on the page. I'm obsessed with feeling ~*something*~ and I think other people are too. With this intensity and focus on angsty mundanity, I can reach out to strangers through loud t-shirts, scribbly comics, and larger more argumentative work.
How do you think the industry will change over the next decade?
I really wanna see the art industry get more inclusive and friendly towards newcomers. It's hard to shake that ghost of distain for stuff that doesn't fit into a clear (oil, watercolor, ink, sculpture, photography— fine art) category and it's really frustrating to see (still!!!) mostly white cis men profiting in the industry. In the couple years I've been participating, I've seen free, or really cheap, programs pop up, for people drawing on computers, or second-hand art supply stores (shout out to Remainders Pasadena) open up and allow people without a huge amount to invest in their careers to keep practicing and shooting at their dream projects. If this keeps up, we're definitely gonna be spoiled by the width and depth of what's possible when there's no artistic gatekeeping. I'm no industry expert but imagine how cool it would be to let go of pre-existing notions and let anything with a bit of intention become a piece of work. I hope the future includes seizing the means of producing art and handing it to people who have been excluded and erased from its history.
Contact Info:
Website: camillekolo.com
Email: yikescamillekolo@gmail.com
Instagram: @camillekolo
Image Credit:
Gabriella Ricketts —(for artist photo)
Getting in touch: VoyageLA is built on recommendations from the community; it's how we uncover hidden gems, so if you know someone who deserves recognition please let us know here.