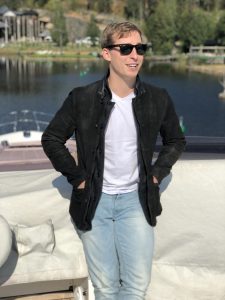 Today we'd like to introduce you to Cameron Duckett.
Cameron, please share your story with us. How did you get to where you are today?
I started acting when I was nineteen years old. I'm originally from the Pacific Northwest (Spokane, Washington) and growing up I played sports and music. I took piano lessons (my parents made me) when I was eight but then I switched from the piano to guitar (my choice this time) when I was thirteen after discovering, Guitar Hero. While my primary focus was sports, mainly baseball but I also played football and basketball, I always enjoyed playing and writing music whenever possible, as well as kindling this idea of me being an actor.
I never told anyone about this deep-seeded secret of mine because it seemed so unrealistic. As I said before, most of my time went to playing three different sports and they were year-round (baseball in the spring and summer, football in the fall and basketball in the winter) so whenever there were auditions, I couldn't commit to them even though I desperately wanted to. But I always could play music whenever I had the time which kept my creative juices flowing.
After I graduated high school, I got a baseball scholarship to play at a community college in Aberdeen, Washington (where Kurt Cobain is from) where I played for two years. After graduating, I realized while I loved playing baseball, it wasn't panning out the way I wanted it to. I then had to make the difficult decision of quitting baseball and transfer to the University of Washington (UW) in Seattle… and MAYBE pursue this acting thing.
It was when I was back home for the summer, prepping to move to Seattle, I got my first role in a movie being filmed in Spokane. While I was on-set, I was a sponge soaking up everything I could because I knew I was out of my element. Yet, I felt myself fall in love with everything. It felt like I was a kid at Disneyland all over again and I knew this was what I wanted to do. Yet, I also knew my acting at that time was okay at best, I needed to put in a lot of TIME and WORK if I was going to improve before I would move to LA after graduating from UW.
While at UW I took many acting classes, acted in plays, films, student films while I also took English literature classes. Acting in film was always my main focus but I found acting on the stage constantly challenged me and I always left a stronger actor for doing it. My plan was to double major in drama performance (acting) and English literature but I was told I would have to stay another year if I was to also major in acting. I couldn't minor in acting either, so I was left to decide: stay another year and pay more money to get a piece of paper saying I knew how to act or graduate and move to LA to continue my career. Needless to say, it didn't take long for me to decide to just graduate (one degree be damned) and move to LA.
I've been living in LA now for four years. Since moving, I've kept the same student mindset. I've taken acting, dance and singing classes while also acting in films, student films and theatre (especially Shakespeare) whenever I have the time. My philosophy is, I can always learn something new and I love to constantly challenge myself whenever possible.
Has it been a smooth road?
As with any actor's journey, simply said: NO, it has not been a smooth road. Most of my family and friends have been nothing but supportive. Mainly my mom, dad, sister and other close friends and family (you know who you are) who I owe everything for their love and support. But there are of course some family members and past "friends" who aren't supportive. Besides my sister, I'm the only artist in our family so there can be misunderstandings sometimes about having a profession in the arts. But through this I've learned, if you are who you really want to be, your TRUE family and friends will always support and love you.
Another struggle is how lonely being an artist can be. You have to put in all this effort yourself and at times it can feel as if you're the only one who believes in you and what you want to accomplish. That being said, I've realized you need a team of people who will always be there for you, who will be honest and support you as you grow. While you may have to do everything yourself, you don't have to be alone while you're doing it.
The last struggle for me is living in LA and the industry. They present their own problems, but I feel it's purposefully made that way. It's like an ultimatum to any artist living here who wants to establish themselves: if you really want to establish yourself in this city/industry, you have to find a way to overcome all the problems it will throw at you. If not, get out of town. I think that's what makes LA so beautiful, it will break you down but it will build you back up if you want to.
Please tell us more about your work. What do you do? What do you specialize in? What sets you apart from competition?
I'm an actor, musician and writer. I'm best known for my award-winning role of Dylan in, "Groupers" (set to be digitally released later this year), as well as my award, nominated role of Aaron in, "Secondborn". Recently, I returned from Europe where I starred and acted alongside Eric Roberts in the film, "Insite" (set to be released September 2020), which filmed for two months all over the breathtakingly beautiful country of Finland. Along with acting, I also sing, play the guitar, drums and piano. I even have my own music project called, "Pisces Party", where I compose and write all my songs. I recently played a show as well as recorded two songs in a studio which are set to be released later this year or early next year.
Acting-wise, I'd say I'm most proud of the work I did for my role in, "Insite". As the star of the film, I felt I navigated the pressures that came with the role gracefully while also staying focused on just my role and not being pulled away from any distractions that came up while filming.
Music-wise, I would say I'm most proud of the two songs I'll soon be releasing for "Pisces Party". One song hits the ground running and the other is quiet and beautiful in its own haunting way. I'm excited to have people hear them!
What sets me apart from others is my work ethic. There's a famous quote from Calvin Coolidge which I take to heart, "Nothing in the world can take the place of perseverance. Talent will not, nothing is more common than unsuccessful men with talent…Persistence and determination alone are omnipotent. Press On!" To me, it means, yes, I may be talented at many things but so is everyone else in this industry and while I may not be the most talented, I know I will outwork everyone to earn my accomplishments.
How do you think the industry will change over the next decade?
The biggest change I see for the industry is the myriad of options one has, studio wise, to tell their story. With all the streaming sites, you have a plethora of options to get your story told. You're not limited to just a few studios who want to tell your story a certain way. You're no longer stuck or trapped with only one option. If one place isn't the best fit, you have a multitude of other options where you can pitch your story in order to find the best place for your story to be told. Along with technology and equipment being readily available to everyone, you can practically do it all on your own if you wanted to!
I see the industry going, even more, this route in the future, where there will be more outlets for stories to be told and acting-wise, to be a part of too.
Contact Info:

Image Credit:
Insite Character Picture- Antti Karppinen
Photo on boat- Keenan Proctor
Headshot- Peter Konerko
Playing guitar and singing- Daniel Perez
Drums- Luca Patruno
Suggest a story: VoyageLA is built on recommendations from the community; it's how we uncover hidden gems, so if you or someone you know deserves recognition please let us know here.