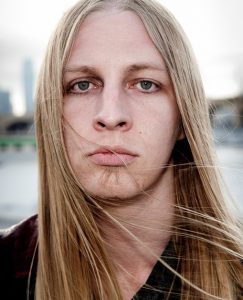 Today we'd like to introduce you to Caleb Bingham.
Caleb, can you briefly walk us through your story – how you started and how you got to where you are today.
I'm originally from a small town in rural Appalachian Ohio, but have lived on and off in Los Angeles for most of my life. I'm a Scot's Irish/Cherokee mutt with hair that's probably way too long at this point. Haha!
I was introduced to music at a very young age. Both of my parents were always playing their old records when I was a kid, which was a lot of Beatles, Janis Joplin, jazz, blues and Motown from mom and a lot of Credence Clearwater Revival, rockabilly, country and bluegrass from dad. I began to study classical piano at age six and classical voice at age eight. I picked up the guitar and ran with it after being introduced to the music of Jimi Hendrix when I was nine. I've pretty much been completely obsessed with the guitar and guitar-based music ever since.
Once I was in middle school I was introduced to early hard rock, heavy metal and punk. Cream, Zeppelin, Sabbath, Ozzy, Dio, Van Halen and also The Ramones, The Sex Pistols, and The Misfits among others. From that point it was a steady progression of harder, faster, louder. By the time I got into high school I was listening to all sorts of the more extreme genres of metal such as Metallica, Hypocrisy, Morbid Angel, Slayer, Sadistic Intent and Dissection, Immortal and Dimmu Borgir (just to name a few). I've always been an antisocial introvert for the most part, and as a result I spent most all of my time during my formative years in my room either listening to music or working on my guitar playing.
At this point I had been playing for a few years and I began to write my own songs. Eventually this led to me attempting to record myself, which broadened my focus into audio engineering as well as music. I turned my bedroom into a studio and began to experiment with microphones, mixers and the like. I started recording my own demos and once I learned how to drive, I would go down to the Sunset Strip on the weekends and stand outside the clubs handing them out. One of these demos ended up in the hands of Zoltan Bathory and ultimately led to me auditioning for his band Five Finger Death Punch when I was 18. Being as the rest of the band was significantly older and more experienced than I was, I didn't last too long and was replaced just before the age of 20 by Darrell Roberts from W.A.S.P. and later Jason Hook from Alice Cooper's band.
Has it been a smooth road?
Quite the opposite actually… I spent the next decade up until the present struggling through my twenties. During this time, I worked with a number of other bands and artists in various roles and had varying degrees of success both as a musician and as a producer/engineer. I toured internationally with a couple of underground metal bands. I got to work in the studio with a couple of my "guitar heroes" John Sykes and George Lynch, I engineered for veteran rock producer Andy Johns, and despite no longer being in 5FDP, I still ultimately earned two gold and one platinum record for my work with them. Despite all of this, I was severely depressed not only due to losing out on what very well may have been the biggest career opportunity I may ever have as a performer, but also due to what seemed to be my my inability to successfully navigate through life and make lasting connections and relationships with others, something that is a requirement for lasting success in the music business.
I eventually got so tired of this process endlessly repeating itself that I finally sought professional help a couple of years back. After telling my life story to a mental health professional, I finally began to get some unexpected answers. I was informed that depression itself was not the root of my issue, but merely a side effect of a larger underlying condition known as "Autism Spectrum Disorder." For those readers who are unfamiliar with the disorder, it is a genetically inherited condition that leads to developmental delays and deficiencies in certain areas of the brain, as well as trouble with social interaction and extreme sensitivity to external stimuli among many other symptoms.
This diagnosis explains my aversion to haircuts and bright lights. It explains why I have always had hypersensitive hearing, to such a degree that I was able to develop my musical and audio related abilities to a very high level at a young age. It explains my obsession with music, audio and guitar. It explains my "social blindness" which has led to countless missed opportunities and being repeatedly taken advantage of by ill-intentioned, opportunistic sociopaths. It explains why I have such a hard time making friends and connecting with people. It probably even explains why I'm rambling writing this right now. Haha!
We'd love to hear more about your work.
Firstly, I play in a band called Athanasia. We're known for having a very unusual sound compared to most other heavy metal out there these days. It's a fusion of old school hard rock and metal with more modern elements thrown in on top of it. I tend to tell people that if W.A.S.P., Dio and Ratt got it on with Dissection, Immortal and Hypocrisy and then Slayer, Metallica and Exodus joined in on the action, the resulting musical offspring might sound something like Athanasia: A modern sounding throwback to 80's L.A. and S.F. metal with a dash of 90's Scandinavia thrown in to cool things off. Haha!
Secondarily, I write, produce and engineer for other bands, artists, labels and producers via my studio called Nightmare Sound. I specialize in rock and metal, but have worked in just about every genre at one point or another be it pop, punk, jazz, hip hop, country or classical. I think it's important to be versatile, and I very much believe that one can't truly call themselves a musician unless they know about and can play at least a little bit of all styles of music.
Thirdly, I teach music lessons to students of all ages and skill levels, in person or online. I feel that it's very important to pass on every bit of information I can to others. Instrumental music is something that needs to remain a part of society, not only as a form of entertainment but as a positive creative outlet for people to express themselves through. If I can contribute to the preservation of music in the world and encourage others to pick up instruments and learn to play them, then I feel I'm making a positive contribution to humanity.
As far as what sets me apart, I'd say that one of the plus sides of having A.S.D. is that I can hear things in a way that most other people can't. I'm able to listen to music and audio under a proverbial microscope and as a result am particularly suited to this as a career path. I also have a level of patience and focus that others do not, and can sit in the studio for hours, days or weeks on end without ever tiring or deviating. This definitely has its advantages when getting involved with big productions!
Is our city a good place to do what you do?
To be perfectly honest (for me personally at least), I don't feel like L.A. is where it's at anymore for musicians, especially ones that play instruments. The "glory days" of the Sunset Strip are long past and if you're walking down the street there on a Friday night, you're much more likely to hear some sort of electronic music made on a computer than anything remotely resembling rock and roll. As an awkward, easily overwhelmed introvert, I also find it to be a very difficult place to exist and navigate socially due to the bustle of the big city as well as the "Hollywood syndrome" as I like to call it: That thing where people are very fake, shallow and "too cool" to interact with more often than not. There is also the massive gap between haves and have nots in L.A. (and in most other big cities in the U.S. at large at this point) such that one ends up spending all of their time and effort just struggling to keep a roof over their head and eat rather than being able to focus their full attention on doing anything creative. Gentrification and inflation due to unregulated free market capitalism has stifled all of the rock and roll out of L.A. and turned it into a parody of its former self in my opinion.
This is largely why I decided partway through last year to expand my business to focus on Europe, as there are way more opportunities there as an instrumental musician (especially one specializing in rock and metal) and I am able to operate with a much lower overhead than I ever could in L.A.. I also find it a lot easier to navigate as a person on the autism spectrum there, as the people tend to be much more direct, blunt and genuine and also tend to have a greater awareness of and acceptance for people on the spectrum. There's definitely a lot less of a social stigma associated with it. I'll still work in L.A. as demand necessitates, (and can also work remotely from anywhere in many situations) but all in all I think I made the right decision to give Europe a try.
Pricing:
Session Guitar/Bass/Drums/Voice (Live or Studio) – $500/day
Production/Engineering – $500/day (Excluding Studio Time)
Mixing – $500/song
Mastering – $100/song
Guitar/Bass/Drum/Voice/Audio Engineering Lessons – $50/hour
Contact Info:
Getting in touch: VoyageLA is built on recommendations from the community; it's how we uncover hidden gems, so if you know someone who deserves recognition please let us know here.