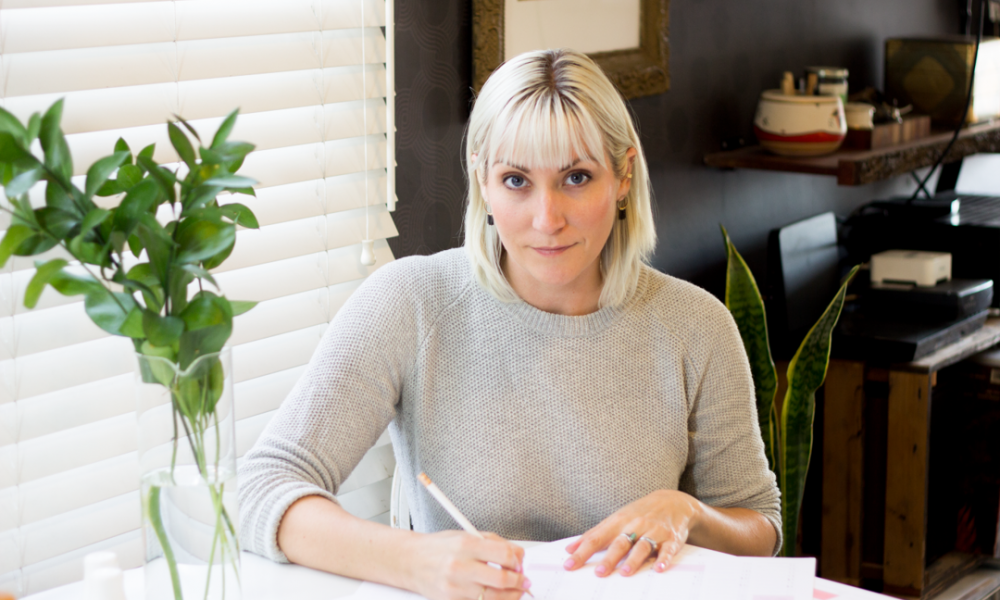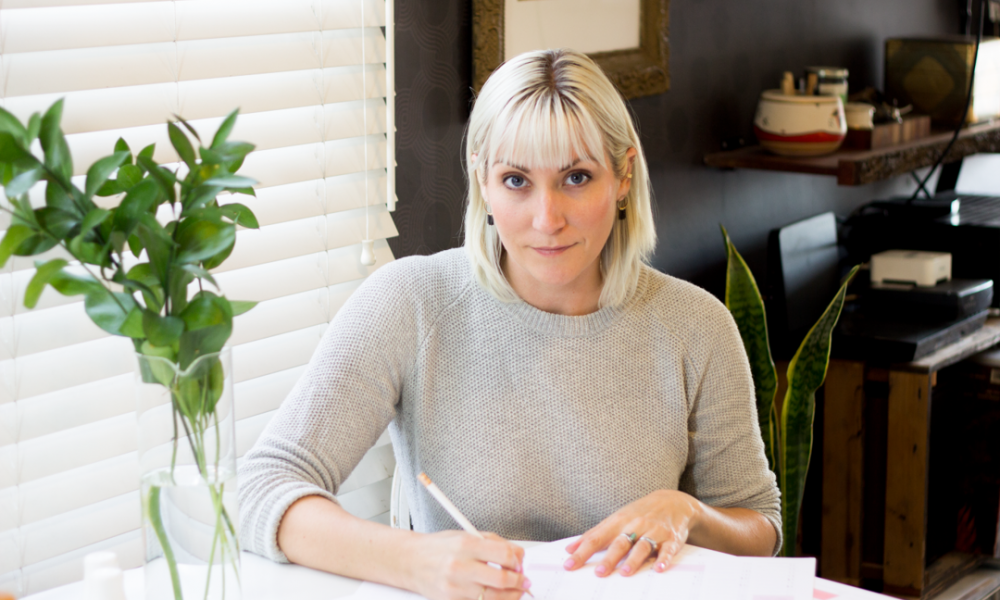 Today we'd like to introduce you to  C. Killian, who simply goes by Killian in her day-to-day.
So, before we jump into specific questions, why don't you give us some details about you and your story.
Three years ago, I came across a journal that had been collecting dust on my shelf. It was one of those bullet journals where you write a brief description of your day in order to catalog your year, but I'd never put it to use.
Around that time, I'd started a blog about self-growth called The Heart of Happy. I was particularly interested in the latest research on neuroplasticity, or how we can rewire our brains to alleviate the most common forms of stress, anxiety, and depression. Gratitude was the heavy hitter.
So as I sat there examining this dusty old journal, I had a lightbulb moment: what if I created a sort of gratitude journal, but not the kind that would get buried under stacks of paper or in-between books? It would have to be something nice enough to look at every day, but practical, too.
And so the Gratitude Calendar was born—a 24″ x 18″ art print that you hang on your wall. Seeing it regularly reminds you to write in one thing each day that elicits gratitude. Then at the end of the year, you get a bird's eye view of all the things that brought you joy.
Since releasing the calendars in 2016, I've seen firsthand the effects that something as simple as a gratitude practice can have on a person's life. I have so many incredible buyers who rave about the positive impact it's made on their perspectives, their anxiety levels—even their marriages! This inspired me to offer even more practical and accessible tools to help people 'rewire' their cognitive conditioning.
So that's what I've been on a mission to do. And my new website, FreeNotRadical.com, embodies that mission.
Overall, has it been relatively smooth? If not, what were some of the struggles along the way?
I'd say my biggest struggle has simply been the impatience game. Like anyone who has an idea for a company, I wanted mine to take off overnight. But when you're offering a product or a service, people need to try it out and sit with it before they feel comfortable raving about it to their friends. So it takes time.
Not only that but as I wanted to start offering more to my audience, I had to dedicate a great deal of time to researching and learning so I could determine which tools were most effective and approachable. I began studying Non-Violent Communication under a prominent teacher who's based in the Pacific Northwest. I practiced various mindfulness methods that have been applauded for fast-tracking neuroplasticity. I worked with energy workers to gain a better understanding of energy healing. I really wanted to immerse myself in the material that I would eventually share with my community. But doing so took time. And resources.
My patience during this phase was tested more than any other. I had to consistently remind myself that time is an investment. I was learning so I could teach.
I also think that from a financial perspective, I would have stayed in a full-time job a little bit longer before jumping off the cliff to run this business. I'm a writer, so I've been able to freelance, but freelancing takes a great deal of time and energy because you're constantly chasing the next gig. So if I could have done it all over, I would have held on a *little* bit longer to that steady job while nursing my little startup. (Though I guess it makes sense that I jumped a bit too early, considering patience isn't my strong suit!)
Free, Not Radical – what should we know? What do you do best? What sets you apart from the competition?
Simply put, at Free, Not Radical I offer mental health tools that make you feel good.
The longer winded explanation is that I want people to have agency over their own growth. When you have agency, you feel empowered, you feel confident, and you feel unshakable—because at the end of the day you know that you have your own back.
Unfortunately, most people approach personal healing without a roadmap (mostly because there isn't one) only to burn out as soon as the road gets bumpy. But I believe this can be avoided. When you're equipped with the right tools, it's *much* easier to navigate growing pains.
Free, Not Radical provides foundational resources that make growth feel safer and more supported. The goal is to become that roadmap for self-development I've always wished existed.
I still sell my Gratitude Calendars, but now I also offer a meditation series called RISE that's all about connecting people to their self-worth and kickstarting the process of rewriting the narratives that aren't serving them.
In fact, RISE is what I'm most proud of, currently. It's a foundational series that I believe in wholeheartedly and that I think should be in *everybody's* tool kit—because it lifts you up while honoring the 'work' necessary to shift your life. And that's why I've made it ridiculously affordable (it's just $3 per month)—because it's SO important to establish this kind of connection to self, whether you're on a healing path or not. It's the cornerstone of a deeply fulfilling life. And for that reason alone I think it should be as accessible as possible for everyone.
As far as what sets me apart from others, I think it's the fact that I'm approaching mental health from this foundational perspective. I give people a place to start in a way that empowers them to keep going—because I want them to succeed.
What is "success" or "successful" for you?
I'd say my markers for success are effectiveness and reach.
I'm really hard on myself when it comes to effectiveness, so I often take longer than necessary to launch a new tool or offering. But I believe that if I'm putting something out there, it has to work. I can't make empty promises. If someone tries the RISE meditation and it doesn't give them a deeper connection to self, I've failed. Alternatively, when I hear that I've created something that delivers exactly as it promises, I get full-body chills. For me, there's no better feeling than contribution. If I can contribute to creating a better quality of life for someone, oh man, that's everything.
Reach—or the number of people I'm able to contribute to—is actually just my need for effectiveness taken to the next level. It implies that whatever I'm offering is good enough for people to want to share it so that it reaches more people. It's a huge sign of confidence to have someone vouch for your work. That's the ultimate marker of success for me, truly. When people are consistently sharing what I'm offering, I feel successful.
Pricing:
Gratitude Calendar – $26
Rise Meditation Series – $3/month
Contact Info:
Suggest a story: VoyageLA is built on recommendations from the community; it's how we uncover hidden gems, so if you or someone you know deserves recognition please let us know here.