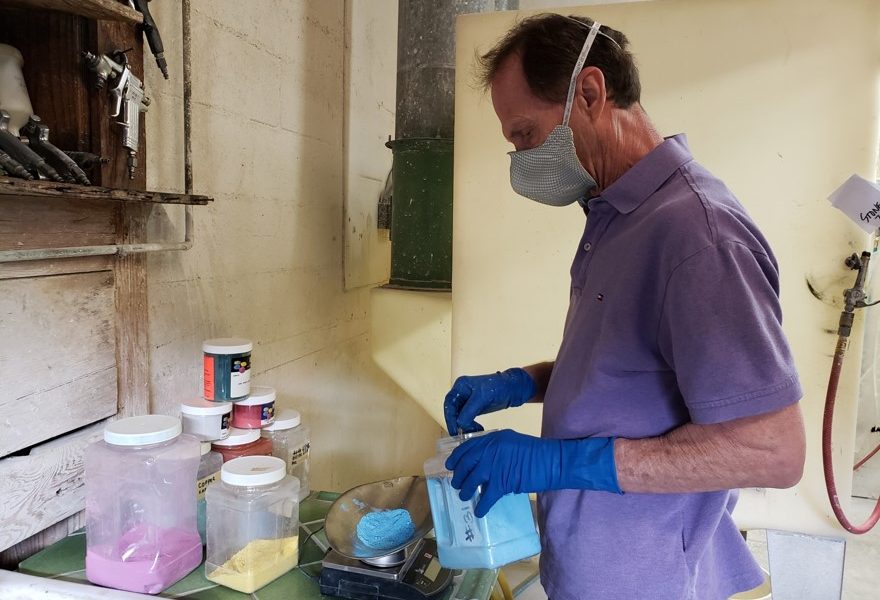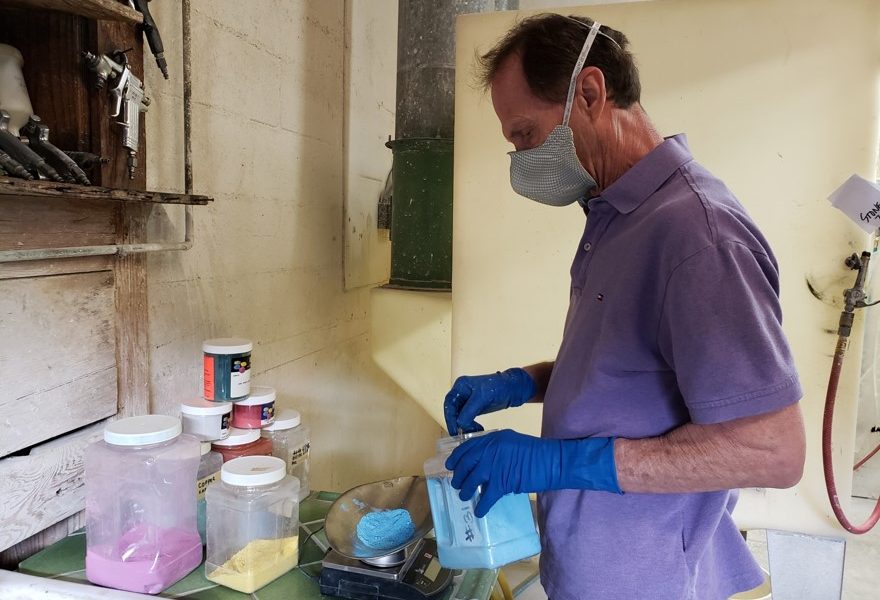 Today we'd like to introduce you to Jason Wolchin.
Jason, let's start with your story. We'd love to hear how you got started and how the journey has been so far.
I grew up in Southern California and started surfing when I was 12 years old. My surfing friends were older and could drive and took me along with them. I got to surf at some awesome beaches back then. That occupied most of my time when I was a teenager.
I grew up listening to the Beach Boys and the Beatles. I have always been a free spirit never sure of what I wanted to do when I grew up probably because I grew up in the late '60s and everyone back then was searching for his or her truth and path. I have always felt connected to the universe in a spiritual way that no matter what I did. It would somehow work.
All the different businesses that I have had along my way have given me the confidence to try anything. My willingness to take on a business that I knew nothing about would scare my parents and my friends, but I always got support no matter how nutty it was. I have no fear of having to learn something new if I am interested in it. I am a gambler, crazy and confident all at the same time.
I have had several businesses along the way, each very different. My first business was importing Chinese and Korean Ginseng and selling to health food stores. I had a concert promoting company in Laguna Beach called "Coming Attractions" in the '70s. We featured Fleetwood Mac, Crosby, and Nash, Jethro Tull, Loggins, and Messina,
Bob Marley, Emily Loo Harris and many more.
At the same time, I was importing produce from Northern Mexico. In the late 70's and early '80s, I had a company that produced a woman's nail polish dryer called "Le Dome" It was in all the major department stores. We also sold it through women's magazines like Glamor, McCall's, Seventeen and others. In the early '80s, I started a recording studio in Culver City, called Studio II Recording.
It was the sister recording studio to Indigo Ranch studios in Malibu. George Harrison, Michael Jackson productions, Bo Diddley, LL Cool J., Lenny Kravitz, The Winans, Ziggy Marley, and The Jazz Crusaders just to name a few including many movie and television shows that work there. It closed in 1993-94. Late 80's, I had a company that imported art from Thailand.
During that time, I was living in Thailand and California until 1994. I was approached in 1994 to buy Busby-Gilbert for the purpose of making ceramic products for Harley Davidson. I won't get into why that didn't happen. I will just say it probably was a good thing it didn't.
My partner with Busby-Gilbert left in 1996. At that time I knew NOTHING about making ceramic tile. I contacted our supplier at the time Laguna Clay and asked them for help. I was fortunate to have the owner take me under his wings, so to speak, and help me learn the business. It was very difficult running a manufacturing business I knew nothing about. There were some really hard days back then. But hey this was my boat, and I had to row it, or it would sink!
Since those early days, I have been able to learn to match colors, do mold making, design new products and understand what equipment is needed in order to have a successful ceramic tile business in this day and age.
Great, so let's dig a little deeper into the story – has it been an easy path overall and if not, what were the challenges you've had to overcome?
If anything is easy in life, you need to search for a challenge! While many people are under the impression that life should be smooth sailing, these are the same people who always complain they are bored. When someone is comfortable, you are not growing, and life is all about expansion.
When I first took over the company in 1994, many of the projects were for swimming pools and kitchens because our tiles are durable. Back then, stone, marble, glass, and faux ceramics were not available on the market yet. When these materials were introduced, our slice of the pie became smaller.
Additionally, the cost of labor has increased, and it is exceptionally difficult to find a skilled workforce. Only to make matters worse, unfortunately, some of our best interior design customers have retired. And to really put things into perspective, many of the tile showrooms that we have done business with for over 40+ years have closed. So what do we do about all this?
The manufacturing end of the business had to adapt to not being able to get the same chemicals and ingredients for our glazes. Stains which are used for the color in glazes have been discontinued. Chemicals used for the glazes that were sourced from the mines in the U.S. closed which forced our suppliers to import materials from China and India.
These raw materials are not comparable to the original ones and are more expensive due to shipping cost. At times these raw materials are unreliable. The price of clay which is the main component is more expensive than imported tile that you can buy already made from a building material store. There is a slew of inexpensive imported tiles in the stores and even online.
As you can see it has not been smooth sailing for Busby Gilbert, but somehow and someway we make it work, and that is by growing and evolving with the times. It is most importantly due to finding peace in the uncomfortable and learning to roll with the cards we have been dealt with.
Busby-Gilbert Tile – what should we know? What do you guys do best? What sets you apart from the competition?
Originally Busby-Gilbert was a construction company that built high-end custom homes.
The name of the company back then was Gilbert and Chang. They did custom homes and were hired by a famous rock star to construct his home. They ended up not only building the home, but they also supplied the custom tile that the customer wanted. When the project was over, that was the beginning of what is now known today as Busby-Gilbert Tile.
The company continued from there to make tiles for high-end residential projects, restaurant projects including many movie and rock stars homes. 1975 Busby-Gilbert started making handmade ceramic tile in Van Nuys. Our unique tile and products are used in hotels, casinos, restaurants and custom homes. We make a hand-made ceramic tile that is exceptionally beautiful and durable with our one of a kind color glazes.
In 1994, I took over the company from Betty Busby. At that time the company only made one size tile in 4-1/2″ x 4-1/2″, a few trim pieces, hand painted decorative tile and sea creatures. The color palette was limited to a glossy finish. Through the years we have added new colors which include a glossy and matte finish.
We also have done many projects that needed color matching. There are very few tile manufacturers in the United States doing custom color matching. This is one of our special services. We have hundreds of color samples. Currently, we have 75 standard glossy and matte glazes in our color palette. Our tile line has expanded to a wide variety of sizes and unique interlocking shapes, moldings and decorative pieces.
Our tile has been used in numerous high-end hotels, restaurants, casinos, juice bars, civic projects, and custom homes. We are very proud of our over 40 plus years of first-class products and customer service. Our customers will attest to that! The way our business operates is that a customer comes in with an idea or vision and we make it a reality. Some customers may want a custom color, shape, or both.
It is our passion to create and bring our customer's vision to fruition. Our customers use our tile for its beauty, uniqueness, craftsmanship, and durability in a wide variety of projects from indoor to outdoor installations. Some of the exciting events that happened through the years were: We purchased a machine that enabled us to do large hotel projects. We have had articles about us in magazines.
We won an award for a custom color. That was used in a pool. We replicated a Frank Lloyd Wright inspired piece for a design firm, that was used on the room and casitas renovation at the Arizona Biltmore hotel. Busby Gilbert is a donor to Habitat for Humanity, and we constantly volunteer at our local food bank. Giving back to our community is something we believe in, and will continue to do.
Busby Gilbert tile is distinctive and set apart from other tiles in this industry. Our clay and glaze colors are not the normal ceramic tile that you might see in the market. The clay is fired at a very high temperature of 2350 degrees, making it suitable for a wide variety of applications including spas and pools where it snows.
There are very few ceramic products that can be used for this kind of installation. We make custom colors and shapes that define our look from the rest of the industry.
What moment in your career do you look back most fondly on?
There has not been one moment that I would consider my proudest. My adventure has had many moments where I felt extremely happy about an event or success that gave me pride which has given me the drive and ambition to keep trying new things.
One thing that stands out for me is that I have been able to give back to my fellowmen which is not really pride as much as inner satisfaction.
The proudest moment for Busby-Gilbert so far was when we were able to duplicate the Biltmore block – The Biltmore block is a Frank Lloyd Wright inspired piece made of concrete that was originally used in the building of Arizona Biltmore hotel in the 1920s.
When the new owner decided to renovate parts of the hotel and the bungalows, they wanted to integrate the design of each room to the original building. The design firm asked us if we could make a ceramic tile with the same design which we did, and this was a spectacular moment in Busby Gilbert's accomplishments.
We have had several magazine articles about us in "Water Shapes" and many homes and interior design publications.
Contact Info:
Address: 16021 Arminta St. Van Nuys, CA 91406
Website: www.busbygilberttile.com
Phone: 818-780-9460
Email: raquel@busbygilberttile.com jason@busbygilberttile.com
Getting in touch: VoyageLA is built on recommendations from the community; it's how we uncover hidden gems, so if you know someone who deserves recognition please let us know here.