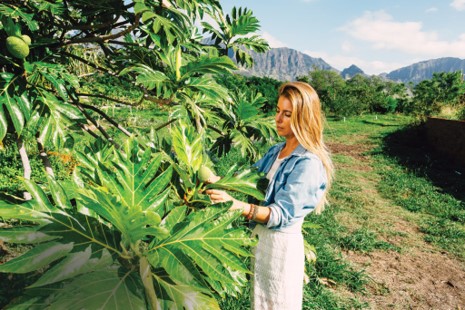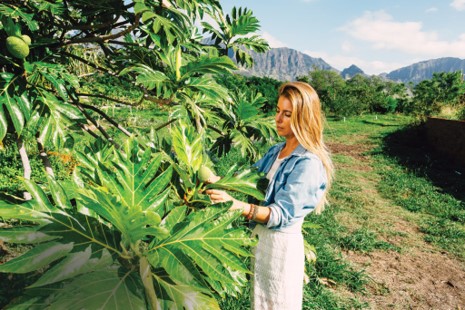 Today we'd like to introduce you to Brynn Foster.
Thanks for sharing your story with us Brynn. So, let's start at the beginning and we can move on from there.
I have an affinity for islands and the concept of true sustainability that enables a community to thrive on an island. I grew up on Catalina Island sailing between Long Beach and Newport Beach, and have been living in Hawai'i on the island of O'ahu for more than twenty years. Even though Catalina isn't as remote as the Hawaiian Islands, being there in my formative years gave me an innate sense of independence and primed me for understanding the importance of being self-reliant and building self-sustaining communities.
I kept that affinity for self-sufficiency in mind as a college student in Malibu when the Old Topanga Fire swept through in 1993, making me question what steps I was taking to protect and aid my community from within. How do we serve basic human needs in times of crisis, and what can I do to fortify my home and my community? It always ended up coming back to food for me.
When I was growing up, there wasn't a lot of transparency in the food industry in the United States. I studied in Italy during college and the food there was so different – fresh and unprocessed. After that experience, I began to wonder: Who is growing my food, where does it come from? And those weren't questions that were being asked back then. My real "aha" moment came after I had moved to Hawai'i and started my family. Putting nutritious, healthy food in my kids' bodies that was locally grown and sustainably sourced became a top priority.
I started out making my own gluten-free flours from a group of nutritious plants in Hawaii called "canoe-plants" baked into my kid's teething biscuits. These "canoe plants" (taro, breadfruit, sweet potato, etc.) had been likened to ancient "emergency kits" of the early Polynesians which provided these voyagers food, medicine, building supplies, and much more.
Taro or Kalo, in Hawaiian (a sacred canoe-plant), is fed as a first-food to babies in Hawai'i as it is one of the most allergy-free foods in the world with great source of fiber and vitamin Bs: exactly what you want in first foods. I had moved to Hawai'i originally to pursue my Hawaiian heritage (my great-grandmother was Kanaka Maoli or Native Hawaiian) and incorporating taro into our baked goods for my kids really resonated with me. It was my great-grandmother who first introduced me to taro through a taro cookie. I now know that she planted that seed in me so long ago and it is now a responsibility to share it with others. I launched my business, Voyaging Foods as a miller and bakehouse of gluten-free canoe-plant flours. We make tasty, fiber-filled cookies, granola bars, pancake mixes and more!
Deciding to transform these versatile complex carbohydrates into alternative flours to make baked goods to feed my children led me into the agricultural side of things and brought me full circle on my mission for self-sustaining communities. I was able to delve into the who, what, where and how of food production in the Hawaiian Islands. I realized that over 80% of food in Hawai'i is imported, which is a troubling statistic for the most remote landmass in the world. With my canoe plant flour, I finally felt like I had an avenue to change that. Now, a lot of what my company, Voyaging Foods, focuses on is making Hawai'i food secure and supporting the local agricultural economy in order to build a self-sustaining and healthy communities.
Has it been a smooth road?
When I started making my gluten-free products back in the early 2000s, gluten-free wasn't really a category yet. Most people I pitched my products to told me that gluten-free was a fad that was going to die out! I now understand that gluten-free does not always equate to healthier and we need a variety of food grown with clean water and soil for a healthy diet. The bigger story involves including more biodiversity in plants and I believe the canoe-plants offer a biodiverse option for underutilized plants in food. Even wheat, as vilified it has been in the gluten-free movement, isn't really telling the whole story. The way the plants are grown, which varieties are chosen and modified for mechanicalizing and the process in which the food is made (modified & refined yeasts) are more of an issue than the gluten! Gluten has taken a bad rap for the over-commercialization of wheat, convenience over seasonality and refined ingredients in food production – and this is coming from a gluten-free eater! The holistic side of agriculture and food is what gives me hope to turn struggles into solutions and see the bigger picture.
I began market testing Voyaging Foods' taro bars and cookies in farmer's markets, and smaller mom and pop's stores that were more supportive of outlier categories. In retrospect, I feel like I wasted a lot of time proving there was a market for gluten-free foods. When the market finally hit, my attempts to be accepted by the established major players in the food industry had taken time away from my business that could have been spent on creating more canoe plant products. There also isn't a lot of public knowledge or recognition of canoe plants, even in Hawai'i. So there's this educational hurdle in getting people to understand what canoe plants are, their benefits, and why to eat them over other gluten-free starches such as corn, flour or rice products on the market. I still find myself spending a lot of time community organizing and educating, and right now it's a niche market with early adaptors, which hits different benchmarks than the traditional profit margin streams.
So, as you know, we're impressed with Voyaging Foods – tell our readers more, for example what you're most proud of as a company and what sets you apart from others.
Voyaging Foods is a vertically-integrated company (which means we also grow and mill-we do it all!) that produces grain/gluten-free flours and baked goods from Hawaiian-grown heirloom canoe plants like Kalo (taro), 'Ulu (breadfruit), and 'Uala (Sweet potato). We produce tasty, better-for-you baked goods and dry mixes using taro powder as the natural thickener. We aren't aware of anyone else doing exactly what we are in any national stores. We are selling online at www.voyagingfoods.com and regionally in Hawaii at Whole Foods Hawai'i, Neiman Marcus, Dean & Deluca, Down To Earth and Foodland Stores. We have a second kitchen in Orange County and plan to expand to healthy café's, stores and restaurants with a special interest in nutrient-dense ingredients.
We are most proud to be collaborating with like-minded, healthy-soil-building groups to build solar dehydration systems on farms to build this canoe-plant flour industry. We are co-building an industry through self-reliance. What sets us apart is our Plant to Powder philosophy in how the plants are grown in regenerative farming practices, solar-dried, hand-processed and made into food meant to be shared.
Do you look back particularly fondly on any memories from childhood?
My favorite memory from childhood is sailing back and forth from Catalina to Hawaii with my mom, dad, and sister. I loved watching out for sea life, and being able to feel that freedom of operating a boat by myself. I miss being in that state of no hurry – I feel like I'm always supposed to be somewhere, on a deadline or in a hurry now!
Contact Info:
Image Credit:
Honolulu Magazine, Hawaii Business Magazine, Claudia Cox, Ka Waiwai Collective
Getting in touch: VoyageLA is built on recommendations from the community; it's how we uncover hidden gems, so if you know someone who deserves recognition please let us know here.