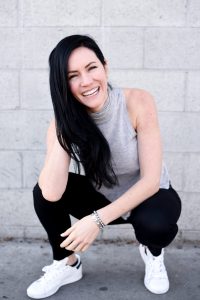 Today we'd like to introduce you to Bryanna Dee.
Bryanna, can you briefly walk us through your story – how you started and how you got to where you are today.
I used to be one of the many people in this world who are living backward–thinking that success is all about achievement and that I would feel fulfilled when I reached certain goals. Focusing all of my energy and attention on achieving, doing, changing my external world, never really feeling better.
It started when I was young and started struggling with emotional symptoms.
When I was 12, I was misdiagnosed with bipolar depression.
At the time, I had a lot on my young plate. My living situation was unstable, my mom was struggling with heavy drug and alcohol abuse, and there had been a recent death in my family.
My life was in utter chaos. I was living in a bipolar situation. And it was really depressing.
I didn't need a doctor to tell me this.
When that doctor gave me a diagnosis and a prescription (after ONE appointment), I knew that there was something deeper happening. And I wasn't about to take any kind of drugs to alter myself after the experiences I had growing up surrounded by drug and alcohol addiction in my family.
So I decided then that I was going to figure out how to change my life on my own.
That was the beginning of me trying to solve my unhappiness by chasing things outside of me.
I looked for happiness in other people. That left me heartbroken and even more depressed.
I doubled down on chasing achievements, trying to work myself to happiness. That became an endless pursuit that continuously left me wanting more as soon as I chased the next achievement. Nothing was ever enough. I was exhausted. Lonely. Still unhappy.
I continued on that pursuit until I was 25. I was in my first semester of law school. I had come so far, achieved so much, and was on a fast track to achieve so much more. My life looked so good on the outside! Everyone said my future looked bright. But all I could see was darkness.
For the first time in my life, I felt hopeless.
So I tried therapy again. This time, I found a holistic therapist who does not administer diagnoses, but instead, works with the whole person and the whole experience.
She told me that I had been putting all of my effort and energy into fixing the world outside of me in an attempt to feel better on the inside. That I was living backward.
Deep down, I knew she was right. I could feel it.
So I flipped the script and became obsessed with understanding my internal world. Learning how to live from the inside-out. Mastering the art of fulfillment and designing a life that not only looks good to others, it feels amazing to me.
A few years and several hundred thousand dollars invested later, I had worked with and learned from top therapists, coaches, biohackers, healers, bodyworkers, energy teachers—the full gamut. I couldn't get enough of it. And I just wanted to share everything I had been learning with everyone!
I realized that this transformational work was my life's calling and that everything I had experienced was preparing me for it.
So I quit my prestigious legal job and moved across the country. I became certified as a Master Practitioner in Neuro-Linguistic Programming, a Master Certified Life & Success Coach, and a Clinical Hypnotherapist.
Now I work directly with the people who need this work the most—visionary creatives and entrepreneurs who are making an impact on the world through their work. People who give a lot of themselves away to their missions and still don't feel fulfilled at the end of the day. People who have already mastered the science of achievement and are now ready to master the art of fulfillment.
And I share messages and stories about transformation, healing, and fulfillment with a broader audience through my podcast, Shadowlight, and by speaking at events.
Overall, has it been relatively smooth? If not, what were some of the struggles along the way?
Not at all!
True transformation, from the inside out, is no joke. By the age of 21, most people's personalities and belief systems–what we call our identity–are fully formed. This isn't just anecdotal information, this is supported by neuroscience and psychology. Quite literally, our brains are like computers that become programmed to "be" a certain way. This is why it is so hard to actually change. Most people can relate to the experience of setting a goal to lose weight, making a diet and exercise plan, going strong for a week or two, and then falling off. For many of us, the only thing that inspires true change is enough pain. Heartbreak, loss, grief, etc. Which is exactly what I experienced.
My transformation started after a breakup that left me questioning everything.
This line of questioning opened me up to years of unprocessed grief over emotional, physical, and sexual abuse I experienced in my life. The isolation I felt without a significant connection to family members. My mother's death and the traumatic circumstances that surrounded it. I began to learn about how these things I thought I had left behind me were still driving me emotionally.
At the same time, I was working my tushy off to finish law school with as many accolades and achievements as I could so I could get the prestigious job offer after graduation… which I got, and only felt emptier. Exhausted.
I felt like I was dying. That is what transformation often feels like, particularly if you are digging into traumatic events through the process. Our bodies have biological and physiological stress responses to emotions and beginning to acknowledge and address them can send our nervous systems into overload. This is also why so many people avoid this deep work. The feelings are actually physical and terrifying.
This feeling of death also creates its own separate form of grief. As a society, we talk a lot about grief as it relates to the loss of other people, places, and things. We don't often talk about the grief that comes along with losing parts of yourself as you transform and evolve. Even when these changes are positive and amazing and fulfilling, we are still losing the old. Like the caterpillar that becomes a butterfly, we have to cocoon, destroy the old and create the new. (Have you ever learned about what a caterpillar does while it is in the cocoon? It quite literally dissolves and redigests itself. It's pretty disgusting and fascinating and a completely perfect metaphor for the experience of personal transformation).
I have an extensive education in the world of personal transformation, but nothing that I studied or learned about was purely mental or anecdotal. It was all hard-earned through lived experience. As difficult as that has been, those experiences are what make me so effective at what I do. More than any education, degree, certification, or anything else.
Of course, building a business and stepping out into the public and sharing so openly has had its own set of struggles. But my personal transformation has been and continues to be, my deepest work. I am only able to show up so powerfully for my clients and for other people because I have been able to show up so powerfully for my self. Which is exactly what I teach!
Please tell us about Shadowlight: The Podcast.
I work with visionary entrepreneurs and creatives and leaders on mindset and personal transformation–on mastering the art of fulfillment. I designed a comprehensive program that blends modern neuroscience, transformational psychology, and ancient wisdom. It is deep, powerful work designed for people who are ready to really commit to transforming their life. This is the most meaningful work I have done because when leaders transform their life, there is a ripple effect on all of the people they are leading, all of the people they do business with, and in the business culture itself.
I also created Shadowlight: The Podcast to reach a wider audience and to share more intimate, honest conversations about deep and often difficult topics. When I was working and in law school, I had a hard time finding people who were willing or able to talk about all of the things I was learning in my personal transformation journey. It was a really dark and lonely time, and I had so many questions. I was fortunate to have the resources to explore so many transformational modalities and to be taught by so many experts, but most people don't have the ability to do that. So I wanted to create a space where they could feel less alone and find answers to their questions, too.
I interview guests who are experts and leaders in their respective industries, and who all have stories of adversity and resilience and transformation. I also record solo episodes and share information about topics based on questions from listeners. We cover a wide breadth of topics, such as mindset, mental health, spirituality, conscious business, biohacking, personal growth and transformation, trauma-informed healing principles, and so much more. This is my passion project and what I am most proud of in my work. The emails and messages I get from people about how the show has changed their life has meant more to me than any achievement on my list.
Any shoutouts? Who else deserves credit in this story – who has played a meaningful role?
Wow, SO many! I believe that everyone who has experienced some kind of success in life or in business has had people who acted as guides.
My biggest support and cheerleader is my grandma! We didn't have much of a relationship until I started college, and we really became close when I started law school. We talk on the phone every single day!
Next is the therapist I found while in law school. She has become more of a mentor and guides me in my professional development as well as in my personal development. She has a PhD in trauma-informed therapy and has over 30 years of experience working in the trenches. She carries so much experience and wisdom, she still consistently blows me away years later.
All of the other practitioners and teachers I worked with. The list is extensive, both for my personal development and my professional development.
And two friends who have made a huge impact, my best friend from law school who was the main person holding me and seeing me through my darkest hours and is still the person who understands and supports me most in life, and a dear friend who walked alongside me as we both began to expand professionally. She not only encouraged me to believe in myself as I entered this business, she also connected me with so many people who influenced and supported me.
None of us do this alone. There are always so many people cheering us on, supporting us, guiding us, teaching us… it's just a matter of how much attention we pay to it.
Contact Info:
Image Credit:
Alex Krohn
Suggest a story: VoyageLA is built on recommendations from the community; it's how we uncover hidden gems, so if you or someone you know deserves recognition please let us know here.