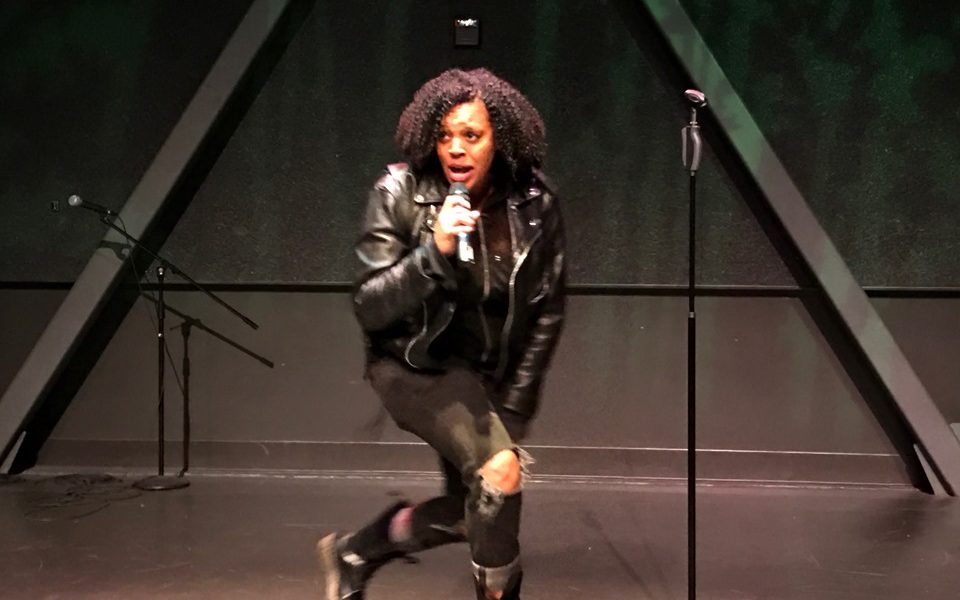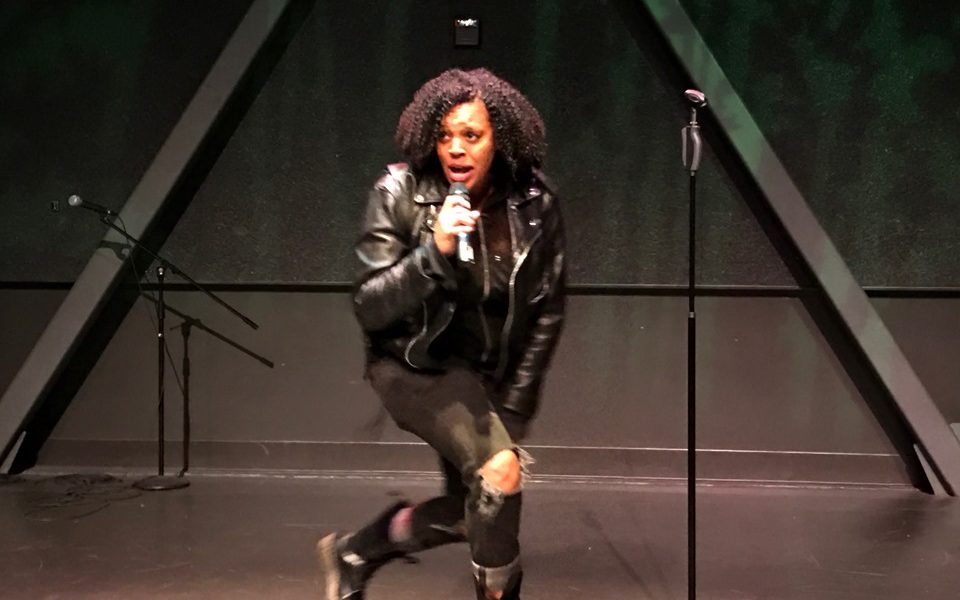 Today we'd like to introduce you to Brooklyn Jones.
Brooklyn, let's start with your story. We'd love to hear how you got started and how the journey has been so far.
I started out as a rapper. I was a local underground rapper in NYC. I used to do a lot of cyphers and stuff. Ended up on BET's 106th and Park. Won a couple of times, then lost when I froze up. I rapped for a while but as I got older I decided I wanted to do something else but wasn't sure yet what I should do. Everyone would always tell me, "You're funny. You should be a comedian. I heard that so many times, I figured, "hey, EVERYONE can't be wrong" so I tried it.
I went to a comedy workshop ran by a comedian named Clayton Fletcher. It was a four-week workshop that basically helped give you the confidence to get on stage. Of course, no one can teach you how to be funny. You either are, or you aren't but it gave me an avenue to get on stage and a safe space to try it out. Workshops like this can give you a foundation, how to formulate your jokes and get to the point quickly and get laughs quickly. It also taught me certain business details and etiquette about the comedy world.
So I started doing comedy in New York, going up at as many comedy clubs as I could. I did a lot of bringer shows at first which any comedian can tell you is stressful. Especially when you start running out of friends to bring. You start trying to make new friends just to have people to invite to your shows. I used to work at a lot of temp jobs through temp agencies which were great because I always got to meet new people to invite to my shows.
At the time, I was living in Harlem with some roommates. They were very sweet but super loud and I honestly hated living there! I had just ended a temp job and had applied for unemployment but my unemployment was not approved right away. I had to wait while they figured out some things about my application. My rent became overdue and I was like damn when my unemployment DOES come through, I'm going to have to pay the whole thing toward my rent.
At this point, I was starting to stress out. I was unhappy where I was living and had no way in sight of how I was going to change that. I remember one day I was walking to the corner store, and I said a prayer as I was walking. It was a ghetto prayer, cuz I talk to God like he's a regular person. And I was like "God, can you please help me get out of this place? I HATE IT HERE! I don't want to live here any more. I wanna move. Help me out please!"
Literally, three days later, the place burned down. I said "God that's not what I meant… but OK." So now I'm homeless and I have no job. I feel like God is like a genie sometimes. You have to be VERY specific with your asks. Because sometimes you get exactly what you ask for! I definitely was out of the place, just like I asked. The day after my place burned down, my unemployment kicked in. The roommates I was staying with said I could keep the money because I would need it to find a new place. You see how God/The Universe works? If I had gotten the Unemployment money three days earlier, my money AND my home would have been gone! I was so mad that my money wasn't coming through, but it was a blessing in disguise! Sometimes you don't get things when you ask for them but you get them right when you need them.
The Red Cross promised to help me find a new place to live. They lied. I found out the Red Cross' idea of help is a cup of watered-down hot chocolate, a crunchy blanket, two nights stay at the YWCA and a $50 gift card. So if you donate to the Red Cross, that's basically what you're donating to. You may as well just give your money to a homeless person on the street. It would help them way more.
Anyway, I stayed with my sister for a few weeks which was much appreciated, and I decided to take my unemployment check and try something new. Since I had to start from scratch anyway, I was going to start from scratch in California. So with my unemployment checks and some donations from friends and family who were concerned about me after my house burned down, I went to California "for two weeks" and never went back home to New York. I bought a one-way ticket. I said, let me just go, and I'm going to see what happens.
A very good friend of mine who happens to be the singer Shanice Wilson, and her husband, Flex Alexander, allowed me to stay with them for two months while I was trying to figure things out. It just so happens that when I went to stay with them, they were in the process of filming their docu-series (aka reality show) for the Oprah Winfrey Network. The producers liked me and thought I was funny and ended up filming me as well. So I basically move to California and immediately end up on TV! Now I'm on a reality show! Which is great but also kind of odd.
Of course, when you're a guest star on a reality show, you're not getting rich from this gig. So once the show wrapped, I was strapped for cash. I ended up signing back up with temp agencies and working office jobs again. But I'm fresh off the TV so at this point I'm recognizable. Imagine being a broke "celebrity". I would get recognized at the bus stop, on the bus, and IN MY CUBICLE AT WORK! Someone literally approached me in my cubicle like "ain't you that girl from the Flex & Shanice show?" I said, "Yes!" they said, "what are you doing HERE?" I said "same as you! Waiting for pay day" BYE! GET OUT MY CUBICLE LOL
So here I am, in Los Angeles. Following my dreams. Doing stand-up comedy, submitting myself for acting gigs, and just trying to make it as best I can. I'm a big baby and a mama's girl so I convinced my mom to move to LA too! So now we are together, two peas in a pod. We live in our own apartment together. Yes, me and my mama! LA rent is expensive! And if Imma have a roommate, it may as well be my mom because I actually LIKE HER as a person! So don't judge me because I bet you don't even like your roommates! LOL
Anyway, It's nice to have my mom here being my backbone and my support system and I also really appreciate all of the friends and family who have helped me along the way. I'm still on my grind. I have my ups and downs, but mostly ups. My house burning down was the best thing that ever happened to me so thank you God/Universe!
Great, so let's dig a little deeper into the story – has it been an easy path overall and if not, what were the challenges you've had to overcome?
It has definitely not been smooth the whole time. Being that I work a lot of temp jobs, my income is not always stable. Of course I get acting roles and paid comedy shows sometimes, but until you're "poppin'" you're not really making the big bucks. So I have to try my best to save money whenever I can to make sure I can pay my rent and bills when I'm not working. My mom is a big help but being the type of person that I am, I don't really want her to have to help. I want to be able to ball so I can take care of my mom! I'm sure that's most people's dream.
Also, being a comedian is tough, especially locally. Most comedy gigs in Los Angeles do not pay, or they pay very little. So basically, when you are going on stage in Los Angeles, it's for practice to stay on top of your comedy game and also to be seen, meet people and network in hopes of landing some paid gigs. Maybe someone with a name will see you and invite you on a tour with them, or want to book you on a TV show or something.
Also, people think that once you get an agent or a manager, everything will be smooth from there but it does not always work that way. When you have an agent or a manager, you still have to do a lot of the work yourself. I sit on casting websites every single day submitting myself for acting gigs and commercials 90% of which I get rejected. The entertainment and acting game is 95% rejection MOST of the time.
So you have to get a thick skin because it can really tear at your soul and your self-esteem to hear NO NO NO all the time! You're lucky if you even hear NO because a lot of times you just hear NOTHING back. You just get completely ignored. And then sometimes you book gigs but they pay super cheap but you have to take them because you have to build up your reel and your resume.
And even if your agent sends you on an audition, that doesn't mean you're going to book it! So you just have to really believe in yourself and study and keep telling yourself that you are talented and you are enough and just because you didn't book a gig doesn't mean you were not good. It could just mean that you were not right for this particular thing.
I recently got hired to be a reader in the room with casting directors as they auditioned people for a commercial! And honestly, it's one of the best things I could have done because it showed me that it's really true that just because you get rejected, doesn't mean you're not good. I saw people that they really, really liked get rejected because they were too tall or too short, or because they had already booked someone who looked like them, and it hurt the casting director to have to reject them because they liked them, but they just didn't need another person similar to them for that particular gig.
And also embrace your flaws, because I saw them book someone simply because they "looked funny"! They said, "hey that guy is funny looking. I like him! Let's book him" so never feel like you are too funny looking, or quirky looking, or not cute enough, or have certain flaws about your appearance. Everything about you makes you YOU and it makes you unique and sometimes that's exactly what they want, and they don't even KNOW they want that until they see you!
So I say all that to say, two of the biggest challenges are keeping money in my pocket, and keeping a positive attitude despite all of the rejection.
We'd love to hear more about your work.
I am a stand-up comedian. So my business/brand is myself. I do a lot of comedy shows all around the city but hope to branch out and go on the road more. I've done some TV stuff. I was on "The Comedy Underground" series on Urban Movie Channel, which was amazing because I got to share the stage with some veteran comedians who I look up to. I was also on Laff Mobb's Laff Tracks on TruTV, I was in LA Opera as well as a few short films. I'm working toward doing a lot more TV stuff, commercials, etc.
I do some sketch comedy that you can see on YouTube and on Instagram and I also do parodies sometimes. I didn't completely abandon my rap skills. I often incorporate them into my parodies. If you search "Beyonce, Chunky Love" or "Iggy Azalea lazy" you will see some of my parodies. I'm also working on my own streaming talk show/podcast called "The Rize with Brooklyn Jones" where I will be talking to up and coming creatives like myself about their journey and their struggles as they rise to stardom.
What sets me apart from others is 1. I don't look like any other comedian out there. And 2. my subject matter is about my own observation and my own personal journey and experiences. I tell my own stories so my stand up is very personal.
Is there a characteristic or quality that you feel is essential to success?
The main quality/characteristic that is most important to success is hard work. Hard work trumps talent and even though I am talented, that means nothing without hard work. So I am working on building my work ethic and being less of a procrastinator. The other most important characteristic is staying true to yourself and maintaining your integrity and only doing things that make you feel good! Life is good for nothing if you can't sleep at night and be at peace with the choices you make. Some things are just not worth it. So just make sure you do what is right for you at the end of the day.
Contact Info:

Image Credit:
Robin Emtage
Glennis LaRoe Photography @GlennisLaroePhotography
Suggest a story: VoyageLA is built on recommendations from the community; it's how we uncover hidden gems, so if you or someone you know deserves recognition please let us know here.
Sponsor Shoutout: Check out @dafreckledpoet on Instagram or some of her work below: