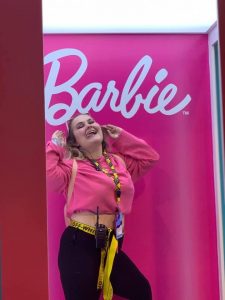 Today we'd like to introduce you to Brooklyn Barwick.
Brooklyn, please share your story with us. How did you get to where you are today?
I'm a 20 years old business entrepreneur from Laguna Beach California. I am obsessed with the color pink, Barbie merchandise, and gymnastics! Conveniently pocket-sized at 4″10, and for some reason I have a strange obsession with recreating viral TikToks.
Before I start this story, I want to thank a couple of people for the powerful impact they've had on my career. I want to thank Kevin Chang, Mel Joy, Marcus Olin, Stephanie Margarucci, Lauren Munoz, my family, and to all the people that doubted me. To the people who stood with me: Thank you for believing in me, loving me for who I am, and being my support system. To the people who doubted my abilities: Thank you for challenging me, hating me, and giving me back my love for the entertainment industry.
If you would've told me three years ago that I would be managing, influencing, and conducting business in the social media entertainment realm – I would've thought you were crazy. I never expected to be where I am today. I come from a decent upbringing from a suburban county outside one of the largest entertainment and business capitals of the world. My family was not very set on the idea of chasing my social media business dreams and would've rather me focused on my college cheerleading career. They believed it was dangerous to put your identity online and they didn't want me falling into the Los Angeles lifestyle. But being the rebellious soul I am, I couldn't take no for an answer. I had to thrive now that I had myself and a dream. Regardless of what my family thought, I moved out of my Orange County bubble when I was just a senior in high school.
Why would I do such a thing and betray my family's trust?
I've been obsessed with social media since the launch of YouTube in the early 2000s; I would make my neighborhood friends recreate viral music videos and post them onto YouTube for fun. So of course I wanted to chase my little girl dreams! But consistently posting never seemed to fully satisfy me with the content I was producing at the time. Of course making people happy was the main goal, but I remember the smell of wanting more hands in the industry; Be more of a changing part! I would wish every night at 11:11 to be in the social media industry – it was my goal to become a thriving entity and a reliable business partner. And moving to Los Angeles was the start of my movement: and I'm so glad I did it.
At first, I didn't know what I was doing. I had the influencer connections but didn't have the developed mindset as I do now that I'm older. But being in the industry from when I was 17 years old until now has taught me a lot of things about myself, the atmosphere we are surrounded with, and most importantly how to conduct business properly!
Starting at the bottom of the food chain, in 2017 I got a job at a popular gymnastics school in Playa Vista. A commute from Hollywood? Yes. Do I regret the experience? No. A commute from Hollywood? Yes. Do I regret the experience? No. Why? I met a lot of amazing people that have excelled my knowledge of business and have connected me to amazing networking opportunities. Sure this was my only income at the time but I made the best of it. Rented a two bedroom apartment with three other influencers and made it my mission to take over the industry in a positive way.
My way of thinking is that sometimes you have to be broke in order to even think outside the box. To have that money making attitude you have to come from nothing and create it into something.
My advice for someone starting out in the realm would be to get a job that is going to surround you with the right corporate atmosphere and make you humble. Why corporate? Surrounding yourself with like-minded individuals first starts in networking. It could be a barista job in a busy town square, being a gymnastics coach near some corporate offices, or even working in the corporate world as an entry-level job applicant. Whatever it may be, you never know who you may run into. Working in Playa Vista connected me to corporate employees for my ultimate passion, but also allowed me to connect to my roots and be a normal human being!
Being that my whole life has been centered around gymnastics and cheerleading, it was an amazing job for me. And I would still work there even for the enjoyment of the gym atmosphere. But being a coach taught me tools that I could transfer over to my day to day business and personal life.
If Kendrick Lamar, one of the richest rappers in the music industry can preach, "Sit down, Be humble", you could do it as well. Being humble helped my approach for business become a smoother transition.
During my employment, I would attend influencer events after work with my roommates or friends in the area. From just being in the right atmosphere at the right time, it connected me to one of my favorite business partnerships with my friend Seth. He is the Founder of a now successful casting agency for predominantly social media related projects and campaigns. He asked me to join his group called "Icon Krew" that was directly affiliated with David Dobrik's "Vlog Squad". It was the opportunity that expanded my business platform. I started at this company as an unpaid Casting Recruiter and Set Production Assistant being in the atmosphere of influencers with over millions of followers created a business animal in me! No matter how far low I was on the food chain, I disregarded it and made my own legacy creating and conducting social media-related business.
After departing ways from Seth, I came to the realization that I couldn't be 100% in on the entertainment industry without my full attention onto it. After five short months coaching, I made my transfer into the social media realm. My friend Skyla needed an in house assistant to help balance her work and personal life. Who better to do it then a friend with good intentions? However, because I was focusing on graduating high school at this time I couldn't move in with her; but I still conducted business as if I was in the flesh with her 24/7. Soon after graduation, I became Skyla Novea's in house personal assistant. Being her assistant for seven months taught me about patience, my self-worth, and becoming the women I've always aspired to be. At the time, the workload would be stressful, overbearing, and would leave me in tears most nights. However, it was a cool job overall! I would have to attend celebrity events, attend studio sessions with popular artists, and help my friend whenever she needed it. She was not only my boss but my best friend. I felt like her personal super hero for taking the stress off of her. I wouldn't trade that experience for the world, because that's when I found out I wanted to be a social media manager.
A new career goal and I had access to the right people. This was going to be awesome! However, my anxiety of being rejected took over. I was so passionate that I would think about it over and over again. I would cry, "What if they don't like my idea?", but it is because I didn't know my self-worth. It took me a while to train my body into thinking that I am a great Social Media Manager and that I bring value to the table. But it was the truth and I had to believe it in order to succeed!
Flash forward a couple of months ahead, I attended a weekend party at a popularized content house in the hills. I've been to this house thousands of times but something told me that this time would be different from the rest. I somehow linked myself with beneficial connections that are pursuing the same genre of work that I am. And I just let my charm take over. I was so scared! Somehow I got the courage, and took a leap of faith that I would never forget – and I talked to them.
After speaking with a few top tiers of the social media management industry, I decided to go full force into management. Sure, I was already embedded in the industry. But who would think that a 4″10, small blonde girl from Orange County would have any talent or drive to be in the industry? No one, that's why I had to prove them wrong. And for that I would have to thank another business friendship with Michael Gordon at Fullscreen Media. I thought being a manager would be a walk in the park until I met Michael. I studied him through our encounters and scenarios that I have seen myself – I wanted my work ethic to at least match his; He showed me diligence, integrity, and hard work. It fueled me to work harder to launch my own business and become a successful social media manager.
Helping people has always been my core roots. When I became more comfortable with the behind the scenes, I became such an empathetic employee. I've lived with different influencers and knew the lifestyle – because of this I wanted to help the entertainers with their day in any way possible. But looking back at it, you cannot put your full heart, mind, and soul into a single vessel – you have to water the whole plant.
So what did I do after being inspired? I went the traditional route and pursued my journalism education at Santa Monica Community College. Go Corsairs! That is what every 18 years old should do right? Wrong. I believe we have our own paths in life and drifting to college was not mine; However this only lasted barely a semester. I flunked my classes solely because they didn't interest me like the career education did. I was a scholar student in my previous education – but why would I be so uninterested now? Oh right, because you love the entertainment realm and your ADHD cannot handle things that don't make you happy. After fighting back and forth with my family, I moved back to Hollywood to pursue my management dreams. This was an unfortunate short-lived experience.
Flash forward into the new year: After I failed my personal management business in 2018, I wanted to go into 2019 fresh! Sure attending events and having the most fantastic parties of all time were fun. But why be stuck in a constant loop? I wanted to expand my business horizons! This is when I met the business partner that would change my life forever. As stated above, I am a very empathetic and emotional human being. When I collaborate or conduct business, I do it with the sole intent to help grow businesses and individuals. However, in Los Angeles you cannot find people like that easy! But I went through a whirlwind summer that left me with a stronger sense of who I am, self-worth, and educational knowledge on business and people.
The company I was building with this individual had no flaws except the flaw of competition between the two of us. He thought because of my bubbly personality, knowledge, and long time connection with influencers and business partners that he needed to belittle me in every way. That was step one of what I did wrong: take the emotional and mental abuse. Which is completely wrong on my end as well, but how could I leave my ultimate dream? To build a successful content house and to become one of the best social media brand managers in the country. I was stuck in an investment that I didn't see a single penny to. It was ruthless and it taught me that the simple things in the Los Angeles social media world make a huge difference to a person's personality.
"How would they react to an 80k investment?"
"What would their attitude be when they receive these funds?"
"How will they treat their investors and business partners after receiving the funds?"
These are questions that should be asked and observed in order to proceed partnership with another company vessel. And because of my emotional attachment to the idea, I felt the need to disregard the disrespect and keep working. It killed my mental health and self-esteem! I called myself a "Girl Boss" and sang the song "Climb" by Miley Cyrus as a way to make me feel better. Which is a complete misrepresentation of the women empowerment that comes with being a Girl Boss.
I was not happy as I thought I would be – my ideas were running out and the supportive funds were spent. I was not valued by my peers and had to think for myself. Why would I keep working for something that didn't satisfy my soul in the end? After a whirlwind of drama within the company, I left. Did I want to? No. Was it necessary for my growth and development? Yes. It killed my emotions every day to have gone through such a traumatic time.
My friends Stephanie and Marcus were there to pick me up from the free fall of emotions. I kept receiving text messages and phone calls from them. It wasn't just about business either, it was about our friendship. They love me for me and nurtured me until I was nursed back to health. It is not perfect but it was a kick start into the right mental health space.
Here I am, a young 20 years old woman restarting her business model. What will I do now? For the last couple of months, I didn't know what I wanted to do. I was a lost soul. Shortly after the trauma, I became national traveling and added new locations to where I conduct my business. Finally, my friend and business partner Melody Joy asked me to move into her content house. I thought it would be crazy living in a house full of creatives without my personal connection with them. I was the new girl, I had to learn to socialize and restart my lifestyle. But it was the best decision I've made so far. Although Mel is an influencer with millions of following, she has been teaching me how to conduct business in a positive way. I thank her every day for those life lessons.
From all those experiences, I now conduct business in a way I want to – it is still a working progress but it is making myself happy. And that is what should matter! Not what my job description entails, but for me to be happy with myself and my career.
Overall, has it been relatively smooth? If not, what were some of the struggles along the way?
It has definitely not been a smooth road for me and my career. I would say the biggest roadblocks are when I let myself care about other people or activities more than I care about myself. I have always had financial and outer struggles, but those are only temporary when you care about yourself enough. Care for other people and activities as well, but always put your mental health first. I've learned that you need to work on you before you can work on anything else.
We'd love to hear more about your work and what you are currently focused on. What else should we know?
My job description includes being a Social Media Brand and Talent Manager as well as an Influencer and an overall "Boss Babe". I specialize in marketing, branding, and overall social media growth – I have an amazing track record of managing influencers to reach their full potential. I am known in the management industry for always being a hard worker, uniquely myself, and having my business be a great success at such a young age. What sets me apart in the management industry is definitely the age and height difference! Managers have the stigma and reputation of being older and because they are older they are believed to be much wiser. I break all the assumptions! I do however believe that I am a lot more mature than the average 20 years old in the entertainment industry because of my mindset. I do not have the regular young adult mindset – even when I was a teenager I was always different. I believe that blowing money on designer clothing and buying unnecessary items is not going to let myself grow; it will instead hurt me trying to compare myself to others. And for that, I know I'm a wallflower.
If you had to go back in time and start over, would you have done anything differently?
I think about this all the time, too much for my liking. I don't know where I would be if I didn't take this route! I would probably be cheerleading at a university completing my Bachelor's Degree by now. As I tell every new resident of the Los Angeles area: If I were to start over, I would've told myself to wait a year, graduate, and save up to go to Los Angeles. Not only is it expensive to live here, but saving up teaches you and helps you learn to be humble and core to your roots in such a big space. Being naive in the industry really hurt my self-esteem at a young age. Made me think less of myself, which is something I've been learning that isn't good for the internal soul. I went through so much trauma that I honestly wished I had better judgment and preparation for the industry. I do not however regret the experiences I've had out here one bit! Everything that happened to me happened for a reason to teach and grow me as an individual. I'm thankful for my connections and experiences made in the City of Angels.
Contact Info:
Image Credit:
@mel.joy @marcusolin @beasteater @azusabarbie @liltay @laurenannamunoz
Suggest a story: VoyageLA is built on recommendations from the community; it's how we uncover hidden gems, so if you or someone you know deserves recognition please let us know here.