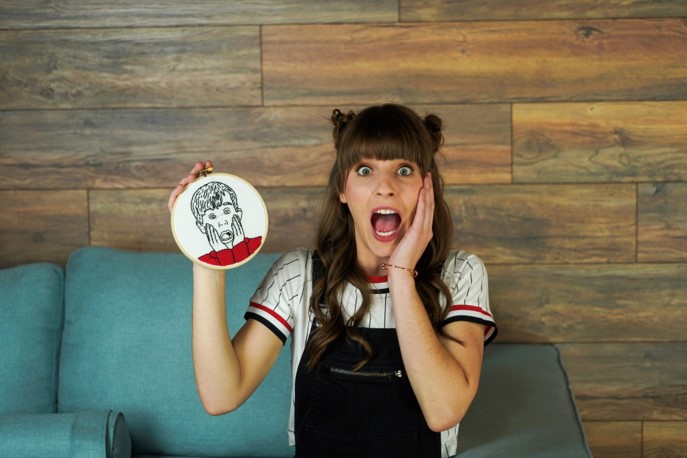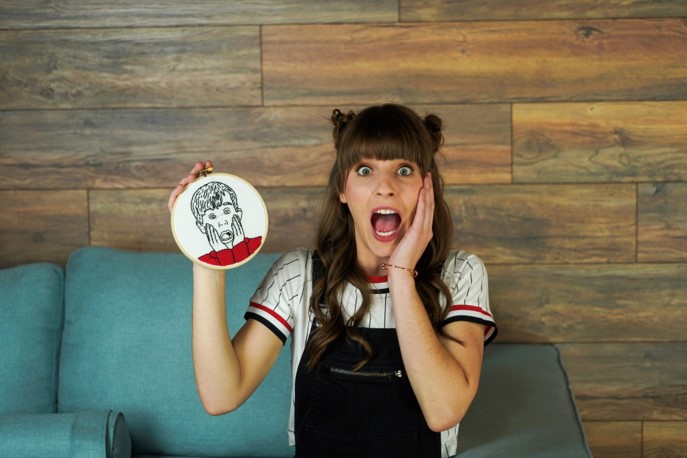 Today we'd like to introduce you to Brittany Uecker.
Thanks for sharing your story with us Brittany. So, let's start at the beginning and we can move on from there.
Most people's lives are defined by big choices, like moving away from home or quitting that cushy job. Mine was joining Pinterest. My grades suffered, my sleep nonexistent, but I had found my people. People like me who would rather spend double the amount of time & money to DIY some new curtains than purchase some you know will be the right length. I literally couldn't get enough. My poor roommates & boyfriend were champs, letting me craft all over the living room floor & receiving more handmade gifts than they'd ever gotten from their grandmothers. I tried it all, the bleach patterned shirts, the secret hollowed-out books, metal stamping jewelry, seriously just name it & you can find it under my "to done" board. When I came across cross-stitching, I thought "that's basically a paint-by-numbers, but with thread, how hard can a bunch of X's be?" Hard, no. Time-consuming, holy wow, yes. But I was hooked.
After a while, I got tired of the numbers, the counting, the planning & I had all these great ideas I couldn't translate with X's. So I used the sewing skills I learned from a class in 8th grade & started winging it. I couldn't believe how much more freedom I had with an open canvas. Trust me, I know how ridiculous that sounds, but no map & no outline, I was obsessed. Anything my friends said that made me laugh, BAM, it was stitched with a twirly font within the week. My friends suggested I start selling them, but I never took it seriously, I was about to move to LA & had convinced myself I shouldn't split my focus from acting. Quickly after the move, I was so anxious, so much built up creative energy not put to good use, no one knocking on the door offering me my own Netflix series! So I started embroidering again. It calmed my nerves, it made me feel like my artistic side wasn't being overlooked & having something tangible to show at the end of the day was more important to my self worth than I realized. I spent most of my first year in LA rewatching my favorite comedies (The Office, Always Sunny, Park & Rec) & stitching any phrase that made me laugh. After my hall closet started overflowing with finished hoops, I decided it was time to sell my babies. They were orphans who needed good homes. So I opened an Etsy shop.
The shop was a hit. So many people back home in Texas asking me for custom orders, supporting the shop & making me still feel connected in their lives from far away. Pretty soon after the shop, UCB, a comedy school I attend, put up an Arts & Comics showcase where comedy students could display & sell their own artwork. Everything snowballed after that. I posted the pop-up on cheeseywhiskersshop Instagram account & businesses started DMing me to do pop-ups with them. After a couple of these, I met some local embroidery artists & together we started doing "live embroidery" at businesses, where customers buy an item of clothing (from said business) & we stitch something cute onto it for free. People love to stop & talk, asking all about this "lost art", so impressed to see it done by hand, so many stories about their grandmas! Once we started stitching for influencer parties around Coachella season, you could really see the importance of a personalized touch. 100's of girls are getting the exact same thing for free, but once we stitch their initials, stars or their Instagram handle on the sleeve, it becomes THEIRS. Collaboration is a best part of our artistic journey & I truly love helping people bring their ideas to life with thread.
We're always bombarded by how great it is to pursue your passion, etc – but we've spoken with enough people to know that it's not always easy. Overall, would you say things have been easy for you?
The biggest challenge is getting past that voice in your head that says your art doesn't matter. That voice that reminds you that it's been done or recalls that one hoop you saw on Instagram that was the most intricate stitch you could have never imagined. There might be 10,000 renditions of art inspired by The Office, but no one can make the same looking Dundie stitch as you. I've wasted a large amount of time overthinking the worth of my art, not adding a hoop to my shop because I didn't like the way the lettering turned out or thinking my Han Solo looks more like Michael Jackson. But as I've come to find out, you can rarely predict what people will like & if you hate your handwriting, everyone else probably loves it. That "sloppy" heart ends up being the "charm" they were looking for in their new decor. People are just as wonderfully strange as you, they like knowing it was handmade with care & intent, not something mass produced your Aunt Sherryl could find during a Pier 1 trip.
The best momentum you can get today is to put your art out there, let others decide what value it brings to their world, because your value is creating & sharing what you make. The only limits in life are the ones we put on ourselves, the rules we make and live by, but there are no rules to art or expression. There shouldn't be. So why not throw some noddles at the wall, maybe there's some sticky ones in there.
So let's switch gears a bit and go into the Cheeseywhiskers Shop story. Tell us more about the business.
The old business cards used to say "sassy hoops for your boring walls" but now, "hand embroidery, extra gooey" under the Cheeseywhiskers Shop bio. I am currently a one-woman company; stitcher, seller, shop owner. I make hand embroidered wall decor, colorful & cheeky with lots of tv show tributes. I also do pop-ups & live-embroidery in partnership with companies currently in the LA area, willing to travel! (let's talk)
The greatest part about being a smaller company is the culture that comes along with embroidery, you meet other people running small businesses, you get to come across some incredible artwork others have made & become supportive, online BFFs. You feel understood about the annoying parts of it all, because they're the only people on the planet who can understand (or care) about the frustrating nature of DMC threads numbering system?! The level of direct involvement at this stage is so heartwarming & necessary. We even have memes, ya'll!! We feel heard.
I think what sets my shop apart from others is that it's me, it's fun, a bit all over the place, probably quotes tv too much, but always colorful & a little spice that can fit in with the everyday. While I see the value in establishing a clear theme to a company, I didn't start embroidering to stitch the same four patterns to make more money. I started this because I enjoy trying new things & bringing something that moved me to life. And shouldn't some things just be one of a kind?
Has luck played a meaningful role in your life and business?
I could say it was lucky that Brie Larson posted my "Unicorn Store" hoop in her Instagram stories, or I could say that it might have been the tagging, the retagging, the rehashtagging & posting I did in the community to up my chances of her seeing it. Which is still pretty lucky. But luck & timing usually find their own way together. You just have to put it out there first. You can't gamble if you don't ante-up.
I used to be riddled with thinking luck was driving me. Bad or good. Thinking that if I heard a certain song or wore a certain purse, that my day would be ruined & unlucky. But I realize many years later, that those feelings are often ways to cope for when your world feels out of control, so you can take the reigns on controlling this one thing because it worked out before. I think I hadn't found where to channel my creative energy. Now that I have my embroidery shop & I have found my comedic voice through improv, I no longer feel like luck is what needs to be constantly considered. So much of the luck we find is by doing the work, possibly volumes of work, in hopes it will be reached by people it means something to as well. And maybe they'll purchase it or share it or just double tap it. But no one will see it stuck in that hall closet.
Contact Info:
Email: bee.uecker@gmail.com
Instagram: @cheeseywhiskersshop
Getting in touch: VoyageLA is built on recommendations from the community; it's how we uncover hidden gems, so if you know someone who deserves recognition please let us know here.