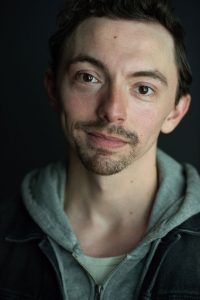 Today we'd like to introduce you to Brian Knoebel.
Brian, before we jump into specific questions about your work, why don't you give us some details about you and your story.
I'd say my 'artistic journey' started when I was very young. I've always wanted to be an actor, and I've always yearned to be able to use my body and my voice to tell stories. I eventually went to Point Park University for Theatre Arts where my love of movement and dance started coming out to play. After college I moved to NYC to 'make it on Broadway!' -which is the 'dream,' you know, to be paid a living salary to do what I love. Yet at the same time, I was starting to uncover my truth in the LGBTQ+ community. I realized that I wasn't very comfortable with the 'gay scene,' and I felt like I was very judgmental of queer folks who were confident in their own bodies… I wanted to be like that! But it's so much easier to say mean things about others, even if it's in your head, than to actually try to figure out why the hell you felt so ashamed or intimidated by their confidence and pride. This is where my journey took a magical turn.
I'd say it wasn't until I became single, that I let myself go out and explore the LGBTQ+ community, and even started exploring my own sexuality. I started surrounding myself with other queer folks having similar experiencces, and I slowly started to comprehend all of my feelings, mainly having to do with gender norms: what it means to be masculine or feminine, and that maybe were all just a balance of the two. Something about growing up queer in the suburbs of Pittsburgh PA makes you think you're not masculine enough… and it didn't help that I fit the stereotypical 'gay kid' and was voted 'Drama King.' Imagine that.
Now how does drag fit in… or to be honest, how could it not. Every young gay has tried heels on at least once, and if they say they haven't then they desperately have always wanted to try it. It's not until I moved out to LA-leaving everything behind on the East Coast and only bringing three suitcases and a Spotify playlist called "Life's a Drag," where the itch started to try drag. I've always performed on stage: off-Broadway, regional theatres, and a decent amount of Film and TV. But being out in LA, the theatre bug inside of you starts itching and you have to find some creative outlet, or you feel like you'll die. Dramatic, yes, but it's true.
Luckily, I just joined a gay kickball league and they had a Drag Kickball Fundraiser/Game. My one moment to shine in drag! I showed up in a wig (I bought the day before), a tutu from Goodwill, and a pleather singlet (which I wore for Pride in Berlin). I've always been a little seamstress, and I was obsessed with stage makeup/FX makeup in college-not to mention my obsession with thrifting. It felt like my passions were colliding. Eventually, post Drag Kickball Fundraiser/Game, one of my favorite bars, Revolver in West Hollywood, had a competition for amateur queens. I thought: would I ever get this chance again?
Being able to take multiple songs and voice over dialogue, edit them together to tell a story, and then perform that for a group of people in an outfit I made or put together, with a few reveals, add some stage blood… my inner theatre bug was so satisfied… and so was my soul. Now, not to toot my own horn, especially being my first real time in drag, I made it to the Top 4! (aka I lost) I then started performing at different bars in the LA area, and it's been life altering. What a better way to explore your own gender identity than to put on a wig and a pair of heels.
My style of drag is definitely a representation of my journey in the queer community. I don't really enjoy conforming to gender norms, and maybe some days I do more than others, but it's my drag and my choice. I also get to create performance pieces about self-love, addiction, rape/sex abuse. These are real issues that we MUST talk about, especially in the LGBTQ+ community. Does it feel amazing to do a jump split at the key change of a Beyoncé song…yes…but so does pulling a bloodied decapitated head out of a basket, as a physical manifestation of taking back your own sense of confidence and self-love. Did I mention I love stage blood?
Has it been a smooth road?
My drag has had its ups and its downs, like everything in life. I am constantly worried that I'm not 'good enough,' like every other human being in this world, and I constantly compare myself to other queens and kings. But every single drag performer has their own journey. And 'good' drag isn't always the person who can death drop the hardest, it's also those who show up to a performance, or who perform online, and get people to forget about their problems, or maybe even start talking about them, and go on an adventure.
I did a number once that was a light head nod towards big pharma and the problem with over medicating our children in America. I had someone after the show come up to me to thank me for showing something so honest, and we soon began talking about some really personal stuff. I started that dialogue on stage, and the people watching me were able to finish it. There's no feeling quite like it.
Now I, like most other people in the world, love Drag Race and Dragula, but it is not the be all and end all. If anything, it probably stresses more artists out thinking that they have to be like those queens and kings in order to be a success and taken seriously. So now the drag scene has become so overpopulated with 'competitions' that the true enjoyment of the craft is diminished as queens try to impress for cash. Now, I owe the start of my drag/performance art journey to a competition though, so I'm not against them at all. They're great exposure and practice! Will I do another, I'm sure I will, but my friends don't have to worry about me dragging them along every week so they can chug a vodka soda to vote for me.
In regards to tips, I honestly really struggle taking them while performing. #justthetip I always want to make sure people watch me without having to feel bad for not tipping, or not knowing when to tip. I myself, don't even know when to take them, like should I try before or after my reveal?? It stresses me out more than the audience I'm sure. The only time I ever actually tried to get every single bill from the audience is when I was going to donate all my tips for Forge. I was very aggressive that day, but we made almost $200 dollars!
Please tell us about your work.
While I was working a shitty serving gig in NYC, my friend and I would pass the time between serving overly priced champagne to angry rich men, by creating fun and silly drag names and telling them to each other. One of them stuck out and I knew I had to claim it as mine. Mildred Fierce. I've always loved Mildred Pierce, and even Carol Burnett's Mildred Fierce sketch…Mildred is a dramatic queen who has a lot to say…and that's me!
I studied stage makeup a bit during my time at university, falling in love with stage blood, liquid latex and bald caps. My favorite look being 'Dobby' from Harry Potter, a look I've done too many times to be honest. I've also loved working in the costume shop during school, and love thrifting and creating my own one of a kind pieces. I even worked on wigs for a few musicals back in the day… It's almost like I accidentally trained to do drag for years.
I'd say I am slowly but surely becoming known for my storytelling. I can jump into a split like the other gals, but I love to take serious issues and turn them into engaging performances. Mildred is a theatrical drama queen, what can I say? I LOVE a good reveal, and will try to incorporate blood into almost all of my performances too. There's nothing better than taking my wig off, having a bald cap underneath, and then ripping a fake bloodied heart out of my chest. That!
That right there is my aesthetic. It's not to just be creepy or to add a 'shock factor,' but through telling a story, and raising the bar to something bloody and soulful. You can't stand on stage and barely move your mouth to a Whitney Houston song anymore, people want a show, no matter how drunk they are. So let's just say: you will never see Mildred Fierce perform a song without a beginning, middle and end.
How do you think the industry will change over the next decade?
With all of the drag competitions happening right now, both in real life and on TV, I have a fear that it's all it will ever be. Drag queens and kings should not have to compete against each other, force their friends to come and get drunk to vote for them, spend far more money than they make in tips, so these bars and venue spaces can make money on a slow night, and the performers can maybe break even. We are artists, and we deserve to be paid for our work. Now I may be saying that because I've had some success as an actor, and as an actor, I don't work for free. And for Drag, I've mostly been doing this as a creative outlet and as an investment in my future as an artist. But that's not the same for all of these performers.
However, I am going to contradict myself just a bit and mention again how I owe the start of my drag career to a competition, and I will forever be grateful for the opportunity. Aren't we all full of bloody contradictions? That's how I started a whole new family with these drag performers here in LA! I also want to support these bars/venue spaces that have created a safe place for queers of all kinds to exist. I just feel like there must be more to it. I want to find a way to pay these artists for the opportunity to watch what they can do! With that problem in my mind, I've been working with a few people on creating a 'drag-variety show' of sorts, where we can host monthly events with actual paid performers and artists of all kinds, with the hopes of altering the way we view drag/performance art as a viable career, and create more safe spaces for these artists to gather and perform.
Contact Info:
Website: www.BKnoebel.com
Email: itsMildredFierce@gmail.com
Instagram: @itsmildredfierce @itsbrianknoebel
Image Credit:
Todd Estrin.
Suggest a story: VoyageLA is built on recommendations from the community; it's how we uncover hidden gems, so if you or someone you know deserves recognition please let us know here.