Today we'd like to introduce you to Brian Keith Thompson.
So, before we jump into specific questions about the business, why don't you give us some details about you and your story.
I was released from prison Feb 11th, 2000 and was working out at a gym in North Hollywood. I had these old tattoos from my prior life, from being in street gangs, which was bothering me because I wanted to change who I was. But this old life was staring back at me in the mirror. It's hard to make the total change when you're constantly seeing the old you. I notice that a lot of my clients who are female when they go through a divorce or a breakup, they cut or color their hair or they get a tattoo or new piercing and it's a way for them to look different in the mirror so they don't see that old relationship. It's over and it's a new them. That's more or less what I wanted to do.
I had this gym friend named Gypsy, a big dude with tattoos everywhere. I wanted to get a cover-up on my chest—a tattoo of a Japanese dragon—so one day I asked him. He said, "Dude, you got to go to my place and see my boy Adrian at Electric Body." When I got home from the gym I called information. (This was back in the days before you could find everything on the Internet.) But they didn't have a listing for Electric Body. So I called Gypsy. He checked and realized it's wasn't Electric Body but Body Electric. I finally got on the phone with Adrian the tattoo artist and he asked if I wanted to come down. I was still in my gym clothes but I jumped in my car and drove to the studio.
I walked into the studio and it's Adrian and this other tattoo artist named Lee sitting on the couch and Adrian is wearing all black and has a black line painted down his face and I'm thinking "This place is cool." Five years later, I ended up owning it. At that time, the only thing I knew about the tattoo and piercing industry was that I'd received tattoos. I was a tattoo collector; that's it. I actually knew nothing about the piercing industry.
And that's how it all started.
Overall, has it been relatively smooth? If not, what were some of the struggles along the way?
It has never been a smooth road. It's been kind of like La Brea Ave. as you're getting close to Wilshire: nothing but potholes and rough patches of asphalt. I've worked for businesses. I was in a corporate job for 10 years before purchasing Body Electric. But none of it prepared me for what was about to happen. I took it over two years before the great recession of 2008, as a complete novice.
In business, you're going make mistakes. You just hope that your mistakes aren't so terrible that you can't recover from them. My first mistake was signing a contract with a credit card processing company that was just horribly in their favor. I was losing money on the deal terribly and couldn't get out the contract. So I finally made it out of that and learned a lesson: read the contract. Don't believe what they tell you. There are companies and people out there that thrive off of small businesses and taking their money. And a small business can't recover like a big corporation can. You don't have the income, especially when you're new at it.
When I took Body Electric over, the first month, we made $9,000. That's not a lot of money when you factor in rent, power, supplies, and paying your artists. It wasn't enough to survive on. I was sleeping on the floor of the piercing room at night and living out of the trunk of my car. I made the mistake of trying to run the place too corporately because I am a Marine and I was from corporate America, so I kind of brought that feel into it. But years later I realized that you can't work with artists in that type of corporate structure.
They don't mesh well with it. And you can't treat all the artists in the same way. You've got to be more like the U.S. State Department, and treat each one like an individual country (like how the U.S. treats each country differently). That's how you have to manage a studio with artists. You have to "massage" some of them; you have to be more hard-line with others, and some you have to congratulate more or whatever. It's a balancing act—tough but rewarding if you figure it out and dial it in right.
These are all ups and downs of business ownership. Figuring out the taxes and city permits and fictitious name statements, and "should I be an LLC or a corporation?" and insurance and all these things are just being shot at you.
The country and politicians say they stand up for small business and "we're about small businesses" but nothing I've seen as a small business owner for the last 12 years shows me that anyone cares. You're basically on your own and the more partners you have, the more problems you're going to have. I live by the philosophy that if we were meant to have partners, God would have had one. I don't have partners in business and I don't want them because, at the end of the day, it needs to be one voice and one direction: mine. And if there are too many hands in the pot, you are getting pulled in too many different directions. All relationships end—it's just inevitable—and when it's in business, then your company ends. So if you're really serious about owning your own business, from my point of view, try to do it on your own.
It's a bumpy road, owning a business, especially in Los Angeles. It's an expensive city and it's not cheap to operate in. But the silver lining is that if you can do it in Los Angeles, you can pretty much do it anywhere. This city does have teeth and it will bite you if you're not careful. But if you learn how to tame that beast, it can be very, very profitable in this city.
Alright – so let's talk business. Tell us about Body Electric Tattoo – what should we know?
Body Electric is a tattoo and piercing studio. We offer custom tattooing and what that means is that we don't have "tattoo flash." When you walk into a tattoo studio and you see those pictures of tattoos on the wall, that's flash. We don't have that available. You can bring in a picture if you want. We'll copy it if that's what you want to do. We can also come up with a concept. You can say, "Hey, I want a Japanese dragon on my arm. Come up with something" and we can just create that and draw it up for you. Or you can come up with specific ideas and drawings that you want to incorporate. These artists that work with me can pretty much do anything and everything.
Most of them have been tattooing for more than 10 years—a few of them more than 20—so they have a lot of experience. On the piercing side, the bulk of my business is ear, nose, navel, and nipple piercings. That's mainly what we do. We also do a little bit of micro dermal piercings but its popularity has kind of faded, so it's a little bit here and there. Decorating the nose, the ears, the navel, the nipples—that's what I'm good at.
I don't offer the more hardcore style of piercing anymore—things like tongue piercing, branding, or scarification. I don't do any type of implantation. Most of those are illegal—branding is not illegal in L.A. but scarification and implantations are. If you're doing it without a medical license, it's actually a felony.
I'm not saying that these things aren't wanted out there. But it's really not my forte and not what I enjoy doing, so we don't offer it. Body Electric is also a fine jewelry store. We offer gold (in yellow, white, and rose), platinum, and genuine diamonds. We also carry titanium.
What I'm most proud of in the company is the attention to detail. The studio is meticulously cleaned every day by the staff. We show up every day a half-hour before we open and we clean the entire store together as a team. This happens every single day except for the three days of the year when we're closed (Thanksgiving, Christmas, and New Years). Nowhere—anywhere, I guarantee you—is that occurring like it is at Body Electric Tattoo.
Body Electric is a studio that, no matter who you are, where you're from, who you pray to, who you sleep with, what color your skin is, we accept you. The only people I discriminate against are assholes. Those people, I will run out of the studio.
On my Yelp! page, you'll notice it's mostly five-star reviews with a few one-stars sprinkled in. Those one-stars are people who come in demanding service in a very rude and obnoxious way. I don't respond to that nor will I ever. I don't care who you are; if you come in and start demanding anything, I will march you out the front door. I will not reward that type of behavior. If you come in with dignity and respect and respect Body Electric, then I will offer you the same in return. I tell my clients that I am a mirror.
I reflect back what you show me. You want to be kind, I'll be kind. You want to be rude, I'll be rude. You want to be confrontational, I will be confrontational. I will not allow people to come in and bark orders to my employees. We may service you but we do not serve you, nor will we ever. If you want to come and work with us, we'll work with you. If you want to be combative, then I will be combative with you. That is where my policy stands and it will always stand there.
What sets us apart from others is the professionalism. It is a professional but inviting and fun environment. It's sanitary but it doesn't look clinical like you're in a hospital. Most people comment on the vibe. They love the vibe, the energy. And that energy is real; it's not purchased from IKEA and imported in. It is an essence of everything and everybody working there and the patrons as well. They add to the vibe too. It's everybody.
I'm most proud of the fact that as busy as my team gets, we still have fun and we offer a level of service that I think you can receive just about nowhere else.
Any shoutouts? Who else deserves credit in this story – who has played a meaningful role?
A lot of my past (and future) employees played (and will play) a role in Body Electric. I set the tone, the drumbeat, and they pick up the tune and play to it. It's what makes any team great; it's everyone involved. It's a combination of everyone and everything.
Contact Info: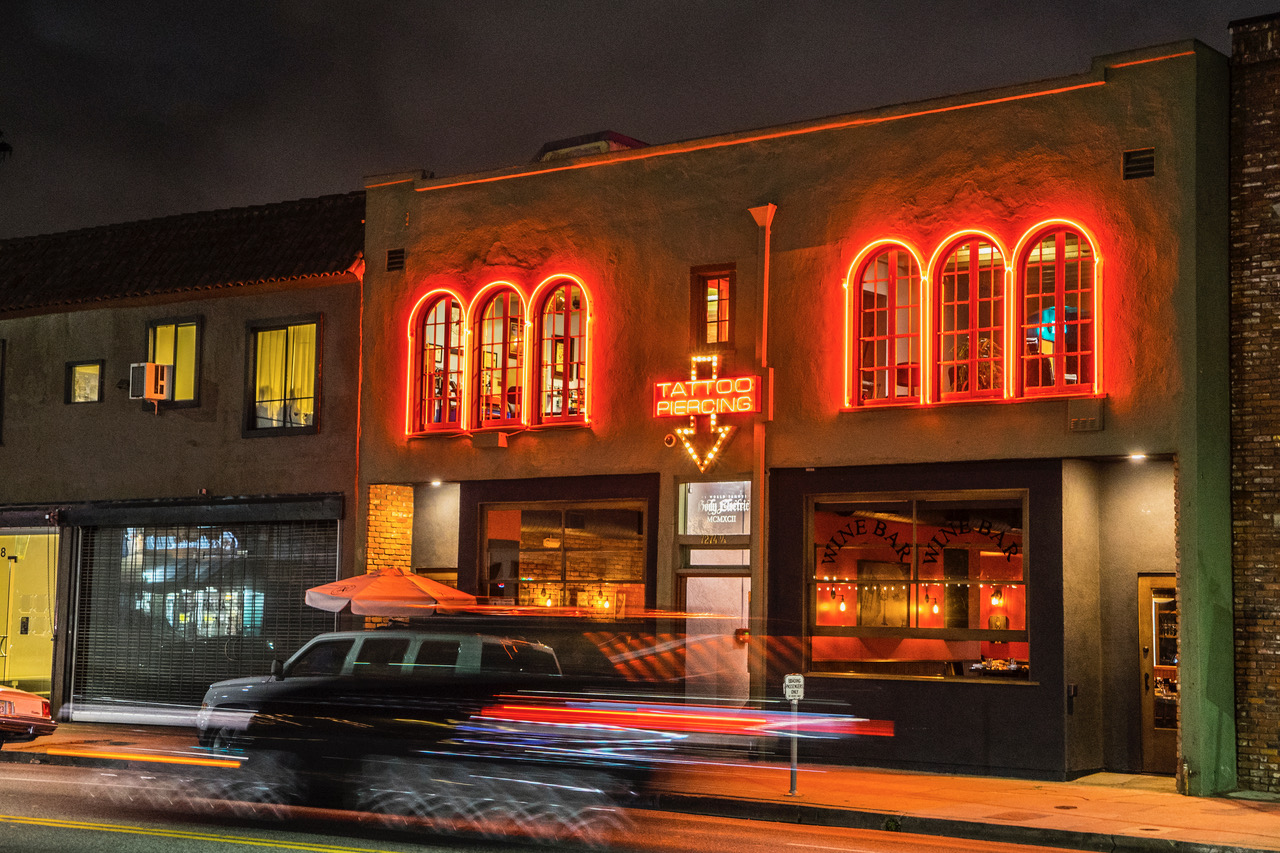 Getting in touch: VoyageLA is built on recommendations from the community; it's how we uncover hidden gems, so if you know someone who deserves recognition please let us know here.