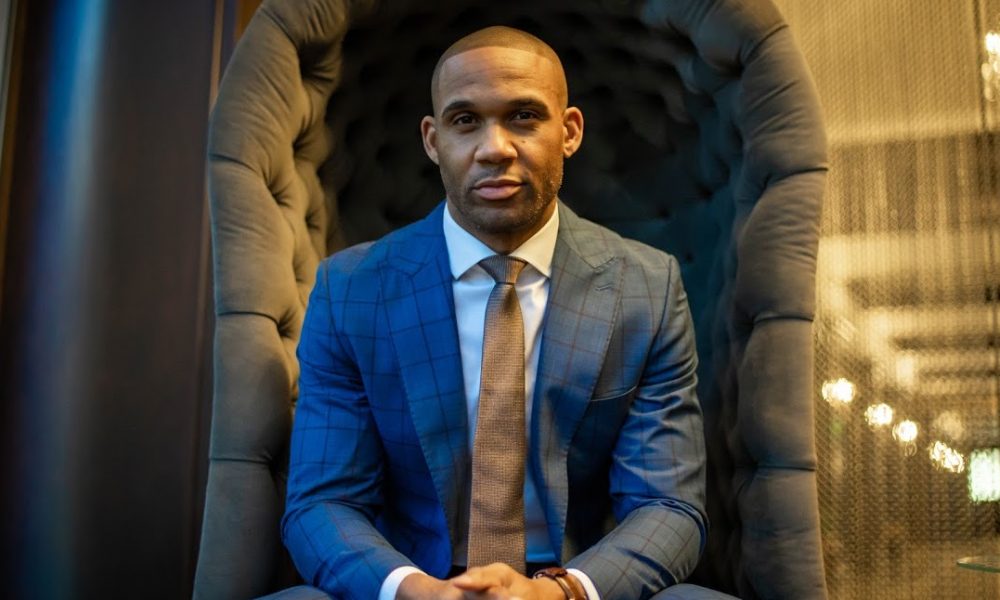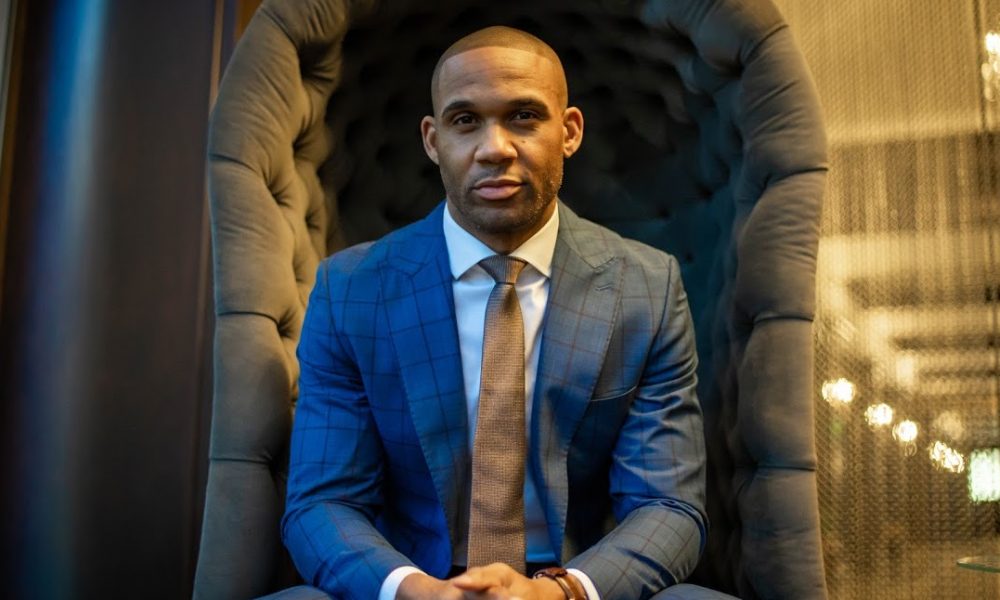 Today we'd like to introduce you to Bret Lockett.
Bret, please share your story with us. How did you get to where you are today?
I'm a serial entrepreneur, business consultant, international speaker, and former NFL player. My journey into the NFL was a bit unorthodox to say the least. I left UCLA two quarters early to pursue my dream I've had since a young boy. Knowing the odds were stacked against me, I leaned into outworking my competition. After the NFL draft, I was offered a tryout with the Cleveland Browns. I knew it was my only chance to play in the NFL and I had to capitalize on it. After three grueling days of practice during the Rookie Camp, Eric Mangini, the head coach at the time made all of us run a conditioning test. Each of us had to complete twenty, sixty yards sprints, in about seven seconds, with thirty seconds of rest between each sprint. That moment, I made the conscious decision that I was going to beat everyone on that field by five yards. Not just to prove how much I deserved to be on that team but to prove that no one on the field wanted this more than I did. Shortly after, Eric Mangini brought the team together in a large huddle and thanked everyone for participating in the "Rookie Camp." He followed and said, "I'd like everyone to know we are signing Bret Lockett." I was in shock! Later that day, I signed a contract with the Cleveland Browns, and that was the start of my NFL career.
However, that wasn't the only hurdle I had to overcome. Because I left UCLA two quarters early, I was unable to report back to the team until training camp. At that time, the NCAA had a regulation that did not allow college football players to leave school during the year without graduating. So I waited until the last day of the spring quarter and flew out to training camp the next day. During training camp that year, I was hospitalized after our third preseason game with a chest contusion. Knowing that if I didn't play in our next preseason game I would be released, I strapped up and played against the Chicago Bears four days later. Prior to playing the Bears, I took the devastating pain killer called "toradol," which I thought would mask the pain. It didn't. During the first play of the game, I made a tackle against running back "Chester Taylor." The pain I felt was excruciating but I pushed through the entire game, playing what I thought was sub-par football. The next day following the game was when all NFL teams had to cut their rosters down from 75 players to 53 players. That Saturday afternoon, I was brought into George Kokinis office, the general manager for the Cleveland Browns at the time. He said he was pleased with my play but wanted to sign me to the practice squad. At that time, each team in the NFL was allowed to carry eight players who only practiced with the team but could be activated to the active roster, and play on Sunday's. During this time, the team had to physically release me from their roster and then resign me back to the roster the following day.
A bit discouraged, I returned the following day to resign my contract with the Browns. As I waited outside of George's office, my agent, Bardia Gharamani called me. I picked up the phone and he said, "B, pack your shit. You're going to New England." I couldn't believe it. The New England Patriots had signed me to their active roster during the 24 hours the Cleveland Browns had released me. Two hours later, I was on a plane to Boston. I remember landing in Logan International and being picked up by the staff. We drove about forty minutes to the hotel in Foxborough. It was pitch black outside. The following morning a member of the Patriots staff picked me up at the hotel and brought me to the Patriots practice facility at Gillette Stadium. The first person I saw once I walked into the building was Bill Belichick. He welcomed me to the team, and that's how I made it into the NFL.
Currently, I run two companies, M2Jets, a full-service private aviation company, and a boutique advisory and consulting firm, Newport Ventures Group. I started my entrepreneurial journey while I was playing in the NFL. During my career, I began coming across business opportunities off the field. Understanding that the NFL wasn't forever (Not For Long), I began investing and advising startups. One of the first companies I worked with was Israel based technology company, Mobli. Mobli was a social media video and photo-sharing app directly competing with Vine and Instagram. Shortly after, I invested in an Orlando based transportation company called GroundFlights. Both companies had their fair share of challenges over the coming years. Mobli eventually shutdown in 2016, mainly due to being unable to build a reliable user base. GroundFlights, an executive transportation company followed suit shortly after due to a lack of funding amongst other prominent challenges.
As much as I love to win, I hate to lose but the lessons I learned throughout working with these two companies were invaluable. Moving on, I took these vital experiences and lessons and created a mandate for how to evaluate talent, build a billion-dollar executive team, and how to course-correct along the way. Since then, those challenges have led to several victories.
Outside of business, I have a deep passion for helping children and animals, amongst other global causes. This has led to my involvement in philanthropy, specifically with the organization People for the Ethical Treatment of Animals (PETA), as well as Habitat for Humanity, Chabad's Children of Chernobyl, and several others.
Overall, has it been relatively smooth? If not, what were some of the struggles along the way?
Smooth roads are roads untraveled. If you are going to do anything significant in life, you must cross some rough patches. My entire life, I have always been the underdog. Even though I was always more athletic than my peers, I have always had to fight and scratch to gain respect and earn my right to be called successful. As a child, I was heavily bullied from 6th grade all the way into college. I grew up in Diamond Bar, CA and enjoyed activities like skateboarding and rollerblading, as well as playing sports. I wore DC's and Vans before it was cool for black kids to wear skater shoes. I also listened to "Blink 182" and "Green Day," and was teased for it. I remember always having to fight to fit in. Fortunately, I have an amazing family and I leaned on sports to help me build self-confidence. Excelling on the football field or basketball court was my way of showing my peers I did belong. It drove me to work harder than anyone else. I carry that work ethic into every that I do today. I'm not sure where I would be without sports.
I remember in high school, my football coach wasn't necessarily supportive in helping me play college football. My junior year in high school, I decided to try my talents at a Nike football Camp at San Diego State University. Prior to attending, my high school coach didn't believe I would do well. Still, I attended and outperformed everyone. A week later, I had my first scholarship from the University of Arizona. I learned during that time to never rely on other's to validate your abilities. Especially when they have never gone to the level you are trying to get to.
Fast forward to college. My final college football game at UCLA was against crossed town rivals, USC. Pete Carroll and the Trojans came into the Rose Bowl, in 2008 with a record of 10-1, ranked #2 in the nation. It was arguably the biggest game of my football career and at the time, USC was one of the best college football teams ever assembled. Fast forward to the second quarter, I ran down to make a tackle on running back, Stephon Johnson and missed. When I stuck my arm out to trip him, my arm struck his shin. After getting up, I realized there was this excruciating pain in my left forearm and I could not run without bracing it with my right hand. I played one more play and then ran off to the sideline to have the training staff take a look. They brought me into the locker room for an X-Ray. After about ten minutes, the UCLA doctor told me that I had broken my left radius. I could not believe it. Prior to this, I had never been injured my entire four-year career at UCLA. I asked them to put a splint on it so I could play. They refused. The biggest game of my college career was over. I was devastated.
About a week later, I had surgery. The doctor fused my bone to a metal plate and embedded six screws to hold it in place, then wrapped my arm in a cast. A week later, I was scheduled to head to Franklin, Tennessee to train for the NFL, and that is exactly what I did. I showed up, day one, in a cast up to my elbow and an attitude like a lion. Even though I had one arm, I was relentless. Still, it was extremely frustrating to not be able to participate in most of the exercises with the rest of the group. Even so, I focused on what I control, which was my mindset and how I showed up every day. Two months went by and I returned to LA for "Pro Day" at UCLA. Two weeks prior to Pro Day, I met with the doctors at UCLA and was able to get my cast removed. I was finally ready to go.
Pro Day is an extension of the NFL combine, where NFL scouts from each team visit universities and conduct all the same tests that they would at the NFL combine. They are their to evaluate talent and decide who has the ability to play football in the NFL. That sunny day in March of 2009, I lined up to run the 40 yard dash. The 40 yard dash is the main test that the NFL bases a players speed on. Two tenths of second off a 40 time can cost a player thousands of dollars. To say the least, it is arguably the most important test a football player will ever take outside of playing in a game. That day I ran one of the fastest 40-yard dashes in my position group (defensive backs), a 4.45. To put it in context, the fastest time at strong safety that year was a 4.42. I weighed in at 211 pounds and was ripped. I learned that day that it didn't matter what happened to you in the past. It could be months or years prior. You always have the opportunity to write your own future.
After making the team in New England for the Patriots, I spent three years on injured reserve. My first year, I tore my groin in week 11 against the New Orleans Saints running down on kickoff. I was done for the rest of the season. My second year, I tore my pectoral muscle in the first practice of training camp. I was out for the rest of the season. My final season, I tore my lower abdomen and groin in the third preseason game against the Tampa Bay Buccaneers. Done for the season. I am not lying when I tell you I have had to fight my entire life for what I want. Following my last football season with the Patriots in 2011, Bill Belichick called me. He thanked me for my contribution to the team but let me know that the team wasn't going to resign me. The reason why I will always respect Bill and the rest of the Patriots organization is because Bill called me two weeks before he had to. He specifically stated he wanted to give me a head start on looking for other teams. Truly a winning organization.
This was March 2012. Over the next several months, I tried out for the New York Jets, the Oakland Raiders, and the Minnesota Vikings. I performed extremely well but due to my resume of several injuries and not having any game film over the last three years, I was turned away. There is nothing harder than working for something that may not ever come. Yet, I stayed faithful and kept working. The season came and still no phone call from a team. My agent reached out to me and stated that a semi-pro league called the "United Football League" wanted me to come and play for them. The pay was nearly a sixth of the NFL compensation and I was hesitant. After understanding that I needed game film and this could be my last opportunity, I packed up and went to Las Vegas to play for the Locomotives. The league promised us that we would have an 8-game season. However, after the second game we hadn't been paid. As players, we started to become concerned. The coaching staff, Jim Fassel, head coach at the time, and the organization reassured us that we would be paid. Following the 4th game in Sacramento, the league folded and filed for bankruptcy. Many of my teammates were upset. We all had uprooted our lives, some players quit their jobs to play and we hadn't been paid. But I realized the opportunity. I had four good games and new film for the NFL. The league folded toward the end of October. I stayed in playing shape and in December of 2012, the New York Jets invited me for a tryout. I flew to Newark, New Jersey with only one thing on my mind. I'm not going home without an NFL contract. On January 1st, 2013, I signed a contract with the New York Jets. I learned a key lesson during that time, when the chips are stacked against you, stay focused on the prize and never lose faith.
In 2013, I spent my year with the New York Jets. After our second preseason game, the team had to cut down their roster. It was the day after, and I had just got a massage and had acupuncture done at the facility in Parsippany, NJ. Afterwards, a few players and I went to eat lunch in the cafeteria. I piled up what looked like cheese, mashed potatoes on my plate. As we were eating, I noticed that there was something else in the mash potatoes. When I went back to the counter, there was a sign that stood over the dish that said, "Lobster Mash Potatoes." I am allergic to lobster. I immediately went back to my hotel room and waited. About forty-five minutes later it started. I was in the bathroom curled up on the floor for the next two hours. After vomiting every ounce of fluid out of my body, I finally was able to make it to the bed. As I was lying there watching television, I received a call from a 973 number. I picked up the phone. A voice said, "hey Bret we need you to come into the facility and bring your playbook." I drove down to the facility and the team decided to let me go. I had just been released from the New York Jets.
As I met with the coaches, I smiled with pride and gratitude for the opportunity to play for them and with them. The next few months was one of the toughest times of my life. I was depressed and unsure if I wanted to continue playing football or just move on with my life. My body was physically exhausted and beat up. I had the mental and physical scars of two surgeries and three season ending injuries, and I wasn't sure why I should continue playing football outside of the money. It was the day before my 27th birthday in October when my agent called me and told me that the Green Bay Packers wanted to bring me in for a tryout. I hadn't been training like I should have but I wasn't going to let this opportunity pass me up. So I jumped on a plane to Green Bay. Something felt different though. After the tryout, I didn't feel like I normally felt after a great performance, nor did I feel like my heart was in it. The team decided to sign another player that morning.
A couple of hours later, I was on a plane back to New York City. The next day I made the conscious decision to hang up my pads and start my next major journey in life. We all go through transitions in life. Some earlier than others but you can count on it happening. I had to find out who the new Bret Lockett was. What he loved, what made him excited, and what he was passionate about. The process of self-realization is one of the most difficult things you can ever do. Every day I feel like I'm becoming closer to the person I ultimately want to become but it is a never-ending process. I encourage you to never stop searching for what lights you on fire. We all deserve to have a burning passion in life for what we do. The thing that jolts you out of bed at 4am because you get to do it. Everyone gets a chance at this thing we call life no matter where you start. The caveat though is that we do not know how much life we will have. Don't waste a day of your life living without finding meaning in your day, and working on what inspires you, with the people you care about most. Your life is truly a gift to the world. Use it accordingly.
Alright – so let's talk business. Tell us about Newport Ventures Group and M2Jets – what should we know?
While playing football, I took advantage of the NFL spotlight. I hired a full time manager, publicist, and marketing team. I understood the power of branding and how to leverage a major platform like the NFL to become a household name. By the time I was done playing I had developed a substantial network of celebrities, athletes, and entrepreneurs. Following my decision to leave the NFL, I had the opportunity to get into a unique industry, private aviation. A good friend, Moshe Malamud purchased a Hawker 400, for personal use a few years prior. Realizing how expensive operating a private aircraft was, he started to charter his plane to offset the overhead costs. At the end of the year, he not only met his overhead but exceeded the cost substantially. This was the start of M2Jets. We partnered in 2013 to turn the company into the next major private aviation company. Today we manage a little under two dozen aircrafts and work with operators around the country to make sure private travel is safe, convenient, and seamless for our clients. While building the company, I continued to expand my network and needed an opportunity to leverage the access I had to high caliber people. As time followed, I started to become the point person for unique business opportunities. From large real estate transactions, to access to private hedge funds. I realized I was outmatched. I didn't have the backing nor the financial acumen to close these life changing deals. Simply put, singles and doubles weren't good enough for me. I wanted to be Sammy Sosa!
Expanding on my entrepreneurial prowess, I ventured into financial services. First insurance and then private wealth management. I learned everything from structuring investment funds to how to cater to the ultra high net worth. I quickly became an expert at raising capital and understanding how to find it. Being in financed truly helped me understand money and the psychology of investing at the highest level. It unraveled  reasons behind why their is such a significant wealth gap and how misinformed the general public is about money. If you have money you have access to large hedge funds and large wealth firms, and if you don't, you're usually working with an insurance agent or smaller adviser. Ultimately, the whales will always take the lions share and everyone else will get what's leftover.
After several years in the financial sector advising clients, I realized that they were struggling in their businesses. In our quarterly review meetings, the conversations would shift from discussing their financial plans, to my clients venting to me about their challenges within their businesses. Instead of conversing over portfolio and tax minimization strategies, we'd end up discussing how to raise more capital and how to hire the right partners. Slowly but surely, I started to realize my clients loved my advice but without me working with them, there was no way for me to help them implement anything we discussed. Further, I loved watching my clients win, and I took joy in being an integral part of their advisory team.
Additionally, I realized that if my clients' businesses were suffering, there was no way for them to save for retirement or have discretionary income to invest. With this notion, I realized that I would be more effective working on the other side of the fence, which is what led me into consulting full time.
Currently, at Newport Ventures, we have a hyper-focus on consulting businesses and connecting the dots. Our core focus is working with businesses and entrepreneurs in three key areas. Firstly, identifying strategies to scale the business and generate more revenue. Basically, dissecting the business into processes, compressing time cycles, and then streamlining the business through automation. Subsequently, finding leverage inside the business to maximize output and bring in strategic resources. Throughout our consulting process, we help build the orientation of the business and find the overall focal point for sustainability. Think of it as a "Phantom CEO." Secondly, we develop and source deals across various sectors and at times, raise capital for companies. Finally, leveraging my background in professional sports and business, the third part of my business is coaching executives, athletes, and entrepreneurs. Also, I work with advisers and consultants. I understand those spaces extremely well which is why I've morphed it into my baby at Newport Ventures.
What differentiates you from every other consultant? I get this question a lot.
Unfortunately, I have to use the word consultant and it's unfair, which is why I hate the word. But the only way that businesses identify that I'm going to come in and help their company is if I am consulting. If not, the company typically tries to hire me, and I love having my own business. I truly am a serial entrepreneur making the best decisions I possibly can, to help as many people as possible.
Moreover, every company I meet with needs a proper website or executive strategies, which they never have, and is the main reason why there is no communication in the business. A huge element that separates what I do is that I immediately resolve the communication issues. I want to comprehend exactly why sales are dropping. I never go into a business and do a P&L review right off the bat. I sit with the executive team and we talk about the consulting and the value that they are bringing to each other. No one does it in this way. Most consultants or advisers want to get a download of the roster, who's getting paid what salary, and what the overhead looks like. All relevant information to the business but nothing that is going to solve the company's immediate challenges. Lastly, because of my background in sports and aviation, I have access to ten times more opportunities and resources than anyone else. Because I'm able to make money with these resources, I have access to an entirely new world. My favorite aspect of it all is that I get to teach other entrepreneurs how to do the exact same thing.
Any shoutouts? Who else deserves credit in this story – who has played a meaningful role?
Above all, I owe glory to God for everything he has done in my life. My family is incredible, and I could not ask for more supportive parents. They have molded three incredible humans on this earth. My siblings, Colin and Tatum, push me every day to be better, and my girlfriend Alejandra is my guiding light. She is an incredible woman. I wish I had the space to be able to list everyone, but I've had incredible people in my life. From the coaches I've had in youth sports growing up, to Doug Thigpen, my favorite teacher. I owe UCLA a huge thanks for an incredible college experience and all of my teammates and coaches. Also, I owe a big thanks to the Patriots, Jets, and Browns organization, and several of my teammates and friends. I'd like to thank my mentors and business partners who have helped me get to the level I am at today. People like my former manager, Eric Hicks, my partner at M2Jets, Moshe Malamud, and my partners, Pat Norton, and Pete Davis at Newport Ventures.
I'd like to thank Tigran Basmdajyian, who took me under his wing several years ago. I have a huge support system, and I have to thank all of my close friends, clients, and supporters. Zack Teperman, my publicist, going on ten years, has stuck with me through it all. Kurtis Thomas, who has guided me spiritually over these last couple of years. Sameer Agrawal, who has been a dear friend. I owe a huge thank you to Tony Robbins for helping me find my passion and purpose in my life again. Steven Kotler and Rian Doris of the Flow Research Collective for helping me take peak performance to a whole other level and impact so many people. I feel like I am missing several people, but I truly am thankful for everyone who has allowed me to work with them throughout my career. I am grateful for all the philanthropic organizations I work with and the selfless work that they do. I am blessed to be a part of it. Finally, I'd like to thank Voyage for the opportunity to tell my story. I hope that it encourages everyone to never to settle, quit, or accept less than they deserve.
Contact Info:
Suggest a story: VoyageLA is built on recommendations from the community; it's how we uncover hidden gems, so if you or someone you know deserves recognition please let us know here.