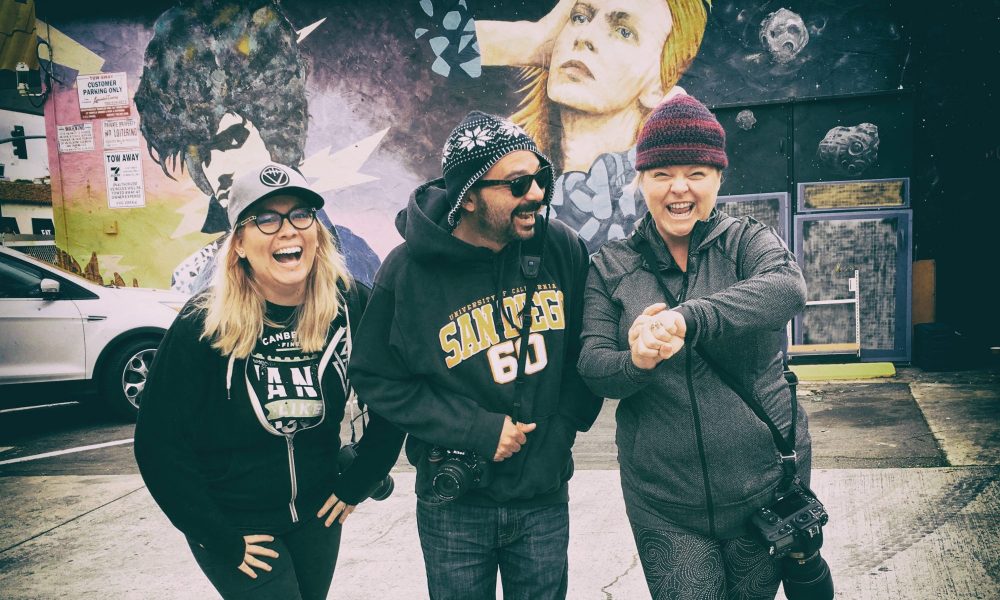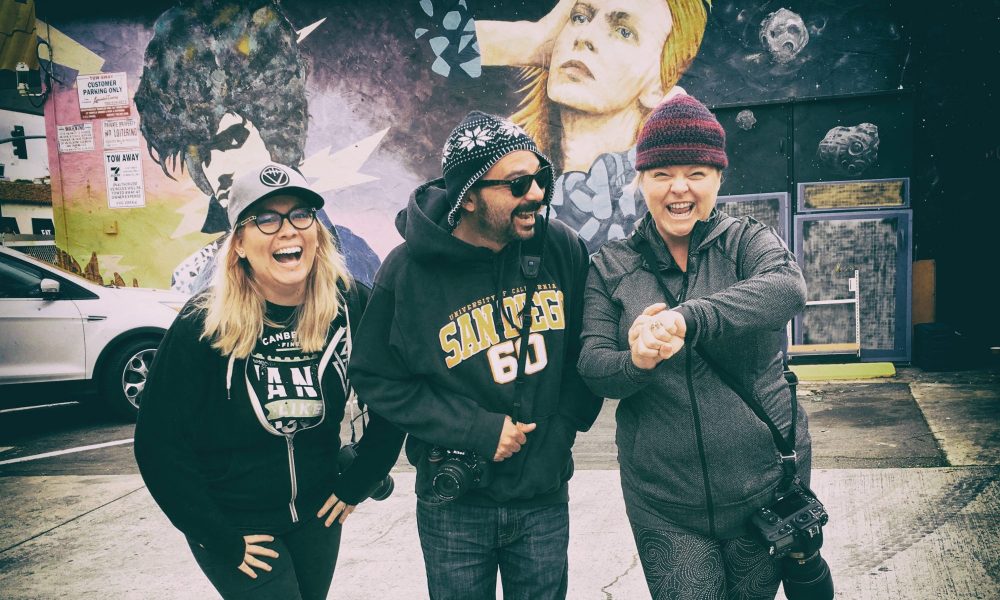 Today we'd like to introduce you to Brandy Sebastian.
Thanks for sharing your story with us Brandy. So, let's start at the beginning and we can move on from there.
I can remember as a little girl full of wonder and cursomeiosity for my mother's photography. You see she was a volunteer docentthe  at the Fort tWorth Zoo in Texas and occasionally I got to go along, I felt super special. It was incredibly exciting when she took me behind the scenes where the public was not allowed and having close up encounters with the animals was a super cool way to grow up. My mother and her mentor were responsible for the slide show presentations for the zoo and I can remember looking at those images with awe and dreaming of becoming a photographer in my own right. I also remember flipping pages in the brightly colored National Geographic magazines and being fascinated by the imagery and the display of emotions that were evoked within each image on a page.
Many years later I would excel in my first photography class in high school, I would definitely consider that class as the catalyst that propelled me to seek any opportunity to experience image making. During photo class, we shot in black and white film and developed our own prints, this brought me joy beyond my wildest dreams. I truly believe this early exposure, no pun intended lol, in life helped me to develop a deep sense of love for what I refer to as capturing moments in time. I especially adored working in the lab as I looked on with impatient eyes for the images to appear like magic. That brief moment in time came to life before my very eyes; let me tell ya I was hooked for life.
I continued pursuing my love of photography throughout high school and for a period of time during my early college years. I did however; stray from this endeavor while pursuing other forms of artistry such as pottery and metal smiting. Pottery till this day has always been a serious passion. From the beginning I remember thinking there had to be a way to imprint my photographic images on to my pottery or what about adding images to my metal work? Over 20 year later this would finally come to fruition and change how I see my work.
It was in 2001 when my mom asked if I wanted to move to San Diego County where she had been offered a job as a stained glass artist; she has always been a talented and gifted artist in her own right. It was at this job where my mother met the husband of a professional photographer who hired me as a second shooter and assistant in her business. This would be the beginning of my career as a professional photographer. I did every task assigned to me and took every opportunity to use my skills as a photographer while learning the ropes of business. We photographed weddings, portraiture, events, editorial as well as commercial photography; everything in the spectrum of photography that you could possibly imagine, we did.
This gave me the best education and hands on experience into different facets of photography. The job definitely was not boring or monotonous. I gained a vast array of knowledge about lighting, posing and camera settings you name it. Man did I really work hard to hone in on my own technique as a photographer. Of course, I'm sure that every photographer can say that being a wedding photographer's second shooter gives you the most freedom. You're not restricted or under the intense timeline as the main photographer, you get to play a bit, be creative, focus and take your time in "seeing."
Each photographer I assisted had their unique style; some wouldn't allow the use of flash and insisted everything had to be ambient lighting while others only used flash. I had to learn how to shoot manually which forced me to become very quick at learning my settings. We were shooting from very dark churches, to outdoors and inside a client's home; this gave me so much experience for different situations. I took on as much work as I could possibly take all the while continuing to gain in experience with each photographic event. All this helped me to develop my own style and definitely my own vision.
Tired of working for other photographers and helping them to grow their business while I stayed in their shadows gave me the biggest nudge ever to go out on my own. It was in 2006 when I felt that I was ready to excel on my own, so I slowly started my company and worked hard at getting my name out there. This isn't so hard these days with the explosion of social media and certainly not as expensive. In the beginning, I started getting a few gigs like weddings and portrait clients, this fueled the fire to continue pursuing my own path. In a snap, I felt the rush of making my own money, answering to no one but myself and having the freedom to shoot my own style.
In 2006, I along with two photographers decided to combine efforts and establish a sports photography company; one of them was my boss and mentor, the other a fast paced, snappy gentleman that helped bring us into the sports photography arena. We photographed Camp Pendleton mud runs and throughout San Diego County Triathlons, Duatlons, bike races and an array of race events throughout. We donated 10% of our proceeds to the benefiting charity, certainly a feel good. My favorite part of my experience within the company was learning web, marketing and the logistics, oh-man-oh-man the logistics of hiring and setting up 10-15 photographers was to say the least, intense. Not to mention the 48 hour turnaround time for getting tens of thousands of images edited, sorted, named, numbered and tagged with bib numbers and metadata.
Unfortunately, in 2010 it was a bummer of a turning point, I became anxious and bored with what I was doing personally and felt like I was wasting my talents doing a style of photography outside of my own. Relationships in the company became strained and the differences in opinion helped bring an end to this endeavor. I harbor no resentment, as I grew in ways that would have otherwise taken years if it had not been for the exposure to sports photography and a partnership.
I needed a drastic change, you know like a major spiritual birth, so I decided to shake things up and go back to school and chose to attend Palomar College in North San Diego County in 2011. I had heard they had a pretty sweet photography program and excellent professors, boy was that the truth. I probably, yahhhh, nope definitely, prolonged my stay at Palomar way longer than any normal two year degree program by going off and on for the next six years.
With my insatiable appetite for learning, I took every single photography class there was to take which renewed my love for my craft. I felt like it gave me the opportunity to really shoot the way I always wanted to and to become the fine art photographer I dreamed of. I wanted to indulge in more creative ways to show my work. This is when I learned about alternative processes and creative techniques for presenting my work and alas achieving my goal of putting my images on my pottery and metal work, full circle, yah buddy!
Photography has elevated me in such a way that I have established my very own office space and studio, lucky for me; it's my home as well. I feel like I have risen to a level where I love what I do and in fact, genuinely feel that I have finally settled into my very own style. I can pick and choose the type of photography that I crave the most.
Some of my fav photo peeps are Gregory Crewdson and Annie Leibovitz, wowza are these two over the top influential people; look'em up you know you want to. They are production and put on a production and have inspired me beyond the universe. To dream that someday I'd have an entire town and crew at my disposal in making the crazy visions in my head become reality. That will be amazing! Wait I've kinda sorta done a little of that, perhaps not entire towns, but maybe very big houses outside of town.
I have many ideas and spend months researching and preparing for a particular  thought. I watch YouTube videos, Google beyond Google and use Pinterest to aid in my research of what I desire to accomplish. I listen to music, drive around location scouting and hunt for props, ohhhh do I love me some props. For example clothing, who doesn't like a thrift store or antique mall, its ok to admit it, definitely got my top favs I visit on a regular basis. The rush I get from the production of a photo shot and the behind the scenes along with having my team working together to bring about the most beautiful images is like a photographers high. I just love it and absolutely thirst for it; I'm not a vampire I swear!
Nowadays I'm re-vamping my look, hahah re-vamping get it, get it, ok moving on, updating my brand and posting my imagery that speaks me. We did this super amazing engagement shoot where the bride and groom were zombie hunters and their wedding party dressed up as zombies. The couple happened to be makeup artists for Halloween events, bonus round, which made the experience even that much more insane. They even had zombie killing machines and a motorcycle; yup I speak the whole truth nothing but the truth so help me. It was, how you say, BANANAS. Being a part of planning that out and being hired to do it was ridiculous. I would love for clients to hire me for this kind of production 24-7. Let's think outside of the box folks and just have fun with this!
A little somthin smothin I've been up to is getting a master's degree in photography so that I can give back and contribute to the knowledge that was bestowed upon me for our future photographic artists. So keeping fingers crossed that pan's out, imagine summers off to keep working on my photography, man, what a dream. Last little tidbit is I have been so fortunate enough to have my work displayed in some student, as well as community galleries and shows. I can say that I am an international award-winning photographer, which I am jumping up and down proud of. Having photographed for fifteen plus years, I have been fortunate to work in foreign lands as well as our most rockin' USA. My desire is to have my name well known and sought out for my unique style and artistry that I offer. I have yet to capture it all and look forward to my imagery being a part of someone's history, perhaps your history.
We're always bombarded by how great it is to pursue your passion, etc – but we've spoken with enough people to know that it's not always easy. Overall, would you say things have been easy for you?
I don't think anything in life is a smooth road and if it is, how could you possibly appreciate it? I think you're always going to have obstacles. Like I mentioned, I was really burnt out on what I was doing leading up to 2011 and that's when I decided to go back to school. I was either going to change my path in life or I was going to continue to be an unhappy camper.
During that year going back to school, like I mention I was going through a really rough time with a business partnership, aside from my business. One of our partners dropped out and I was left with someone who I had been working with for eleven years only for it to not end well, at all. I don't regret any part of my relationship with that photographer as far as working for them or working with them, I just think at some point there was a student outgrowing the master situation and when I became the equal in our business partnership is when it felt like it became an issue. That's just going to happen in life whether you're in a business relationship, a friendship, with a lover, or with family. How you deal with that obstacle and how you grow from it is who you become. I want to be the best person that I can be and I want people to be happy around me and with what I'm doing. Would I be in a partnership again in business, nope not ever.
Do I wish I could change that I was in that partnership, absolutely not. I became the person I am today, because of it. I chose to go back to school and become better at being a photographer, I became the fine art photographer I always dreamed of. I became better in many aspects of business like speaking up, believing in myself and so much more. The key I feel is to not look back in regret but to look back and be grateful for what you went through and that you have evolved from it.
My biggest obstacle is when I was diagnosed with endometriosis about eight years ago. My disease is often debilitating and my health gives some serious downs, all the time. There are times where for months, I'm not inspired and I'm very sick or I've gone in for surgery after surgery, but you learn to cope with what you have. You just know that it can always be worse and just keeping taking those steps forward. You have to, need to, cut yourself some slack and when you need to, take a break, then keep moving forward. Don't let anything stop you! It's too easy to give up and not try, and to be negative. It's a lot of hard work to be positive and to keep going, however I would rather be that positive person. Because, I want it for myself and I truly hope it inspires others to keep moving forward and want for themselves as well.
Although I have obstacles with my health, I couldn't get through those if it wasn't for the support of my husband, my mom, and my friends and family. When there's a time that I'm not feeling well, they come to my rescue. That's why I feel like it is so important to have a strong support system and a team. Without my team of people, I wouldn't be where I am as a photographer or the person that I have become. It's not just a one person show, it includes many and I'm truly grateful for all of those involved. Especially my mom and my husband. They have been there for me without question for photo shoots, loading gear and unloading gear, assisting me at the last minute or helping months prior to a photo shoot. I truly couldn't do it without those guys what-so-ever. On top of that, I'm learning about self-care and boy is that a challenge, it's all too easy to make everything that's happing outside of you, stepping up and making it about what you need to do for you can be scary. So with one breath at a time it always works out and works out the way that makes sense in the moment, whether we recognize that or not.
We'd love to hear more about your business.
Well, I'm a photographer, if you haven't already picked up on that, my business is a creative photography company, it is my breath, my life. I have wonderful people that I have met through my recent schooling and that I've contracted to work for me. Luckily for me they are all photographers in some aspect, so that makes getting it, so easy. That is probably one of my most favorite things about my business, is that I have friends, great friends that work with me.
When we are working together, we're working, when we're hanging out, we are friends who laugh and play well together. We keep it fairly separate in that respect and that's awesome. I believe whole heartily that it is important and the separation helps keep our relationships strong. Nobody gets offended when I'm being super focused or on task, at least I hope for that, they typically say "O'kay, she's in serious mode," give her some space. Because I take everything I'm doing seriously, I would say that I have a strong sense of focus. I come into an idea or an assignment with a vision and I want that vision to play out and be complete, be amazing. I feel grateful and truly lucky that my people are very patient with me and what I visualize. Sometimes my ideas are a bit intense, I'm so underrating that of course, they have lots and lots and lots of layers, like an onion, but only the sweet and tasty kind of course.
Some of what we specialize in is portrait photography, which is the biggest part of our business. Portrait photography to me has so many facets like maternity, to family, children, engagement, bridal, pets, the list truly could go on and on. We also photograph weddings and definitely don't photograph as many weddings as in my past; I've probably photographed over 400 weddings since I started in 2001, and I don't feel the need to do three to four every weekend all the time, anymore, a girl just wants to have fun. With weddings, there is so much time and energy invested before you even get there. I want to ensure that we choose clients that understand we are creative artists who are photographers, the creative is everything.
The portrait photography is something I work on all the time, year round, for clients and my personal projects. In summers, we work with the Junior Lifeguard program for Del Mar and Solana Beach in San Diego County. We photograph sometimes 350 kids in one day, we are a team that works very well together and has, over the many years, become a well oiled machine. On a photo day, for example, we will organize parent order forms, photograph each child and their entire group there in, which consists of 25-30, along with buddy photos with their friends or family members. When we get to the office its accounting, post production, designing the web galleries for each group and all the fun commemorative items we offer, to placing the order for each order form, packaging, shipping or delivering to the beach for pickup and all within a 2 week turnaround. So that keeps us pretty busy everyday in the summers.
The sports photography company I co-owned taught me all that jazz, so props.
What I'm known for is most likely the themed portrait photography, however I was fortunate enough through my working with multiple photographers, to be trained in just about everything you can think of, as I have mentioned. So if there's something a client needs that's out of the ordinary, we will figure it out and make it happen! Of course, for me the more out of the ordinary the better, like that zombie engagement shoot I spoke of or milk bath maternity portraits.
I am most proud of the fact that I created my business from the foundation up and that it has evolved it into what it is today. It's not impossible to run a company by yourself, a business certainly has its difficulties and it is a ton of work, but it's so much easier with trust worthy, hardworking peeps. There's so much involved in a company from accounting, to marketing, advertising, setting appointments, selling jobs and that's not even close to the tip of the iceberg; it is a heavy work load. But if you can have a team of people working on that together and everyone focused on what they are good at, that makes your business bright and shiny all over, that's good stuff. I love the thought of having a successful business and being able to hire people that love working for me and them doing them.
Nowadays the market is saturated with amateur and professional photographers. Trying to set yourself apart from the hundreds and thousands of photographers and even just with the many that are found in your own community, can make it utterly difficult to be unique.
My themed photography is what makes us different, my work ethic is what makes me different, and honesty and trustworthiness sets us apart. I'll work hard and what I am doing is important from beginning, middle and end. All my clients are extremely important to me, without them I wouldn't be a success and it's always amazing when we get referrals, gotta love referrals. It means you're doing it right. Many times, the people I do work for become my friends and I dig that part. I hope that's what sets us apart from others. The absolute willingness to come up with extravagant ideas and people trusting me as an artist to do just that. I adore the brainstorming part, the research, the months of preparation, the production of it all rocks. Typically, I don't have a lot of clients giving too much input. I often hear "well, what do you think?" and of course I love that part, that they have the trust in me. That's why I love the themed photo shoots so much, it gives me the perfect opportunity to think outside the box and do something different compared to what most people are doing, to go beyond.
Let's do a Wizard of Oz shoot, wait, did that, or how about Red Riding Hood, yup working on that, so many possibilities, let's have some fun!
Anybody can go to the beach and take pictures, anybody can go to the park and take pictures, but I can take that giant leaps further or not, that all depends on the client. I love being a part of all those leaps and bounds. I feel that it's what helps me stand apart from everyone else, artistically, is unique ideas and the multi-faceted layers that are involved in my photo shoots.
I know there are other photographers around the world that think like that as well. With so many photographers, it's this constant feeling of what can I do that's me, what is my voice? This leads me to one of the reasons why I wanted to create a darkroom in my home. Black and white film and alternative processes like cyanotypes, vandykes, salt prints, and platinum palladiums are only a few of the types of print making that are slowing making a comeback.
Its vintage and retro and that's what's cool and in. My thought is, if I can take my imagery to a different caliber and turn it into art, make the image multidimensional, well then that's something. I don't see a lot of that with client work and that's what pushes me. Just think, I create negatives from digital images and take them back over a hundred years in process then jump forward into the now by making it more contemporary and multi-dimensional, that's something interesting. For me, I crave something more, I want to do something that hasn't been seen before, done before and sometimes coming up with that is hard on an earth full of creative people doing amazing things. It often makes me think, how do I set myself apart? How do I make my vision, a client's vision, into something that is special and unique? I want people to think "wow, that's cool, I want to go see that!" or "I want to be a part of that" or "hey let's hire her," that is a large part of my motivation. It's all awesome sauce, HAHAHA!
What were you like growing up?
I was an intense kid and my mother would probably argue that I still am, intense that is. I like doing a little bit of everything, I get bored easily so if I'm not doing something physically engaging like ceramics, jewelry making, photography, traveling or anything else I can conjure up I'll figure out something new. The first time I went to college, I had five different majors, mostly because I couldn't decide what the heck I wanted to do, I mean seriously who does when your fresh out of high school and there were so many interesting things to learn about. I was a marine biology major, I was an aviation major, and I was a ceramics major among other things.
As a kid I was a perfectionist, I'm probably still known to be a perfectionist even though it's probably just my work ethic, at least that's my thoughts and I'm sticking to it, things have to be just and so, ya know. That often times can get in the way of completing a project, I'll admit, so I've had to work really hard at just doing it, or nothing will ever be perfect enough to start.
I was always a teacher's pet, I always wanted to do the extra credit, I always wanted to be on time, work my hardest, and kind of stand above the rest. My grades were important to me, my friends were important to me and all that, is still very important.
From a young age, personality wise and interest wise, I had an interest in almost everything. When I got interested in something I kind of went full steam ahead and actually, I'm so totally like this. I must have all the tools for that thing, all the knowledge for that thing because I want to be the best that I possibly can be for that thing. Plus, if there's a way for me to incorporate that thing into other things, that is even better, don'cha think. I always found things to be involved in and will continue my interests and my search for new experiences! I could totally never do just one thing, there's so much out there to learn about, be a part of and experience. Find your thing that interests you and do it well, there's a lot of pride that goes into what we feel good about, for sure.
Contact Info:

Image Credit:
Photos by SebastianPhoto.net
Getting in touch: VoyageLA is built on recommendations from the community; it's how we uncover hidden gems, so if you know someone who deserves recognition please let us know here.