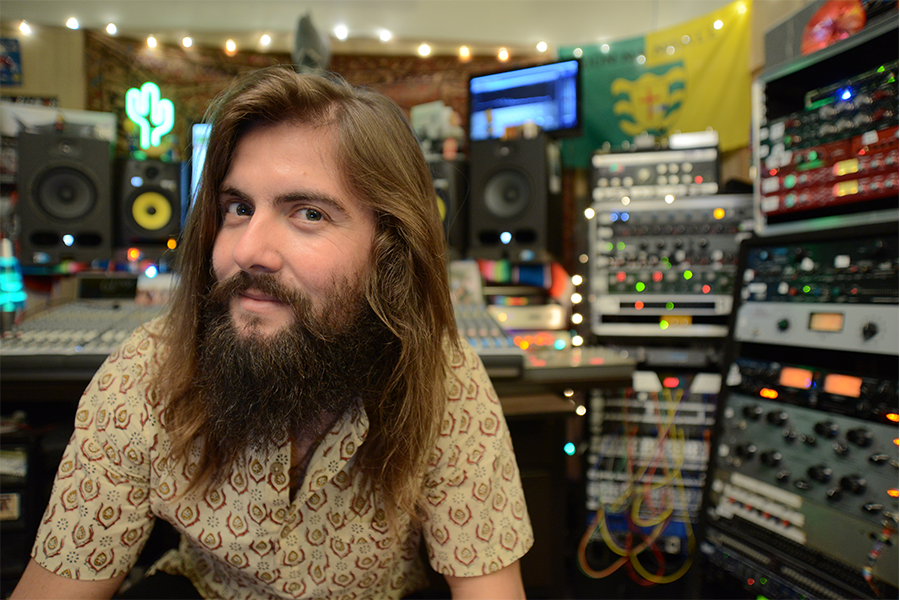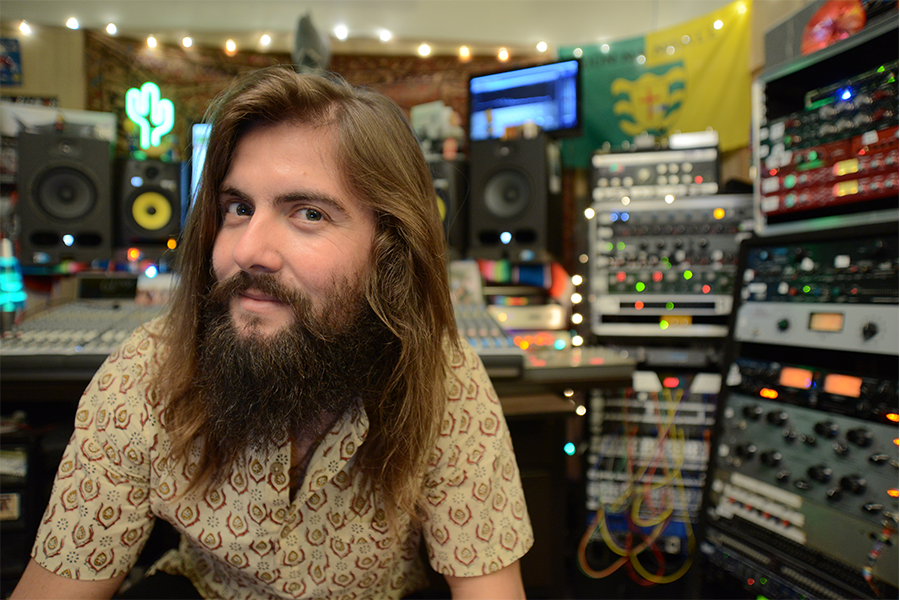 Today we'd like to introduce you to Brandon "Funknasty" Cooke.
Brandon "Funknasty", let's start with your story. We'd love to hear how you got started and how the journey has been so far.
Well, I guess I started getting really into the drums when I was around 11. My mom and dad didn't want to think about getting me a drum set until they were sure this wasn't going to be some fad that would pass like an unwanted birthday gift… So I set up a makeshift drum set using pots and pans, an old Nintendo gas pedal for a racing game, and a practice pad my dad gave me. I practiced on that every day for about 3-6 months before my parents got me a real drum set for Christmas… And that was that… I continued to fall in love with playing the drums and just became something I had to do everyday.
I grew up in a small country town outside of LA called Yucaipa. There's not a whole lot to do there besides get yourself in trouble, so as soon as I would get home from school everyday I would run out to the toolshed in my parent's backyard (my dad eventually got sick of hearing me practice in my bedroom for hours on end!) and practice for the rest of the day… A few years later, my mom got me a 4-track tape recorder and a microphone and my love of recording began… I would tinker with different electronics that I would find at the local thrift stores, old amps, guitars, etc.. and started figuring out how to record demos for myself and my friends in that toolshed… I guess you could say that's where my studio, Ironwood Recorders was born!
I moved to LA when I was 19 after coming home terribly sick with my tail between my legs from my short-lived attempt of being a vagabond around Europe after I graduated from high school… Turns out all the money you save from mowing lawns and playing gigs in high school will only get you so far! I came into the scene thinking I was going to be hot shit since I was doing a lot of gigging from an early age around the Inland Empire at different biker bars, and boy did I get my ass handed to me! I attended Musicians Institute for about a year and realized the caliber of playing that the real professionals in this city had and so I got to work… After graduating, I began working at recording studios around town, such as Nightbird, Kingsize Soundlabs, Ultimate Studios Inc. and The Ship to name a few… I really cut my teeth and learned as much as I could absorb from these great engineers and producers that I ended up engineering and assisting for such as Rob Schnapf, Aaron Espinoza, Ted Hutt, Charlie Waymire, as well as working for Jeff Turzo at Overstayer Recording Equipment… He and Charlie Waymire really became huge mentors to me and taught me a wealth of knowledge… I really owe a lot to them. During this stage, I was fortunate to work on some incredible albums and artists like Kamasi Washington, Glass Animals, Everest, Ronald Bruner Jr. Chad Smith, Josh Freese, and Aaron Sterling to name a few…
When I wasn't working in the studio, I was recording and touring with a band that some friends, Alan and Jarrett Steil and I started called The Rebel Light. We learned so much about the complete DIY process… Everything from doing our own PR campaigns, to our own booking, to recording and mixing our own songs… This is where you learn the most.. from trial and error. I learned how to make my drums sound good in really terrible rooms with really cheap equipment this way, and after linking up with Wally Gagel, who really helped shape our sound, we were really proud to get a song on terrestrial radio and around the world for our first single "Strangers" That we recorded in the extra bedroom of Alan and Jarrett Steil's house. I'm so grateful for those times playing with those guys… We got to have some incredible experiences playing to our first really large crowds (like the kind where you kind of blackout at the beginning of the set because you're so nervous!) Our first times on nationwide tours, dealing with record companies, booking agents.. the ins and out of the B.S. in this industry… I learned an incredible amount during that time and am really grateful for those guys.
Nowadays, I finally found a home to store all of my equipment here in Pasadena (I may or may not have a hoarding problem when it comes to instruments and recording gear…) I'm in a fortunate position where I am able to keep my overhead low so I can continue to work with artists of all budget ranges to help put musical art into the world while still being able to eat and pay my bills… Something I am beyond grateful for! Here I do a lot of work with my bands. The Blood Moon Howlers and Paracosmic as well as mix and record live drums remotely for artists.
Overall, has it been relatively smooth? If not, what were some of the struggles along the way?
Absolutely not! If you're looking for a "Smooth" road you're in the wrong game… My good friend and fellow Blood Moon Howler brother Matt Wayne put it well saying that you get into this life because you want to be a cowboy in the old spaghetti westerns or a pirate… You're not interested in comfort, you have to be interested in adventure because that's what this life is… It's an incredible adventure and experience! You have to go out and stake your own… Like Clint Eastwood would do in those westerns ya know? You're traveling around playing in God-knows-where, sleeping in God-knows-where, eating God-knows-what for dinner that night… yet you love it! It's not for everyone, but I couldn't imagine living in another profession, because at the end of the day the love of your art has to be greater than all the obstacles that are thrown at you.
I've dug through recycling at studios to get enough cans to get a burrito for dinner that night, I've slept on a bedroll underneath my console after not having anywhere to live after a break-up, I've had to shake promoters down for gas money to get to the next town.. you name it! And I'm not saying this like it's some sob-story, I find it funny and great to look back and see the road markers along the way where you had to pay your dues, and it makes you that much more grateful to be in the position you are today… Whatever position that may be! Maybe you have to be part crazy to do this.. Or maybe that's just what being an artist is.. All I know is that it's the unwavering love for what you get to wake up and do everyday… that keeps you going.
Please tell us about Ironwood Recorders.
My studio Ironwood Recorders specializes in music production. I do a lot of remote mixing and live drum tracking here for artists, as well as get writing teams, video production teams, live bands, etc. together for whatever the project is. One of the many incredible things about living in a city like Los Angeles is that I've had the fortunate ability over the years to meet a lot of incredible musicians, as well as videographers, directors, producers, etc.. So I think what really sets us apart here at Ironwood Recorders is that we really really try to get on the same page to see the same artistic vision as the artist that we are working with. It can be difficult to translate an artistic emotion that you are seeing and feeling into a tangible form, and we really try to see the vision of how the artist hiring us see it. Many people will want to come into a project and put their "stamp" on it, but the teams we assemble do our best to leave our egos at the door and do what is best for the artist's vision. It's really important to express your art into the world and we just want to make sure that after working with us, your final product is an accurate representation of that by lending whatever tools and talents that we have. Whether that's having the right mix, finding the right guitar player and tone to record leads on your EP, putting together an audition tape to help you land that next gig, or creating the next great concept album from the ground up to make society question the fabric of their being.. We're here to serve the art.
Any shoutouts? Who else deserves credit in this story – who has played a meaningful role?
I've had wayyyyyyy too many people that we're incredibly kind to believe in me and help me along the way. From putting me through drumming and recording bootcamp to just being a phone call away for business and life advice. Charlie Waymire really helped set the standard for me when I moved to LA of what it takes to be a great drummer in this city (Which I still have a long way to go by the way!) as well as teaching me all the fundamentals I know about recording and mixing. Man I really owe Charlie a huge debt of gratitude for all that he taught me. You can find out more about him and his incredible studio with beastly drum tones at Ultimate Studios Inc.
Jeff Turzo at Overstayer Record Equipment has also been a huge mentor to me. He gave me my first paying job here in LA and shared an incredible wealth of knowledge with me on the physics of sound, how different pieces of recording equipment work, why certain ones sound really good, how to build my own recording equipment as well as setting me up with a lot of pieces to start my own studio. He is an incredible guy and a complete genius. From his production work to the recording equipment he designs, everything Jeff does is top of the line and just so uniquely cool! I'm very grateful to know Jeff and to have worked for him… He's helped me so incredibly much with music business advice to teaching me what makes a truly unique and great record… I'm really grateful that the music world has someone like Jeff around.
I've taken a deep dive into Classical North Indian Music recently and playing tabla. My Guruji Shashanka Bakshi has been a tremendous influence on my life recently. I just got back from living with him in Kolkata for a while, and just seeing his dedication to his craft is inspiring, just sitting and listening to his stories and his life advice has really help shape how I approach music. For a lot of the greats over there, your practice in your instrument is your sadhana or deep form of prayer and praise to God. And that's what music is supposed to be right? A way of pleasing the soul, pleasing nature, pleasing your fellow humans, all therefore pleasing God… Forget about all of this quick get-rich B.S. that surrounds so much of the music industry. What is your intention behind it? What drives you to create art with your medium every day? Hearing stories from Guruji about his Guru sitting on mountain and playing tabla for three days straight and until God came down and had a conversation and blessed him, being blessed by his guru and becoming one of the greatest tabla players India has ever seen, and just seeing the complete joy and energy and precision that comes out of Shashankada when he plays… You can only help but be deeply inspired by someone who has accompanied the greats like Ravi Shankar, Nikhil Banarjee, and will casually just tell about that one time he had dinner at George Harrison's house.. but not give it any mind… Because it's not about all the fame… it's about your dedication to your art and what you do with it while you're here on this planet… I owe a lot to how Shashanka has deeply inspired me and taught me both spiritually and with my playing.
I'm fortunate to have a big family, and my cousins and I are really close. My cousin Adam Cooke has been a huge influence on me and support in starting my own business. From advice to getting me on a meditation practice to just believing in me… I owe him a huge debt of gratitude as well. He owns an incredible collective and clothing brand called Cooke Collective as well as his company CPTN Apparel.
Man, I could write a whole book on all the people who have helped me along the way! I don't think you can succeed without having great mentors and a great team to help you along the way. I am really fortunate to have really amazing parents that both believed in me and provided me with a lot of great advice. Other inspiring producers and drummers such as Aaron Espinoza, Rob Shnapf, Rob Carson.. and many many others that I am forgetting right now really helped form and inspire where I am and where I want to be.
Contact Info:

Image Credit:
Julianne Corette, mudpeach, Isai Hernandez, Katie Chapin, Shalon Goss, Harrison Weinberg
Suggest a story: VoyageLA is built on recommendations from the community; it's how we uncover hidden gems, so if you or someone you know deserves recognition please let us know here.