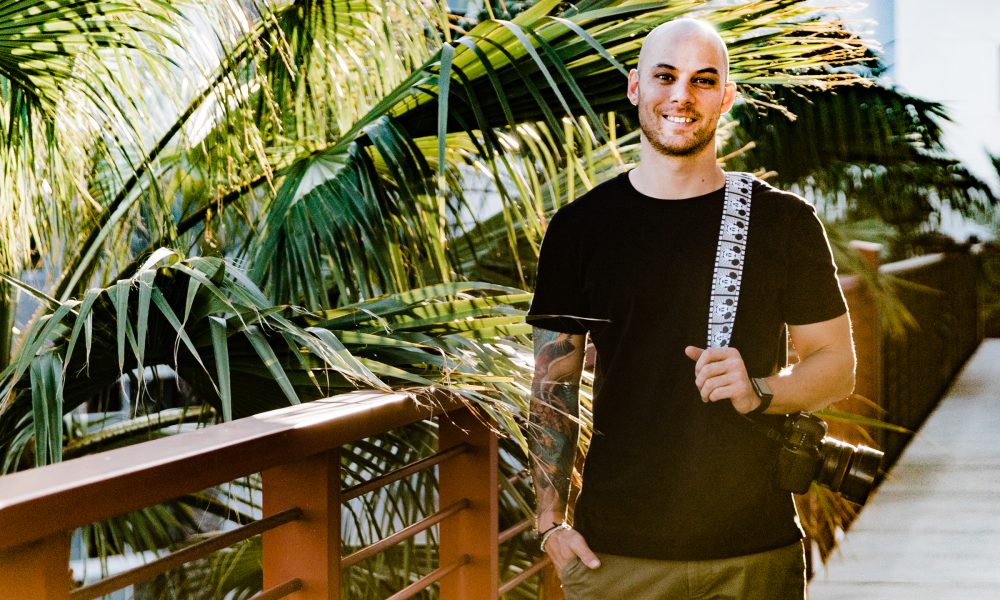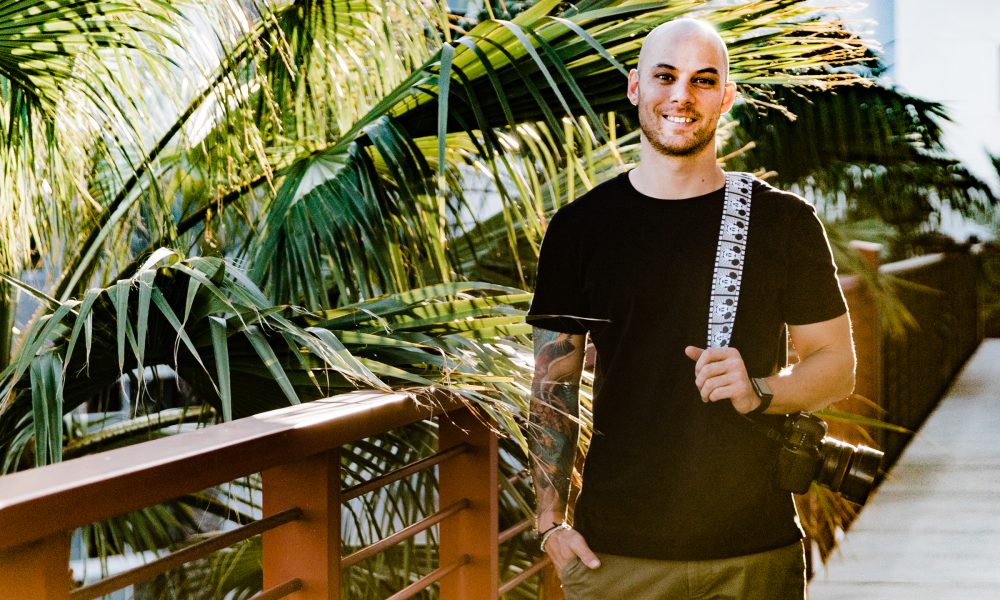 Today we'd like to introduce you to Brandon Ferlin.
Thanks for sharing your story with us Brandon. So, let's start at the beginning and we can move on from there.
I was born and raised in the Bay Area in a small down called Antioch. At the age of 8 my mom enrolled me in a youth photography class at the city community center. It wasn't a fancy SLR where I could change lenses. It was a point and shoot 35mm from Vivitar. Slowly my love for photography grew. From that class I had entered a print into a contest at the county fair. I remember the photo to this day. It was very close up of 2 pigs who were cuddled up next to each other with their snouts sticking through the fence. They looked like they were in love and I called it "Hog Heaven". Luckily, I won the contest and got myself a blue ribbon. And that was the start of my love for photography. Skip ahead a few years when I got my first 35mm SLR from my mom. She recognized that I was really enjoying photography at a young age and enrolled me in another photo class with adults that helped with using an SLR camera. We had weekly assignments and I was observing all the information I could. During this time, I was also getting into skateboarding and I had subscriptions to 3 different magazines. All I wanted to do was skate and take photos of my friends while we were. I would come home with rolls of camera from my skate adventures to give to my mom to have her take to the photo lab and get developed. I remember the anticipation of waiting the couple days to get my prints back. It was like waiting on Christmas to open gifts for me. The day would come and I got all my rolls back with prints I would quickly fly through the photos until I found THE ONEI the only photo that looked good because I captured the tricks at the right moment. It was so much trial and error because you didn't know you had the shot until you got the prints back. The next big moment in my young photography history was my first trip to Hawaii. I was so excited to document my trip with my camera and I made sure I packed lots of film. To this day some of those photos are still my favorites. As I started High School my interests changed and my life was now focused on playing sports. As I transitioned to High School I was excited to continue shoot but found out the high school stopped offering the photography class and they had turned the dark room into a storage room for another class. So instead of that I opted to enroll in the video productions class. I figured it was the next best thing because video is moving photos. I always had an interest in video too because skateboarding video where such a big thing. Now when I went skateboarding I was bringing both my camera and my video camera. Throughout high school my love for photography and video grew. Both because huge hobbies of mine and when it came to senior year and apply for colleges I knew I had wanted to pursue photography. I had applied to many state schools in California and got excepted to all of them. I decided on Cal State University of Fullerton. To me I was far enough away but close enough that I could take a 6-hour drive to be home. Upon my arrival to Fullerton I was set on photography but when it came to declaring my major at enrollment I did not see Photography as a major. At the time I didn't know it was categorized under Arts so I had settled on business. I figured it was the next best thing to learn to run my own business on day. Going to back track a bit now but in High School I knew that I did not want to grow up and work a 9 to 5. I would go to work with my dad in the summers and I just hated the thought of having to get up, commute, and always have to wear nice dress clothes. I was skateboarded at the time so t-shirts and jeans sounded nice to me all of the time! Back to college enrollment. I figured I was still into skateboarding and I didn't want to work for anyone so I made an attempt to start and create a clothing company. Let just say it didn't get far but only a handful of tee shirts made and sold. At 19 my first business attempt failed. When I turned 20 my mom bought me my first Digital SLR. Up until 2006 I was still shooting film for fun but knew I needed to make the upgrade to digital. Once I got that camera I was taking it everywhere and shooting everything I could. I was heavily into wakeboarding at the time soon after I got that DSLR I brought my camera to an event and just shot everything for fun and just for me. At that event I met a man who was there doing a story on the event. He approached me late in the event and asked if he could see some of the photos from it. I wasn't sure why he wanted to see them but with no hesitation I said sure. After scrolling through everything he was silent for a sec but nodded and asked if I could share my gallery with him so he could have published some of them in the wakeboard magazine. My eyes got big I just filled with excitement. I rushed to my car right after and jump on the phone to call my mom to tell her the great news. I had to share with her first since she had always supported my hobby for photography. Needless to say, the day the magazine hit the stands she calls me to tell me she picked up 3 copies of the magazine. That same day I made my way to Barnes and Noble and as I was excited. As I was looking for the magazine I was becoming nervous because I had no clue which images they want used or if they used any at all. Finally, I had found the magazine and found the article. I didn't even bother reading it first I just wanted to see if my photos made it. I saw it, I saw my last name in the corner of about 7 photos. I was floored with a bunch of different emotions. This was the first time I had a photograph published in a nationwide magazine. At that moment I knew I wanted to do more. I knew that photography was becoming more than just a hobby for me, it was becoming a passion of mine.
After 3 years of General Ed and lower division business classes I was starting to enter upper division business class. In one of my last lower division classes I had made a friend Chris. I had discovered that he was also a photographer. During a conversation before one of our classes he informed me he was dropping out of being a business major to head to the art department to pursue his BFA in Creative Photography. My jaw dropped and my head immediately went to do that same thing. I was over accounting and business management classes and I just wanted to get back into doing more photography. That same day I went straight to the enrollment office and got the paperwork to fill out to switch my major from Business Management to Creative Photography. Going into my 4th year I was starting my photography classes and most of my friends where graduating. I was on a whole new venture with all new students in a new department. Walking into my first photography class I was nervous. I had no clue what to expect but I knew I was in the right place. In those 4 years I spent countless hours processing and developing all my black and white film and developing my own color negatives at well. Learning about photography in a fine arts background really helped me learn to conceptualize and create photos that told a story or that had a deeper meaning. It really taught me how to be a great artist and not just a photographer.
As I approached my 7th year of college (yes, 7 years of college). I was wrapping up some of my last GEs and upper division for my now double major in Creative Photography and Graphic Design, I was ready to be finished with college. I was working for Red Bull at the time as a Student Brand Manager for the Fullerton Campus, photography different types of events, and working for a marketing company on the weekends. I was so ready to be my own boss and run my own business. I figured I had some business knowledge from those first 3 years of business classes along with my now marketing and managing experience so I was ready to take on the world. Wrapped up my fall semester and was ready to get into my FINAL semester of college. Before I started that final semester, my life changed. I found out I was going to be a dad. 24 years old, not finished with school, no set income, still being supported by my mom and I was going to be a father. I really didn't know what to do at the time and it scared me to death. How am I going to support a kid when I am not supporting myself was the one question I asked myself over and over again. I freaked out and essentially stopped going to school to just work. I had put my education aside and at the time thought I just needed to work. To make money, to save, and learn to take care of myself because I know am going to be responsible for a child. I was scared and that fear I didn't really share with anyone. After about a month of classes I finally received a call from my department head who was also a really good friend of mine, Andi. Andi was like a mother to me. She had over seen two different college organizations I was a part of in college so we had a built a friendship of the years. She asked if I could come into her office that week, I of course agreed to come as I knew exactly why she was calling. When I got a chance to sit down and talk to her she told me that all of my professors had emailed her and told her I had not attended class since the start of the semester. I proceeded to explain my current situation and why I was not attending my classes. She completely understood and helped me figure out a way to still graduate with the units I already had. What we decided on was switch my Bachelors of Fine Arts in Graphic Design and Creative Photography to a Bachelors of Art in General Studio Art. Was I happy about that switch? To be honest I wasn't happy about it at all. I worked for just about 7 years to gain the knowledge and education I had to finished with the simplest degree in the arts department. I knew thought that it was something I had to do to ensure supporting myself as well as well as my son. I am proud to say that I graduated that spring and that was the real start to me pursuing my dreams of being an entrepreneur as a photographer.
Let's now fast forward 7 years to present day. I am 32 and currently run/operate 2 businesses with multiple clients. I have a wedding and portrait photography business and I run a digital creative agency providing all things digital media to clients. Within those past 7 years I have learned and grown so much. At the start of my career I had no guidance or no mentor to help me though the trials and tribulations of trying be your own business. It was so much trial and error, good decisions, bad decisions, growth, learning, good times and bad, it was a struggle trying to help raise a child and build a business at the same time. There were times where living check to check was the norm for me, where I had to call friends to borrow money just to keep the lights on or put gas in the car, and when I had no clue when the next job is going to happen. It was scary and at times I had friends even suggest going to get a "normal" jobs and work 9 to 5 just so I had steady income but I knew that I was not going to be happy working for someone else. I worked thought all the bad and some of the lowest of lows where I just wanted to give up but I knew I had someone else counting on me. So, I toughed it out, struggled, and sacrificed to be happy with the career aspect of my life. I didn't want my son to grow up and see how unhappy I could have been doing something I didn't love. I didn't want him to grow up and learn that settling for the easy route. I wanted him to grow up and see a man who followed his heart to do something he loved no matter how hard it was and that he pursued his dreams of being his own boss. And at the time the way I looked at it was, as long as my son and I had a roof over our heads, food in our stomachs, and my camera in my hand that I was happy. I know I would not be the person, photography, cinematographer, dad, friend, son, brother and boyfriend today if it were for the journey I embarked on to becoming an entrepreneur. Hard work, passion, and never giving up are what have helped me build and grow my current businesses and what are going to help me build more of my businesses in the future. It's not an easy road and it's not for everyone but for those who are brave enough to take the road less traveled to pursue their goals and dream just know it's worth it in the end. I wish everyone who is on that journey luck and know that if you don't give up you can turn your dreams into a reality.
Overall, has it been relatively smooth? If not, what were some of the struggles along the way?
I would love to say yes to this but the reality is its road full of pot holes, detour signs, obstacles, and speed bumps. Being your own boss and running your own business is full of struggles early on. Not only did I have to know how to be a great photographer and film maker but I also had to be a salesman, do marketing, social media, accounting, and all "the stuff" we creatives don't really want to do. Learning how to communicate with clients was tough early on as well as learning how to manage you owns schedule. It hard being your own boss because you don't really have "a boss" or someone making sure you do the work you committed too. You have to be your own boss and make sure you know how to balance and prioritize your time and energy. This was something I was not good at in the beginning but have learned slowly over the years how to manage my time to its fullest potential. Another struggle was my work life balance. I worked so much so early on in my career that I had little to no social life. I was missing outings with friends, events, and traveling all because I was taking every job I could get to build myself as a business. It was a real struggle managing deal lines and keep on top of completing projects. I had to learn and teach myself that I didn't have to take every small job for every penny that came my way. I struggled with learning the value of my work and time. I have a big heart and want to help everyone if I can but I learned that I just didn't have the bandwidth to do so. It was a challenge to learn and figure out how to value my time and worth. Lastly one of the biggest obstacles I have had to face is my work/life balance.
Brandon J Ferlin Photography and Collective Media House – what should we know? What do you guys do best? What sets you apart from the competition?
As an entrepreneur I currently I have 2 businesses. One is a Wedding and Portraits business and the other is a Digital Creative Agency.
My wedding and portrait photography business is currently 4 years old. I am based out of Orange County but have covered wedding all over California, the US, and Internationally as a well. I would say that I am know for capturing candid moments, what I like to call the "in between" photos. Those moments when couples and families just forget that there is a camera pointed at them and just get lost in the moment. Those moments I could never recreate if I tried. They capture the subjects as they are in their most authentic selves as they can be. Those photos that make friends and family say "that is so them!" when they see the pictures.
The Digital Creative Agency I specialize in helping create digital content for marketing and sales (photography, videography, social media web design, and graphic design) for start-up and small businesses. I have built a great team of talent to help me make other people's dreams a reality. I know the struggles and work it takes to build a successful business so I want to help others do the same. I want to bring them a trustworthy and reliable place to get them started and maintain success over time. So, from photography, videography, consulting, marketing, design, and social they can come to one place to get help on multiple things instead of having to reach out to multiple vendors for different things. It allows me to work close with business owners and my team to make sure the process is smooth and stress free.
What I am most proud of is that I am able to give something back to other. For wedding clients it's the memories from one of the biggest days in their lives that are going to last them a lifetime. I got to give them something that will forever be special to them forever. With the agency I am proud to help people fulfill their dreams. Seeing and helping others succeed brings so much value and happiness to my life. I don't do what I do for the money. I do it because I have a passion for helping other and it makes me happy and I take great pride in it. I think that's what's sets me apart.
What is "success" or "successful" for you?
My definition of success is happiness. If you are happy with where you at in life and with the decisions you have made then you have made it. To me success isn't thousands or millions of dollars, a nice car, or a big house. It about the feeling you get every morning you wake up and every night you go to sleep knowing that that day you get to or had brought someone else happiness or success. When I see others happy and succeeding that when I feel I have succeeded and done my job.
Contact Info:
Getting in touch: VoyageLA is built on recommendations from the community; it's how we uncover hidden gems, so if you know someone who deserves recognition please let us know here.