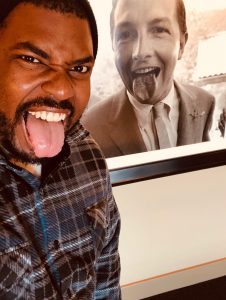 Today we'd like to introduce you to Brandon Black.
Brandon, let's start with your story. We'd love to hear how you got started and how the journey has been so far.
I've always been funny because I come from a funny family. The things we do and jokes we crack on one another have always been hilarious. Doing comedy wasn't always a goal of mines though, early on I wanted to be a rapper and music mogul. "Kriss Kross" made me want to get in the music business with their song "Jump" and later on seeing Bow Wow and Lil Romeo just increased my desire to do what they were doing.
The mogul aspect came from watching Master P and seeing how he did music but he also built this empire! The more I learned about Master P the more I wanted my own empire!
Fast forward many years later, after failed friendships, fake promises and being sold bullshit dreams in the industry, I just gave up on trying to make it in rap. It became more so a hobby because every time I'd hear a dope beat I'd still get the urge to freestyle or write but I figured man, I'm 25 (at the time) this shit probably isn't going to happen. I asked God for a sign one night, after just feeling down and depressed and confused on my next move and I got one. I saw a Facebook post from an old friend and mentor Ervin "EP" Pope advertising a music video for an artist he signed. I reached out and he answered back and long story short I started learning the production game and music business under him.
After buying a few pieces of equipment I began producing and sent a few beats to a few artist in the industry after being introduced to them through EP but nothing materialized. Disappointment is discouraging man, but I think it's even more discouraging when you feel like your good enough to do something but other people have the last word on deciding if thats true. Like an artist choosing your beat. So, I decided I'll continue to work on beats but more so for myself. I figured if I can't get a beat placed then I'll just make them for me and rap again.
While I'm considering rapping again I'm getting into Instagram a lot more and making video skits and acting. Acting has always been an aspiration as well, again, Master P wrote, starred and directed his own projects and I wanted to do the same. I began to do Instagram skits and shorts as well as write more and more. I received some great feedback on some of the IG skits but I could never go viral! I still haven't went viral haha.
The good feedback motivated me to take this comedy thing more seriously though. A friend of mines named Ashley Morgan always told me I should try stand up. We went to West Chester High school together and she always told me I was hilarious. Only issue is I didn't know how to write a joke! I was funny on the fly during conversations or making some funny observations or shooting (cracking jokes on another person) back and forth with classmates but stand up was something completely different!
It wasn't until GOD, the universe, kept sending me signs that I should do it!! For instance I ran into Alex Thomas in a shoe store while shopping for my little sister Chey and asked him a few questions. What he said in a nutshell was you have to just do it and try it or you'll never know. It's different making a stranger laugh versus your friends laughing at you because they know you. Sound advice but I wasn't convinced I had the juice haha. I was still hella nervous!
The final straw came when I was working two jobs. I was doing security and working at the mall doing security for a high-end clothing store for seasonal work. I had one full day off a week usually and on this night I decided to go to the "GS Bar" in Inglewood. At the bar, I ran into a homie of mines name "Emac" who was basically like "Bro you're funny as hell. I watch your videos and you're wasting your gift bro. You need to do stand up".
I told E what I was feeling about not knowing how to write a joke and he told me he'd hook me up with his bro named Brandon Lawrence who does comedy and he'd give me the information on a Stand Up writing class. E kept his word and Brandon reached out with the information. The class (LA StandUps) was like $400 I believe. Here I am, I'm working two jobs trying to pay bills down and just feeling like that $400 aint really worth spending on a class!
It wasn't until I was working in the department store and had a shitty day and asked myself, "Do you want to do shit like this forever? Do you just want to be a security guard working in the mall or do you want to take a chance and chase your dreams?".
After we checked all the fitting rooms and locked the store down at work one night, I clocked out, went directly across the street to the bank, transferred funds and signed up for the class! I made a decision that night that my dreams are worth the struggle and sacrifice!
Making that decision was the first step that propelled me towards my destiny. I've been on REVOLT tv so far, performed at The Comedy Store, Hollywood Improv, haHa Comedy club, Flappers, been on a few podcast, started a podcast with my bro Huned P called "HOOD HUMOR", shot a short film, been in a commercial as well as done private parties and events and this is just the beginning. It all starts with a decision and the willingness to commit!
Great, so let's dig a little deeper into the story – has it been an easy path overall and if not, what were the challenges you've had to overcome?
It definitely hasn't been smooth or easy. I think that's apart of the process though. I feel like my journey might be smoother than some but at the same time I have my own trials and tribulations. These are the situations that build character, honor and make you appreciate that final destination though!
I believe I'm being groomed right now so I can be the man I'm supposed to be. I have no doubt that I'm going to be a superstar because GOD placed that on my heart at an early age but at the same time I believe it's a bigger purpose along with being that other than just taking care of myself and satisfying my need for material things, and whatever else I have the urge for.
So to be right and have a good head to handle that I have financial struggles, moments of uncertainty, moments where I have to hustle on a daily to pay bills, moments of sacrificing hanging out, moments where I had no money for gas or had to eat noodles. One of my biggest problems I have is probably asking for help. I'm always trying to figure it out on my own but I thank God for family and for an amazing woman by my side. My girlfriend supports my dream fully and has helped me out in more ways than one.
I want to give the world to her and my family but I'm still grinding and at the same time I have to be humble enough to accept help when GOD sends help my way. To anyone reading this, don't be afraid to accept help when GOD sends it and don't be afraid or ashamed of this struggle that you're facing. It's training camp, its all the things we never see great people go through in order to be great. Stay ten toes down and keep walking towards your goals!
We'd love to hear more about your work and what you are currently focused on. What else should we know?
I'm proud of what I've been able to accomplish in such a short amount of time. That right there is confirmation that this is for me! I've been in a movie, a commercial and on cable tv back to back to back all within a year and half. That's amazing because I did it! That's the hardest part just starting and doing! I'm proud that I started doing!
What sets me apart is my authenticity and my character. I pride myself on being real, being a man of my word and having integrity! All my jokes are real and true. I wanted people to know me and feel that authenticity when I'm on and off stage. One of my goals is to have someone look at me as I continue this journey and say "If he's doing it I can do it too!" whatever that "too" is as it relates to them.
In a world full of fake I feel like real and authentic things are far and few so when you come across it, you'll instantly know and it'll leave a lasting impression on you!
What moment in your career do you look back most fondly on?
The proudest moment of my career would have to be doing this REVOLT TV show called "FUNNY AF" and sharing that experience with my mom, Michelle, my grandma Daisey, my homie Davion, EP and TIzzie Green!
Being on the show itself was a blessing and a gift but sharing that with them, having my own dressing room with snacks and we all we're able to chill and laugh, that was the ultimate experience right there! It's only going to get bigger from here! More memories to come!
Contact Info:
Image Credit:
Alan Reyes
Suggest a story: VoyageLA is built on recommendations from the community; it's how we uncover hidden gems, so if you or someone you know deserves recognition please let us know here.