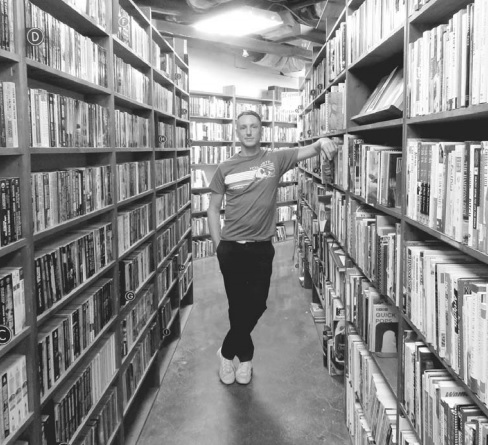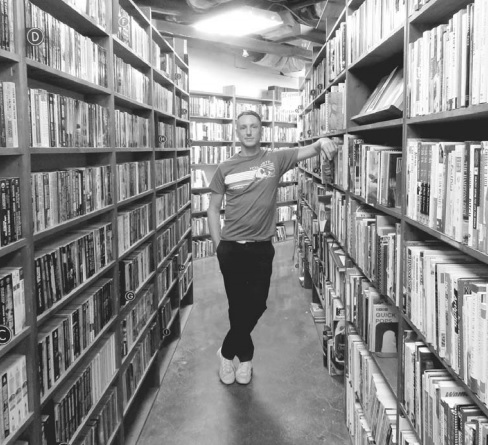 Today we'd like to introduce you to Brad T Cox.
Brad, can you briefly walk us through your story – how you started and how you got to where you are today.
I've been a reader for my entire life, as has everyone in my family—it's always been a really important thing to us. But beyond that, I think that book stores are important to human evolution. They are vital, and self-education is critical. You have a certain relationship with technology, and there's a different relationship that you have with the printed word—the held, paper word. It involves learning in a different way than you do when you're using a smart phone—mapping your next destination or texting somebody or Facebooking. It's just a different pathway in the brain. Also, we have a really unique business model. We're almost like an Amazon location, but with a curation and a soul that an algorithm cannot have.
Our bookstore started in the 1970s, when a guy named Chuck opened a small book store in uptown Whittier called the Little Old Bookshop. He was there until around 2005, and then another guy took it over and he moved the store to a bigger location, but after four years, he went out of business. We took over in 2011 and we were there for six years, before moving here, to downtown Fullerton. We were the last major bookstore in the Whittier area. There is a small store called The Dharma Center that specializes in new age and eastern philosophy books. But, aside from them, there are no other bookstores anywhere nearby. The closest Barnes and Noble was in Hacienda Heights and they closed several years ago.
I'm one of the owners, along with my mom and brother. We've had other entrepreneurial endeavors before, and we really wanted to do something together, and something that we were actually really going to love. When we saw that the Little Old Bookshop was for sale, we thought: That's brilliant. That's perfect. And we've just been on this roller coaster ever since.
We wanted to move to a community that's strong academically, and Fullerton has the local colleges. We also wanted to be in a downtown area that has a lot of life—not just office life, but also retail life, art life. It's just kind of the perfect scenario for us. We've had nothing but positive support thus far.
We cover every section of books—we have every section a library has and then some. We also sell vinyl records, CDs, Blu-ray, DVDs, comics, graphic novels, manga, anime. We try to go in every direction.
Digital can't compare with print or vinyl. The spectrum of audio that comes out of a vinyl record is wider than the spectrum of human hearing—so there's more sound than we can hear. The digital spectrum is thinner—it's smaller and compressed. There's a resonance that people talk about when they listen to vinyl, or there's a resonance that people talk about when they read books. It's not the same experience when they go digital—physical things resonate more with you than digital things.
There are many neuroscience studies that show that memory retention is so much higher when you have a physical experience with a book. You'll have moments where you'll remember a certain quote from a certain page—because you have the muscle memory as well as the visual memory. That doesn't happen in the digital landscape. The scientific way to express that is to say that it has more of an impact, more memory retention. But I really think it's just that you're more connected with that object. You connect with the energy of that object more when it's nondigital.
We took over the book store the same year Borders books went bankrupt, and the public consciousness at that time was that book stores are a fading thing. But we've been in the black every day since we opened. We've never had trouble making sales. So I think it's just a different breed of book store that has to be born and exist, and I think that can actually do really well in today's world. Not to be too J.M. Barrie about it, but if people would just say to themselves: "I do believe in book stores, I do, I do!" We can exist and have no trouble existing. We're a modern business! We're not a relic!
What is "success" or "successful" for you?
After the initial up jump of the modern technological age, humanity will discover the tangible nontechnological is vital and more important to our evolution and thereby our joy. We do our small part to align with that future, and we commit to it every day. And it's actually the easiest thing in the world to do, because books are awesome, and spending every day with them and those who love them is a gift every moment!
Pricing:
$$ WE PAY CASH $$ for books, Blu-Rays, DVDs, Manga, comics, CDs, records, textbooks, collectible texts and media, and anything else printed or recorded, and always sell them at half off the publisher's price or less!! We also host open-mic poetry readings every other week, and Fire Sales every quarter!!!
Fire Sale! $1-$3 75,000 Used Books every 3 months; Memorial Day, Labor Day, Black Friday, Presidents' Day
Used & New books, Comics, Records, CDs, BluRays, DVDs
$8 Hardback, $7 Paperback, <$5 Pockebooks, <$5 Children's Books for Used
Contact Info:

Image Credit:
Half Off Books Records Films, Brad T Cox, Bean Crosby
Getting in touch: VoyageLA is built on recommendations from the community; it's how we uncover hidden gems, so if you know someone who deserves recognition please let us know here.