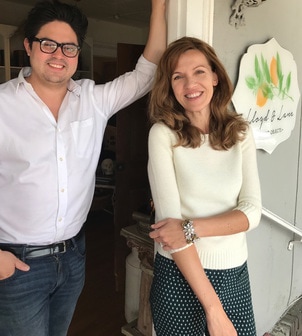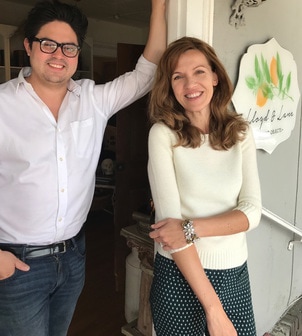 Today we'd like to introduce you to Bonnie Hargett.
Thanks for sharing your story with us Bonnie. So, let's start at the beginning and we can move on from there.
I had thought about opening a shop with home decor for years. Whenever people came to my house, they would say, "it would be great if there was a place where we could buy things like this." I kept thinking that I would like to create such a place. In February 2016, I was out walking my dogs when I came across a space for lease in a house I had always admired. Located directly across from the famed Rialto Theater on Fair Oaks Avenue in South Pasadena, it's a big two-story, multipurpose building that's going to be 100 years old this year.
The space appealed to me because of its location and history, and I loved that it had multiple rooms like a real house so customers could experience a sense of discovery as they meandered from space to space. The shop idea at this point was still just wishful thinking and I had zero inventory but I took a leap of faith and signed the lease anyway.
My overarching vision for the shop was to create a place that felt unique and personal. I'm Danish and have a European sensibility when it comes to shopping. To me, it's always more interesting to find a local place with a distinct personality and inventory than shop in a mass-market store that exists in every urban area. This particular mindset guided all the details and work that went into getting the shop up and running.
After months of gathering inventory – which in our case meant traveling far and wide for gems in the rough and investing a lot of sweat equity fixing it all up – Lloyd & Lane Found Objects opened at the end of June 2016. Initially, my plan was to only deal in vintage furniture and decorative items but even before we opened, I realized that it would be nice to also offer new items such as books, candles, children's toys and pet accessories for a more complete shopping experience. Now, nine months later, we have a wide variety of both vintage and new items with new inventory arriving every week.
I've always loved furniture with a past and it's exciting to me to uncover pieces with potential and give them new life. We lovingly re-imagine and restore each piece of vintage furniture. For example, all of our upholstered furniture has been professionally redone so it's like new, except the original frame provides a much more durable foundation than a mass-produced piece of furniture coming off an assembly line today. Likewise, our vintage lamps have been re-wired with cloth-covered cord so they retain their original beauty but work like new.
Opening a shop is a pretty big undertaking and I have never been in business by myself before so the process is at times a little intimidating. At the same time, it's also extremely exciting and satisfying to work with something you truly love. The business is definitely a team effort. My husband Armand does a lot of the furniture restoration work and my friend Alexander, along with working with me in the shop, handles our advertising, social media and various IT needs. Alexander's parents, who are family friends, are great at finding vintage inventory for the shop and make exciting discoveries for us all the time.
It's easy to get lost in a place like L.A. with so many different retail offerings but the city of South Pasadena and the local community in general have been extremely supportive of us since day one and we're so grateful for that.
We try to keep things personal and interesting with new items coming in all the time. We also love to host little events for our customers, usually on Sunday afternoons, where we offer refreshments, entertainment and special discounts. (All of our events are posted on our website and Instagram).
A lot of customers ask us where the name Lloyd and Lane comes from, and many of them think Alexander is Lloyd and I'm Lane but the name is actually inspired by my two daughters. Lane is my oldest daughter's middle name and Lloyd is my youngest daughter's nickname.
Lloyd & Lane Found Objects is located at 1026 Fair Oaks Avenue in South Pasadena. Our hours are: Tuesday – Saturday: 11 am – 6 pm; Sunday: 12 pm – 5 pm; Monday: closed. Please visit lloydandlane.com for more information and to check out our online store.
Great, so let's dig a little deeper into the story – has it been an easy path overall and if not, what were the challenges you've had to overcome?
While having a shop in a historical building is exactly what I wanted, our location – a few blocks from the main shopping street in South Pasadena – can be challenging. We don't benefit from being close to the train station or the farmers market so we have to work harder at attracting our customers. Fortunately, we have benefited tremendously from positive word of mouth so our customer base is growing.
Please tell us about Lloyd & Lane Found Objects.
One of the aspects of our shop I'm really proud of is that I think we have been able to create a space that many people say they don't want to leave. My favorite thing is when customers come in and say they love how everything looks and comment on how nice it smells in the shop (we always have a nice scented candle burning). From the beginning, I wanted the store to look and feel like a store that sells only new things. This is not your average dusty vintage shop with cobwebs in the corners. We keep everything super clean. We also take pride in our personal customer service and offer returns on everything, even vintage items, along with free delivery within the greater L.A. area.
Do you look back particularly fondly on any memories from childhood?
One of my favorite childhood memories is spending weekends at my grandmother's house where my little sister and I would play dress up for hours and create our own imaginative worlds, pretending we were in a fancy hotel, interesting shop or a romantic castle. We would spend all day setting up these places so my interest in interiors definitely started at an early age.
Contact Info: