Today we'd like to introduce you to Bernadette Levi and Sarah Michelson.
So, before we jump into specific questions, why don't you give us some details about you and your story.
Bernadette:
I, personally, started out in Chicago working both full time and freelance in multiple arenas through college. I worked as a digital media coordinator for a performing art's studio in downtown Chicago while also freelancing in editorial production and casting for various fashion events and sets. When I graduated, I thought I wanted something more corporate, more structured. I quickly figured out after working there for a year that it is not what I wanted. Though, it taught me a lot about digital and traditional marketing – which lead me to my career now in Los Angeles.
After moving cross country from Chicago to Los Angeles at 23, I worked a series of jobs to get by until I found City Media. City Media is a full-service entertainment company specializing in unscripted casting and development. We work with a variety of networks including Netflix, MTV, NBC, Fox, you name it. When I came to City Media end of 2018, they had just launched their Brand Partnerships division where a young woman named Sarah was securing brand deals for social media creators. I remember when I first spoke with Sarah, I had already interviewed with the heads of the company and they were adamant on her and I speaking ASAP. Our first phone call lasted a little over an hour. We immediately connected and began working with one another about a week later. Sarah had developed an incredible angle where our talent should be focused on something notably different than the others. In what can be a vapid and superficial industry, we decided we wanted to shift the norm and work with brands on partnering with creators who specialized in social impact, social good and giving back.
In 2019, we ended up doing over $200,000 worth of brand deals for just five creators who are all considered "micro" (under 500k followers). We traveled, we learned a lot, and we worked with some heavy hitter brands like Abercrombie & Fitch, L'Oreal, Malibu Rum, Color Genomics, Facebook, etc. We also managed to give back and work with charities/non-profits including the WeHo LGBTQ Center, Trevor Project, Crisis Text Line, Earthwatch, and Modern Exodus in raising over $20,000.
All in all, it's been an incredible experience and we're currently working through the COVID-19 crisis with the help of brands and charities alike and our creators to spread awareness and positivity on how we can combat this pandemic and return back to our daily lives!
Sarah:
As an overly enthusiastic singer and artist from the age of 6, my life has seen a beautiful transition from that of a performer and singer into an accomplished and socially impactful manager for artists and creators nationwide.
During my childhood years, I spent my days and nights enrolled in countless centers, workshops and performances across the spectrum of theater to concerts. Singing was my life, my true passion. My idols of Sara Bareilles, Ingrid Michaelson, and Joni Mitchell, instilled in me a deep love for expressing emotion through music.
With the incredible support of my family, to the extent of taking out a mortgage on our childhood home to fund my career's ambitions, I gave my heart and soul into following my passion for music. I moved to California as I turned 18 years old with a plane ticket and my purse. However, I would soon find myself preyed on by a deceptive manager that left me alone, in-debt, and ashamed. While I was struggling to pay rent, he ran off with the last of my family's savings and was rewarded with a spread in Vanity Fair for being the "youngest con artist." The entertainment industry encouraged his behavior. The industry glamorized it. I vowed to make a difference.
My casual YouTube singing videos eventually led to my early employment at Fullscreen, a company at the forefront of the digital media renaissance. I then continued on to manage independent creators across beauty, lifestyle, and fashion. I had this unstoppable drive (and my stubborn Filipino ancestry) to help people get to where they were going, and push them to perform at their best. I became a casting producer for primetime television shows led by Meghan Trainor, Diddy, and DJ Khaled. I traveled nationwide to attend festivals, events and night clubs. I soon found myself providing real opportunities to ambitious young artists who were in the same position I had been in just years earlier. In retrospect, I enjoyed it so much because it was a way for my heart to pay it forward with the opportunities I never had.
I've since partnered with Jodi Thomas and Rebecca Reczek of City Media Entertainment, where together we can make a positive social impact. We work exclusively with clients who have a desire to better the world, and we help brands such as L'Oreal, Make A Wish, and Magee Women's Health Research achieve their goals through healthy and positive messaging on topics ranging from sustainability, cruelty-free, women empowerment, mental health, Black Lives Matter, and more. I couldn't be doing this without my partner in crime, Bernadette Levi, who assists with all things from creative design to quality control. My life led me here, and although my father passed in 2012 and never got to see my work, my heart is at peace knowing he ran one of the largest food recovery banks in Florida. It's only natural that I would follow in his footsteps
We're always bombarded by how great it is to pursue your passion, etc – but we've spoken with enough people to know that it's not always easy. Overall, would you say things have been easy for you?
Nothing worthwhile is ever smooth! Haha
We've lost deals, argued and got messy with brands, wanted to pull each other's hair out, but that's a part of the territory! I always say to my colleagues and friends and family and pretty much anyone who will listen – "There is no resurrection without the crucifixion", and I truly believe that.
I'm someone who was born into what many would consider a non-ideal situation. Both of my parents were 16 when they had me and we weren't in the best socio-economic or financial situation. But with all that being said and all the judgment that has been passed my way, I'm confident it happened for a reason and I welcome people to be open to the idea of "struggle". Struggle is not a negative thing. It can feel terrible, or hurtful, or unnecessary in the moment – but I guarantee that without it, there would be no rainbow or lesson on the other side that made you better. Life would be one tone, and that would frankly be so boring.
We'd love to hear more about your business.
Bernadette:
We handle digital brand partnerships for creators that specialize in social impact and social good including breast cancer awareness, LGBTQ rights, animal rights, sustainability, and Black Lives Matter. We are very proud to represent individuals who are selfless and care about giving back just as much as we do.
We're known for that and we're known for occupying a space that is generally looked at as a selfish or manipulative industry and shifting that narrative into something good! There's a way to thrive, make money, and do it while sending out a positive message. We are not profit driven rather we are passion driven and profit comes, that's what sets us apart from most of our colleagues in the management and entertainment space.
Sarah:
I believe what set us apart is our genuine passion for social good, social justice and social impact work. I feel a lot of other companies compromise but we're a small / might business and that's to our advantage. We choose that above anything else (money, greed, selfish gain) and with strong integral values I believe when you push concepts like this forward it comes back ten folds.
What were you like growing up?
Bernadette:
I was extremely shy growing up. I was an only child until I was 14 so I was attached to my mother's hip and didn't speak much with the kids at my school. I went to a predominantly white school during a time where being mixed race wasn't widely known or understood yet, especially with parents who were still in their twenties up until I was in high school. I kept to myself and my outlet was always the arts. I was a classically trained dancer in ballet, jazz, and modern. My first job was actually as a tap dance teacher's assistant at 13! In high school, I definitely came out of my shell. I was around a more diverse group of kids from all different backgrounds. I joined my high school's dance team, I even started to do the morning video announcements my junior year! I definitely began to come into my own and develop my confidence.
I loved music. My parents were music artists and I always had an eclectic taste. I loved doo wop and Motown – Diana Ross and Michael Jackson were like the king and queen of my world. I wrote everyday. Since I didn't talk much, I kept journals from the time I was four until I went off to college, which ultimately led me to get my English degree with a focus in Media, Rhetoric, and Cultural studies from the University of Illinois, Chicago.
Sarah:
I was extremely bubbly, outgoing and super friendly. My first award in kindergarten was the friendliest in class. My parents would have to hide the telephone so I wouldn't call random strangers and strike up conversations with them. Although, I always ended up finding the phones since (back then) nothing was cordless and I'd just follow the cord, haha. I love including people and making them smile. Sometimes it was hard for me to make lots of friends but my one friend who's a frontline Doctor in NYC Jenica Chandran was really there when I was bullied and music was my way of coping hard times.
Contact Info:
Website: citymediaent.com
Instagram: @bernielevv / @citymediaent / @itssarahjane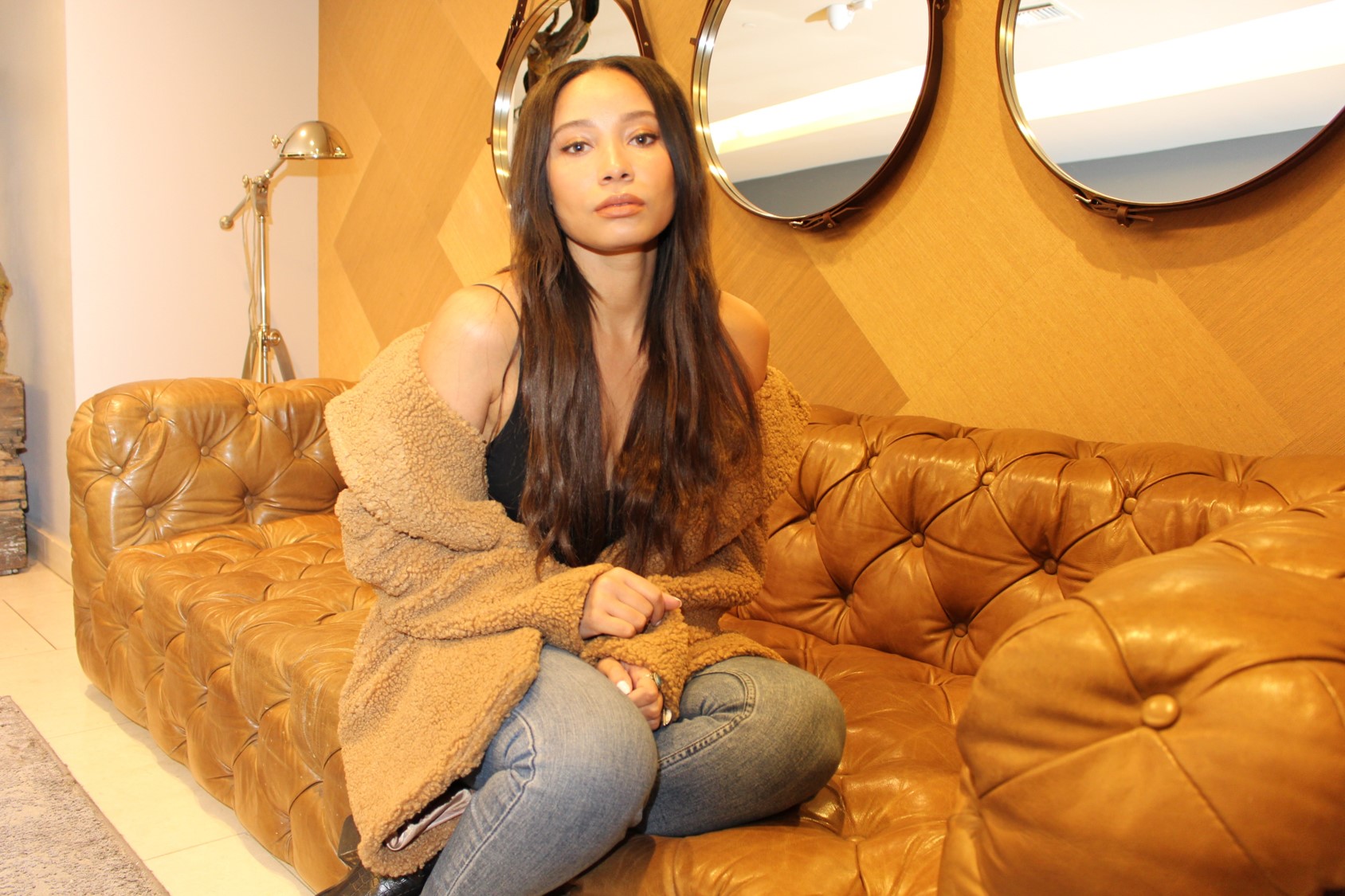 Suggest a story: VoyageLA is built on recommendations from the community; it's how we uncover hidden gems, so if you or someone you know deserves recognition please let us know here.