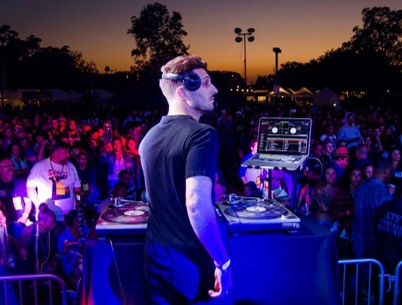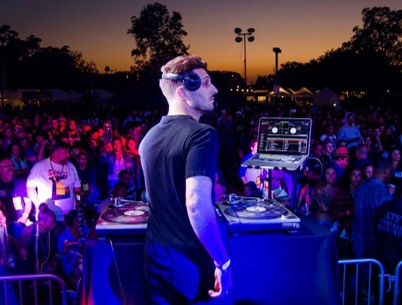 Today we'd like to introduce you to Benjamin Ross.
Benjamin, please share your story with us. How did you get to where you are today?
I'm from San Jose.
I started DJing at 16. Skateboarding really got me into Hip Hop. Particularly the music featured in skate videos as well as the music that the older skaters I looked up to and skated with listened to (Music that was not played on the radio).
The only job I ever had (prior to DJing) was at a skate shop called Go Skate. I worked there from age 14-21. Spending 1/3rd of your formative years in a skate shop with older skaters will shape your view on the world especially from a work-related standpoint. By the time the store closed, I was 21 years old and I knew I could never work a real job.
After four years of bedroom DJing, I had just begun to start playing gigs out at a local bar. When Go Skate closed, I decided to see if I could make a living DJing. I Spent seven years building my name and career around San Jose. Starting with one gig and eventually playing 5-7 nights a week.
In 2008, I landed a residency at the newest and biggest club in town. Playing the opening set night after night for out of town DJs. Some very talented and some who were, in my opinion (and often the crowds opinion) not very good. At age 27, I knew I'd gone as far as I could go in San Jose. I'd lived there my whole life and I felt if I didn't make a change, I would never go any further.
I decided to move to Los Angeles because that was where the majority of the out of town talent was being booked from. I knew I was as good or better than most of the people we were booking and I figured I just needed to be in a bigger city. (I would learn later that talent, heart, passion, and experience would have no effect on success in DJing but that's another story.)
In two months, I made the decision, found a place to live and moved.
I only had a few contacts and no work lined up so I basically started over. I knew of one place I 100% wanted to DJ before I moved here and that was The Dime. I would see many of the DJ's I respected and admired would always be playing or hanging out at The Dime. When I finally went the first time I was surprised by how small it was but I was determined to be a part of it.
By chance one of the DJs who I'd opened for in San Jose was good friends with the DJ who booked there and he made an introduction. He gave me some fill-in gigs and would hang out there all the time. They had DJs every night the week but Sunday. I approached the booker and asked if I could try to build something on Sunday's. He said they wanted to do something different than the rest of the week. The Dime is mostly known for Hip Hop (particularly classics). So I asked if I could do all funk, soul, disco, old school music. The music that birthed hip hop.
They gave me a shot. I have been doing this night called "OG Sunday" every week since then (July 2010). This is what I'm most proud of. In the 9 1/2 years since moving here, I've built a solid reputation and continued to work playing all over LA. Small bars, big clubs, corporate stuff, private stuff, and DJ Battles.
But the thing thats really connected me with people is the music I play on Sundays. I've had to fight to keep the night many times. It's always difficult to do something different musically. People and places are very resistant to anything unfamiliar. It took me almost seven years before the people who love this music and had been looking for it found out aboutOg Sunday but now it's almost always full or close. New people are still finding out about it every week. (It's the reason you reached out to me about this in the first place.)
I've also begun to build some other nights that are more creative musically and artistically for DJs including a weekly at Adults Only Bar called OST (Original Sound Track) where each week a DJ comes and does a live mix to a movie of their choice (with the sound off). It has been inspiring and different than what we (as working DJs) normally do.
I still make my living playing well known easily digestible music for dancing and drinking and I always give it my best in that arena but I'm most passionate about the art of DJing. How you play, what you play, why, you play (what you play) and how you put it all together.
We're always bombarded by how great it is to pursue your passion, etc – but we've spoken with enough people to know that it's not always easy. Overall, would you say things have been easy for you?
It has not been a smooth road. DJing, as an art form, is one of the most misunderstood, disrespected, and unappreciated in music/entertainment.
In comparison to any other musical art form, it is the only one that I've seen where those with no experience, talent, technical ability, or musical knowledge can not only succeed but thrive. This not unique to DJing of course but it is unique how fast a person can decide they are going to be a DJ and start making money doing it.
With that in mind, imagine having no name and trying to compete with someone for work who already has a recognizable name from another career (acting, modeling, singer, fashion designer, etc.).
Now not only are DJ's competing with legitimate celebrities with huge built-in followings but also an entire new breed of social media celebrities as well as a large swath of kids of the rich and famous and powerful entertainment personalities who were also drawn to DJing. (A few of which are very good DJs).
These are hurdles I can not control.
The biggest hurdles I've dealt with personally are with music itself. I never want DJing to feel like punching a clock. That means I don't want to play the same music every night. This can be a struggle depending on how the crowd is. Sometimes they're very open and receptive other times you just gotta play what they want. If you love music and don't care for what you're playing, it can feel like a long, arduous task to get through the night. I try not to play at places that feel like this.
I am confident in what I play and how I play it. But with this job I've experienced that when the bar makes money, they rarely credit the music or DJ. When something goes wrong (the night is slower than usual, people aren't buying a lot of drinks, there's a fight) I will often be blamed directly.
Getting paid is often a big problem. I have never in my entire career had no outstanding debts owed to me. I can not count how many times I just flat out didn't get paid for a gig I already did. At certain point, after enough texts and emails, you just give up. Ask any blue collar DJ (without a manager/lawyer) and they will tell you the same.
Another problem which is not unique to myself or DJing is the drink. Although I'm not a fall-down, angry, fight people, puke everywhere drunk. Like most people who spend their nights working in a bar, I have a complicated relationship with alcohol. Not only do I do well when I'm very drunk I've even been given a raise when I blacked out at a huge venue because I did so well. As I've gotten older, my tolerance has gone up, and of course, the physical and emotional effects are much more noticeable. At this moment writing this, I am on a self-imposed three weeks alcohol hiatus. (which ends on Wed. (May 8th at midnight).
The biggest obstacle of all is myself. My personality. The same things which I believe make me great and unique also hold me back the most. I've watched so many people lap me. Live out my dreams, some of whom I was right next to. Some of it I can't control. Other things I know are due to my unwillingness to bend or compromise on what I believe. As well as my demeanor, which many people can (understandably) find off-putting. "As-Is" is more than just a DJ Name I guess.
I'm 36 years old. With almost 17 years of DJing professionally. I do not own a home and am nowhere near ever having enough money to buy one (right now). I am unmarried, have no girlfriend and no kids. At this point, I really can't do anything else to make a living even if I wanted to. (Which I don't)
But I never ever run out of ideas or inspiration.
So let's switch gears a bit and go into the DJ As-Is story. Tell us more about your DJ career so far.  What else should we know?
I'm a DJ who really cares about music. I'd rather play for five people who will really enjoy and remember the night they had than 500 who don't care about it and just want to "turn up".
I will take less money to play great music at a place that believes in and cares about music over a spot that doesn't want a single moment where 90% of the crowd has to know every word of every song (which I can do in my sleep).
I can walk into almost any kind of room with any kind of people and play songs that everyone knows and loves, but also songs they haven't heard in years that immediately smashes them in the head and brings them back to a moment in time or a memory they haven't thought about in years. As well as those they've never heard and probably wouldn't have without me playing it.
I never play the same set. I've been playing at some of the same places every week for years and years and I challenge the staff to call out the next song I'm gonna play with a $5 bounty. I have never had to pay. Even if I play many of the same songs. I won't play them in the same order.
Nobody can play the Funk like me. People who hear me, particularly those who grew up on it (either themselves or through their parents) are always confused and surprised with how much I know, and how well I play it.
I have an encyclopedic knowledge of music. And I can put it together on the fly. Originally I come from a Turntablist background. Using the turntables to create new music out of other sounds which I incorporate in my mixing style. You'll always know someone is there when I'm DJing.
Most of all, I love it.
Has luck played a meaningful role in your life and business?
I guess I would say it's 50/50. All the bad things = bad luck. All the good things = good luck.
Maybe you make your own luck. Good and bad.
It's good luck that someone liked what I do enough to pass it along to you.
Contact Info:
Image Credit:
Zac Yonekowa
Getting in touch: VoyageLA is built on recommendations from the community; it's how we uncover hidden gems, so if you know someone who deserves recognition please let us know here.