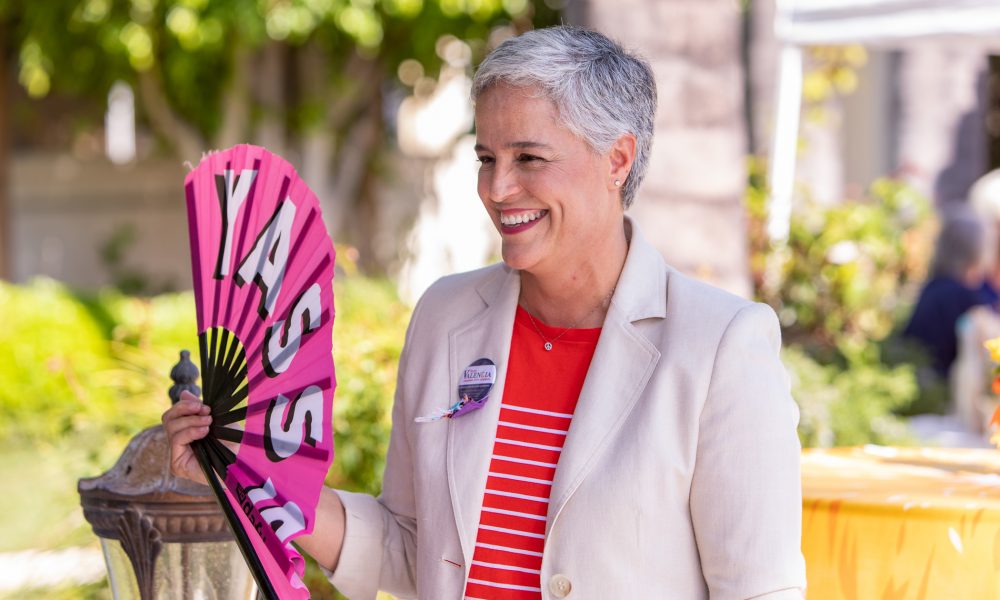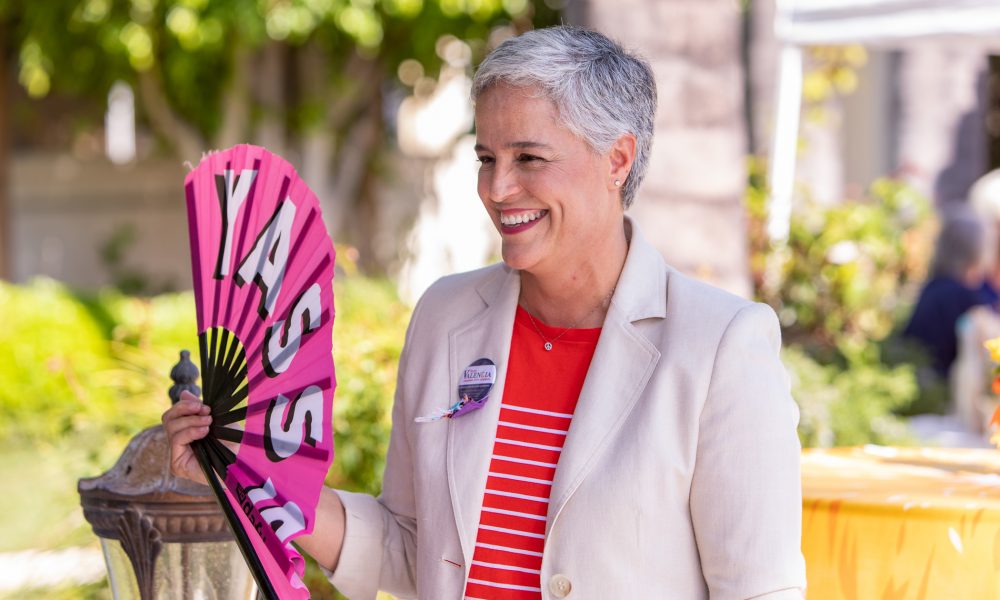 Today we'd like to introduce you to Beatriz Valencia.
Thanks for sharing your story with us Beatriz. So, let's start at the beginning and we can move on from there.
On April 10, 2018, I attended a city council meeting in the city of Orange, where a resolution against the sanctuary city was presented. For six hours, we endured insults, racist gestures, name-calling, intimidation, and overall harassment from many who had been invited into the city with the sole purpose of disruption.
During this meeting, I wore red sneakers. Wearing red sneakers quickly became a calling card for a MAGA hat-wearing woman. She immediately approached me to share her disdain of immigrants among other discriminatory statements. She mistakenly assumed my red sneakers united our sentiments. I quickly turned to her and told her no one owned the color red, no more than the American Flag. I knew then the red shoes would be a symbol for both the work and the resistance.
After many residents from the city spoke, I was confident our city council members would listen. I was sure they would hear the concerns of residents instead of the hate-filled speeches of individuals who were known to travel to different city councils to spew hate. I was wrong.
At 11:30 at night the vote was tied and the sole member who could have opposed the resolution voted to pass–ending our long fight in defeat. With dissolution and disheartenment, I looked around at others who were as stunned as I. At that moment, I knew I had to do something. I looked over to the seat the fifth member occupied, and I said out loud, "You're in my seat."
The next morning with only a few hours of sleep, I gathered all the red tennis shoes I could find. It turned out I had four pairs! I knew I would use every single one of them for canvassing. I put them in a circle, and my first post was "ready to run" Valencia4Orange. I visited the city hall and obtained my papers to file for the 2018 city council seat. I was now a candidate. My first interview was with The Panther titled "Bursting the Orange bubble: Chapman doctorate student runs for city council."
http://www.thepantheronline.com/features/doctorate-student-runs-city-council
The work began. We knocked on thousands of doors, we spoke with hundreds of people, and we raised plenty of money to be competitive. I prepared for the issues, spoke wherever I was asked, and I became as visible as possible. Our team grew, our voice got louder, and our presence was felt in the city. Articles were printed regularly from our university to the Orange County Register. We even made the front page! Things were full steam ahead. Our video "Why Orange? Why me? Why now?" reached many in the city, and the story resonated.
https://www.ocregister.com/2018/10/01/orange-county-dems-hope-anti-trump-energy-will-mean-wins-in-cities-where-gop-has-dominated-for-decades/
https://www.votebettyvalencia.com/media-videos
On Nov. 5th, we gathered to celebrate the work. The night was filled with hope, but as the numbers were reported, our enthusiasm diminished. By the end of the night, we realized we had not obtained one of the two seats. The next morning the results reported put our campaign fifth in an eight-candidate race. The registrar of voters published daily updated results. After a few weeks, we realized we had surpassed the fourth-place holder (a planning commissioner). Weeks later, we surpassed a previous council member. We were in third place.
As soon as the new council members and the Mayor took office, it would officially open up a third seat (vacated by the recently elected Mayor). With new energy, we immediately kicked into operation appointment mode for the vacated seat. We spoke in every council meeting, we marched, and we obtained over 500 + signed petitions by residents who agreed a third-place candidate was suited for a third seat opening.
There was little opposition to our appointment at the December council meeting, but that did not stop a man from pulling a switchblade and exposing his fear and hate. I represented his phobias, and he was not afraid to voice his opinion and use a weapon to underscore his position. That violent action only served to strengthen our case.
The knife was a symbol of the work that needed to be completed in our city. To cut out the fears that were misguided and replace them with reality. We needed a new candidate in that seat that represented the diversity of the city. We continued our efforts; unfortunately, a special election was proposed and passed by the city council. The special election would cost over 500k.
https://voiceofoc.org/2018/12/man-pulls-knife-as-orange-city-council-mulls-appointing-new-council-member/
http://citydocs.cityoforange.org/WebLink8/Browse.aspx?startid=243955473
https://www.ocregister.com/2019/01/23/orange-expected-to-hold-special-election-to-fill-vacant-council-seat/
We updated our paperwork once again and continued to run. The red shoes stayed on, and the commitment was stronger. We were ready to work hard and win that seat. Simultaneously, the city entered into a lawsuit with the Southwest Voter Registration Education Project (SVREP). During the negotiations, the special election was canceled as part of the districting settlement. The council would increase from five members to six and a mayor at large with six districts. The change was coming!
We updated our paperwork a third time to reflect the new election year 2020.
I use "we" in this narrative because the movement is not about one person. This dynamic and uplifting campaign is the creation of many who have also given their time, their privacy, their sweat, tears, and are the backbone of this work. Together we have traveled this road, and together we will see victory. The goalposts keep moving, but we are not deterred. The red tennis-shoes remain as the visual reminder of a promise kept, and the vision that equity and inclusiveness are possible in our city. We will work as long as we have to, as hard as it takes, for the change we want to see. A professor of political science emailed me, stating, "You have already changed the city without ever occupying that seat." Those words confirmed what we suspected. The movement we had created was changing our city forever.
From the moment I announced, I knew we would face opposition. I knew the roadblocks would be many, but the support superseded any of those barriers. We opened the door for others to see themselves in those seats. It is my hope that our story will be remembered as a story of hope. A story of resiliency, and inspiration that we cannot continue to wait for change; instead, we must be willing to take on the work and be the change. The council seat has never been the only focus, rather a consequence of staying true to the vision, and the message of justice and equity. Above all, we must be the people we need to see in those seats from local, state, to the presidency. Get a pair of red shoes and get out there. Be the change you seek.
Has it been a smooth road?
The journey has not been smooth, but it has been full of life-changing moments. One of the most challenging experiences is the realization that people will find something to dislike about you regardless of how qualified and proficient you may be. Experiencing the hate that comes from lack of knowledge and biases can be tiring, but I have learned from many of the young activists and elected, like AOC and Greta Thunberg, that whatever hate comes our way, there is more support and love that can counter.
This doesn't mean it doesn't hurt; it just means we can get through it in a way that does not rob us of our sense of justice and love of the work. Having the support of the community creates a buffer and helps me get through the toughest of days. I would not be able to do any of this without the support and love of my partner and wife Laura Villa. We don't speak enough about the partners who travel this rigorous road alongside. I know she hurts when I hurt, she cries when I cry, and she works when I work.
Together we are examples of dedication to the work and each other. We are well known for the organization and endurance we have demonstrated. We are proud of the moments when we could have tapped out but instead engaged with more fervor and commitment. We are not easily intimidated, and that helps us stay true to our mission.
We'd love to hear more about your work.
Our campaign: Valencia4Orange is different from any other campaign in Orange County. Being the first qualified openly queer, immigrant, Ph.D. student, a woman of color to run in a city that has historically been categorized as the Orange Curtain is what sets us apart.
As a team, we have shown that no matter where you come from, who you love, or what language you speak, there is a place and space for you in our city politics. I may not have been born in Orange, but I sure got here as soon as I could. I am here now, and I intend to contribute and pave the way for others to join. Our time is now, and now is our time.
There have been several moments that will forever be recorded in my memory. First, the moment the campaign moved from fifth place to third. We didn't win one of the two seats, but we showed that that hard work and authenticity were valued.
Second, the community that was built around this campaign.
The commitment of others who also want justice and equity. The dedication of the volunteers who are now family. We were brought together by a traumatic and disruptive event, yet we did not let that stop us from creating a powerful and loving movement. Our community, our team, our family, and our movement is now forever intertwined.
Let's touch on your thoughts about our city – what do you like the most and least?
What I like most about Orange is the considerable potential to be more creative, inclusive, and equitable. The diversity in our town is our strength, not a threat.
What I least like about or city is the transactional politics.
Contact Info:

Image Credit:
Matt Fitt
Laura Villa
Oscar Rodriguez
Suggest a story: VoyageLA is built on recommendations from the community; it's how we uncover hidden gems, so if you or someone you know deserves recognition please let us know here.