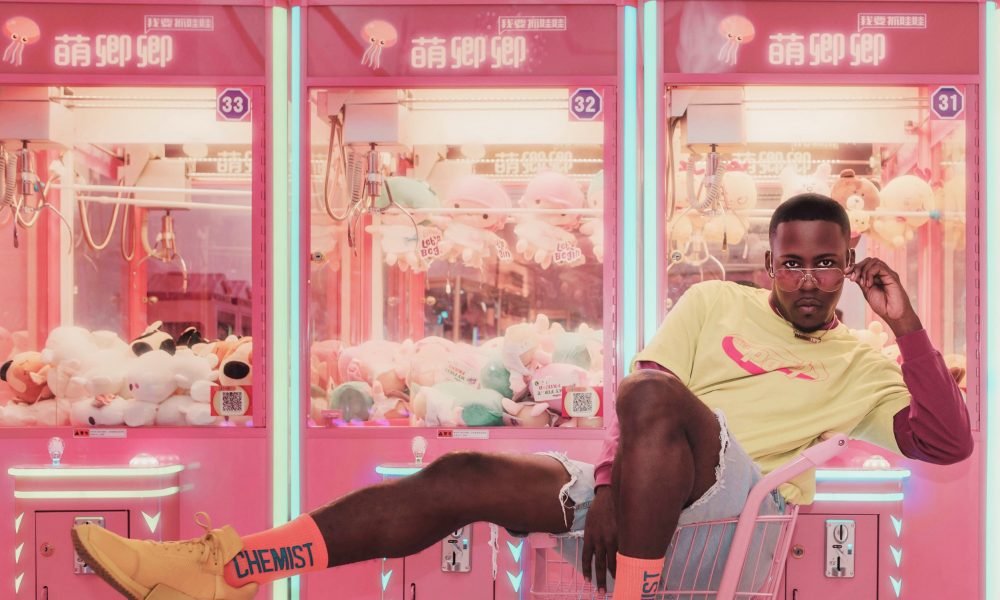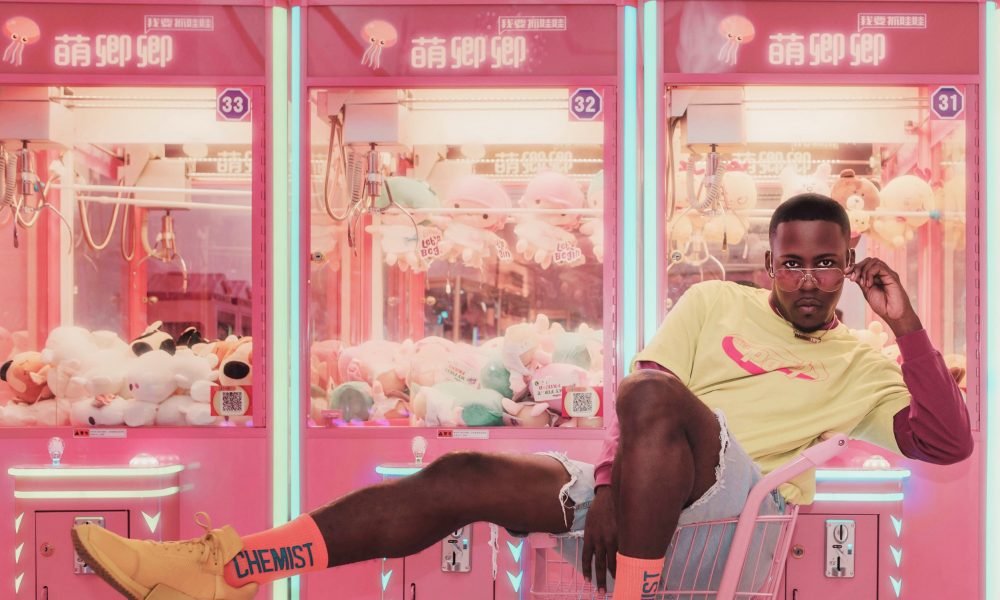 Today we'd like to introduce you to Bash Johnson.
So, before we jump into specific questions, why don't you give us some details about you and your story.
As a young boy I always used to dance around my grandma's house watching Michael Jackson HBO specials and MC Hammer, Janet Jackson performances and various of artist's music videos on MTV, VH1, and BET network, but Michael Jackson was my idol, I used to dress up like him from head to toe. My grandma is amazing at sewing and crafts. She customized my Guess denim black jacket and added sequins and rhinestones to it, and my accessories was a white dollar store glove with a Fisher-Price plastic microphone in my hand. Oh, I can't forget the flooded dress plants & my old penny loafers. I used to go down in my grandma's basement every day and watch and emulate Michael Jackson concerts. No one never told me that I was absorbing choreography and performance. Even though they knew I could dance my ass off. None of my family members thought to look for higher dance education for me to train my God given talent. As a child I didn't know there was an career path for dance. I was always was a shy quiet kid growing up. I only dance around close family members mostly. My mom was a ex-dance teacher back in the day, she was always my #1 cheerleader every time I danced. It was not until high school my shyness started to fade away when I decided to join the boys step team which built my confidence all the way up. My dance career started until a little bit before I graduated from high school. I began to start back up dancing and choreographing for local Detroit music artist and dancing on local dance TV shows. I also had my own hip-hop dance group and we used to battle other dance groups at parties and competitions. I started to become more and more noticed in the city and a lot of people recommended me to be a special guest at events and performances. At that time I always was searching for more and I felt like Detroit has its limits on success in the Entertainment and Dance Industry. At the end of 2010, I got an opportunity of a lifetime to go with a group of dancers to professionally dance in China for three months. Barely knowing any information about China, I got the call on a Monday and I left that Friday with no regrets leaving everything behind. This was my first time taking a big leap on faith.
After the three months was over. The chinese company asked me to stay for another whole year to be the Choreographer and creative director of their entertainment company. I gained other opportunities to teach dance workshops and choreograph and dance for Raz-B from boy band "B2K" touring around China. Living in China has its effect on your self-growth. When you're taken out of your element, you start to pay more attention to yourself. Who you are? Who do you want to be? What's your long-term goals etc. This period was my first experience of being fully creative and business savvy independently. At the end of my contract, I gathered all my materials from photoshoots to video footage and all of the things I accomplish to create a portfolio/dance reel, because I was planning my next move after I finished my contract. I wanted more and I was ready to accomplish new opportunities back in the U.S. In the midst of preparing to go back to America my mom was currently battling cancer. This set me back on my initial plan of returning and going hard in my dance career. My mom was my everything so I dropped everything to be with her, but unfortunately she passed away a month after I returned back to my hometown (Detroit). This killed my heart & my soul. After that, I felt like I had nothing to lose. I did not wanna go back to live in Detroit ever.
So I choose to moved to Chicago and shortly after, I got signed to my first commercial agent at Lily's talent Agency. My challenge was to figure out how to book myself and be my own manager. I used to stay using Google searching different questions about casting companies, brands, networking events and dance gigs, I swear Google was like my digital mentor, I didn't have anybody to steer me in the right direction. All I know was the goal was to stay booked and make dance my main source of income. Eventually, I did. I got a chance to book a few jobs. One for the books was I got a chance to assistant choreograph for Jessica Sutta from the "Pussycat Dolls" performance at one of Chicago's biggest music festivals "Market Days". I noticed the longer I stayed in Chicago that the work in the entertainment industry there was very inconsistent than I thought. I got another offer to go back to China this time to Shanghai where I got a chance to choreograph for Aston Martin car shows and L'Oreal Paris events and teach dance workshops etc. While in China I was doing more and more research about the dance/entertainment industry and I knew eventually I would have leave China to either move to Los Angeles or New York. I chose Los Angeles. LA is literally the "Mecca" of the entertainment industry. I had so much success overseas. I wanted the same success in the United States.
I saved my money and went back to Detroit and packed all my stuff in my 2000 Honda Passport SUV and drove from Detroit to LA to start my new chapter. It was so hard to find a place, I stayed at a friends house on the couch and in shared living housing with 20 people in one house which was a crazy experience the house was made up of ex-convicts, alcoholics drug attics and 10% was dreamers like me coming to LA with big dreams.. LOL. I started out going to a lot of networking events and open call auditions, working doing background acting work. Later I found a job offer that they was looking for a Choreographer in Florida and Bahamas to choreograph at a hotel resort company. I apply for that job and so many others, and submitted to agencies and got rejected. I will never forget when my SUV died months after I arrived to LA. I felt like everything was falling apart living in LA. Until I got a callback from the vacation resort saying they wanted to hire me as Choreographer and they will pay for my accommodations, flight, and a nice monthly salary for a eight month contract. This was moment a great time to stack my money, get more experience as a choreographer/ stage manager, and reflect on my initial plan on living in LA.
Once I finish that contract, I still wanted to move back to LA with a solid plan ready to slay. I built a strong portfolio of my current headshots & created a new dance/choreography reel with all my recent work. I went full force with auditioning and submitting to jobs and I began to start booking jobs left and right. I booked my first commercial that year with Lee jeans Europe campaign. At that time, I didn't have an agent. Man, God was showing out. Months go by and I decided to submit to different agencies one more time. And I finally I got a callback from Movement talent agency one of the top dance agencies in Los Angeles and they said that they wanted to meet me. I was so happy and shocked at the same time because they were one of the agencies that turned me down the year before. I guess this time they were amazed to see my resume and all the major jobs I booked by myself. This was a big moment of my whole career because I had a lot of backlash of people telling me that I'm not the best, not good enough, or he is so "Lucky" to all book these jobs… "How is this possible?" lol. Or saying subliminal things to people trying to downplay my success, I always use that negative energy as motivation to go harder.
Overall, has it been relatively smooth? If not, what were some of the struggles along the way?
My journey has been up and down. The struggles and challenges I faced was being homeless at one point in LA, and the biggest devastation in my life was losing my mom to cancer. Dealing with haters and fake people gossip in the Hollywood scene, it caused me to second guess my self sometimes, Also being a dark skin African-American male in the entertainment industry. It is so many of us black men fighting for one spot roles and jobs that we all deserve. It pins us against each other. I feel like in the black community we don't stick together. In Entertainment industry we always have to compete with one another. Which only makes it harder for us to make it. I suffer from a few injuries as well, like tearing partially of my ACL and flipping my meniscus in my knee and last year I fell on my face teeth first on set of a music video. Luckily my teeth didn't fall out, but I eventually I needed a root canal to preserve my smile because my right front tooth was dying and becoming discolored. Image is everything in this industry. You got a look on point first always. Anxiety has been a challenge too, especially going to cattle call Auditions. It will be almost 800 people in one room fighting for ten spots. One time I got kicked in the neck and pulled a muscle because it was no room to dance. It's too stressful sometimes, but I never gave up. Prayer and meditation helped me tremendously.
We'd love to hear more about your work and what you are currently focused on. What else should we know?
So fast forward over this last amazing decade, I have taught dance in many studios and schools in Los Angeles and most recently teaching Hip-Hop at the phenomenal Choreographer Ryan Heffington's studio "The Sweat Spot", so far I have been blessed with many opportunities such as working with artists from Mariah Carey, Kanye West, Daddy Yankee, Zendaya, Chance the Rapper and many more. You also can catch me dancing in "Fifty Shades of Black" movie with Marlon Wayans (Actor) or in the Fox Sports commercial with Ken Jeong (actor), and major Brands such as Cointreau, Smirnoff, Doritos, Geico insurance, Toyota, etc. or performing on "Americas got talent" (TV show). I've been very successful in Hollywood choreographing commercials, music videos, live performances and so much more. Now currently in China working on a few projects focusing on creative directing & choreographing mostly for major concerts/festivals and events. My goal is to be bicoastal and to have multiple of work bases set up in different countries, also in the future I want to work on more Musicals, Movement coaching, artist development, Image consulting & teaching dance workshops, Im versatile and prolific in hip-hop, jazz funk, African, Dancehall, contemporary, & modern dance, etc. As a choreographer and dancer, My fusion style is unique, full out, high energy with sharp movement. I love working with different client's projects and taking their vision and bringing it to life, above and beyond. I am a true innovator and I create from the heart. I always do my research and make sure I'm executing everything the client is requesting is perfect. Sometimes I create different variations just in case.
What is "success" or "successful" for you?
I define success as longevity not popularity. Success to me is being financially secured living life to the fullest with no limits and to be able to do whatever you want, when you want. I want to be in a place in my career where I don't have to search for work anymore, and it will find me just not in LA but around the World, that worldwide Demand. Fame is overrated, but I do aim for to be awarded for my work, like a VMA and a Emmy award for best Choreography, that's the goal. I feel like timing is everything. What is meant for you, is for you. There is no one way to success. A lot of people try to pattern their career after someone else. I love that I create my own lane and stay true to myself. I always tell people – "People go after for what they see… I go after for what they don't see".
Contact Info:

Image Credit:
Shenzhen Fringe
Suggest a story: VoyageLA is built on recommendations from the community; it's how we uncover hidden gems, so if you or someone you know deserves recognition please let us know here.