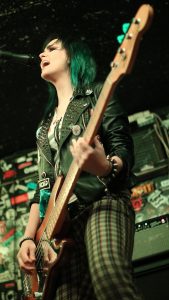 Today we'd like to introduce you to B.B. Kates.
B.B., can you briefly walk us through your story – how you started and how you got to where you are today.
It was the summer of 2008 when this all began. I was 12 years old, and I had just learned about Guitar Hero. I would spend hours into the night playing a plastic controller to the same 30 songs. Eventually, I got bored and wanted to try it out on a real guitar. I wanted to play more songs, and not just the ones I was given through a game. I asked my parents for a guitar for Christmas, and I got one. I got a Peavey Rockmaster that I still have hanging up in my room to this day, covered in dust and local band stickers.
After a bit of learning, I ended up starting a band with a couple of my friends I went to junior high with. We were called Psycho Agency. I ended up blowing out the tiny combo amp the Rockmaster came with, so I went with my dad later that day to get a small Line 6 Spider 50w combo amp. Psycho Agency died out after just the second rehearsal when half of our members left to go do each other's hair at home. So, the drummer, Kiani, and I started up a new band called General Disorder. We mostly played Green Day covers and originals that sounded like they were written by Green Day. This was also when I first started singing lead vocals. It was just me playing guitar and her playing drums, so she was able to find a bassist from her school named Erica. We had lots of fun sleepovers and jam-days together, but Erica's moved to Texas, unfortunately just a few weeks before our first show.
So, Kiani was able to find another bassist from one of her other bands fairly quickly. We played a few shows before splitting due to some disagreements in early 2012. That year was tough for me. My grandfather, who I was extremely close with, ended up passing away from cancer in September of that year. He was always very interested in the new music that I was writing. Whenever I write a new song, I think about what he might tell me if he could have heard it. That entire year, I probably picked up my guitar maybe once every two months. In 2013, I started playing again to help out some friends who wanted to try jamming – my friend Troy specifically needed a band to perform a cover of a song by The Doors' for a male pageant at the high school that he entered.
I played a lot more than the previous year, but still wasn't looking to join any bands. I got really busy with school and marching band, and really, I just wanted to improve my guitar playing as well. Near the end of my junior year, my band director (who is also my uncle), had asked if I would be interested in playing bass for the school orchestra. I didn't hesitate to say yes and give up my calculus class to learn something new. So, I started practicing after school before the end of the school year. That summer, I started playing my guitar a LOT more, and created my YouTube channel now known as "bassbabebri."
That summer of 2013, once band camp started for my senior year, I would get home and spend the rest of the day learning and uploading guitar covers of songs by The Aquabats! Once school started again, I stopped uploading for a bit. Mostly because now, I had a new love for bass. When playing in my old band General Disorder, during the time we didn't have a bass player, I ALWAYS wanted to learn how to play the bass intro to Longview by Green Day – so I like to think that the bass guitar had always resonated with me in a way. I got my first electric bass, a cherry red Squier Jaguar that year. My friend Kiani from my first bands had asked if I'd be interested in playing bass for a new band she was in, later named Intensity Follows. I jumped at the opportunity and went to their very next rehearsal. We did a few shows, a battle of the bands, and some other things before I mutually parted ways with them.
Except for this time, I didn't stop playing. It was around December when I left, and I remember watching the 2014 KROQ Almost Acoustic Christmas livestream. The minute I turned on the stream, a band called New Politics was on their final song, which I later found out was called Harlem. I thought it was awesome, so I wrote it down in my Notes on my iPad so I could remember to listen to it later. Well, by the time the whole livestream was finished, I completely forgot about the note I made… until about two weeks later, I was looking for something I had written down for school and found the note I made. I listened to both of the albums that day and was hooked. I bought physical copies of the albums and had them mailed out to me that week.
During this time, I learned that the band didn't actually have a bass player – they were either tracked in the studio or played on a synth. So, this gave me the idea to learn some of their songs and post bass covers. My YouTube channel was active again and was growing in attention. For my 19th birthday, I ended up getting a beautiful American Special Fender Precision bass, which is the main bass I still play to this day. I had also asked my dad to take me to Tempe, Arizona to see a festival that New Politics were playing at. After the festival, I had posted a video I took during their set and hash tagged some relevant things. When I checked back, I saw an account named "fenderbilly" had been liking and commenting on a couple of my posts.
The "Fender" part in his handle caught my attention, so I checked his page. Billy had actually been there with Fender and New Politics, as he actually works in Fender's Artist Relations. I followed his account and connected with him over a few months before we set up a date to visit the Fender Headquarters in Arizona that May. It was a wonderful opportunity that I'm still really thankful for to this day. I went back home and posted more bass covers, eventually seeing that New Politics were headlining a festival that June in San Diego. Billy and I were talking about meeting up so we would talk throughout the day about how he'd introduce me to the guys in New Politics. Well, they were about to play the final set of the night and I was still eager to meet them.
However, I was shocked when they actually called me up on stage to perform one of their songs with them, "Yeah Yeah Yeah." Considering they didn't have a bassist, I actually had to borrow Benjamin from Big Data's '70s Fender Precision bass. That whole song is a blur, and it's still extremely surreal to watch videos and see pictures from the event. Moving forward, I ended up getting a lot of attention from their fans as well as other bands like Panic! At The Disco, All Time Low, SWMRS, and more. The rest of 2015, I focused on my YouTube channel and was able to grow it quite considerably. Towards the end of the year, I was asked to help out an amazing all-girl band Hoity Toity to fill in for a couple of shows. The band is still going strong and has an amazing EP that just came out this year, Not Your Kind.
After the second gig I helped them out with, I was asked to join an all-female metal cover band called Vixen Vendetta. We played a lot of shows together, and although the music wasn't really my normal thing, I think playing some of these bass lines were really fundamental in pushing me to become even better than I was. Going from Pete Wentz bass lines to Steve Harris bass lines was quite the challenge, but very important in improving my capabilities as a musician. I decided to leave the band in October of 2016 to write original music and sing lead again. I started a band called Street Lynx with some amazing guys, Eian and Kyle. It was often referred to as "an amalgamation of punk and hard rock." There are still songs online as well from our only EP, Blackout. We were together for just over a year before I noticed that we all had different visions and roads. We made some amazing connections with our fans and friends that we made during the bands' existence that I will never take for granted.
Then, summer of 2018, The Drained was born. I created this band in hopes that I'd be able to write original music on my own and play the way I've always dreamt of. Since starting The Drained, I have had many amazing and talented performers help me out at the various shows. My debut single "Lycanthropy" was released earlier this year in May and can be found everywhere online. Today, I am now working on my first EP under The Drained. On my personal page, however, I am still posting covers – in fact, for the entire month of October, I have been uploading covers of iconic horror themes and spooky songs while wearing special effects makeup, which is another hobby I picked up over the past year. I still can't believe this all stemmed from a plastic controller. I know a lot of people will tell you to "never give up," but I feel like I'm living proof of that. There is so much opportunity out there for everyone, whether you play music or not, you can always do something amazing.
We're always bombarded by how great it is to pursue your passion, etc – but we've spoken with enough people to know that it's not always easy. Overall, would you say things have been easy for you?
It was definitely tough. There were times when I wanted to stop playing due to a lack of motivation from one thing or another, but I would try to seek out new and different things (like new bands or songs) to get back into playing because music really feels like my calling.
Can you give our readers some background on your music?
I would say I'm best known for my bass covers. A large portion of my following and fanbase has come from seeing my videos on YouTube or Instagram. I would like to branch out more and incorporate fashion and makeup into my brand as well. I'm very proud of what I've accomplished during this time as well as all the help I've been given from every single person. Every like, every comment, every follow means so much to me. All my life, throughout school and even still, I've felt like an outsider. I'm grateful for the people that have took me under their wing, and all I want to do is encourage others to be different, and continue to be different because that is what will stand out.
So, what's next? Any big plans?
In the future, I'd love to get some experience on tour, whether it's my own band or another, so I can meet more people as well as people across the world I haven't been able to. I'd love to continue writing music and inspiring more people.
Contact Info:

Image Credit:
Ted Cendejas
Jay Kantor
Suggest a story: VoyageLA is built on recommendations from the community; it's how we uncover hidden gems, so if you or someone you know deserves recognition please let us know here.