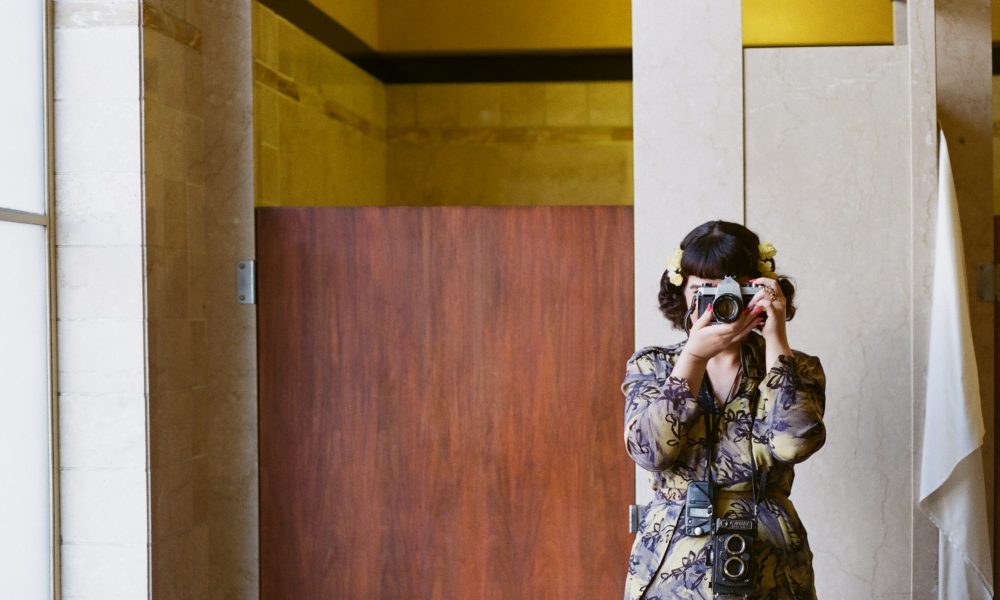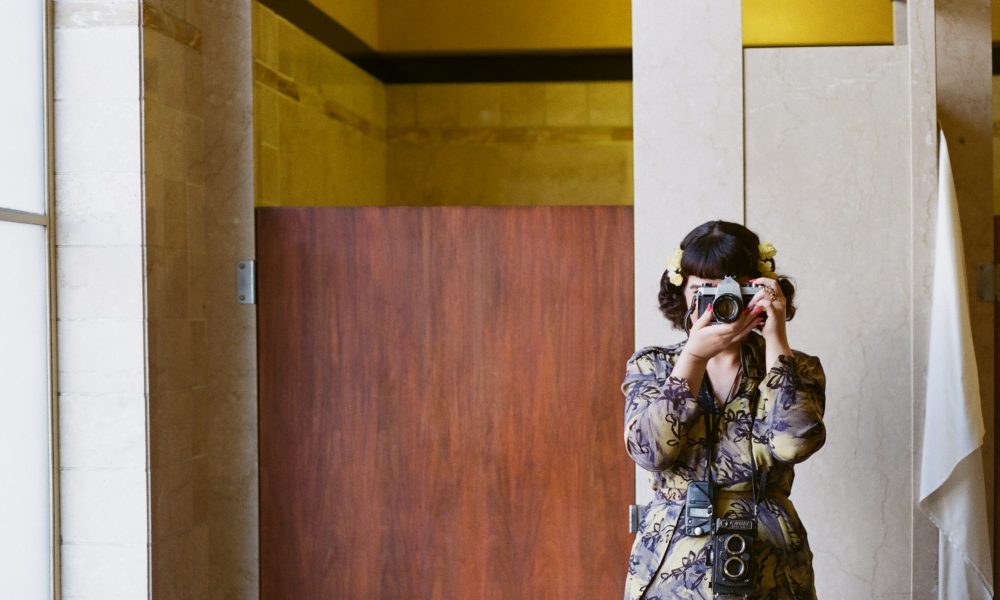 Today we'd like to introduce you to Ava Alamshah.
Every artist has a unique story. Can you briefly walk us through yours?
I was born in Glendale and grew up in the suburbs of Santa Clarita Valley. My father is from Iran and Mom is a New York transplant. They met while shopping at the Glendale Galleria! Haha
I'm multicultural- Assyrian on my dad's side and my maternal grandfather was half Chinese and Dutch.  My background has always been a bit of a mystery due to family estrangement, and I think that loss of history has fueled my curiosity for the past, and perhaps, subconsciously, my desire to collect and document things. Growing up, we had a lot of family photos lying around. I love looking through photo books and seeing young versions of my parents and grandparents. Collections of photographs were a huge part of my early existence, as was exposure to fashion. Both my parents are very artistically minded, and their love for the sartorial arts has had a deep influence on me.
With my family's influence, it was only natural that I become an artist. I think realistically, they were worried because being an artist isn't easy. Career-wise, it's really hard to make a living from it. There is this funny comic going around that is exactly my life right now. It's by Alex Norris, and you can find it on webcomicname.com. It's called "Identity" and starts off with two squishy blob-like characters. The Artist wears a beret, so to distinguish themselves from the norm. Usually, a point of conversation when you first meet someone, Normal asks "What do you do?".
The artist replies proudly, "I am an ARTIST."
"Wow that's amazing" responds Normal.
Artist adds, "also I work in a supermarket."
Please tell us about your art.
I am a Photographer and Vintage Curator. I've always been a collector and a sentimental one, which means it's harder to let things go. Photography is how I'm able to collect memories. I'm interested in natural light – when it hits a certain way, or how it turns everything to gold, depending on the time. I love capturing the color of an old building, the shape of a friend's face…I'm always thinking about how to archive these moments. The majority of my work is shot on film, using 35mm and medium format. When I was studying photography, digital imaging was becoming the norm, around 2001-2002. Digital has gotten better, but I still find it very flat. There is so much depth in film, and I'm always striving for that soft focus, dream-like aesthetic.
I love things to look wistful, saturated – from another time, and another place. I love telling stories through images. Recently, a really cool thing happened while selling my work. A man purchased one of my prints because it reminded him of a childhood memory. We chatted briefly, and I could see him time traveling right in front of me. I loved being there for that moment, and I want to invoke more of those feelings.
As for vintage collecting, it has become a serious passion within the last five years, though I've dabbled with it since high school. If you went to high school in the mid to late 90s, you'll remember the massive swing revival. Besides growing up watching classic films and "I Love Lucy," my initial interest in 40s and 50s fashion grew from wanting to be involved with swing dance. Finding true vintage gives me such a visceral reaction. Like analog photography, hunting for rare garments requires a lot of patience, and it's become harder to find things, especially in Los Angeles.  Also, like film, it's become more and more expensive. I've been thinking a lot about merging both passions, and lately, there's been some overlap thanks to social media. Instagram has been the outlet I use when I want to share a look I put together, and it's fueled my interest in documenting my wardrobe and wanting to start an online shop. I'll be working on this in the coming months, and I'm really excited about it. Also nervous.
Do you have any advice for other artists? Any lessons you wished you learned earlier?
You know, if I could go back and give myself advice as a young artist, I would tell myself to save money. Seriously, you need money to make art- film is not cheap! I still have a pile of undeveloped film sitting in a drawer as I type this. I have my Bachelors from CalArts – a beautiful school, and an expensive one. I cherish my experience there, but you don't have to go to an expensive school to be an artist. You have to meet people and keep making art. It's the most important thing I've learned.
Sounds so cliché, but really, people notice you when you are constantly producing, and sharing your work. You have to talk to other artists and network. I really hate the word network because it sounds so cold. Meet people who spark your interest, and surround yourself with makers- people who make things happen. That energy will rub off. Collaborate with people you want to work with. Get yourself out there and try not to isolate yourself and your work.
How or where can people see your work? How can people support your work?
Follow me on Instagram @ava_alamshah for vintage fashion inspiration and @yourfriend_ava which is strictly dedicated to my analog photography. You can see more images at www.avaalamshah.com. In this age of social media, there are so many ways to support. The best way is to reach out and hire me!
I can be reached at yourfriendava@gmail.com. I'm interested in capturing beautiful, ethereal moments. I specialize in documentary, fine art portraits, and landscapes. I want to expand my portfolio with more lookbooks and editorials. If there is something you are looking for, style-wise, message me. I will find that 1930s silk velvet hooded cape that has haunted your dreams. I'll be announcing my future shop through Instagram this year, so be on the lookout!
Artists get a lot of traction these days through Instagram, so another way to support my work would be to share it and get the word out. Literal word of mouth is great, also! Honestly, everyone is so plugged in, that I yearn for more organic ways of networking. Talk to your friends about me in person!  Help me live my dreams and get me out of the supermarket!
Contact Info:
Image Credit:
Ava Alamshah
Getting in touch: VoyageLA is built on recommendations from the community; it's how we uncover hidden gems, so if you know someone who deserves recognition please let us know here.