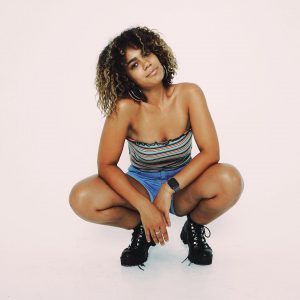 Today we'd like to introduce you to Ashton Thrash.
Ashton, let's start with your story. We'd love to hear how you got started and how the journey has been so far.
My story begins in a small town in Michigan. From a young age, I always knew music would be a huge part of my life. From singing at graduations to various events, I knew I always felt happy when sharing my passion with others. My family wasn't well off at all, & I lived in a mobile home community (which may be just a nicer way to say trailer park but that's what my parents said) until my family decided to move to the south.
It was initially really hard to fit in. Growing up biracial in Michigan I was considered black because my school only had two other African American students. Growing up in the fake hospitality world of the South, being biracial was much harder. Initially, it felt like I was ostracized because of my race. I wasn't dark enough to be considered black, my mannerisms were considered "white" and I mostly got made fun of for being an "Oreo". On this flip side, I was too brown to be white. I ended up just trying to blend in with my white side by keeping my hair straight and denying a whole part of myself.
I eventually found expression and individuality through choir and drama. From making it to national honor choir, chamber choir competitions, Allstate, musicals, etc. I was extremely involved in the arts growing up, they helped me not focus on my deteriorating home life and on the thing I loved most. I was apart of every choir offered in school from middle school until the end of Highschool. My life revolved around rehearsals and I thrived within the chaos.
After high school, I went to college in New York. I didn't know anyone there & I struggled. Initially, I was in love with the wide array of diverse people and how our interaction differed to my relationships with friends back home. In NYC, I felt I could start exploring who I was, yet still nervous to reveal myself completely as I had been known as the "white-black" girl my whole life. I was excited for the endless possibilities of being in the city of dreamers but that quickly changed. All the confidence I had built for myself, instantly vanished and I felt so lost and confused.
I stopped singing because I didn't believe I was good enough. "Everyone has more training, everyone is better than me " thoughts that were looped through my brain every day. I started to overthink about how I would never get any roles on Broadway because of being biracial- I mean I wasn't dark enough to be in a color purple or white enough to be in my fair lady so I just continuously tore myself down. I started to realize how seriously I struggled with anxiety and depression, as they intensified in my loneliness. All my creative energy was drained and within 2 years I decided to leave and return to my comfort zone in the South. but even with once I returned I wasn't happy and it took me a long time to realize why: I had stopped expressing myself through music.
Then I met someone (Clichè) who helped me believe in myself again. He loved my crazy curly hair, and he was the first person I'd ever been around romantically to tell me that. Being biracial wasn't ever a thing I was insecure about with him, because he made me feel so loved on every level. On our second hangout, I sang for him and his reaction gave me hope again. We started going to karaoke bars, I started doing covers again, and in such a dark, depressed, time of life, I started to see the light again. Through loving him, I started to love myself ((which is NOT the way to do it)) but it was a start. I wrote my first song in over a decade as a Valentine's gift for him. After that, I knew I wanted to keep writing.
Eventually, like all relationships, my whole situation with him took a turn for the south and the only thing that got me through the hardest break up of my life, was music. Even though he hadn't died, it felt like a part of me had & losing him from my everyday routine felt intensely unbearable and through music, it felt like I got the closure I needed while still keeping him close. From my first song, in my dreams, I started to feel empowered.
This is how I ended up in LA. My heartbreak made switching coasts feel like a necessity and writing music made LA feel like it needed to be my new home. I'd never visited, but something within me told me LA was where I needed to be, and I am so grateful it did. My career is only at the beginning. I have met so many beautiful girls of color who have been helping me expand my knowledge on a part of my heritage, I almost felt ashamed about before. I wasn't even aware of how whitewashed my life had been, even within my creative space.
I've started listening past just radio hits of black female artists (such as Nina Simone, Donna Summers, among so many others) and being influenced by a whole new sound that I feel like I've always been searching for. I've learned there's no shame in being biracial, and instead, become so proud of it. I want to continue to learn and adapt with both of my cultures at a forefront. It's so important to me that other girls who've grown up feeling like they didn't belong anywhere know they aren't alone. I want to create and share my story in hopes it can give others the confidence to be comfortable with themselves because it's taking me a long time to even get the point I am now. & I'm still growing and learning about myself every day.
I write music to help myself understand my emotions and my underlying goal is to help others connect with themselves better. Whether it's feeling good or shitty, emotions are meant to be felt and you're not crazy for feeling them. Everyone does.
Has it been a smooth road?
Let's start with the obvious: poverty. It's extremely difficult starting a journey alone in a place you're unfamiliar with, and being poor creates a lot less options for an opportunity. Not having the money to get songs mix/mastered, not having the money to get a video made – can be very discouraging at times. I just know how much potential I have and refuse to give up.
The hardest obstacle for me is dealing with myself. I struggle with depression and anxiety which make live performances extra tough for me. I haven't seen a therapist yet (can't afford it), but my family has a history of mental illness which I know affects me on a daily basis. Some days it's difficult to even leave the bed and on those days I am particularly hard on myself, which doesn't help at all. I've recently been working on getting into Yoga and doing breathing exercises to combat those feelings as I know I'm my biggest critic. Self-hate doesn't motivate, but even just coming to turns with my issues took a long time for me.
We'd love to hear more about your work.
Since being in LA, I've been finding my sound through the amazing people I've come across in my short time here. I would consider myself a pop artist, with heavy blues & instrumentals influences. I don't want my music to sound like every other pop artist, I want it to express myself in a way that helps me further stand out in the sea of artists. I attend the Paramount Academy of Music, which is an amazing school I'd recommend to any musician who is looking to better themselves and find a community.
Having a sense of community is so important & the owners of PAM made me feel like family on my very first interaction with them. I'm taking voice lessons, learning more about songwriting and they even inspired me to start learning the bass! I'm currently working on my first EP, with several amazing musicians I met through PAM, which will feature ideas we've built entirely from the ground up. Stay tuned as I'm planning to drop no later than next spring!
Is our city a good place to do what you do?
If I could give advice to someone in my situation looking to move to LA the first thing I would say is: DO NOT SELL YOUR CAR YOU ARE GOING TO NEED IT – LA IS NOTHING LIKE NEW YORK. & if they listened to that sentiment, I would definitely encourage it. The amount of creative energy out here in itself is inspiring and the people are all so diverse – this is where dreams come true! Yes, you could sing anywhere, but why not be in the land of opportunity.
Here, you truly never know who you will meet. Go to every free event you can find on Eventbrite near you and network. Check out live music near you and let it inspire you! & more than anything I'd tell them, there are going to be days that make you feel like giving up…. don't. Never give up, as long as you believe in yourself, opportunities will come to you it just takes time. 🖤
Contact Info:

Image Credit:
first pic: instagram – @yaboyneo
Suggest a story: VoyageLA is built on recommendations from the community; it's how we uncover hidden gems, so if you or someone you know deserves recognition please let us know here.