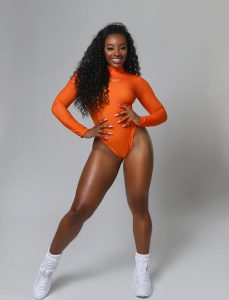 Today we'd like to introduce you to Ashley Elizabeth Paige.
Ashley, please share your story with us. How did you get to where you are today?
I was born in Baltimore, MD. I am the youngest of six. I have four brothers and one sister. My parents Diane Thompson and Rufus Thompson raised all of us together. I was homeschooled by my mother up until I was in the 4th grade where I attended a private school in Columbia, MD. While I was homeschooled, my mother put us in a ton of extracurricular activities, one of them was tennis.
I started learning to play tennis at a very young age. My family was "the tennis family" I remember going to tennis camps every summer and training during the week and weekends during the school year. I played in local tournaments in Maryland and would travel all across the country to see my other siblings play in national tournaments. One would think that I was going to play for college tennis teams or even play pro tennis one day due to the amount of tennis I played at such a young age. I was never happy to play tennis even though I loved the social community that tennis allowed. I made a ton of friends at tennis camps and throughout my training. I had some amazing coaches over the years, but I always felt like something was off…the passion. I was 5 when my mother put me in dance. I started at a local dance studio in Randallstown, MD called "Deve's" where I learned ballet, pointe, tap, jazz, modern, and lyrical dance. During the time that I started dancing, I was also training in the summer at tennis camp and training in tennis with coaches during the school year. I knew I was passionate about dance because after the first day my mother took me to my first class, I always asked when was the next time I could go back with so much excitement. I fell in love with movement and loved the happy feeling it gave me. Dance was always my one place where I could feel free and happy.
My parents were married most of my childhood, but there was a lot of dysfunction. I remember when my parents divorced, dance was my outlet and the one thing I had to feel balanced. After the divorce it was tough but my parents still worked very hard to ensure I had everything I needed to succeed. They both did whatever it took to financially support my dreams. I never needed them to push me to do something or tell me what I needed to do next. I always remembered since I was a child just asking them for more dance. There were children asking parents for toys for Christmas, then there was me asking for help with tuition to attend a summer dance program, go to NYC to take classes, or private lessons from teachers. I just wanted to dance and I knew I needed to train in order to become the dancer I always dreamed to be. I am grateful for my parents support because I know there are tons of parents who don't let their children decide there futures. My parents trusted me and my path because they knew it was what made me happy, so they did whatever it took.
While living in NYC, I trained at local studios BDC, Steps on Broadway, and Peridance Capezio Center, while also attending all auditions my agency sent me to. At the time, I was happy to be in a city and living my dream, but there was a level of dancing, I just was not getting there in NYC. I began to get really depressed due to the lack of progress I was getting in NYC. My agency seemed to not be sending me to auditions that I was passionate or wanting to book and I was not happy with where I was in my career. I needed another level of push. That is when I prayed and asked God for guidance and got a gut feeling to train with Dana Foglia in Los Angeles. With Dana, I was pushed and it was such a genuine and unapologetic type of training that I ultimately decided that I needed more of this. I decided in the moments when I was training with her for six weeks that I needed to move to LA in order to reach the level that I need to be the best at this. I never had training like it before. I had an entire life on the Eastcoast. I decided after living a year in NYC to move to LA. I left my family in Baltimore, then decided to have a long distance relationship with my boyfriend who was still living in NYC at the time. I moved to LA that summer and trained with Dana for three months. I got stronger and better than ever.
I have been in LA for almost two years in June 2020 and I have been training with Dana ever since. She is my dance mentor and has guided my training since I moved. Her curriculum has ballet training from Lisa Ebeyer, street jazz from Jose Tena also known as Boyboi, as well as heels & contemporary training from Dana herself. The training has allowed me to completely refine my collegiate dance training and add more layers.Through her dance program, I was able to sign to my current agency MSA and reach levels within my career that I probably would have never reached if I stayed in NYC. MSA is one of the top agencies for dance and was my dream agency since I first started my dance career. Through her dance program, I was able to sign to my current agency MSA and reach levels within my career that I probably would have never reached if I stayed in NYC. Through my training, I was able to gain the confidence in auditions and bring a special energy in all dance spaces. While in LA, I have booked various music videos for artists, done print modeling work for Disney, Beauty Blender, and Stella Rosa, also booked the Grammy's and performed with Lizzo. The highlight of my journey here in LA was booking the Grammy's and working with Lizzo. I did book work in NYC but it was nothing compared to the blessings I got in LA. For the Grammy's job, I attended a closed audition that was looking for AA ballerina's. I almost given up on ballet especially because coming from NYC that is the ballet and company dance capital the look of a ballerina is not my typecast. I would attend ballet classes and ballet auditions and most times I'm the only black person in the room. Then to top it off, I was mostly the only black and thick ballerina in the room. As a child, I even had some teachers tell me that I would never book as a ballet dancer that I only had to do commercial dance. Of course, I still trained in ballet because I loved it, but of course I was hesitant to attend ballet auditions.
Since this one audition specifically called for African American ballerinas I decided to go. And I gave it my all. There was a ballet portion, then they asked if anyone at the audition could also do pointe. There were only about 5 of us who raised our hands and put our shoes on to show our talents on pointe. The day after the audition, I could NOT walk on my left foot. At the audition, my foot was feeling funny but I wanted to give it all I could and show my pointe training. I called out of my current job at the time and went to the doctors. They said that I bruised the bone in my toe and to stay off it for two weeks or so. I was out for an entire week, no work, dance classes, or auditions. I was on my couch with ice. Then I got an email from my agent that I was on hold for the Grammy's. Of course in this moment I'm ecstatic because I knew that I booked the job. The next day I get the email that I booked the job and the worry kicked in about my foot. For ballet and pointe work you NEED your feet at all times so I was stressed. I was so happy to have booked such a huge job and from an audition that I knew I had given my all, but it had only been a week and I still needed more time for my foot to heal. The dancer in me said to keep pushing and take the job offer. I prayed on it and I knew that it would be a challenge but also that I could handle that challenge from all my training.
By the time we had our first rehearsal the swelling in my foot was gone. I would ice everyday after each rehearsal but my foot would swell up after each rehearsal and I worked through the pain everyday because I knew how important this job meant to me and the world. I knew that this would inspire other young ballerinas around the world. That you can be thick, curvy, black or brown and be amazing enough to book the Grammy's. This was one thing I know for sure my previous teachers, when I was younger would have never thought would happen. That was another motivation for me to keep pushing through the pain. It was stressful and scary hiding my injury and pain but I made it through and performed strong from beginning to the end. This was also one of the most inspiring, positive, and happiest I've been on a job. While I was on stage performing at the Grammy's I felt that all my training and hard work led up to this moment. I literally almost teared up. I was apart of a cast of all African American women, ballerinas, hiphop dancers, pointe dancers, full orchestra and of course the amazing Lizzo. It was a beautiful moment for history. To open up the Grammy's this year as one of the pointe dancers will be a moment I'll never forget and I still have more large goals for my dance career to achieve.
Currently, I am still living in LA and we are experiencing the Covid-19 pandemic so I am social distancing like the rest of the population. This time has led me to reflect on my move and I am so thankful that God led me to move to LA because NYC is one of the most affected states in the U.S. and I feel that he moved me here for a reason to spread my talents and also be safer and healthy. During this time, I enjoy spending my time taking virtual dance and fitness classes to maintain my training. I have started learning photography, I have completed a 7-Day cleanse, I enjoy eating my favorite food and treating myself to spa days and getting dressed in my favorite loungewear almost everyday of the week haha. Everyday of my life was busy busy busy since I was a child and now I am able to fully give myself time to rest and be ready to bounce back once this is all over. I am staying safe and positive through these questionable times and hopeful to get back to normal soon.
Has it been a smooth road?
There were definitely a ton of obstacles through my journey to get to where I am today. As a child, I dealt with my parent's divorce. Then once I got older, I had to deal with life's struggles of being an African American woman. It is not easy when the world tells you that you can't, won't or ever be certain things due to the color of your skin. So I would always push through and tell myself I am more than what society wants to categorize me as. Having teachers and people who I even looked up to tell me that I can't or won't be something would motivate me even more. In high school, there was an assembly that I was asked to perform from my principal and I remember I asked her before I perform if I could see the stage and rehearse. She allowed me to do a tech on the stage before the performance, but there were chairs and a set up for a play later on in the week so I could barely do my dance. I asked her politely if we could move some things for my performance and her response was that I probably would never dance on a stage this big ever and that I should be grateful to get the space I had. Hearing her say that pushed me to still perform, but I ended up almost kicking someone due to the lack of space on the stage. That also put a fire in me to be able to push through to dance on stages larger than anyone ever expected me to dance on like the Grammy stage. Also, what she did not know is that even as a child, I had danced on stages way larger than our auditorium. It was ignorant of her to assume or to even try to discourage a child but I am glad I made a positive outcome from it.
After graduating college and moving to NYC, I had a ton of struggles financially. If I did not get support from family, I don't know what I would do. There were times when I did not know what tomorrow would be. NYC is a tough city and it pushed me to be even stronger than I am today. Then once I moved to LA, it was an entirely different beast from NYC. For me, I moved to LA with whatever I could save for the short time that I was in NYC. Before the move, I worked as a bartender overnight on weekends, hosting during the day at two restaurants doing doubles, and booking whatever work I could dancing, modeling, or background work. It was a serious grind like no other. Once I got to LA, I was staying in Airbnb's until I could find consistent housing. I even stayed on a friend's couch once upon a time. I'll be forever grateful to those who were there for me for my transition here because it's not easy. I also did not have a car, so I had to uber/lyft or take public transportation everywhere.
In the beginning, it was fine until it all starts to add up. I did not get my car until a year and a half of living in LA. During this time, I was also in a long distance relationship and I remember how tough it was moving to this city alone. I left everything to be here and have the dream that I always desired to live. Both NYC and LA can both be tough cities, but it takes tough people to be able to live in them and survive. Now I am living in my own apartment in noho with my name on it and I bought my car back in December, my boyfriend moved to LA to be with me, and I am thankful for where my career has gone since moving here. The glow up was too real for me. I feel like in order to become a flower you have to break your own seed so in a way, I had to go through these adversities in order to become the strong person I am today.
We'd love to hear more about your work and what you are currently focused on. What else should we know?
I am a professional dancer. My former training is ballet, pointe and modern. I have trained for years in ballet, pointe, horton, contemporary and street jazz. I am known for my ballet abilities because that is my first love and what I am stronger at. Dancing on pointe has always been something to motivate me because with the ballet technique, there is always room for improvement. There is no ballerina out there who is saying "I'm done, I have officially mastered this technique" As a dancer in general I believe we are always training. There is never an end game saying that we have mastered what we do. If a dancer says that they feel complete and have mastered the art form then they are going to be stuck in the same place for a long time. I will forever be a student and learning from my mentors I have heard from them the same, so it must mean a lot to continue training to not just maintain but to also become stronger.
I am so so proud of all my accomplishments. I can sit here and say that I did everything I wanted to do and feel good about it. I said I wanted to become a pro dancer, sign to a major agency MSA, move to NYC then move to LA, modeling for major brands, to now living in LA and booking the biggest job, the Grammy's and to see that I did all these things is a huge accomplishment. I am proud of my hard work and forever thankful to God for all that I have done. I am also happy to have dance because I have been able to work in other fields like modeling and acting. A goal of mine is to do more acting because I have also had a passion to act.
I feel that my drive and passion is what sets me apart from others. If I have a goal, I stop at nothing to complete it. Then once I go after it and accomplish it, I create more goals for myself to reach another level. I am always trying to become better and it's me against myself at all times. I take my adversities and turn them into my inspirations. In the dance community, there is a competitiveness to everything including training and auditioning. I try to always focus on Ashley and the things I need to work on. I feel that truly is what sets me apart from others. I don't try to conform, join cliques or try to prove myself to anyone other than God and myself. Moving to multiple cities, I told myself I would stay true to myself and work hard at whatever I decide to do and I am still sticking to that today.
Let's touch on your thoughts about our city – what do you like the most and least?
I love that I am able to do what I love which is to dance and have more opportunities. The weather is always amazing even in the winter. I love the beaches here and spending time on the beach with friends. I love the boba spots in North Hollywood as well as the ramen. I also love that I am able to go to multiple venues and places to take photos and get dance footage. We love photos and footage for the Instagram, haha.
My least favorite thing about LA is that everything is so far away. It takes way too long to get around and you almost need to live in one area that has all the amenities that you need in order to maximize your time. I am the type of person who likes to do multiple things in one day so I need to stay somewhere in LA that is close to all my needs. I also have an issue with the way people drive here. People drive as if they are the only people on the road. Other than that, this is an amazing and beautiful city.
Pricing:
Dance Audition Attire Budget Costs: $150-$250 monthly (discount dance, pretty little things, fashionnova) some of these sites have payment options where you pay later on like AfterPay so you are able to still save
Single Pair of Pointe Shoes: $60-$140
Open Dance Classes in LA: $15-$16 (Movement Lifestyle, Debbie Reynolds, Millennium Dance Complex, Playground LA)
Contact Info:
Email: ashleyelizabethpaige@gmail.com
Instagram: @ashleyelizabethpaige
Image Credit:
@rachardwolf (Rachard Wolf), @alex_c013 (Alex Cole), @krishphotos, Kezong Gemoh @leapvisualstudio, Kevin @krishphotos
Suggest a story: VoyageLA is built on recommendations from the community; it's how we uncover hidden gems, so if you or someone you know deserves recognition please let us know here.