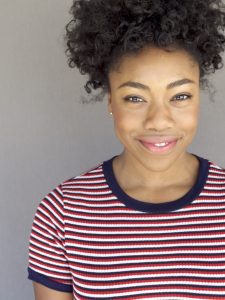 Today we'd like to introduce you to Ashleigh Crystal Hairston.
Ashleigh Crystal, please share your story with us. How did you get to where you are today?
I grew up the youngest of five in Bellevue, Washington! My dad is a Pastor and my family is still very much involved in ministry there. I started acting in church plays at a very young age but things really took off when I entered elementary school. While our church was predominately black and located in the South end of Seattle, my siblings and I lived and attended schools across Lake Washington in the very Caucasian city of Bellevue. There, I was doing more than just acting – I was becoming. By day I was 'Silly Ashleigh' making faces and twisting my hair into styles that defied gravity for laughs at school. By night I was Ashleigh 'Queen of the little Mama's,' skipping service to chase boys and do the butterfly to the Ladies Night remix in the church basement. All that cross-cultural code-switching wore me out and put a strain on my academics leaving me with only one option for higher education: Acting! ☺

I'd decided to attend Howard University in Washington D.C. after visiting my sister during one of the schools' renowned Homecoming celebrations. Best decision I ever made. While at Howard I majored in Theatre Arts with a focus in Acting and had the opportunity to study behind such greats as Phylicia Rashad, Debbie Allen and Al Freeman Jr. Naturally I developed a most sincere love and respect for the African American experience as it pertains to performance and the arts and, Howard made sense of all that gymnastics I'd been doing to "become," both as an actor and as a Black woman.

In 2012, I moved to Los Angeles to pursue a career in TV & Film! I signed up for a free Intro to Improv class at iO West (RIP), and that was the beginning of it all! I took classes, interned, performed, and was a cocktail waitress during shows for three years there. In 2014, I was one of 15 comedic actors selected to participate in a boot camp that culminated in a showcase created for NBC executives. In 2016, I started performing on Maude Night at The Upright Citizens Brigade Theater. In 2018, I wrote and performed in the CBS Diversity Showcase, and in 2019 I was invited back as part of their inaugural season showcasing a staff of writers made up of 11 showcase alumni.

Currently I write, perform, teach, I do commercials and voiceovers– and I'm having the time of my life!

Overall, has it been relatively smooth? If not, what were some of the struggles along the way?
Los Angeles can be extremely depressing and isolating. We've all experienced it, some harder than others. It's full of rejection and you have to learn to live with it because that's the bulk of what it is. You kinda have to be resilient, and tough mentally. Knowing when to take breaks and step away for a bit is crucial. I went through a short (thankfully) period of time where I was quite convinced I was losing my mind. It was weird! I was nearing the end of a long-term relationship, I was at the height of dealing with body dysmorphia and I was experiencing anxiety induced chest pains and insomnia. I had low self-confidence and low self-esteem. I had to get help.
So many of us are transplants and deal with a lot back home or with family life in general which can add to the stress. When my mom was diagnosed with breast cancer shortly after I moved here, being in LA was tough because I felt like I couldn't support the way I wanted to. I couldn't throw my sister an amazing bachelorette party back home because I didn't have the money or the resources. I couldn't do anything the way I wanted to, and it's hard to feel that way as an adult. This city is expensive. In the beginning I had my debit card decline so many times it's laughable! But from that, you learn humility and how to get creative and make your dollar stretch. The dollar store is a great place and you can find almost everything you need to live! What I've learned is that most people have 14 jobs here. Broke people, rich people, everyone is always working on something. The pursuit can feel never ending– and that's because it is!  

I like to think of this business though, as an amusement park. We're all here at the same park and everybody wants to get on rides! Some rides take longer to get on because the line is so long. Some lines move quickly, and you and your friends are hopping on and off, riding ride after ride making the most of your day at the park. Some people have a FastPass! Yikes! They're hopping from ride to ride solo and you're just like dang, I haven't even gone on one ride yet?! You look over and they're screaming and it looks like they're having a blast, but maybe you don't see them barfing their guts out after?! Maybe it feels like you've been standing in the same line for forever… try introducing yourself! Ya never know who might be in line with you! But the point is, we're all here. It's been our dream to be here, so we stay at the park. It's the most fun and the rides are scary, but we're lucky to be so ambitious and have the courage to show up. I like to remind myself of that often.
We'd love to hear more about your work and what you are currently focused on. What else should we know?
I'm in my fourth season at UCB doing sketch and I also perform regularly at Second City Hollywood with my improv team, Black People. I'm most proud however, of my work in voiceovers! I had no intention of going into VO work and knew very little about the world, so to see any amount of success with it truly fills my heart with gratitude. The first voiceover job I booked was for MARVEL, which still blows my mind. Our show, Marvel's Avengers: Black Panther's Quest went on to be nominated for a 2019 NAACP Image Award for Outstanding Children's Program and I was invited to attend the awards ceremony with our incredible show leads, James Matthis and Daisy Lightfoot. It was a night I will absolutely never forget! I'm just starting out and still have a lot to learn but I've already had the opportunity to work with some of the top names in the VO world, having now worked on shows at Disney XD, Cartoon Network and Nickelodeon!

People used to make fun of me for the way I talked and that manifested into me not liking the sound of my own voice. Growing up with diverse cultural influences made me insecure and think of myself as an other, and therefore less valuable. What I've now realized, is these experiences are all of the things that set me apart from the rest—they are what make me unique and relatable, and they have proven to have tremendous value! I'm proud of the woman I've finally become and I still have so much more ahead of me!
What is "success" or "successful" for you?
Honestly, if I'm waking up every morning and feeling healthy and strong in my mind, body and spirit, that is the biggest success in my book. If I have the will to keep going and not give up, that is success.
In 2014, I booked a holiday campaign for Big Lots that consisted of 5 national commercials to run from Black Friday through New Years. But in true LA fashion, I was scheduled to fly to Hawaii to perform in an improv festival the morning of that callback and the only options were to just miss it or pay to change the flight (that I'm pretty sure my parents paid for in the first place – thanks Mom & Dad!). That change flight fee I scraped together was worth every penny and then some. They even booked us the next year for an additional 3 national holiday spots. Booking Big Lots transformed the way I was able to live life in Los Angeles for a while and I'm forever grateful for that opportunity. While I would absolutely consider that A success, the point is that success is also fleeting. I had a 3-year span afterwards where I didn't book any commercials at all!  Did that stress me out? UHYEAHHhhitdid. So, I try to reframe how I process "successes." Am I making smart choices? Am I making choices, period?! Choices like making it to the gym, or making a healthy option for dinner, or making it to class on time, or investing in healthy relationships. These are what I like to call micro-successes and I love celebrating those because they're just as important as the big ones, if not more important!
There is no right or wrong way to do anything here. It's tough because you're essentially managing yourself and if you never took a business management class, how the heck do you know what to do?! So we're constantly looking for answers or advice. All the "Can I pick your brain about…." and "Should I sign with blah blah blah or blah blah blah?" None of it really matters.  I mean it's good to do all that, but ultimately Ashleigh is in charge of Ashleigh.
I took a workshop years ago from Brian Stack, a long time writer at Conan and he said "Nothing is going to happen the way you think it's going to happen," and I agree! All we can do is show up, be great, and keep riding those rides baby!  You be the U in Success!  Whoa – did I just make that up?!
Contact Info:
Website: www.ashleighcrystal.com
Email: ashleighcrystal@gmail.com
Instagram: ashleighcrystal
Facebook: ashleighcrystal
Twitter: @shleighcrystal

Image Credit:
Gregory Adam Wallace, Robyn Von Swank
Getting in touch: VoyageLA is built on recommendations from the community; it's how we uncover hidden gems, so if you know someone who deserves recognition please let us know here.