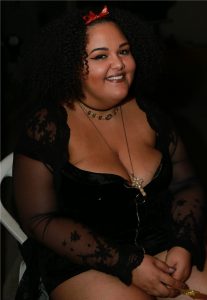 Today we'd like to introduce you to Asha Thompson.
Asha, can you briefly walk us through your story – how you started and how you got to where you are today.
I've been singing pretty much since I could talk and writing poetry and songs since I could read. Literally, every artist and musician says this, but I've always loved music. I've always been in my head – I overthink everything, all the time – and since I was little, my favorite way to make sense of a situation or at least try is to make a dramatic narrative out of it in my head. Like when you're on a long road trip and imagine you're in a music video for whatever's playing on the radio as you pass all the signs and stuff? When I was little, I did that with everything.
I just had all these songs in my head all the time, and all these feelings in my heart, and somewhere in the middle they met up and now they spill out of my mouth. I try to tell the stories so that they can't live and take up space in my head anymore. I had awful stage fright actually, up until 2 years ago. Before 2017 you couldn't have gotten me to record a lick of my own writing; I wrote a lot of original stuff, even fringe genre stuff and stupid song parodies just as creative exercises – but I was very sensitive about all of it, it was so personal to me. I didn't want to share it with anyone but also was terrified that people would be critical of it. I was confident enough to do karaoke in front of my family growing up, and then at bars when I got old enough to kill my shyness with alcohol; and a couple of times in college, I performed covers at open mics. I always started off shaky because of nerves, I hated my voice.
In 2017 though, my best friend was in production school and needed live vocals for a homework assignment, so she asked for my help. I thought of course that only she would hear it, maybe a teacher or a couple of classmates – I was not expecting it to get the feedback that it got. We did a cover of "Tell Me" by Groove Theory. It was my first experience in a real recording booth, I was petrified! After that, a couple other friends who were also in recording school wanted to use me for homework and their own personal projects, so I started out writing hooks and recording features for other artists. After a few months of that, I decided I was ready to start recording my own songs, so I asked my best friend to record me and people really liked it. We ended up making an album together, called "In My Feelings".
We even gave ourselves a band name, 4308. After that, no more stage fright… I was still apprehensive about writing for other people because writing is so personal for me, but that's the next hurdle I plan to jump. I write a lot of songs for singers that just aren't me, I hear a song in Jhene Aiko's voice or Kehlani's voice or Beyonce's voice, I hear runs in my head and write notes that I can't even hit. So I should give that stuff away, share it with others, you know? I'll get there. I have an EP out now, called "Coded." and a few other 4308 singles and features out. I have another album on the way as well, so things are good! Music is and has always been, the only thing in my life that I feel is mine, and that I feel good at. Now that I've started sharing my songs with people I don't want to stop.
Has it been a smooth road?
For me, it actually has been pretty smooth. There have been hiccups – there are always hiccups – but I've been blessed, truly. I am surrounded by people who are so excited to see me finally making music, that they are willing to do whatever they can to support it and help me get my stuff out there to the world. In two years I think I've paid maybe $200 total, for studio time and production/engineering? And that's not to say I haven't offered to pay! I have worked with people I would've paid thousands of dollars (if I had that kind of money). I've encountered so many extraordinarily talented people who I can't wait to see doing stadiums someday, but so far, every single artist or producer I've worked with approached me to collaborate, like I was the prize or something.
It doesn't feel real at all, to be sought out like that, especially because I'm not really very well-known yet, so it's actually just a small circle of people in this tiny pocket of a humongous city who know me, and knew me before I started recording, and still believe in me this much. They say the hardest fans to win over are your friends, so I was for sure expecting my friends in the industry to roll their eyes when I said I wanted to start putting music out, but instead I was met with the most amazing team! I know how uncommon of an experience that is! I don't take it for granted for a second. I haven't had to work hard at all and I'm sure that will piss some people off, but it's not because I don't want to or can't appreciate hard work; making music just… doesn't feel like work to me.
Aside from small annoying creative differences in the session – which are par for the course – it's been a really positive experience for me. I haven't done everything I want to do yet, but I don't feel that's because of obstacles; just timing. They will come. Things will happen when it's time for them to happen and until then I'm along for the ride and so flattered and honored to be able to work with such great minds and have it not be transactional, to have people tell me that just working with me is reward enough and ask to have my voice or my lyrics in their project. It warms my heart and I honestly have learned so much from every person I've worked with so far.
Can you give our readers some background on your music?
I am a singer/songwriter. I take the music that lives inside of me, and I put it out into the world so that anyone who has gone through what I've gone through or felt what I've felt, can hear me and know that they are not alone. I am a child of the 90s, so R&B is definitely my specialty, but I can write it all. I've actually written two country songs, and one of my dreams has always been to start a rock band! I can also sing just about anything. I secretly like to rap too, but I'm terrible I think. I love to try to say a lot, in as few words as I can; so I have to be really careful with them when I write. I'm known for writing lyrics and melodies really quickly – when I hear a sound I like, I know exactly how I want to build on it.
My first album was written and recorded in one night. I'm most proud of how I've come out of my shell and learned to try different things with my voice since I started putting music out. I used to think that I had to be perfect, but I'm learning now that even if my voice cracks because I'm starting to cry, people need to hear that. People need to feel what I feel when I make these songs when I write these stories because that's how we all heal. I like to think that that's what I'm helping people do when I make music – we're healing, together. I couldn't care less about gaining a following or making money off of music. I probably should care but I don't, you can't put a price tag on healing.
I think that's what sets me apart from a lot of other artists; nowadays, people work backwards. Build a following online doing something eye-catching, whether it be a stupid publicity stunt or even something harmless like being really into fashion or having a cool profile. Then, once people are watching, artists spring their music on their followers. "By the way, I have a single out, go listen to it between liking pics of my ass!" or "I know you all followed me to see me play cruel pranks on strangers but I'm actually a rapper now. You're already here so you might as well listen." It's clever, yes, and clearly, it works.
I feel though that you shouldn't have to do that to make people listen to you if you don't want to – and I don't want to. I think that if you can be good at 20 things and want to do all 20 things and music is one of those things, more power to you. If you want to have a clothing line and a perfume and a YouTube channel and do tarot readings, you should be able to do that and if it helps you market your music, great! I just want to make music though. I want to put 150% into that and only that, and I might not gain as much attention as quickly but that's okay. There's room for everyone in the industry – I truly believe that. I just have to be patient and keep my vision clear and when people are ready to see it and understand it, they will.
How do you think the industry will change over the next decade?
The music industry is hyper-saturated right now. There are so many ways to make music and put it out now, no one needs a deal anymore. As technology advances and good producers get easier and easier to find, there are more opportunities for people who never would've thought of making music five years ago, to try it out and discover how much they love doing it, and how good they are at it! I think it's wonderful. For a long time the future of art has seemed bleak because of technology, but giving kids out there who think they can't make art access to tools that let them try it out – let them share it for free, and get good feedback for free – let them meet other like-minded people and make projects together… that is amazing.
In the next 5-10 years, I think we'll see it get better and better, and I think we'll see our next megastar. It could be someone who's relatively popular already, and just hasn't hit "Beyonce" yet. Hasn't hit "MJ" yet. But definitely in the next few years, we're going to find out who the true icon is going to be, and they will set the tone for the 10 years after that. I also see people getting tired of the online culture of being relentlessly mean all the time – and right now we're seeing a lot of really soft, artsy people enter genres of the industry that previously didn't make space for that. Everything is blending together, and talking through feelings, being honest about depression, suicide, sexuality, etc. is coming to the forefront.
We look at "weirdos" who don't fit anyone genre and can't really figure them out, and the next big shift is this collective realization that you don't have to figure anyone out. That's not your job. Let Billie Eilish dress how she wants, let Uzi be himself, let Bad Bunny's sexuality, or your assumptions about it, be unclear, let Tyler wear a blonde wig and let's just not focus on any of that shit and listen to what they are telling us instead! You want to know how to define them? Listen. They are telling us who they are. They are talking to us. We're going to stop trying to force everyone into these little boxes, and start listening; I can feel it. Soon!
Contact Info:
Suggest a story: VoyageLA is built on recommendations from the community; it's how we uncover hidden gems, so if you or someone you know deserves recognition please let us know here.