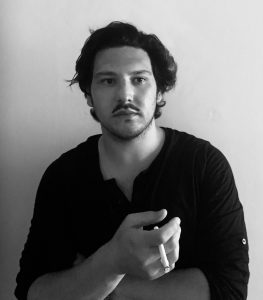 Today we'd like to introduce you to Arus Motta.
Thanks for sharing your story with us Arus. So, let's start at the beginning and we can move on from there.
I was born and raised in Bolzano, a town in the northern part of Italy. I moved to LA right after my high school diploma, first for an English school then I attended Santa Monica College and after that UCLA. I got a couple of degrees, one in Film Studies and the other one in Film Production and Management.
I've been always fascinated with the movie industry, since I was a kid, but growing up I developed other passions, in the business side of things, and I realized that to succeed in this job you have to find the right balance between art and business, and it's not always easy.
My first real job in LA and in the Industry was as an intern, then assistant, in a talent agency, The Corsa Agency, after I got my experience there I did almost all the jobs that there were to do in the entertainment business. I worked as a production coordinator, in the art department, as a manager, as a consultant, occasionally writer, in the development, in financing, and others departments both on and out of the set, for both film and television.
Me and my business associate, Andrea Dalfino, met almost ten years ago at SMC here in LA. We shared many goals and visions for the future as we were obviously both very committed to turn our dream careers into reality. Several years later, we decided to turn our friendship and common attitudes into a professional partnership by starting our own producing company, Newscapes Entertainment, under which we started making short films and other minor works. Through awards and official recognition, things started to move along greatly, as we're now in pre-production for our very first full feature film. We operate both her in US and in Europe.
In the same time frame we decided to get our company started, Ben Phelps contacted me to collaborate on a company that would end up to become Emagine Content, where I am still a manager and producer.
Great, so let's dig a little deeper into the story – has it been an easy path overall and if not, what were the challenges you've had to overcome?
Many actually. It wasn't easy but I was lucky, lucky enough to find that first job that led to another thing, that led to another, and so on.
Production wise is always a matter to be in the right place, at the right time, with the right project, it doesn't matter where are you from. When you start working in production for someone else is really hard because you have to adapt yourself to many different kind of jobs and roles, but is all good experience that brings you to the next step every time, you have to pay your dues for real in this industry, and most of the time you don't have that many steps back, usually you keep moving forward in production, project after project, even if you collaborate in a marginal role on them. At the beginning people don't trust you 100%, you have to show them first and then they start involving you in bigger and\or better projects because in a way you become worth it.
One of the worst thing about productions, is the waiting time between a project and another, if you work for someone else you always have to be available and ready to go, if you work for yourself and you are in charge you have to start working on that project long before it goes into production, taking care of the project's story and tone, the financing, raising capital, assemble the team, the distribution deals, and many other things to consider, your head literally explode, and your to do list is really long. A producer is there from the beginning, since the conception of the idea to the home video\SVOD release, always there, talking and thinking about the same project every day for months, or in some cases years. And do not forget that sometimes you are producing 2 or 3 projects at the same time at different stages of production. Kabooom!
Talent Management or Talent Representation is another thing, a completely different game with completely different rules. It was kind of hard for me at the beginning because I am a foreigner, and in this part of the business people tend to hire and work with Americans only, but is not rocket science, easy to understand and to do, it's all about taste and understanding people, art, and business, most of the people who work in the industry lack of this simple yet hard skill. At Emagine is such a good environment with a great international crew, so since I've been there, I didn't have any more problems. I understood while working in talent agencies, as a manager, and as a consultant that information is a real currency, so you have always to be up to date, on everything, so if you wanna a small piece of advice: the first part of the morning should be about reading the news and get the more information you can from the people you know.
For now, my biggest challenge is to balance the different types of jobs, lately I have been more focus on the management side, but in the near future I'll have to put all myself into production because is what we know and want to do. As Newscapes, we want to be a new bridge between Europe and US (After the first paragraph of the third question).
Newscapes Entertainment and Emagine Content – what should we know? What do you guys do best? What sets you apart from the competition?
About Newscapes: One of our goals has always been to be able to represent our generation and the global society we were born and raised in, and we're aiming to do this by working both in Italy and the USA and trying to merge the two together when the right project comes up. Needless to say, Newscapes currently has one office in Italy and one right here in Los Angeles.
Another goal for us is to bring back to the suffering Italian film industry some of the things we learned while studying and working in Hollywood, where we indeed decided to move several years ago to pursue our education on the field in order to learn from the best the world has to offer. The Italian industry is getting slowly better, but I believe it needs an extra push from the outside or from someone who got a different experience and is willing to apply that back home. Foreign industry people who leave their country tend to work only in the US once they got the right experience, we want to work in both markets, and strength the Italian industry with the great experience I got from here and the help of the many great filmmakers and artists Italy has to offer, leaving always the door open to collaborate with our American colleagues.
Make quality products is our priority, we want to give to the audience something with style and feelings, trying to avoid (when possible) all the cliché that the modern storytelling has, that sometimes are forced on the projects to make them "marketable". One of the many things I'm most proud of is our development projects catalogue, it has many stories with great potential, and the right time will come for each one of them.
About Emagine: It is a successful startup story. It is expanding every month with new departments and new people, it's great working here as a manager, and sometimes producer. I was one of the first to come on board when Ben launched it with another name, we had our tries, but at the end we were able to establish it and make it fully operational in three months.
We got great diversity with people from all over the world, collaborating on different projects and exchanging info about everything that's going on in the industry. This is primarily a Management Company for now, so we are having our share of headaches with the unions regulations, contracts, etcetera, but every time we make it. I got great clients and I'm really glad on how things are moving forward with this company.
One of the few problems when you do talent representation is that people have to understand that we are not magicians, we don't grant favours that turns you into a superstar overnight, it's all about constant and persistent smart work, sometimes for a long period of time without big results from both parts. It is frustrating sometimes but when you get it right, the feeling and the "trophy" are amazing.
What moment in your career do you look back most fondly on?
Being able to work on so many different projects, in so little time. I was able to have a lot of great experience that I used to advance my career and become independent.
I got a lot of difference influences that helped me to understand the industry at 360 degrees.
So far, I'm proud of many things especially now that they are starting up for real.
What role has luck played in your life and business?
I and others consider myself really lucky. Unfortunately or fortunately, luck is part of our life, but if you have it and don't know how to use it is a wasted opportunity, you have to be prepared for luck, because when preparation meets opportunity, success is born (with a pinch of talent).
Luck is the ability to recognize and seize opportunity, so the more I practice the luckier I get, in other words people make their own luck. Never forget this famous quote. "Luck favours the brave", it makes you think that is not all about the luck factor, you have to move or do something in order to get lucky. There are countless episodes where I can say I was lucky, and it is true, but also I was able to ride along with those opportunities if you are not able to do that it is just wasted talent. Luck is not a business model, even if it is a nice idea.
Contact Info:

Image Credit:
Andrea Dalfino on the first.
Getting in touch: VoyageLA is built on recommendations from the community; it's how we uncover hidden gems, so if you know someone who deserves recognition please let us know here.