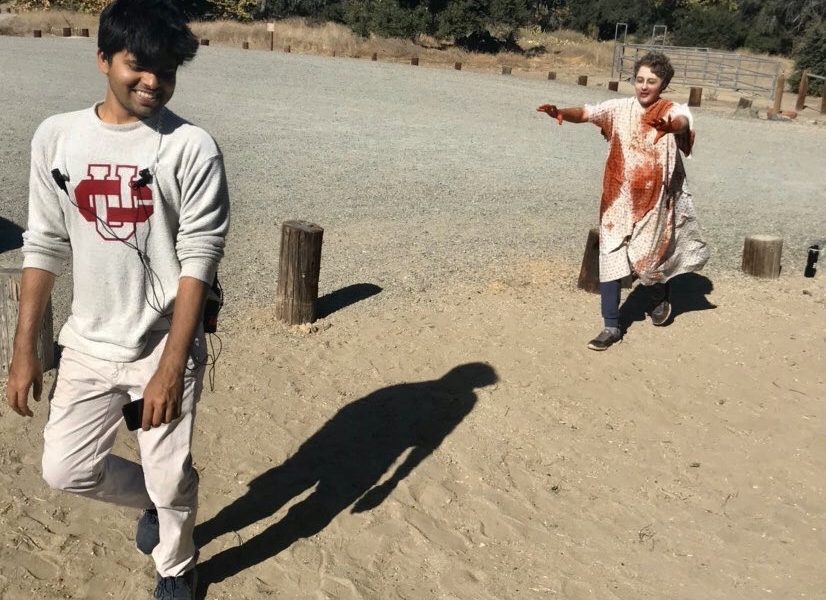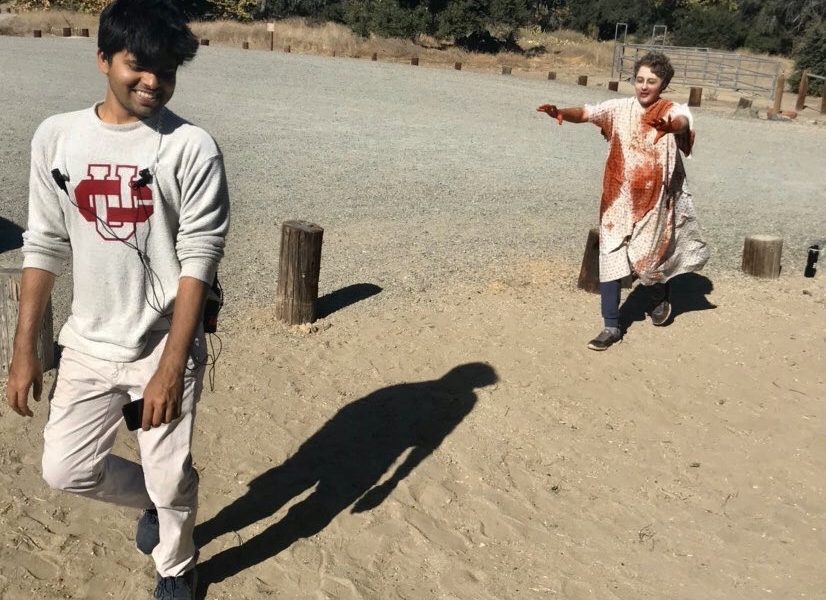 Today we'd like to introduce you to Arjun Yadav.
Arjun, let's start with your story. We'd love to hear how you got started and how the journey has been so far.
Few years ago, I went on my first solo backpacking adventure through Europe. I went cycling around Amsterdam, ran with the bulls in Pamplona, saw Duomo from the Belvedere, and at the behest of a fellow traveler made a detour to Tomorrowland, in spite of knowing nothing of EDM, only to be floored later by its sheer grandeur. It was a revelation. I was amazed by the potential of simplest of questions and tiniest of gestures in opening up conversations and sparking companionship. Throughout my trip, I collected stories after stories, some of which were my own accounts while the others came from the people I met along the road. And yet the one that I keep finding myself falling back on every now and then is the one of a Middle Eastern immigrant beggar I came across in Paris. A teenage girl, she sat on a pavement by the fairly crowded boulevard at Champs-Elysées avenue in a meditative yoga position with her right hand fastened over her left as they rested on her thighs and head bowed down to the ground. It was a dignified posture, thrilling in its brute force and silent eloquence; almost prayer-like. Her outfit was in a perfectly pristine condition. She was wearing an elegant black abaya with an embellished panel to the bottom which complimented her floral white hijab. Unlike your usual beggars, this one made no cry for help or theatrics of her plight and desperation, both powerful agents of eliciting sympathy and guilt in passersby. Instead, her gaze was transfixed to the bottom; her body did not move even an inch. Utterly perplexed by her statue-esque indifference to all the noise and bustle around her, I simply stood there gawking at a sight that seemed both devoid of anything peculiar and yet impossible from which to turn away.
Finally, when I couldn't stand waiting for her to show any form of life, I decided to give her alms in order to evoke some reaction from her. I walked straight towards her all the while futilely looking out for any movement from her in recognition of my advancing steps, bent down and dropped 2 euros in the paper coffee cup in front of her. As soon as the coin hit the bottom of the cup, her hands still fastened rose in gratitude with a gentle murmur of 'Shukran'. The culmination didn't deliver any burning revelation and I kept walking ahead without looking back at her even once. Of the many conclusions, I could have drawn out of this experience, the one I like to believe is the utter shame she possibly felt in her humiliating act to which she refused to lend any dignity by making an effort in it. And by doing so, she possibly invited tender mercies and genuine acts of benevolence, free of guilt or compulsion for the benefactor. Not aspiring to bestow any spiritual 'subtext' to her endurance test; it did leave me thinking though about how we can choose to remain graceful even in the most helpless of circumstances.
Perhaps it was a similar quest for grace which brought my father to Mumbai 28 years ago. As he set sail for the Promised Land, he harboured within himself an indomitable hope for a better life for his children, away from the destitution, illiteracy and despair of his hometown. He persevered against every obstacle imaginable to make and claim his place, and a place for his family in what was for others 'Mayanagri' (city of dreams) but for him a 'city of second chances'. Grateful for his struggle and the opportunities it entailed for us, I set out to fulfill what was possibly his greatest wish for me to be the first in my family to earn an engineering degree. And yet, it was never my calling. I had always found myself drawn towards more artistic pursuits. My years in college were often spent outside the classroom, mounting theatrical productions, managing film club, performing solo Improv and organizing creative competitions for predominantly tech-savvy undergraduates. While my peers spent their nights drafting notes and developing research projects, I drowned myself in the words of Kazuo Ishiguro and lay awake ruminating on the genius of Paul Thomas Anderson.
My interest in movies was further stirred by my selection for the Young Critics Jury at 14th MAMI film festival out of thousands of students from Mumbai University after a rigorous multi-stage screening process. As a jury member, I got a chance to interact with some of the most incredibly talented filmmakers, both seasoned and debutant, whose insights, imagination and trials and tribulations through the making of their films not only broadened my understanding of cinema but also inspired me later to make my own movies. This was my first ever exposure to art cinema and it was an instant attraction. Until this point, I believed movies to be a form of entertainment, now the expression that cinema provides a window into lifestyles and cultures which are beyond our experiences started making sense to me. In a dream-come-true moment, my writings on movies were picked up by leading national newspapers and magazines making me one of the youngest published movie critics in India. Straight out of college and buoyed by my budding tryst with cinema, I made my first short film 'The Strangers', at the age of 21, for which I also cracked a distribution deal with Humaramovie, one of the biggest short film aggregators on YouTube. Recognizing my genuine enthusiasm for filmmaking, my father eventually gave me a free rein on my career choice.
I was fascinated by all disciplines of filmmaking but none more than production, marketing and distribution. At 22, I was given charge of the nationwide production and marketing operations for Excel Home Entertainment, a subsidiary of Fox Home Entertainment in India, presenting me with an opportunity to work directly with my counterparts at FOX on projects such as The Grand Budapest Hotel, Birdman and Gone Girl to name a few. It was a declining business but I remember how BIRDMAN's victory at the Oscars made us so much hopeful about its business prospects. I felt like a small part of the Fox Searchlight team even from a far away country. And I would often wonder if I'll ever get a chance to work with the original Fox Searchlight team. I would often make bold claims to my colleagues that someday I would. They would laugh and I would laugh with them, never believing it could ever come true. Until now, I had been evaluating movies purely on the strength of their artistic merits; my stint with 20th Century Fox helped me gain an appreciation for its business viability.
I moved on to work for Times Network, India's largest media conglomerate where I was responsible for building and curating their newly launched channel, Mirror Now's complete online content distribution network along with producing numerous news segments which aired on national television. My most fulfilling working experience, however, came at Prime Focus World (now DNEG), where I received first-hand education on stereo conversion, visual effects and color grading, which I was hitherto completely ignorant of, from the top-of-the-line, Academy award-winning industry artists, who had the patience and expertise to inform my novice self about the significance and capacity of these post-production disciplines in filmmaking. It came to fruition when my case study on the visual effects and color science of M.S.Dhoni: The Untold Story was published by India's premier media and entertainment industry report in its KPMG India – FICCI Report 2017. For DNEG, I also produced VFX showreels, a 3D featurette for Padmaavat and 'DoP's Lounge', a video-interview series with India's most prominent cinematographers about their approach to shooting a film.
With each passing year, it was becoming more obvious to me that I wanted to be a filmmaker. I never imagined that I would be good enough though to get into the Master's Program of a film school but I applied nonetheless. Due to differences in time zone, I would stay awake at night in India constantly refreshing my mailbox in anticipation of an admission notification. I had received my rejection from every film school I applied to but one – Chapman University. And just when I had resigned to fate, against my wildest expectations, not only did I get into Chapman but I also received a sizable fellowship, anything less and I wouldn't have been able to enroll. I believe I got the fellowship not because they thought I showed exceptional skills but because I ASKED. It's as simple as that. I asked and I got lucky. But in spite of the fellowship, securing a student loan proved to be an uphill battle. I spent weeks, months applying to possibly every bank in Mumbai and got turned down by each and everyone of them. I had an above average credit score, but the bureaucracy and complicated loan eligibility criteria prevented me from qualifying. But this only strengthened my resolve. I wasn't sleeping, I wasn't eating, I was leapfrogging from bank to another, but eventually just few weeks away from the deadline to pay the tuition fee for first semester, I managed to get it, on my terms. Again this was for exactly the amount I needed to secure admission. No more, no less. I wish I could say it was a result of my perspiration, but again it was pure luck.
Exactly 28 years after my father, I realized that a similar undertaking lay ahead of me. As I embarked on a quest to upgrade my learning and abilities, I remained mindful that my choices now will prove decisive in the context of my career. When I arrived in Los Angeles, I realized I had a long road ahead and that I understood the business aspect of Film and TV but I was completely oblivious to the creative aspect, mostly development, screenwriting and physical production. From being a tiny fish in a pond in Mumbai, I went straight to swimming with the sharks. It's typical for international students to rely on their loans or parental support for their expenses in foreign country but loans didn't even fully cover my tuition fee and I made it a point to earn my own living and pay the spare tuition out of my own pocket and not burden my retired parents.
Once again I found the odds stacked up high against me – I had never lived outside of my parent's house, I was limited in my vocabulary, often found myself puzzled with the American culture, had to make a living and wasn't able to work freely owing to my visa restrictions. Cooking was an absolute nightmare, so many nights of eating barely edible, barely cooked, tasteless food. I remember once google-ing 'How to Boil Milk'. Such was the extent of my sheltered upbringing back in India. I did not know how to turn those odds in my favor, so I did what I knew best – I kept trying. I had an impressive resume, so it wasn't difficult for me to get the recruiters interested but somehow it never translated into jobs. The initial rejections did hurt a lot and made me feel not good enough to be able to compete with homegrown American students. Gradually, I learnt to overcome those negative feelings by talking to more people and learning how I could set myself apart. But the bills kept mounting. To cut costs, I lived off of $100/month for a whole year. I would look up events at school which offered free food and try to make it to them between classes.
After practically failing multitudes of internship interviews over five semesters, including three times at Fox Searchlight, I finally landed my dream internship at Searchlight Pictures last semester. I remember when I got the offer letter in my mailbox, I was in India and it was 4 a.m in the morning, I threw my hands in the air, in a quiet celebration, vary of waking anyone up. Nothing in the world seemed impossible at that moment. And even though the internship ended early due to Covid-19, it was a huge moral victory for me and a light of hope as I navigate the current job market. One frontier of my career goals was achieved, it was now time to move on to the next.
Has it been a smooth road?
I am what the IRS defines as a 'Non-resident Alien' owing to my student visa status. Once I adjust my status to a work visa, I would become what IRS calls as a 'Resident Alien'. And that's completely how I often feel like being here – as an Alien. Away from my culture, my people, my home, the life I spent creating for myself back in India.
And I often find myself thinking if all the sacrifices that I made to be where I am today would it eventually be worth it? To not be able to be around my two years old niece as she grows up without any real memory of me, to not be around my siblings, my friends some of which keep telling me how much they look up to me. To not be with my parents who no doubt at this point expect me to assume greater responsibilities of the household and take care of them. It's great to have aspirations but it shouldn't come at the expense of your responsibilities.
As I think about it, I grow more apprehensive about letting anyone get close to me here in United States. Because I don't want to disappoint or cause pain to them, the same way I might be doing to my friends and family back in India. It might be easier for me to move on, but I shouldn't be expecting it from everyone around me.
Since moving to L.A, I've had my fair share of accomplishments, but my proudest moment was when a professor told me that people care about me and that I need to allow myself to bond with them. Something like that only comes from a place of compassion and genuine kindness and I feel that if I can invoke that in someone, then in spite of all my flaws and my failings, maybe I can still create a space for myself as an 'Alien' in this incredible country.
We'd love to hear more about your work and what you are currently focused on. What else should we know?
Before I did my MFA, I laughed at people who spent all that extra money for their Master's degree. I believed only those who didn't find a suitable job or weren't successful after their bachelor's or those too afraid to step into the real world chose to do masters. I was obviously ignorant. No matter what anyone tells you, here's the bottom line. There is only purpose of a Masters' program and that is to provide learned students a safe environment to fail and freedom to make their own mistakes. It's really that simple. If you're too wary to make mistakes and try things differently, you're not going to get the most of it. If your Master's program doesn't offer this possibility look elsewhere.
In my role as a graduate assistant of Chapman University's Student Union, I would preach to all the 20 students reporting to me that I will be very happy if they crashed a system while learning its full functionality or made a leadership decision on their own when I am unavailable. Some of them did, and I applauded them for it because come the time when I wasn't there to supervise them, they still could perform their jobs effectively without having to rely on me. I was training them not to be my subordinates but to be replacement. If a person ever feels threatened by a subordinate taking over his or her position, then that person probably isn't qualified for that position in the first place. And that's the principle I lived by as a producer. No two movies I made were of the same genre. I produced a sports movie, a zombie movie, a comedy and a romance. My thesis film was a story about a young transgender couple battling the conservative elements of their environment to stay true to their individual identities.
One of my other strengths I believe is my understanding of the ethos and sensibilities of art house cinema. It's easier for me to figure out the source of inspiration behind a scene or a story from a mainstream Hollywood movie which more often than not is an auteur or art film. My development notes and building blocks of intention and obstacle in a screenplay all derive heavily from my passion for parallel cinema. Even during our development class, I had a leg up over other producers because I could identify the movies the writer drew on to craft his or her script and that allowed me to have a more productive and detailed discussion with them.
And that's what I am most proud of – my insistence on making my own decisions, not being afraid to fail and not being afraid to risk rejections. There isn't anything anyone ever achieved without getting rejected; without putting themselves out there and being in the vulnerable position to invite rejections. But being vulnerable is not weakness, it's a source of strength. It allows you to keep refining something, eliminating all its faults to a point of perfection. So each time you knock a different door, you're a more advanced, less imperfect version of your previous self.
Let's touch on your thoughts about our city – what do you like the most and least?
What I like the most – Wizarding World of Harry Potter at Universal Studios.
What I like the least – Lack of expansive public transport (can't stress this enough).
Contact Info:
Address: 828 N Olive Street, Apt A, Orange CA 92867
Phone: 714-858-2858
Email: yadav@chapman.edu
Suggest a story: VoyageLA is built on recommendations from the community; it's how we uncover hidden gems, so if you or someone you know deserves recognition please let us know here.