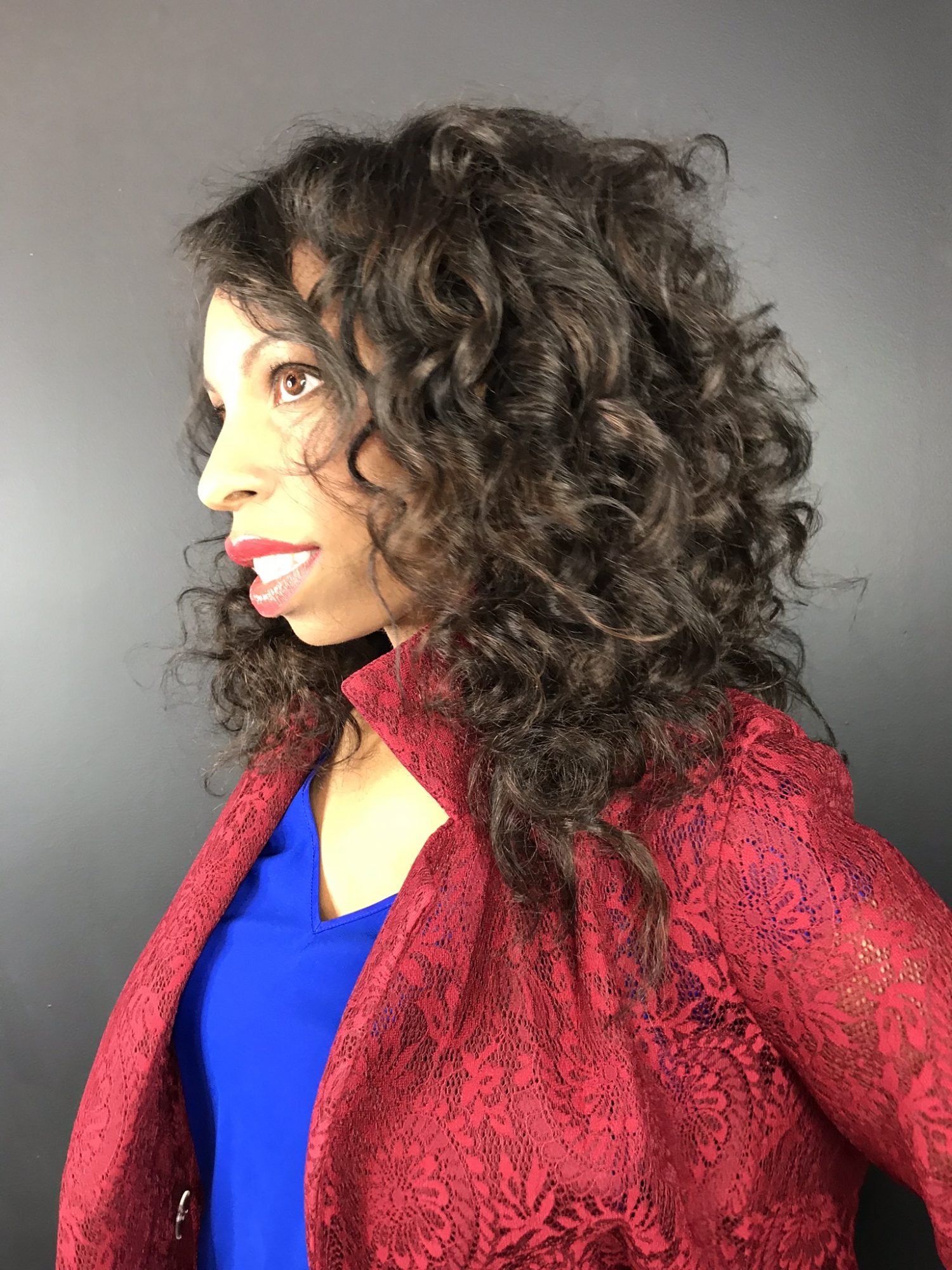 Today we'd like to introduce you to Araina Hollaway.
So, before we jump into specific questions about the business, why don't you give us some details about you and your story.
I moved to Los Angeles almost seven years ago in pursuit of a career in entertainment and sports broadcast journalism. My path to L.A. just took a little while.
I knew from an early age that I wanted to do something that would help people in some way, and although my passion was originally more theatrical (I loved TV, dancing, and acting out musicals as a child), I ended up on the path towards a journalism career because I loved writing. Plus I grew up near Washington, D.C., so journalism seemed more like a viable career than acting to many people I knew, and I didn't know if I had the talent to pursue a career as an actor.
After I earned my Bachelor of Arts degree, I set out to apply for a lot of entry-level journalism/reporter jobs across the Mid-Atlantic, Northeast, and Southeast regions of the United States. Nothing seemed to pan out (which turned out to be the best thing I later realized), which was OK because I really wanted to try Los Angeles anyways.
As I continued to apply for jobs in journalism, I decided to start working on my Master's degree and get a 9-5. I thought I'd give myself a year to finish my degree, and then I would move to California. My mother supported me 100%, and she said she might move with me too. My plan was set.
Then life changed forever. My mother (who was also my best friend) suddenly passed away from metastatic colon cancer. I was heartbroken, and quite honestly devastated. My move to California would wait indefinitely while I learned to live with my grief. And, it only felt right to stay and be around family and help with my oldest brother, who had Epilepsy.
Time passed by. I completed my Master's degree, continued working a 9-5 and various part-time jobs, and I grew restless. Although, I'd had a couple of freelance journalism jobs, I got to a point where I couldn't take it anymore. I knew I had to move to L.A. to try to achieve my "dream." So, after briefly wondering if I should move to the Bay Area, I made the decision (along with my fiancé who is now my husband) to finally make the move to La La Land.
I would miss my older brothers and my friends, but I had to do what I knew was in my heart. I quit my job and drove my car across the country to a place where I didn't know a soul (my fiancé would join me in five months) and I didn't have a job waiting for me. It probably sounded crazy to some, but I believe that sometimes you have to take chances in life in order to achieve what you truly want. As much as I would miss people, I couldn't imagine myself continuing with the life I had back in D.C. I had to at least try going to L.A. if nothing else.
When I first moved to L.A., I booked a couple of acting gigs to bring in some income. They weren't much, but I loved the experiences. I felt Alive when I went to studio lots, sat on sets, and watched the productions. Everything seemed so exciting.
However, I knew I needed to bring in more money, so I got another 9-5 job and started taking classes in TV hosting. Life became "typical" again, but at least I was living in L.A. now.
Then, once again, life changed forever. My oldest brother died after having an Epileptic seizure.
He'd experienced many seizures throughout his life, especially in the years after our mother's death, but I guess after practicing Seizure First Aid on him for so many years, and helping him through his seizures, our family didn't really think he would die. We all knew it was a possibility, but a possibility is very different from reality. You may know death is a possibility for a loved one you care for with epilepsy, but it's still devastating when it happens. It was at that time that I gave up on TV hosting. I realized I didn't really want to pursue it anymore, and my brother's death reminded me that we only have so much time on this earth. We should spend it doing things we love with those we love.
So, I went through a period of self-revelation, and I tried to figure out what I wanted to do next. In the next year, I started taking an Improv class at The Improv Trick with Bill Chott, and I truly enjoyed it. Then I started attending an acting workshop with The Street Smarts of Acting that my friend, Elizabeth Regen, facilitates. The Street Smarts of Acting helped me see that I truly love acting. I've had the opportunity to do improv, comedy, drama, intensive scene study, sensory exercises, and on-camera work. I love it. I am challenged, and I find joy in it.
Part of this transformation that led me back to acting also inspired me to focus more  on my desire to raise awareness for Epilepsy. I always wanted to do more to help in the Epilepsy community, but it wasn't until after my oldest brother died that I realized many people don't even know what Epilepsy is. Let alone, how to help someone who is experiencing a seizure. Many people don't realize that Epilepsy is the third most common neurological disorder in the world, and that 1 in 10 people will have a seizure in their lifetime. 1 in 10. Not to mention that 3.4 million people in the U.S. have Epilepsy and seizures. These facts are staggering, yet Epilepsy is one of the most underfunded in the research for cures (facts provided by the Epilepsy Foundation of Greater Los Angeles). No one should have to die from a seizure. So, I am making it my mission to raise awareness, so that we can save lives, educate, share stories, and raise funding. I am participating in the Walk to End Epilepsy again in 2020 that is hosted by the Epilepsy Foundation of Greater Los Angeles, and during this month which is National Epilepsy Awareness Month (NEAM), it is my goal to post/share information throughout the month that is related to Epilepsy Awareness.
Through grief, I found new passions. And as I raise my daughter, I try to remember how important it is to live our lives with passion and to realize our gifts. Pursuing your passion and gifts can look like different things to different people. You can pursue them as a hobby, or as your career. Either way, I feel like you you can either spend your life surviving. Or you can spend it thriving. I choose the latter.
We're always bombarded by how great it is to pursue your passion, etc. – but we've spoken with enough people to know that it's not always easy. Overall, would you say things have been easy for you?
Life can certainly be hard at times, but the challenges I've experienced have helped shape the person I am today.
Grief is a never-ending story. I don't feel like I've "moved on" after my loved ones died; I just think I learned to live with the fact that they were gone.
It was hard not having my mother along, who was always my biggest fan, motivating me along the way.
After she died, my dreams were deferred because I wanted to be there for my family. My other brother and I helped support my oldest brother, so I didn't really focus on me for a while. It wasn't something I thought twice about because family is important to me.
As for my choice to pursue acting, and essentially become an artist full-time. Well, work may not always be consistent and profitable, but that's OK. There are always going to be skeptics, but I try not to let negativity get to me. I love the thrill I feel when I perform. If I have to be more creative when it comes to finding flexible/freelance work on the side, so that I can pursue acting then that's what I'll do. It's worth it. And having the opportunity to pursue something you love is amazing. You can do anything you want to do in life.
Lastly, there were times in my life when I had to work several jobs at one time in order to survive. It really wasn't ideal. However, I kept going because I knew it's what I had to do to survive at the time. I always keep going. And I always remember that hard times don't last forever. The one constant in life is change.
We'd love to hear more about your work.
I am a coordinator for an actors' workshop called The Street Smarts of Acting, which Elizabeth Regen is the creator and facilitator of in North Hollywood. Not only am I an actor in the workshop, but I also help with administrative tasks, general support of the workshop, and I co-produce our annual 9/11 Short Stories and Plays event with Elizabeth and Michael Hennessey.
The Street Smarts is a great workshop because it focuses on the work of an actor. As actors, it shouldn't just be about one's physical appearance, social media presence, or simply IMDb credits. It's about being in one's truth and focusing on the work. We work on showing true emotion to the audience by exposing our truth. I am so proud and blessed to be a part of our wonderful group of artists. My fellow artists, including Elizabeth, inspire me to keep going and to continue believing in myself. We all inspire each other, which is one of the reasons we are such a unique workshop. That and the fact that we are not costly, and you are always welcome to come back in the future.
Also, as I mentioned we produce an annual 9/11 Short Stories and Plays benefit event. We accept submissions from anyone who has a story about the events from that day. We hosted the event for the third time this year at the Loft Ensemble in North Hollywood. It is a lovely evening that is held in honor of Elizabeth's father, and we raise money and awareness for those who died and are still dying due to the toxins inhaled on 9/11 and thereafter. Our proceeds go to the Feal Good Foundation. It is our goal to use our art to host more events like this in the future. It is my hope, we will be able to organize an event in honor of Epilepsy Awareness in the future, as well.
In fact, I hope that one day I can be a spokesperson for Epilepsy Awareness, and do more to raise awareness and funds for the cause. Although, I love helping people in general, I really want to focus a lot of my energy on raising awareness for Epilepsy in honor of my brother. If anyone would like to support and/or walk with Team Marcus (my team) in the Walk to End Epilepsy on March 22, 2020 in L.A., please check out our team webpage at https://epilepsyfoundation.donordrive.com/participant/For-Marcus.
What were you like growing up?
Haha, that's a very good question. Sometimes I feel as though I forget things like this as I get older, LOL
I was shy in public, but very outgoing, entertaining, and a little loud among family members and friends. I loved to dance, I loved TV and film, and I often acted out in and sang songs around the house from musicals. I loved to read and visit the library with my father, and the book store with my mother. I enjoyed playing video games with my older brothers, watching sports, being outside, and going on adventures. I was studious, well-mannered, a people-pleaser, and I liked trying new activities/hobbies. Although, I enjoyed spending time with friends, I truly loved being with my family more. I was my happiest when I was spending time with my family.
Pricing:
$200 a month every Thursday even when there are five Thursdays in a month(We are willing to work with anyone struggling financially.)
Contact Info:
Address: 11240 Magnolia Blvd
Studio 102
North Hollywood, CA
Instagram: thearainahollaway
Facebook: The Street Smarts of Acting

Image Credit:
Araina Hollaway, Elizabeth Regen, Michael Hennessey, Kenchy Ragsdale, Mike Pingel, Mel England, Susannah Kent, Todd Tyler
Suggest a story: VoyageLA is built on recommendations from the community; it's how we uncover hidden gems, so if you or someone you know deserves recognition please let us know here.