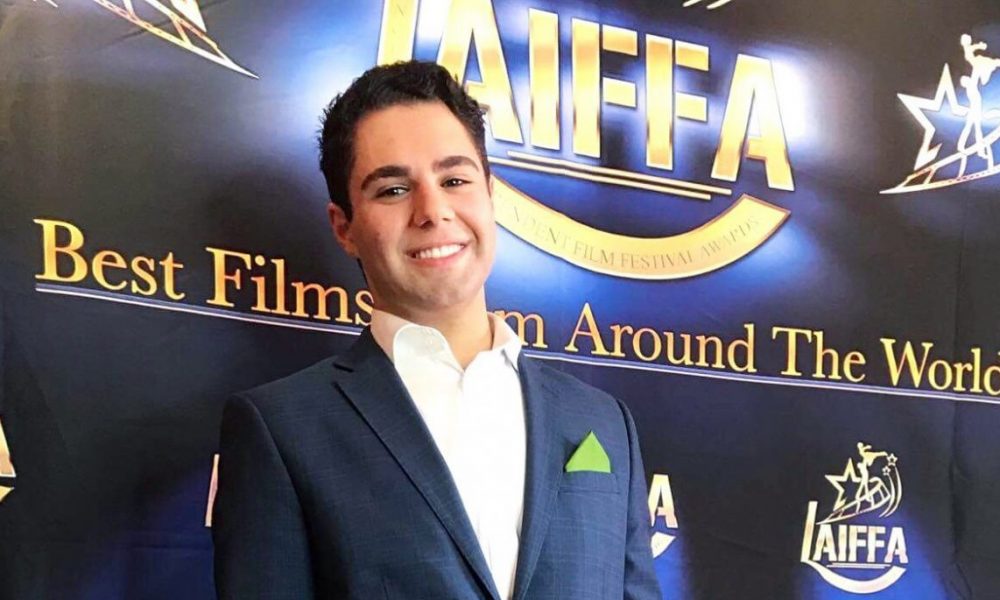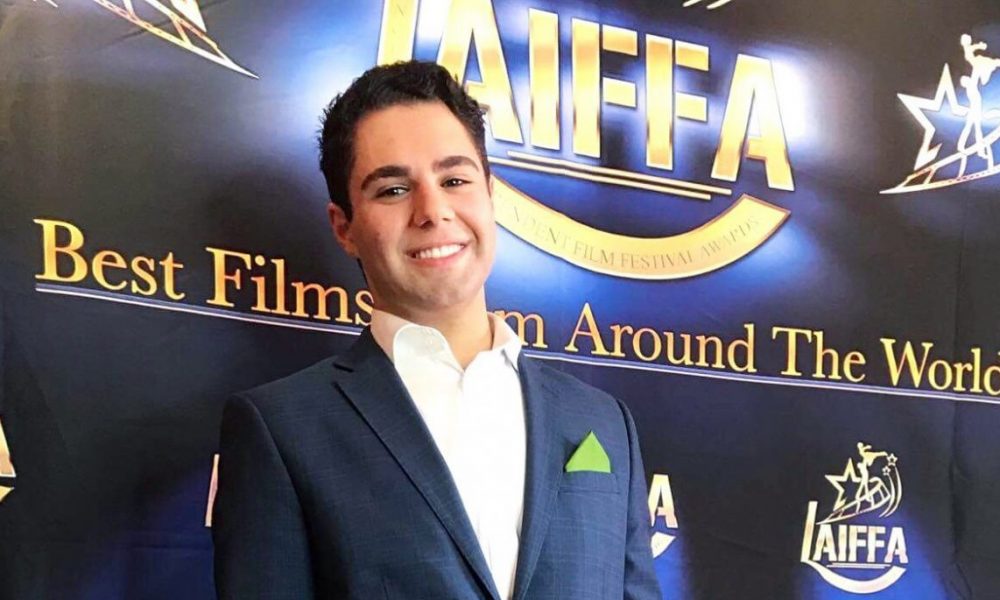 Today we'd like to introduce you to Antonio Darwiche.
Thanks for sharing your story with us Antonio. So, let's start at the beginning and we can move on from there.
"The climb uphill is rough – but the altitude pays off for each and every step taken forward."
Born and raised in the south of Sweden I was early introduced to art in different forms. Along with school, which I took very seriously already at a young age, I quickly got involved with drawing and music, and not long thereafter dancing and photography as well. By the time high school came around I had made a conscious decision that my talents in the different art forms remained hobbies and my main mission was to become a doctor like my father.
I spent three long years studying science and math, taking tests and writing lab reports. Throughout my time I found myself misplaced amongst the passionate classmates who couldn't wait till the next class, while I was busy drawing around equations and writing songs in cheap applications on my school laptop. By the time I reached my final year, I pitched the principle of Science that rather than doing another elaborate lab rapport as my final year project I would instead write, direct and produce a short film that tied into the program. Somehow – I still to this day don't know how I managed to – convinced him this was a good idea and next thing I knew I was writing my first ever screenplay.
Fast forward 6 months of filming, from the cold ankle-deep winter snow to the green blazing summer sun, I finally had a finished product to present. I managed to get in touch with the city and found a screening room at the so-called "Culture House" where I would present the film to an audience for the first time ever. The event was nerve-racking and following 34 minutes of absolute silence, the response was incredible.
The days that followed came to be the ones that changed the course of my professional [and personal] life forever. My dear parents sat me down one afternoon and asked me if I wanted to consider filmmaking in higher studies. I was taken aback for this meant somehow disregarding the direction I had taken in terms of continued studies in the medical field. Luckily I was convinced that "now was the time to try, not tomorrow or in 30 years."
Following a confident "YES!" the next step was finding a college. I applied locally along with considered the capital [Stockholm] and thereafter England, but my parents insisted that if I was going to move out anyways in order to fullhearedly pursue my passion, I might as well go the extra mile and apply to a school on the West Coast of the great United States of America, where the films I aspired to one day make were being made on a daily. I took a deep breath and once more responded "Yes, let's do it".
I remembered an online add for a school, applied and was invited for an "audition" where I'd travel to Stockholm to meet with representatives of the school and present my portfolio for review to determine whether or not I was a good fit for the school. I collected everything I had. Drawings, music I'd composed, photographs I'd taken in photography class, the short film I'd just finished and booked a flight. Soon I was in a long line of applicants waiting to be considered for admission. Eventually I was called in and met with the representatives. Still holding my breath following a 30 minute meeting [which was three times the length the previous candidates had been granted] I left the room with my heart beating faster than ever I left and a wide smile on my face. The following morning I received the acceptance letter. I was enrolled in college and was moving to Burbank, California.
In the fall of 2014 I left my home and family to move into a small one bedroom apartment I'd share with a classmate I'd spoken to through Skype twice prior to my departure. I spent the coming year living in the living room of the small apartment taking classes and making ultra-low budget short films for class purposes. I was for the first time enjoying waking up early to attend 2 hours and 45 minute lectures spending sometimes up to 10h at school before going home to study or edit the next short film assignment.
As the second year came along and classes become more elaborate, I felt something was missing. I wasn't fulfilling my internal drive and hunger to do what I so much wanted to do and knew I could. So I did something absolutely petrifying and reached out to local filmmakers through websites and facebook groups. I begin looking for jobs that offered nothing but a credit. I was hungry to learn more about everything.
So I began to work every day of the week. Day and night became one. I would stay up nights to edit films for others, then attend my morning classes before driving off to another production for filming. Quickly I was being hired for every position on a set and thereby learned immensely.
I did grip and electric work and soon was hired on to lead the lighting department as a gaffer. I did assistant camera work [both first and second] and soon I was brought on to create beautiful imagery as a cinematographer. I did script supervising; watching every move in frame closely in order to ensure a sense of reality in space and time remains consistent, as the narratives moved forward and shots were altered and sets flipped around. Additionally in-between the mentioned, I too ran sets as an assistant director [both first and second].
Somehow I ended up helping with set dressing till I one day received call after call about tackling projects as the production designer and art director. I built sets until I had more splinters in my hands than bones.
After having spent almost the full year of 2016 taking on every job that came my way, I had gained so much experience by watching and doing that I felt confident to refocus my attention to the main goal which was to write and direct narratives. As calls continued to flood in I now was able to turn down certain positions as I had other commitments to attend. I was ready to my make my first official short film.
I spent months in pre-production, writing and preparing my first ever real narrative short film. The journey was nerve-racking as many times the reception and feedback was simply criticism without the "constructive". I remained true to my story and to myself, and pushed on. Next thing I knew I was interviewing producers and following hiring one, I found myself a lovely cinematographer to create imagery based on my storyboards and shot lists. As production was quickly nearing, I faced a series of logistical difficulties that I was left to deal with on my own and soon I got a message from my producer who explained she wanted to exit the project.
Without a budget that could hold the short, no producer and a deadline that was so close I could feel it breathing down my neck, I did what filmmakers really are meant to do best — problem solve. The heartbreak of putting my first ever real short film on the shelf and starting over became the first of many, but it was a necessity. I had a goal and I was persistent in achieving it – one way or another. A week later I had managed to do the same amount of work I had spent the previous 4-6 months doing and had managed to put together an entirely new short film. The screenplay was a 23-page long suspense-thriller titled "Ephemeral©". I spent the coming few weeks in casting and after many long days in the audition room I successfully found my actors and was now ready to enter production.
Christmas came along quickly and while back home in Sweden celebrating with my nearest and dearest, I ended up spending my nights [due to the time difference] producing my short film overseas as I was short of 2 weeks out from filming. I returned to Los Angeles a few days after New Years Eve and miraculously had managed to put everything together. I spent the next few days rehearsing with the cast, overlooking shots and production design along with excessive preparation for what was to come. Just as everything seemed to be going my way, my Assistant Director wasn't committing to her job either and left the project the day before filming.
I was now about 12 hours away from filming without a shooting schedule nor an Assistant Director to run the set during production. Once again I pulled in all the strings I had gathered through my ranging jobs and miraculously found myself a replacement Assistant Director the night before. Hours following hiring her, we had a brief meeting and made a filming schedule for the coming few days of filming. (Additionally, we managed to find a new actor for a supporting role as the previous actor attached had abandoned the project very last minute as well).
I spent the next three nights filming at a small sound stage in Burbank. From 8PM-8AM I was running around set talking to my talent, approving shots with my cinematographer and talking scheduling with my assistant director. On day two my lead actress suddenly got ill and we had to change the remaining shooting schedule in order to complete filming of the short. On top of the obstacles stated, due to strict restrictions on filming with minors, I was left with around one and a half hours each night to complete long scenes that required an incredible child actress.
Soon the last night came along and I was fighting an intense fever, but nothing could stop me from finalizing my work. I wrapped production successfully with a happy cast and crew, and could now move forward with the next phase.
Post-production went by smoothly thanks to my experience as an editor which had already granted me my first ever Platinum Award for "Best Editing". Satisfied with the edit I locked the picture. Unfortunately it would take me another few months before I could send the film into color correction, sound design and have an original score composed, due to a lack of money. Finally in early 2017 I had a finished product that I could submit to festivals.
2017 was my last year in college. Along with finishing up classes, I was preparing for my next big project and thesis film; a heartbreaking drama about an old man in the Mid-West. Whilst I was scouting for the right locations all over California, I  found myself unhappy with the options as they didn't feel authentic enough. So I once more did what I always do — listened to my heart. I spent weeks speaking with film commissions in other states with perhaps a more fitting setting for the narrative. Soon I was on a flight to Kansas City, Missouri, where I spent the following days scouting locations from Missouri to Kansas.
I returned to Los Angeles where I learned that "Ephemeral©" was being granted Official Selections left and right by festivals all over the world. Overwhelmed with bliss, I continued my quest to do justice to my next film. As pre-production moved on rapidly and I finalized an 11th draft of the screenplay, I realized that my story was indeed meant to be a fleshed out feature film and that compressing it into a short wouldn't do it justice.
So once again I was back to the drawing board and I began work on my new thesis film, "Masquerade©". Another two weeks went by before I had a locked screenplay and I was spending days in the audition room casting roles. Meanwhile "Ephemeral©" was graciously winning awards and receiving nominations for "Best Short Film", "Best Director", "Best Screenplay", Best Cinematography", "Best Actress", "Best Actor" and "Best Editing".
As July came along, I was once more back on set filming "Masquerade©"; a thriller-crime-drama set on a police station where a big mouthed man is being investigated as part of an ongoing attempt of a murder case. It was clear early on that my directorial choice for the film would be challenging; I intended to make a 16-minute long, unbroken, one-shot film. Budget only covered expenses for one day of filming and when that day concluded I had once more successfully wrapped another film. The final take made the cut.
September quickly came along and in between my very own self-produced projects I had had the privilege of directing a handful of other works. By the end of the month I wrapped up post-production for "Masquerade©". While "Ephemeral©" was still successfully traveling the festival circuits, "Masquerade©" now joined in.
Following graduation, rather than enjoying time off school, my hunger was stronger than ever and I had tons of work to do. I immediately sat down to rewrite my original thesis and following three days of writing I had my first full-length feature film screenplay. I came across an outline for a road trip dramedy I had written in the second year of college and quickly fine-tuned into a 150 page feature film. Shortly thereafter I began plotting another dramatic narrative and two weeks later I had a first draft of my third feature film. I workshopped this film about eight times consecutively until I was satisfied before presenting it to a potential client.
As I was working on the feature films, I was developing a web series that I was looking to get made. The show, "Typo©", would be a mockumentary based on real people I knew [including myself] which exposed the behind-the-scenes of the behind-the-scenes of independent filmmaking. The main focus, however, would be the relationships between four friends from all corners of the world gathered in the City of Angels to pursue their shared dreams. By October I had made the blueprint of what would be the 10 episode line-up for the first season and not long thereafter scripts where being read and table reads held.
Earlier this year around March 2018, following completion of the screenplays for the show, filming start dates were set, and cast and crew were ready. In the one month gap prior to production of "Typo©", I managed to spend 2.5 weeks developing another feature film which got in deep connections with investors and production and distribution companies. After completing four drafts in a short amount time, the film was ready to find its funding.
Today, "Ephemeral©" has finally been released to the public following 14 wins, 5 nominations and a dozen Official Selections. "Masquerade©" is currently being considered by the top festivals all around the world. Along with continued filming of "Typo©", which is close to completion of filming for season 1, I am currently writing yet another feature film that has a preliminary production start date for September 2018.
I have been incredibly fortunate to have had opportunities of bringing life to remarkable stories in so many formats and continue to do so by working hard and never stopping moving forward or settling down. Working as a storyteller is truthfully a great privilege but it comes with lots of pressure and difficulties. I often describe making a film like climbing a mountain; "The climb uphill is rough – but the altitude pays off for each and every step taken forward."
As the life of a filmmaker remains rather uncertain – where you live life on a day-to-day, week-to-week, month-to-month basis – I remain optimistic and motivated to continue my professional journey forward as I quest onto undiscovered stories to share with the world. Every individual is a living, breathing story waiting to be told, and it is my privilege to find just a few those remarkable tales to bring life to.
Overall, has it been relatively smooth? If not, what were some of the struggles along the way?
I believe that nothing comes easy and that living the life of a storyteller is anything but easy. One is constantly at war with oneself and the world, but especially all the voices surrounding you. Today no one is afraid of speaking their mind and there's beauty in that, but more often than not those voices speak hurtful and harsh words that can be damaging to the artist. You learn to grow a thick skin and to filter out the background noise as you strive to make an idea into a complete product you can present to an audience. Being able to listen constructively as well as bypassing non-constructive commentary is a skill one must obtain in order to survive in this business.
Additionally, an incredible challenge that remains reoccurring is finding colleagues you can entrust with being there every step of the way. As most know, making a film in any form, whether that's TV, web, music video, feature film or short film, is a long and challenging process that only gets harder for each day going into the project in focus.
Being able to find great workers in this town is easy. There's more talent to go around that can be handled, however finding great collaborators and team members that are able to commit fully and go not just that one extra mile but the additional 10, 20 or sometimes 100 miles — that is a challenge that remains present for each and every project I find myself attached to.
Rejection or any sort of discouragement is always tricky, however, I find myself never being let down as I'm always creating content to keep myself busy and focused on my goal which is to tell stories worth sharing. By staying focused on short-term goals that all lead up to your long-term goal, you continuously reach milestones that become small successes.
What should we know? What do you guys do best? What sets you apart from the competition?
As a freelance writer/director, I have established myself in my independent works. I'm a proficient perfectionist that always manages to deliver a high-quality product that exceeds the budget and all expectations and I say that in the most humble way. Being doubted due to race or age is an obstacle I've faced my entire life where I've constantly been forced to prove myself. Fortunately I've been able to turn it into a positive thing where I continuously manage to deliver touching stories through the medium of film by staying true to my work ethic and keeping a calm, confident presence every step of the way. Stress, negativity and anger sincerely doesn't take you any further than it's counter opposites, so why not enjoy what you do when you're job is to entertain.
In the past year, I have so far successfully written, directed and produced a few award-winning short films including a short film titled "Together Again©" that claimed 6 wins throughout it's festival run. Currently, I have another two films I've written and directed (and produced) that are traveling the festival circuits along with my web series that soon releases online followed by half a dozen feature films lined up with one already set for production early fall this year.
What is "success" or "successful" for you?
Success comes in many forms. For me, success is reaching a personal goal, which many times could be overcoming an obstacle. I believe in minor successes, which I set up for myself to strive towards on a daily basis, that ultimately set up a major success. A minor goal could be finalizing a screenplay or an edit for a film I've directed.
Another form of success for me is casting and finding the perfect talent to embody a character I've created. I could make an infinite list of different forms of successes that remains subjective to me. However, the most rewarding form of success that I strive towards and wish for through my work is audience members expressing strong emotions from the experience of watching my film(-s). This remains the ultimate reward and accomplishment for me as a storyteller.
Contact Info:
Image Credit:
Sussan Yeo, Tom Jiang, Mick Wolf
Getting in touch: VoyageLA is built on recommendations from the community; it's how we uncover hidden gems, so if you know someone who deserves recognition please let us know here.