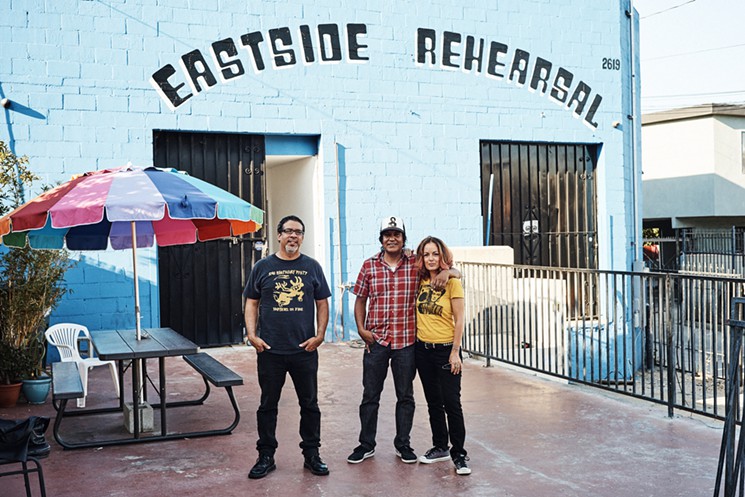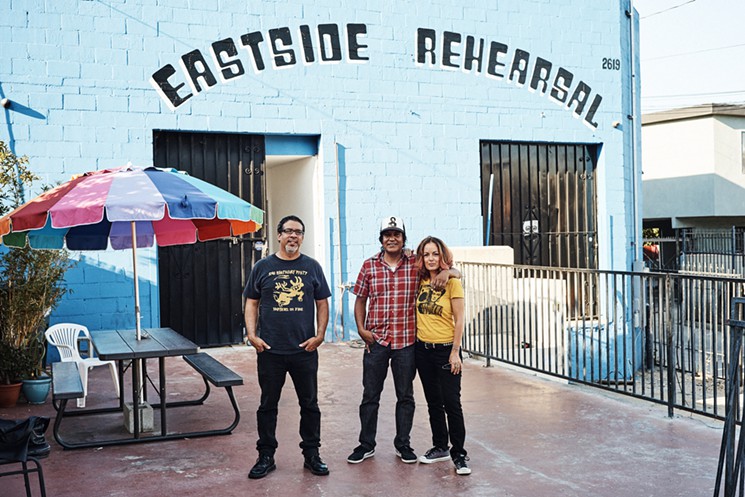 Today we'd like to introduce you to Antonio Aguilar.
Antonio, let's start with your story. We'd love to hear how you got started and how the journey has been so far.
I am the owner of Eastside Rehearsal/Los Angeles. We are an hourly Fully Back Lined Musical Rehearsal Facility. We offer clean rooms with great gear at a very affordable price. I was born in Bakersfield, CA. As a boy, I worked as a field worker (Campesino) in the Central Valley of California. I toiled with my family and learned the value of hard work. My Cousins were organizers for the late great labor leader Cesar Chavez. A part of my history that I am incredibly proud of. Around my teen years I grew an immense passion for music. My father bought me a guitar and this began my journey. The 6 hours of practice a day enabled me to be able to travel the United States and Europe extensively as a touring musician – but unfortunately not lucratively. I started to Tech for bands and Tour Manage as well to make ends meet. I worked for several bands including the Melvins, Sleep, Neurosis, Pixies, Fuel, and Jello Biafra. I ended up being on the road for sometimes 9 months out of the year on some of those years – which eventually led me to a decision. Do I head for divorce (absence is not good for a relationship) or figure out a way to stay home – and use the skills I have built up over the years to figure out a way to make money at home? My wife, Meg challenged me to figure out a plan to start a business. This led me to writing the business plan for Eastside Rehearsal. It took us almost a year to open, the voyage of opening my business was harder than any Music Tour I have ever been on – and believe me that is saying a lot. But now, a year later, we are open and Eastside Rehearsal is thriving. I couldn't be happier.
Overall, has it been relatively smooth? If not, what were some of the struggles along the way?
Opening Eastside Rehearsal was one of the hardest journey's I have ever endured. I rented the property in April of 2015 from a Nefarious Character. I game him first, last, and deposit to secure the lease and a week later his estranged wife locked me out of the building. She explained that he didn't own the building and had no right renting it out. This is after I gave her husband 11 grand to secure it. A few weeks and many phone calls to attorneys later, I got a phone call from someone who explained to me that he was the new owner and that he wanted to take me on as a tenant. Great! So we got going finally – only to find out an ADA permit had been opened and never closed out. Luckily – when I was going over the lease I noticed that the previous owner was trying to get me to sign off on being responsible for all permits including ADA. I had crossed that out – which made the new owner now responsible for closing it out (this cost him 30 grand). The only problem – I couldn't begin my build out until the ADA was signed off on. What a lesson to learn! This probably cost me 6 months of time. Eventually we passed, and eventually I got to our build out, and eventually I finally passed all of my inspections but along the way we ran out of money and we had to take on a partner; but… we did open. Did I mention I broke a rib? Yes, I broke a rib while putting up drywall. I broke it, and had no choice but to go back to work, immediately.
Alright – so let's talk business. Tell us about Eastside Rehearsal – what should we know?
Eastside Rehearsal is the first Fully Back Lined Musical Rehearsal facility to ever open East of the Los Angeles River. We provide incredibly professional gear and sound proofed rooms for local and touring musicians to be able to get loud! We are endorsed by Orange Amplifiers, Fender Amplifiers, Mesa Boogie Amplifiers, Ampeg Bass Amplifiers, and DW Drums. We keep a clean, comfortable place for musicians to feel inspired. We believe what sets us apart is caring. The ownership not only run the facility but rehearse in the facility. We are Musicians! We have toured and witnessed every disgusting hole in the ground around the Country and Europe that bands are subjected to, every back-stage room with phallic symbols drawn on walls, every disgusting bathroom that should be condemned to being torn down and we say Not Here! That's why our rooms stay clean, our restrooms stay clean, and the gear stays great. Musicians deserve better.
Any shoutouts? Who else deserves credit in this story – who has played a meaningful role?
Meg Aguilar (my wife) deserves the biggest credit for the opening of Eastside Rehearsal. She was my rock during the whole – almost year long process of getting our place open. Her advice was always solid, her help was always helpful. We were definitely put through the ringer on this, but we made it. Eddie Rivas (our business partner) is also due an absolute thank you. Without Eddie coming in as an investor at the final hour we would not have opened. Eddie was a Savior.
Pricing:
Eastside Rehearsal has 5 rooms available M-F 11am -12am. Rooms are $18-$13/Hour depending on room.
Contact Info:
Address: Eastside Rehearsal
2619 E. Cesar E Chavez Ave
Los Angeles, CA 90033
Website: www.eastsiderehearsal.com
Phone: (323) 688-6476
Email: eastsiderehearsal@gmail.com
Instagram: eastsiderehearsal
Image Credit:
Shot of Antonio, Meg and Eddie by Ramon Felix