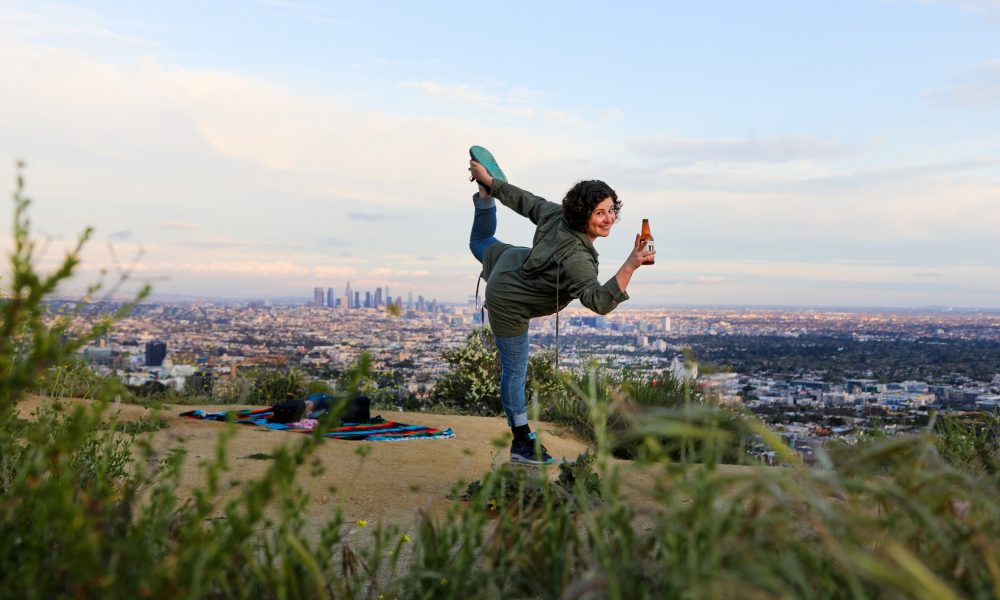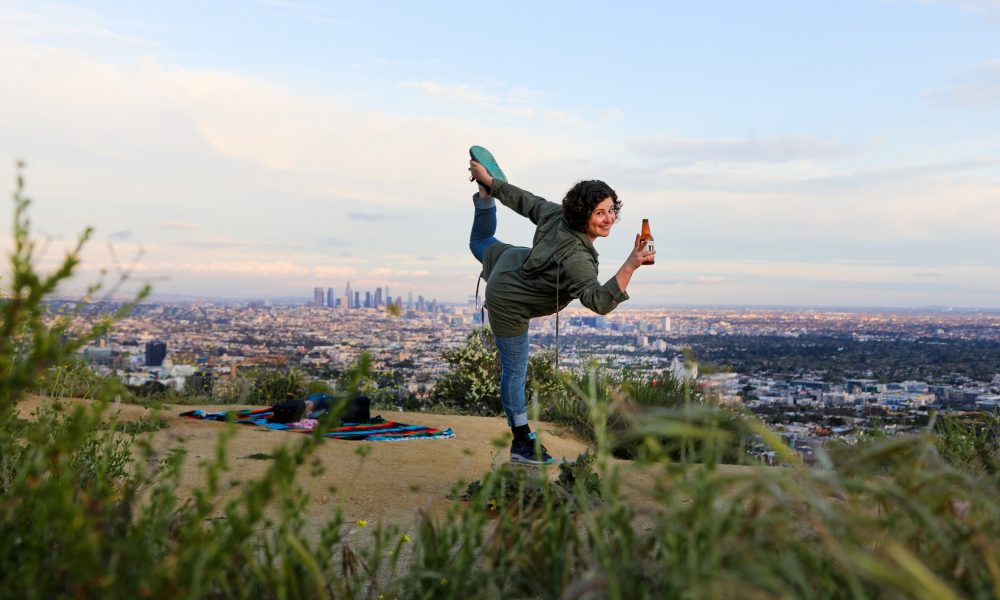 Today we'd like to introduce you to Annie Altman.
Annie, let's start with your story. We'd love to hear how you got started and how the journey has been so far.
I'm passionate about mind-body connection, and connection generally. Part of this comes from ways I've felt extremely disconnected through several mental health labels and experiences. I'm extra-extroverted, and very curious – when I was little I would introduce myself to strangers with my full name and ask them how their day was going. I love learning, I love learning about people, I love using learning as a tool to help people.
I took all of the classes to go to medical school and then noped off of that path, tapering away from academia through work in two different UCSF labs. I accepted that my mental health prefers creativity, and forcing myself into the science field eventually showed itself to be just that: force. I got existential and came to understand that enjoyment of life is meant to be prioritized because no one knows "how to: human" anymore or any less than any other human. There's no "right" or "wrong" way to be a human.
Science isn't "right" and neither is art. Science and art are connected, and connection seems to be where all the themes of life play out. I began to feel an imperative to "get the word out" about no one ever fully "knowing" what they're doing as a human being, mostly as a way to self-therapize and remind myself. I need the reminder that it's okay for me to have no idea what I'm "ultimately" doing, and that I'm primarily a human being. Accepting my love of making things and noticing how clearly art helps me let go of my defenses, I feel that making art is the most effective way for me to communicate.
As I was transitioning away from becoming a physician, I slowly began putting videos on YouTube (the first-ever being a comedy song called "A Song for Bo Burnham" inspired by his stand up special I'd just watched) and going to open mic nights for comedy and music. My "official" parting ways with academia was a three-week yoga teacher training on the Big Island of Hawai'i, after which I came back to the East Bay Area to work for an online CSA company called Farm Fresh to You. Five months later I sold my things and moved to Hawai'i, where I chose to live in a car for three months out of my nine months living there.
I felt compelled to experience living in a car, and my need to find a way to make this idea (this reminder that had become my focal point instead of medical school) into a succinct art form that felt authentic to me, made the openness of more free time and less living costs incredibly appealing. I began a book version of my idea: no one knows what they're doing in their human doings and beingness, and that's really beautiful because it connects us all. It's like pooping or death.
On island I taught yoga, I made more YouTube videos, I ghost-wrote for a YouTuber, I drove for Lyft, I explored outside, I met new people. I wrote more for my book version of the idea than I had ever written on one consecutive thing, journaling my way through all I had learned in life so far and observing for patterns. I reflected a lot alone, especially while living in the car, and I reflected a lot with the people I met who were open to questions about their human experience. My original idea had expanded to say that know one knows how to human, and also that there are themes of being human that all humans encounter, and that talking about these themes helps everyone.
I moved to LA last August while transitioning my idea to a movie version about me writing the book version – it was all very Hollywood. I worked as a ghostwriter for a painter and also as a budtender at a dispensary. To support what I was working on creatively, and to help me find much-needed clarity, I began a podcast. I was feeling overwhelmed with non-numerical data and the weight of taking art and life overly seriously. Some part of me also knew that I needed to make a project where it was built-in for me to ask for help.
I decided the podcast would be a conversational interview about a human truth, to serve as a reminder that we are all connected through our truths, our joys, and our challenges. I know that open dialogue is super important to me and feel that is where to start with what "goods" I offer. The podcast was originally called "True Shit" (I learned iTunes will not allow even "self-censored" expletives), and that is still the premise of what is now called The Annie Altman Show.
Starting the podcast made it clear to me that my overall idea was meant to be verbal. I circled back to my love of stand-up and live performance and knew that the art I was making was intended to be a one-woman show, that has settled on the title "The Hum|Annie."
The Annie Altman Show is what I call the podcast and other creative projects – videos, blogs, food, comedy, and more – that serve as "field mesearch" for the idea that has evolved into The Hum|Annie. The Hum|Annie is an interactive stand up comedy musical philosophy show about how no one ever fully "figures out" how to human, how there's 10 "C" themes to the human experience, that are connected by and exist within the "C" theme of connection, and how maximizing resource equity minimizing human suffering. These themes in this organization are a tool to check in with our mental, physical, and emotional (which is, to me, synonymous to spiritual) health. That's what finding and using them has given to me and what I am offering for others to experiment with for them.
The Hum|Annie reminds me that I can only be an expert on myself and my humaning, and explores what this can offer to humanity. The Hum|Annie makes fun of things like being my form of brevity, uses my life story to examine common themes in all life stories, and reflects on how self-deprecation differs from honest self-reflection. I believe my role of service is in asking questions and making connections, using tools like play, comedy, and music. I'm an intense proponent of experiential learning and believe doing and sharing my own learning is my most effective tool to offer. Making these projects and this show is me walking the walk of putting my own oxygen mask on first.
Great, so let's dig a little deeper into the story – has it been an easy path overall and if not, what were the challenges you've had to overcome?
Yes and no, and it's been a weird and fun combination. I intentionally took a 180 turn within my spiraling circle life path, which is challenging for anyone to do smoothly and I was especially clumsy. The mishaps led to a lot more for me to learn about, such as accepting "mistakes" as a necessary part of any learning process.
My relationship with my family as we all grieve has been the most challenging struggle along this process. My dad died from a heart attack on May 2018, on the same day I had a flight booked from Hawaii to St. Louis. We had video chatted the day before and were super close. For me, the grieving process feels like going through all the cycles again and again in slightly different ways in a spiral. The Hum|Annie is dedicated to him. I'm grateful that he was (and is) this project's biggest cheerleader.
The Hum|Annie uses all the knowledge I've received from my mental health and grieving journeys so far, which means I must first unpack and sit with how that knowledge impacts me personally.
I use the term "mesearch" because all research is biased by the researcher, which, like the placebo effect, is a mostly ignored truth in mainstream Western medical practices. I support scientific and spiritual practices and I am learning to support where I am of the most service to humanity as a whole. I believe there is so much that can benefit humanity through connecting different practices and ideas. Honest reflection, of myself and the world, has been and continues to be a satisfying challenge. For me, sharing parts of it helps my processing.
We'd love to hear more about your work.
I specialize in an interest to help connect science and spirituality through exploring my interests in both of them, using myself and my human connections as experiments.
I'm grateful to have found a way, through much exploration, that feels authentic to me right now to do my own mental health work, to redirect grief and shame, and to have the privilege of the space to do that work. My intention in sharing parts of my own process is to help make space for others to have the same baseline of privilege I've been fortunate enough to receive. People need access to resources to do their own work.
I've been lucky enough to interact with a variety of guests on the podcast so far, and I'm grateful for the ways I've been impacted by each of the conversations. The style of the show has both deepened and lightened as I learn to first relax with myself.
This series aims to make use of my black-and-white thinking patterns to help myself and others notice those tendencies more easily, and to help those with more gray-space thought patterns who are curious to learn more about a different perspective from theirs.
I feel strongly that open discourse about being human, connecting all our internal parts, and connecting with other humans and the world around us, are all necessary parts of the process of equitable resource distribution.
Prioritization of honesty, open communication, and curiosity about connection are very important to me.
Is there a characteristic or quality that you feel is essential to success?
I'm grateful for the words of Maya Angelou for this one, "Success is liking yourself, liking what you do, and liking how you do it." From reflections with friends and with myself, I also believe that success is liking who you do your "what" and "it" with, as well as liking the feeling you experience of connection in your doing and beingness. To me, success is connection. To experience connection, I needed to first accept the disconnection I was experiencing and ignoring on my previous path. Part of my process of learning is also unlearning – unlearning a dislike of myself, of what I was doing, of how I was doing it, of who I was doing it with, and of the feelings I was experiencing that I accepted as "how life is." I feel it important to embrace disconnection as a part of connection, and remember that there are things to be learned from them both.
As action is more accessible for me as a starting point right now, I started with figuring out how to really like what I do. I am only doing what I'm doing because I've allowed myself to pursue connection – with myself, with others, and with this rock we're all floating around on together for a little while. My honesty and curiosity about connection are very important to me.
I also believe it's important to address the financial privilege that I had to graduate from college without debt and to have a Biopsychology degree. That privilege has allowed me the flexibility to give most of my attention to this project for the past two years while working a variety of jobs that allow me to explore different interests.
Contact Info:

Image Credit:
Lisa Gallo
Zoe Monosson
Michael Ferencik
Sweet Santos
Jessica Copeskey
Suggest a story: VoyageLA is built on recommendations from the community; it's how we uncover hidden gems, so if you or someone you know deserves recognition please let us know here.