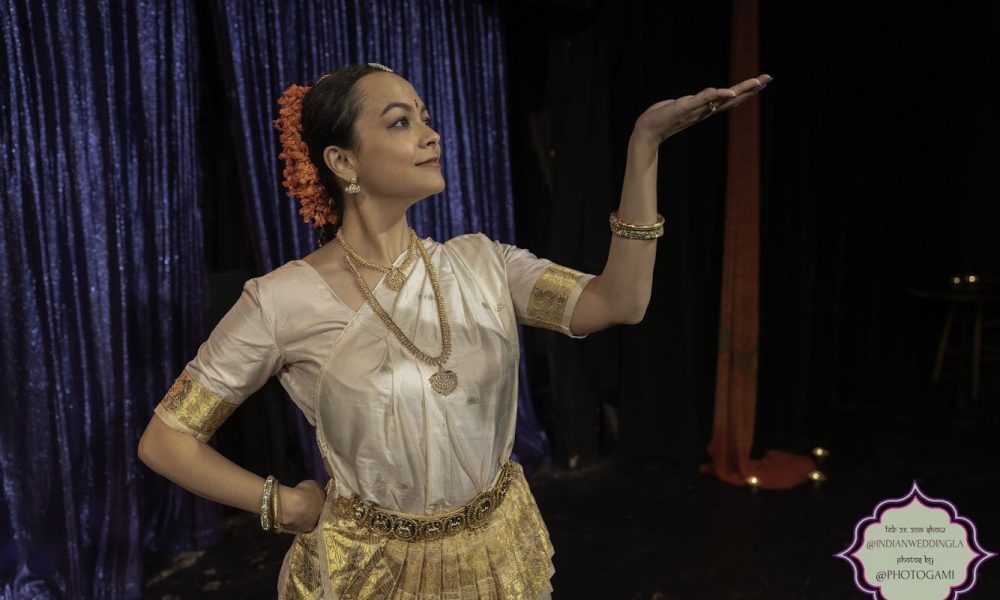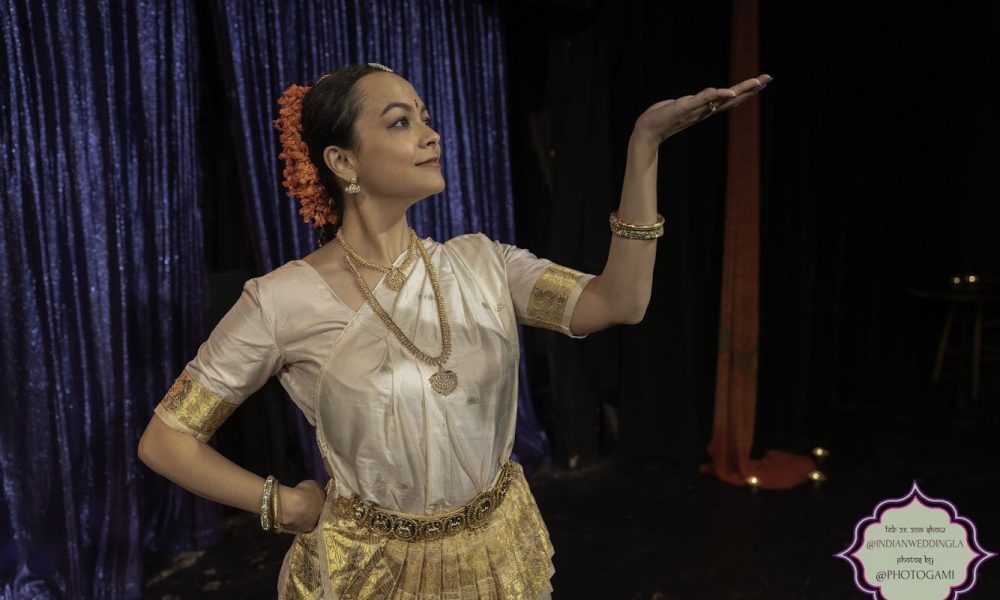 Today we'd like to introduce you to Anne Akhila.
Thanks for sharing your story with us Anne. So, let's start at the beginning and we can move on from there.
As early as I can remember, I've been singing or dancing. My grandmother, originally from Bangalore, South India, was a Carnatic (South Indian classical music) vocalist and composer. She taught all of her daughters, including my mom, and when I came into the picture, I was not excluded! I would accompany my grandmother and mother in shows throughout New Jersey, where I was raised, and New York, Pennsylvania, Maryland – so basically the east coast Indian scene. My mom noticed my feet tapping to the music before I turned five and thought I needed to do something with those on-beat feet. I tried one day of ballet and literally screamed and ran out of the class. She then found out that the famed South Indian actress, Padmini Ramachandran, was teaching Indian classical dance (Bharatha Natyam) in New Jersey. She took me to my first class and I fell in love with it. It came naturally to me and I felt more at ease dancing my way through classical songs than singing them.
While in school, I was bullied a lot for being me: the brown girl at school. When my mom would come to school to pick me up, I'd panic because I didn't want any of the kids to hear her speak with her Indian accent. I did not want any evidence of my vibrant Indian life to make its way to my school life. My worst nightmare happened in elementary school when my mom arranged me to dance at a school event. Everything that you'd think would happen happened. During my dance, kids stood in the back and mimicked me, I was called "dot head" and kids would try to move their heads side to side, followed by laughter when they saw me in the hallways. All of it was just so unfortunate because outside of school, I was a different person. At the temples, I was a dancer and singer – a pretty confident one, too. Other kids babysat and I made money getting hired to dance at weddings and community events. It took me until senior year of high school to gain the courage to try out for a musical, where I fearfully knew every one of my bullies would see me on stage and have an opportunity to torment me. I am so happy I auditioned and got to sing and act on stage. It was a truly happy moment for me. All the while having their classes supremely underfunded, my music and art teachers worked hard in their classes and made my life in school tolerable and even exciting during those 50-minute blocks.
I don't know how my mom did it, but even as a single parent, she managed to keep me busy in a lot of after school things. Looking back, I think she did it knowing how miserable I was at school. Besides Indian dance, I took voice lessons, joined a touring kids performing group, taekwondo classes, played clarinet and baritone saxophone, and got some acting classes in, too. When I was 13, I performed a one hour solo dance show at the Indian Embassy in Prague; at 14, I performed at Alice Tully Hall in Lincoln Center, and I can tell you right now, if I were to tell my mom I had to fly across the globe to dance (literally anywhere), she would be packing our suitcases.
In college, I kept dancing, teaching dance, and performing and started doing a lot of background acting in films – with my mom! I grabbed solo photos of us, had them enlarged, made resumes for us, and submitted us for roles in movies…all on Craigslist (this was the early 2000s, and so many projects cast from Craigslist unbelievably!). Now, all of this I did while getting my B.A. in English, with the hopes of getting into law school. Didn't see that one coming, huh? I've always told people, there are two sides of my brain: one side wants to create art all day and night, and the other side wants justice and to help people. I thought law school could help me to help people. I did not get into law school the first time I applied. I was devastated. I used that time to keep dancing and even got a job as a paralegal, and then HR manager.
It was sometime around then that I found an ad looking for Indian dancers for a Bollywood/Hollywood film called Karma, Confessions and Holi, starring Sushmita Sen and Randeep Hooda (2 actors I had long admired). I auditioned and booked the part. I was excited but while rehearsing, found myself wondering if I could do more. I asked the film's director at every rehearsal if I could be considered for any roles. The answer was "no" until one day it became "yes." I got to play Randeep's little sister and I could not have been more thrilled!
After that film, I submitted my mom for a film called Karma Calling, also shooting in New Jersey (All of that karma was really helping, I guess!). After she auditioned and booked her role, I asked if I could audition for a part and I proudly booked myself a one word role. Those days on set meant a lot to me. The hours are brutal and it's exhausting but the magic was always there for me.
While still in New Jersey, I found myself auditioning for the Andrew Lloyd Webber musical Bombay Dreams. This was the ideal project for me at the time. Dancing – singing – acting – on Broadway – to Indian music?! C'mon! I auditioned and got several callbacks but unfortunately, it was a no-go for me. But that experience did not shake the dream.
I finally got into law school on my second try. But it meant I had to leave New Jersey and New York life. I left for Baltimore to start law school. It was a tough three years (that good old economic recession hit us then, too). My mom would call and ask me if I had any dance performances lined up. My response was something like, "mom, you know I'm in law school, right?" And she would say "so?" And I knew she was right. So, what? I found my way to starting South Asian cultural programs at the school and made sure I was dancing a few times a year. During this time, I felt a big need to find a way to act and a friend suggested improv. I had only done it once in high school but remembered loving it.
I began classes at the Baltimore Improv Group and it felt like I flew through their classes as I was having the time of my life. I eventually auditioned for a main stage performer spot and found myself performing a few nights soon after. After law school, and after taking the Maryland Bar exam, I found my day job, just that. A day job. I was good at it but knew my real love was in being on stage in front of the camera. My husband, also a creative soul, was making video games and I was filling my days with dance and improv. Fast forward through love, marriage, and a pregnancy and my husband was presented with a job offer in Los Angeles. We knew we had to take this big cross country chance, and we did. But the promise I made to my husband was to pursue my dream of acting and creating art as seriously as I possibly could and devote my life to it.
So here I am now, in Los Angeles, six years into a real acting career, and I couldn't be happier. When I moved to LA, with baby in arms, my mom came with us, so I could pursue this journey. I began classes at UCB, received several diversity scholarships and finished the improv course there. I then enrolled at The Baron Brown Studio, where I studied Meisner acting for two years, and poured my soul into learning dramatic acting. Those were some transformative years! It was while I was in school here that I auditioned for my first lead in an indie feature film, all while submitting to auditions on my own and booking things here and there. I booked the feature and it was one of the most beautiful processes I got the pleasure of taking part in. Working with Nick Psinakis and Kevin Ignatious on My Best Friends Famous was a dream come true.
I then auditioned to get into The Groundlings and also received diversity scholarships to take improv classes there. After taking advanced improv, I received the NBCUniversal scholarship to take Writing Lab. I auditioned for a sketch team at The Westside Comedy Theatre and am proud to be on the team, There Will Be Snacks.
I look back on my hustle in those early days, and I'm proud to say it hasn't gone anywhere. During all of the hard work to become a working actress, I became managed by A&R Management and represented by Aqua Talent Agency for commercials.
I can only imagine what my childhood bullies are doing now, but I like to think with hard work, they are finally able to move their heads from side to side.
We're always bombarded by how great it is to pursue your passion, etc – but we've spoken with enough people to know that it's not always easy. Overall, would you say things have been easy for you?
I don't think I know anyone who has had a smooth road to success, because if there are any out there, I'm not one of them. Also, although I consider every booking, every self-discovery, and every new skill I learn a success, it's not the ultimate success I'm looking to achieve. My road took me to a completely different career first. Going to law school and becoming a lawyer is not something I regret. I get asked about that a lot. Being a lawyer contributed to the person I am in so many ways. I have lots of opinions about the material I work on, a perspective that comes from someone who has represented knocked down people, desperate mothers looking to get their kids away from predator fathers, small-town banks, widows, and even alleged murderers. I'm glad to say I'm not someone who fell off a turnip truck getting here, meaning, I'm not prone to being taken advantage of, I have a sharp brain that helps me (over) analyze and I'm not willing to do anything degrading to get where I want.
But, do I wish I could have started out here in Hollywood earlier? Sure do. I'm a little older than the women going out for the same parts, and that has its advantages and disadvantages. I like to think I bring a layered and lived-in life to the characters I play, and also, hopefully, a positive person to have on set.
Being a mother has brought its own set of struggles as I'm sure other parents out there reading this can understand. I remember a short film that I had booked early on in Los Angeles, where I was still nursing my son. I would be in scenes and feel my discomfort grow because I needed to nurse. I brought my pump to set, didn't tell anyone, and just asked if I could use a room while on breaks, and pumped milk. One day, while everyone else was on break, I think I ran home to nurse my son and immediately drove back. Leaving my son to be on set all day can be heartbreaking and setting that sadness aside so you can pretend to be someone else is a very hard thing to do, but I like to think I've gotten better at it as he's grown older. Or maybe not.
We'd love to hear more about your work and what you are currently focused on. What else should we know?
I am an actress, dancer, improviser, writer and singer. I am a biracial woman (she/her). My mom is from India and my father, who I never knew, was Jewish and white. Commercially, I'm fantastic for the "ethnically ambiguous" category, and love playing moms, sisters, daughters, girlfriends, wives, doctors, nurses, lawyers, and friendly representatives. Theatrically, I am good at playing the sweet girl next door who then gets dumped, the honest and good woman you want to come home to, but also I can play crazy goofy parts and completely surprise you with that Linda Cardellini spirit.
I'm not just proud of being a hard worker but also for being someone you will sincerely want to work with, time and time again. Making a film is hard enough; you don't need an actress on set who you dread coming into contact with everyday. Not only will I make you laugh in between takes while we talk about last night's Lovecraft Country or The Simpsons reruns I'm always watching, I'll bring my famous can-do attitude with me, and maybe even some of my famous vegan chocolate chip cookies.
Has luck played a meaningful role in your life and business?
I'm not sure how much I believe in luck compared to working my tail off at building skills and networking and then seeing results appear. When I think about the things, I've achieved in my life, each and every time it was from something, I put forward with clear intention and drive. I will say, I think of luck when bad things happen. For example, I recently said, "wow, just my luck that as soon as I start to make some strides with my career, the whole country shuts down." But this isn't about me. I'm not the only person who has been affected by the coronavirus. It's a negative outlook that doesn't serve anyone anything. I had my moment of boo-hoo-ing myself, ate a cookie, and woke up the next day to get right back to it.
Contact Info:

Image Credit:
Yutack Kang
Suggest a story: VoyageLA is built on recommendations from the community; it's how we uncover hidden gems, so if you or someone you know deserves recognition please let us know here.