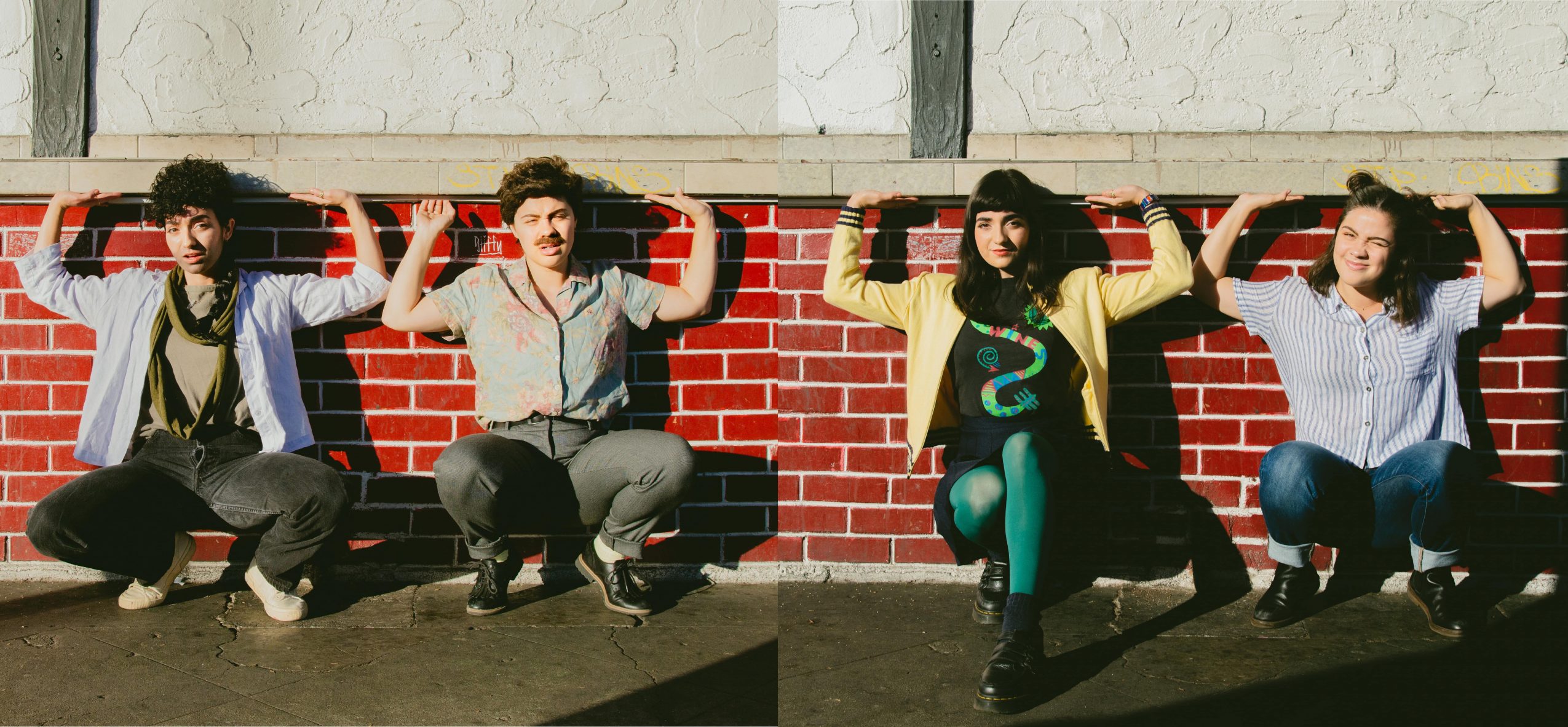 Today we'd like to introduce you to Anna Garcia and Gabrielle DeCaro.
Anna and Gabrielle, can you briefly walk us through your story – how you started and how you got to where you are today.
Together: Our story! Wow, no one's ever asked us this before!
Anna: Well, hmmm. Gabrielle and I both went to the University of Michigan.
Gabrielle: We didn't actually meet at Michigan though, we really met for the first time at Becky's Christmas party.
Anna: We both had vague ideas of who the other person was like I definitely had stalked Gabi's Instagram.
Gabrielle: Yeah, and I definitely saw Anna's first film and thought, like, "Who is this person?"—Her work made me laugh a bunch.
Anna: And I hated Gab's first film.
Gabrielle: *eye roll*
Gabrielle: Anyway. We met at that party and courted each other like it was the 18th Century.
Anna: Correct. We exchanged scrolls/phone numbers and I think we both secretly knew we wanted to work together. We were texting about getting coffee and I think I was like "we should write something" and Gab replied, "yeah like we should just play brothers!" And before you know it, we were tippity tappin' away in The Bourgeois Pig in Franklin Village a couple of times a week, writing our series, The Pembrook Brothers!
Gabrielle: We wrote mostly in that stuffy dark room that looks like the Rainforest Cafe. You know the one.
Anna: And I had a lot of chocolate croissants.
Overall, has it been relatively smooth? If not, what were some of the struggles along the way?
Together: Did we have any obstacles? ahahahahahahahahahahahahahahahahahHahahahahHAahhahahHAhahahahahahahhahah
HAhahahHAhahahahahAHhahahahHAhahahahahHAhahahahahahahahahahahahahahahahahahah
HahahAHahahahahahahahahahahahahahahahahahahahAHahahahahahahahaHAahhahahahah
HAhahahahahahahahahahHahahahahahaha.
The Pembrook Brothers – what should we know? What do you do best? What sets you apart from others?
Anna: Well, Gab and I are both filmmakers—we both had an innate desire to make some crazy shit and we knew it when we met.
Gabrielle: We both come from different backgrounds, I studied dance and visual art for years before working in TV/film.
Anna: And I was a film major, which no one saw coming. I SHOULD HAVE MAJORED IN EGGS!
Gabrielle: Anna, stop!
Anna: Okay.
Gabrielle: We knew we had different styles but together we shared a clear vision of what we wanted our show, The Pembrook Brothers, to be.
Anna: Oh yeah, our show! Have we even talked about this thing yet? Let's do that. Basically, Gabrielle and I set out to make a tiny TV show. We both play men, it's half animated, and we both wrote, directed, edited, produced, and acted in it. It is our child.
Gabrielle: There's original music, there's choreo, montages up the ass, it is chaotic good.
Anna: To make it happen, Gabrielle and I fundraised 13K through Seed and Spark on our own, which was chaotic evil. BUT WE DID IT! And we are so grateful.
Gabrielle: Until this show, neither of us had any experience whatsoever with producing. Now we wear tailored suits and noisy shoes everyday.
Anna: It's true! We've had a lot to do. But we do it because we really love our show. This project was a blast for us and kind of combined all the things we like. For example, we both freaking love puppets and animation and fighting gender stereotypes.
Gabrielle: Oh yeah baby! In this world, there were no limits to what we could make and we relished in that. We kept growing and building off of every crazy idea we shared, and eventually the show grew to be a universe of its own.
Anna: And now…. It exists on YouTube! Literally anyone can watch it.
Gabrielle: Each episode is teeny tiny and it's not a pain to watch.
Anna: It's fun!
Gabrielle: It's fun.
Anna: We decided pretty early on that we wanted to release it on YouTube, which is a new beast to both of us.
Gabrielle: It's like mailing things to the Bermuda triangle. You never know who's out there, what's going on, who will find your URL.
Anna: But YouTube is a good space for new content because of the no-rules thing we mentioned before. We wanted to make something that has never existed online or anywhere else. Our show really fucks with format, the audience, and visuals in a crazy freakin' way. We're proud of it for that.
Gabrielle: And I had a lot of chocolate croissants.
What is "success" or "successful" for you?
Anna: Success who! I think the success for us was accomplishing it. If anything comes after, we'll be like, really? Cool.
Gabrielle: We are just so glad our work exists now. We know it's not for everyone, but we think the people that enjoy it, really enjoy it.
Anna: Our show's art director Karen said that this show may not be everyone's alcohol of choice, but it'll be someone's shot of Whiskey!!!!
Gabrielle: Who wants to get drunk, I'm driving.
Contact Info:

Image Credit:
Photos by Sara Cath, Zack Arch. Poster design by Anna Lian Tes. Animation by Leah Dubuc.
Getting in touch: VoyageLA is built on recommendations from the community; it's how we uncover hidden gems, so if you know someone who deserves recognition please let us know here.