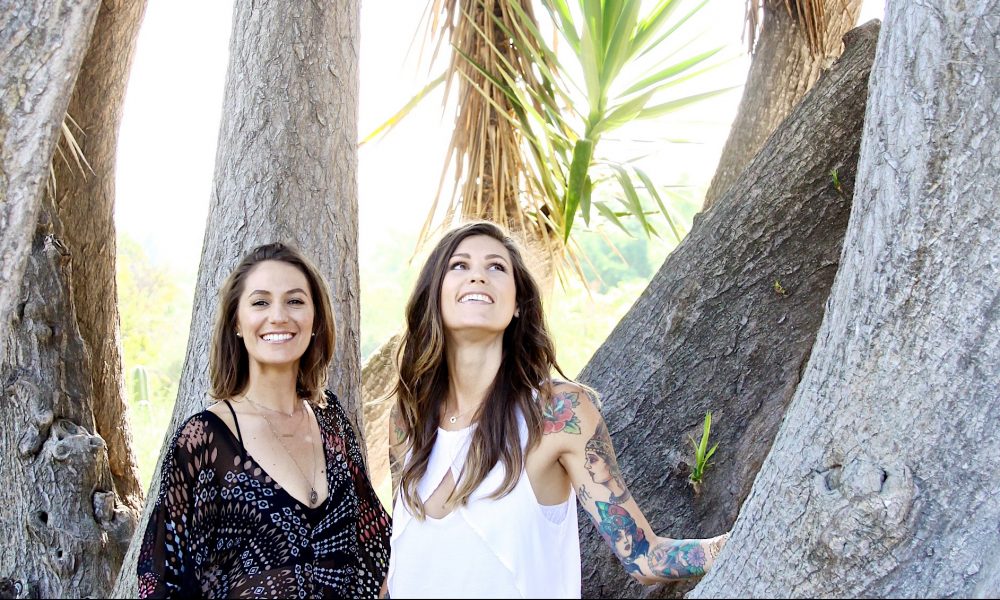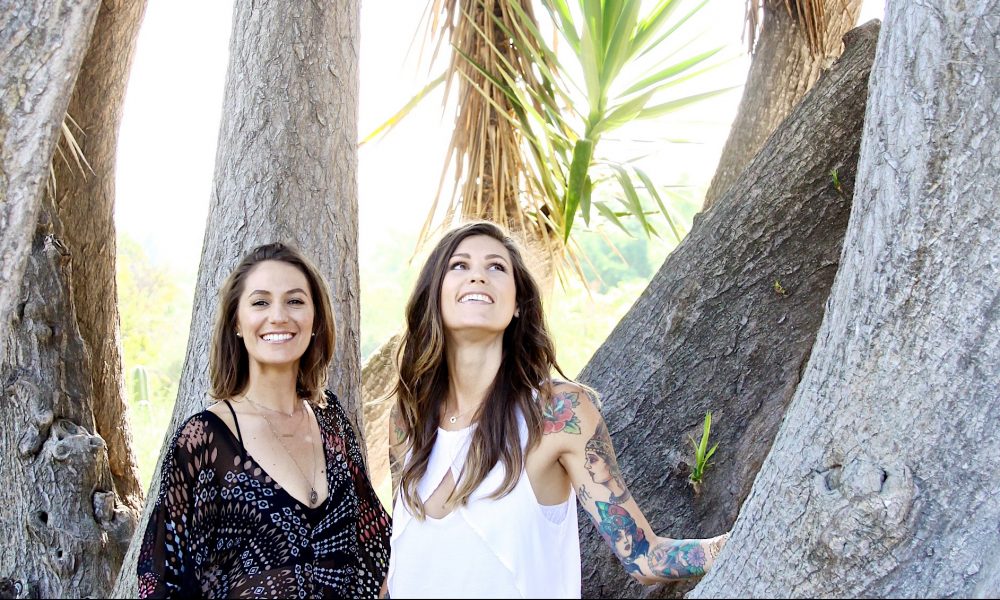 Today we'd like to introduce you to Anjale Perrault.
Thanks for sharing your story with us Anjale. So, let's start at the beginning, and we can move on from there.
This is a pretty crazy story. Every time my partner, Christine, and I talk about it we find ourselves in awe, or cracking up, or pinching ourselves that it really unfolded the way that it did. Two years ago I found myself unable to shake the feeling that I was on the precipice of a really big shift in my life. I was 35, had a successful art studio and a beautiful family… yet I was clear that everything I had worked so hard for up until that moment had been preparing for my real purpose on the planet.
Little did I know that Christine had been feeling the very same thing. For a couple of weeks, I had been asking the question in meditation "How can my human hands be of service?" and one day a voice said clearly in my ear, "Raise Your Vibe." For the next week I shifted the focus of my meditation and began asking about Raise Your Vibe, and this time Christine kept coming to mind. That, in itself, was hard to explain – Christine was a friend that I rarely saw more than once a year through mutual friends.
It took everything I had to build up the courage to call her up, and on the morning we talked I honestly couldn't stop sweating. My heart was pounding out of my chest. As the story about the voice in my ear and her being my business partner came out of my mouth, it honestly felt insane. She was a super high powered corporate officer in the aerospace industry, and I was the owner of an art school who homeschooled my sons.
Plus, I wasn't even clear on what I was asking her! All I had was a name – Raise Your Vibe – and a knowing that this was a space for us to explore our spiritual journeys and help others along on theirs.
So when her response was "Hell yes" I kind of lost my shit. She not only said yes but also told me that in just a couple of hours she had planned a meeting with her boss to tell him she was ready to phase out of her 20-year career in aerospace. It turns out that she had experienced a Kundalini awakening a month before, and afterward nothing in her world looked the same. Everything that had mattered – the success, the accolades, the money – it was empty.
She knew that there was so much more to life, but had no idea what it was. The fact that I called her that very day blew our minds and showed us that we were on the right path. We knew at that moment that something huge was being born, and we were beyond excited to figure out what it would become.
That night Christine woke up with the clarity that Raise Your Vibe was a movement… a place to rally for unconditional love, spiritual depth, and the connection between all of humanity. Our journey from that moment has consisted of a long string of trust falls, leaps of faith, and totally heart-based decisions. We renovated a barn in Palos Verdes and had been holding monthly events there ever since.
We've hosted intention setting circles, cacao ceremonies, breathwork sessions, yoga classes, Ayurvedic cooking lessons, chakra workshops, crystal grid classes, family mindfulness camps, full moon circles, and fire ceremonies. This fall we held our first-weekend retreat in Ojai, and are looking forward to our next 6-day retreat in Costa Rica in March of 2019. We are in the process of birthing our virtual offerings, which will include a podcast and online programs – both pre-recorded and live.
To think that all of this has happened in the last year and a half is crazy. The truth is that it's been such a gift to us. We've learned so much about how to serve the planet, humanity, and Source. When we just offer ourselves up as vessels for divine good everything else seems to fall into place effortlessly. And now it's become the only way we could ever see ourselves doing business.
Has it been a smooth road?
You know, it's kind of crazy to think about the word "struggle." I think that one of the greatest lessons Raise Your Vibe has taught us is to PAY ATTENTION when "struggle" comes into the picture. If ever there is a moment when we feel like we are running up against a wall, we take that as a message that we are not in the flow of what the Universe intends for us to be doing.
In order to have a true read on this, though, we know that we have to be doing our daily work of meditating and separating ego from the decision making process. For example, we have a hundred ideas of things we would love to do – events to create, programs to launch. Sometimes we get super fired up about an idea, only to realize that our team doesn't possess the skillset to create and carry out the vision.
Instead of taking it upon ourselves as the business owners to step in and make it happen, we instead just release the idea to the Universe and shift our focus to a project that feels "easy" for our team using the skillset that we currently have available. Inevitably, time and time again, someone eventually shows up with the capacity to carry out the project that we had envisioned.
By allowing ourselves to be in the flow of the present moment, we can be open to what's right in front of us, instead of forcing a vision that our egos really want to see fulfilled.
The pattern that we see happening over and over again is that, in due time, the business builds itself, every piece falls into place, and we can continue to trust that there is a new way for conscious entrepreneurs to balance their desire to create love in the world with a business model that fills them up in the process. For us, the days of hustle are over.
We'd love to hear more about what you do.
Raise Your Vibe is a movement that strives to raise the conscious awareness of the individual so that we can then go out and collectively raise the vibration of the planet. We connect soul-seekers to one another through sacred events focused on spiritual growth and exploration; knowing that when we band together as one, we are able to amplify our own intentions and shift the energy in the world on a massive scale.
While our events take place all over California – and soon internationally – the one thing that always stays the same is our focus on creating sacred space to allow growth and connection to take center stage. We all know what it feels like to walk into a bar versus a yoga studio, right? There is an energy in each of these places that have been created by the people who have left their energetic marks on the space.
Our job as the founders of Raise Your Vibe is to always create a space that is safe and sacred. Anyone who walks through the doors of an event is met with unconditional love, support, and understanding that we are all cut from the same cloth. Ethnicity, religion, social status, age – these are all markers that vaporize when we acknowledge one another as members of humanity.
We create a space for all who gather to be seen as tribe… to be loved and worthy as they are in the present moment… to step into the alignment needed to live their most authentic life. When we focus on keeping this as our most important task, the events unfold magically, and everyone is able to get exactly what they came for.
So much of the time teachers and facilitators focus on the knowledge that they plan to impart, or the schedule being perfectly on point. We focus on how people are going to feel when they walk into the room, and how we hope they will feel when they walk out. It's like a complete sensory overhaul.
When you are surrounded by beauty and the unconditional love of your tribe for a few hours, a little piece of this goes home with you. You are changed. And if you keep showing up, time and time again, then the growth and healing gets deeper and deeper, and you are able to cultivate the same sacred approach to life that we offer at our events in your own daily life.
It's as if we provide you with a safe space to practice showing up as your highest version of self – without criticism or judgment. And we hope that you take with you just enough self-love and courage to continue shining that beauty in the world when you're back in the setting of your own life.
Is our city a good place to do what you do?
Los Angeles is a mecca for soul searchers, for sure. There is no shortage of people who are interested in what we are up to, or of similar businesses focused on spiritual growth. Because of this, it was very important for us to build an identity based on what we wanted to offer to the world rather than on what was already swirling around in LA.
So while many startups would begin with market research and business planning, we went the completely opposite direction. We started by meditating – asking to Raise Your Vibe what she wanted to become. We booked events before even having a plan, and took the time to feel into the flavor of what we had to offer our tribe.
Our mission is to stay true to our own vision and give ourselves to the world in the unique way that only we can. In this space, it becomes less about physical location and more about attracting the tribe that speaks your language.
Having said this, we have a growing awareness that our reach is meant to spread far beyond LA. It's such a huge blessing to live in the information age, where virtual programs are accessible to people all around the globe. We look forward to this next phase of being able to support our tribe on a larger scale.
Contact Info:

Image Credit:
Alice Kuo-Shippee
Getting in touch: VoyageLA is built on recommendations from the community; it's how we uncover hidden gems, so if you know someone who deserves recognition please let us know here.