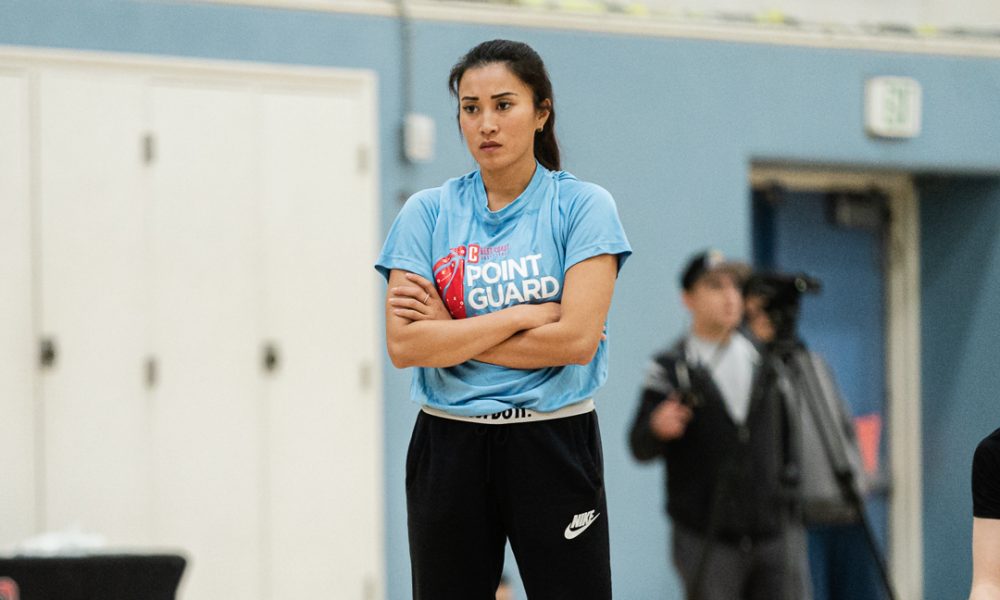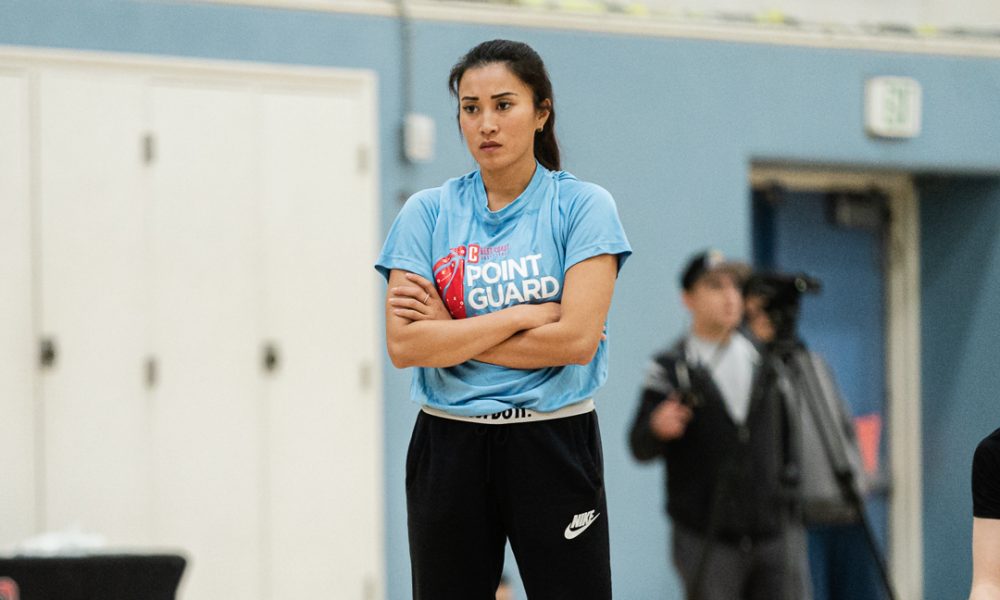 Today we'd like to introduce you to Anh-Dao Tran.
Thanks for sharing your story with us Anh-Dao. So, let's start at the beginning and we can move on from there.
I did not realize my true love for basketball until I realized that it was the only thing that brought me peace when everything seemed very hectic. It all began at local parks in Worcester, MA, where I picked up a basketball at the age of 13 and started playing street-ball. Of course, at first glance, none of the players, mainly boys, wanted me on their team. I remember going from the last picked to the first pick for a game of pick-up. I fought for respect of the players at the park and I would not stop playing and practicing until I was deemed "good enough" to play with the boys. I've developed life-long friendships through this game and I continue to meet amazing people through this game. Basketball has always provided endless opportunities for me to grow and inspire change in the world. I began playing organized basketball in fourth grade and little did I know that my life was about to change.
How did I get to where I am today you ask? Here it goes. It was not a solo journey, nor would it ever be because it takes a village and an amazing support system. My successes are never truly mine because I would not be where I am today without the love and support of my family and I think that is very important to remember. I am a first-generation Vietnamese-American who held onto the dream that I would make my family proud one day with the God-given talent I was blessed with. Coming to America, my parents only had the clothes on their backs and very little means. Their sacrifices, which are far beyond what my mind can grasp, will never be overlooked or under-appreciated. My father worked all day and all night just to provide a roof over our heads and food on the table. My mother stayed home to take care of the children, all 3, at the time. We are now happily a family of seven.
I attended St. Joseph's School in Webster, MA from K-8 grade. Trying out for basketball in 4th grade, I made the JV and Varsity team. At the time, I did not know what that meant except that I was fortunate enough to play in two games instead of one. To be honest, looking back, I still feel what I felt at the time, which was pure happiness that I was able to play the sport I love. High school came around and I went on to attend Holy Name Catholic Central High School in Worcester, MA. Freshmen year I made the Girls' Varsity Team and we won the District Championship that year under the leadership of the upperclassmen whom I had the honor of learning from and competing against to be better. During this time, I was asked if I was interested in playing travel basketball (AAU) and in my head, I was thinking, well what is that? I know, it sounds silly, but all I knew what school, church, and home. I asked my parents if I could participate in travel basketball and they said yes because they knew how much basketball meant to me. I was ecstatic.
A year goes by, I am now a sophomore and this was where life changed. Basketball wasn't just a sport anymore it became my livelihood. I was offered my first full scholarship as a sophomore after one of the AAU tournaments. I remember the exact moment and feeling in Coach's office when he said those words. At first, I was confused and sort of, in disbelief. Following that, I looked at both of my parents and I have never seen them so happy to hear those words, that I would be able to go to college on a full athletic scholarship. That was the moment I decided that I needed to give this thing everything I had inside of me so that I could keep that opportunity and pursue that free education. The opportunity, the sole reason they sought out a life in America, for us. I could not and would not let them down. My junior year begins and as my AAU season ends, with the help of my coaches, I signed my National Letter of Intent to the University of New Haven (UNH) in the Northeast-10 Conference to play under Coach Jessica Smith. I am where I am today, not just from the support of my family, but also from the support of Coach Smith. With all of the college coaches reaching out during the recruiting process, I felt stuck. I wanted to go everywhere just so I didn't have to disappoint anyone. In hindsight, I made the best possible decision for myself which was to play for a coach who saw me not only as an athlete but as a person and still, to this day, has my back. I was the captain, along with two other teammates, my junior year at UNH, made the All-Rookie Team, and was MVP for two seasons.
A coaching change occurred and I decided to transfer to Adelphi University, which was at the same conference. Consequently, I had to redshirt my senior year where we made it to the Northeast-10 Championship game before falling short. Being on the bench was hard but I knew it was a reason and that our time was coming. The following year, 2015-2016, we won the program's first Northeast-10 Championship and I was awarded the Championship's Most Valuable Player, made the All-Championship Team, ECAC Division II Women's Basketball All-Star and received WBCA All-American Honorable Mention. We were the Southwest Division Champions from 2013-2015 and my team ranked in the top 10 of the USA Today Division II Women's Basketball Top 25 Poll. Now, none of these accolades would have been possible if it weren't for the support of the team, school, the coaching staff, fans, and family.
After an upset in the first round of the NCAA, I felt a hole in my heart. I decided to give playing basketball another chance because I knew I would regret it if I did not try. I worked tirelessly getting thousands of shots up a day and going to the weight room to work with our strength and conditioning coach just so that I would be prepared when the opportunity came IF it ever did. I did not believe in combines (simply because I could not afford to attend one) so I relied strictly on my game film and highlight reel. Fortunately, it was good enough and I signed with an agency so I had an agent to represent me overseas. Months go by and the summer is nearing the end and I finally receive the email I've been working so hard for day in and day out. A team in Germany wants me. I pack up my bags and fly out the next week to a new country I have never been to.
The experience of playing professionally in Germany will always be close to my heart because I have met amazing people on that journey. After a season, I decided to return and finish my master's program that I started. Three years later working as a full-time Math/Science Teacher, Coach, Advisor, and Dorm Parent at a boarding school in Connecticut, while finishing my masters in December 2017, I decided to move to California where I currently reside and where I am currently employed as a full-time High School Math Teacher and Boys' Varsity Basketball Coach. Aside from my full-time job, I am part of the Best Coast Basketball program and a skills trainer and Camp Director.
So, I guess to sum it all up, my parents modeled to me what hard work looks like and encouraged me to always do what I love to do. I had very inspirational coaches and mentors that believed in me when I did not believe in myself and with hard work and perseverance, I was able to.
Overall, has it been relatively smooth? If not, what were some of the struggles along the way?
There were many struggles along the way that made way for better opportunities. Being an "Asian-American" female hooper in itself was a struggle but it improved as I got older because I learned how to deal with people. Holding a full-time position as a High School teacher at a College Preparatory School has many responsibilities as well. Now, think of adding personal schooling for yourself at the graduate level. In the midst of it all, looking back, I loved every minute of it. I have a passion for hard work and doing what is necessary to become the best version of myself so that I can be the best for my students, athletes, family, etc.
There are many takeaways from my journey thus far and here are a few thoughts: Never be afraid to use your voice and believe in yourself. Always be kind to everyone because you never know what someone is personally going through, take care of the little details because those build up to the larger picture. The decisions you make daily ultimately form who you are and how you do anything is how you do everything.
Please tell us about your organization.
Best Coast Basketball is a basketball resources organization providing training, tournaments, camps, and clinics both nationally and internationally. We pride ourselves on providing high quality, first class experiences by focusing on the details. We believe that teaching the details of the game and expanding on the "why" is critical to the athletes' overall knowledge of the game and makes a significant impact on a player's development. Our camps include some of the top trainers & coaches from across the country, all of whom share similar, if not the same, values when it comes to teaching the game. Our tournaments are well organized, punctual, and competitive. We strive to provide the best environment & experience for all tournament participants and spectators.
We understand that our consumers have plenty of choices to choose from, so we seek to provide the best value-added possible while maintaining our detail-oriented approach.
Any shoutouts? Who else deserves credit in this story – who has played a meaningful role?
My success, as stated before, is not truly mine. I owe it to my parents who made sacrifices that are far beyond my knowledge, to my family who went to my basketball games to show support, to the coaches that believed in my ability to play basketball and to bring out the best in my teammates, to the supporters and fans who continued to follow my journey well beyond my playing career. It wouldn't feel right to single anyone out for the fear of forgetting someone important, so I will keep it short and sweet.
My parents played the most important role in these successes and that was just by being my mom and dad. They were not my coaches, math teachers, science teachers, etc. They didn't try to be either and I am eternally grateful for that. I can recall after basketball games, we would be in the car and it would be silent. I enjoyed that silence because it was a time for me to reflect on the game, win or loss. After games or practice, we would talk about anything else other than basketball and it was fantastic because oftentimes, I would just need a break. They understood that I was already taken over by emotions from the game and they let me be me.
Contact Info:
Address: 15910 Ventura Blvd. – Suite 1701
Website: www.bestcoastbasketball.com
Email: info@bestcoastbasketball.com
Instagram: @anhdao.hoops / @bestcoastbasketball
Image Credit:
Arthur Puu, Jineen Williams, Irvin Garduno
Suggest a story:VoyageLA is built on recommendations from the community; it's how we uncover hidden gems, so if you or someone you know deserves recognition please let us know here.