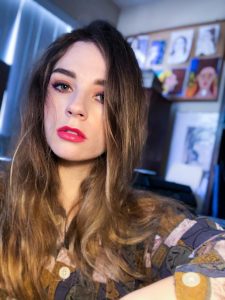 Today we'd like to introduce you to Angel Marina.
So, before we jump into specific questions, why don't you give us some details about you and your story.
I'm a 27 years old single-mother, a survivor of domestic abuse, and that's just a small glimpse of the crazy chaos that has been my life.
My parents were teenage drug addicts with mental health issues. At one point, I was living in a warehouse with needles on the ground, barely 3, changing the diapers of my baby brother, unsupervised. My childhood was filled with neglect and trauma, but I always felt motivated to push forward, survive and succeed. Life kept throwing curveballs at me, though! I found out I was pregnant when I was 20 and next thing I know, I'm married and living with a physically abusive husband. That was just the beginning of that curveball, which ended with me being a single mom.
Through it all, I continued to push myself through school and accomplished a lot – but something felt missing. I felt the need to express myself creatively, and even though it was something I always loved, it was something I felt like wasn't "practical" to focus on, if I wanted to survive. I didn't have anyone else I could rely on other than myself, after all. However, once I finally submerged myself into art, I discovered how important it is for me to feel like I'm myself.
I find great peace and excitement all at the same time working on visual art – my focus is painting and exploring different textures and mediums. Soon after I started, I got an offer for a commission and a lot of general interest in my work, which has been incredibly encouraging. I also am working on songwriting, teaching myself piano and guitar to go along with my singing. I do it mainly because music has played a major role in me coping with the traumatic experiences I've had but I've been surprised at many who have been encouraging me to make more music! I'm also authoring a book about my childhood experiences. Basically, my life is busy but full of creativity and passion!
Has it been a smooth road?
My entire childhood was one long traumatic experience. My parents were teenage drug addicts with mental health issues. When they unsurprisingly couldn't make it work, I went along with my mother where I was subjected to drug dealers, violence, sexual abuse, and neglect. I lived in dangerous conditions, including a warehouse with drug needles covering the floors. My mother had several children with different men and I remember changing their diapers and trying to run away with them, even though I was only 3 or 4 myself. Eventually, my father was awarded custody of me, but the crazy instability of my life didn't end. My father was very intelligent and pushed himself all the way into graduate school, but struggled with alcoholism, erratic behavior, and schizophrenia. Eventually, I settled down in early adolescence with my grandparents, who couldn't handle the issues I struggled with from trauma and so I had to handle them myself.
Even when things settled down, I struggled to connect with my peers because I didn't have parents and I witnessed darkness they couldn't understand. This led me to be more likely to connect with people with their own darkness – people who weren't necessarily as successful in moving forward with that pain. I pushed myself really hard through school struggling with untreated PTSD that led to immense depression and insomnia, convinced I had to power through on my own, but I look back and really wish there was someone teaching me how to take care of myself, be gentle towards myself. My history of trauma and sexual abuse and lack of a stable environment made me more likely to be a victim of sexual assault and early pregnancy – it's not fun being another statistic.
I pushed myself through AP courses and got an IB diploma. I went to college, got a job, and moved out in order to avoid the lingering chaos of my family, only to then discover I was pregnant. I felt I couldn't go back to my family, and I was working two jobs and going to school full time, fully supporting myself and my boyfriend at the time. I decided to be practical and move in with his family, and they preferred we got married. I find myself living with an emotionally abusive mother-in-law and a husband who is struggling with alcoholism and anger – anger that he turns on me verbally and physically. The first time he choked me, I was nearing six months pregnant and I didn't know what to do, and just as I started to black out he stopped. That wasn't the end of it.
We moved out and I thought maybe, out from his parents, he'd get better but that was denial and naivete speaking. It only got worse, with no one around to stop him. I remember the time he hit me – he slapped me once, paused and I could see that he liked how it felt, and then he hit me again, as hard as he could, so hard I couldn't get back up for the longest time. I took a picture. I didn't know what to do. He promised to be better. The next incident, him drunk, him trying to choke me and threaten to kill me and my daughter if I dare act out against him, I asked my uncle for help and I left him. It was scary and the best thing I ever did. It was right before my daughter's second birthday and I became a single mom.
I pushed through surviving domestic abuse and pushed through being a single mom. I pushed myself through finishing my undergraduate degree, I pushed myself through a masters degree, and then realized that I've been pushing myself so hard to survive, I didn't stop to really think about what I want, what makes me happy, and who I am. For me, that's creative expression. I have to make art, make music, and write in order to feel content and like I am truly myself. I've recently begun painting to which I've received extraordinary support and encouragement from friends and peers. I've been working on songwriting, which again, I've been greeted with strong encouragement. I'm working on a book about my childhood and so many people have been pushing me to finish it and want to read it. Ever since I accepted how important art is to me and fully embraced myself in that way, the encouragement and opportunities have started to open up for me. All I want to do is create and I've been so grateful for the love and encouragement I've been receiving from friends and strangers alike.
I can't imagine living in a world with smooth roads! My life has been nothing but struggles along the way. I didn't have stability and I couldn't rely on safety or that "things will be okay." This made me determined to take care of myself, to rely on myself, to prove to the world that I wouldn't be squashed. The struggles and bumps keep coming – they always will! I only learn more and grow stronger. And now, I have more and more people surrounding me who are encouraging and want to see what I'm made of!
Please tell us more about your art.
I'm an artist, expressing myself creatively through visual arts, songs, and writing.
In visual arts, my focus currently is with painting, primarily with acrylics and watercolor so far.
I'm especially interested in exploring textures and using various mediums to accomplish different effects. For example, I'm currently in the middle of a series based on the body. So far, I have a ceramic stucco heart sliced with razor blades and a crackle paste pelvis bone smashed with a hammer and distressed with sandpaper. In another project, I painted a girl licking a sunflower and I used pumice gel to give the sunflower seeds texture. I also have a project where I used molding paste to sculpt horns and a nose onto my painting – and I didn't stop there. I used a blow torch to burn the painting and I affixed it to a secondhand mirror and splashed and smeared paint over it with a palette knife. I call that one The Narcissist Drowns in Their Own Reflection.
My favorite piece is my first commissioned large canvas, an idyllic nature scene with two beautiful goddesses, muses that now adorn the walls of Hear No Evil Studio, to inspire and bless the musicians who go there.
My next piece is an even larger canvas that is sponsored by a local artist and friend of mine who believes in my vision. This will be a response to the spontaneous bathroom mirror goddess painting that still decorated my restroom. The night I painted the mirror piece, it was the first night I tried painting with acrylics back in December. It was also after my ex had moved out and started to feel like I could breathe again – it very much is representational of my rebirth as an artist, entering this new stage in my life. I want to respond to that feeling and moment with a piece that reflects the empowerment and strength I want to have moving forward. Also, I will be using a GoPro to film the entire process of making it!
I'm also a songwriter, working on music that will soon be recorded. Music has been tantamount to my survival. At one point, when my PTSD was really bad after leaving my abusive husband, I couldn't bear the silence. A car door being slammed outside would send adrenaline pumping through my body. The music of Fiona Apple in particular, and belting out her songs helped me process a lot of pain, anger and helped me find my strength moving forward. Expressing myself through music is a big part of me processing my emotional experiences!
My very first passion, however, was writing. Growing up, I told everyone I wanted to be a writer – to write the kind of fantasy stories I loved to read growing up. Well, I still have those stories on the backburner, but I'm currently focused on writing a book based on my childhood experiences. I've lived an eventful life and there is a lot of interesting content to dive into there. My book in particular will take place during my third-grade year, living with my single 25 years old dad who went through psychotic breakdown all while I formed a gang of girls who went around climbing trees, eating lemons from the neighbor's garden and wild sourgrass from the field we ran over barefoot, and warring with the older gang of boys over clubhouse territory. It's about the juxtaposition of childhood innocence and the darkness of the world and growing up too fast.
Is our city a good place to do what you do?
There is a great community of artists and musicians in Orange County and Los Angeles. There are so many people to connect with – the secret is to push yourself to meet people and show the world what you have to offer. Find some local artists that you want to support yourself! Try collaborating on some projects! The city is all about the people, the community.
If you had to start over, what would you have done differently?
My biggest mistake has been allowing people to take advantage of me, hurt me, and hold me back. My latest relationship really proved this to me. It wasn't the kind of relationship I had before – where I was assaulted in some way or another. Instead, it was the kind where my self-esteem fell away, and the significant other I supported and encouraged didn't return the favor, and instead made me feel small and ridiculous for even trying to make art or music. He told me I wasn't a real artist. Near the end of our relationship, when I started to dip my toes into painting, I once excitedly asked him "What if it turns out I'm really good at this?" He told me, "I'm pretty sure if you were, you'd know by now."
As soon as that relationship was over, my art boomed significantly. It was like a renaissance of my own identity, passion, and creativity. You don't realize how much people hold you down and hold you back from your calling until they are gone. Now I understand how important it is to surround yourself with people who encourage you and want you to be your best self (which of course might mean some hard truths, but they come from the right place). Never again will I let someone make me feel small and insignificant, never again will I let someone stifle my creativity and passion.
Contact Info:
Image Credit:
All the photos were taken by me (Angel Marina) except for the photo at Hear No Evil Studio, which was taken by Elliot Koenig.
Suggest a story: VoyageLA is built on recommendations from the community; it's how we uncover hidden gems, so if you or someone you know deserves recognition please let us know here.