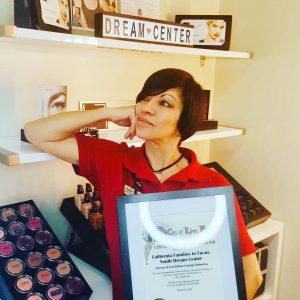 Today we'd like to introduce you to Angel Macias.
So, before we jump into specific questions about the business, why don't you give us some details about you and your story.
I was born in Mexico and my mother brought my two brothers, my sister and I to the United States in 1975. My father had already traveled to California, found a job in a landscaping business, had rented a two bedroom apartment in Culver City and was waiting for us.
Like many other Mexican families, my family was in search of the "American Dream" so they left their hometown of Zacatecas and traveled to "El Norte" (The North). The journey to El Norte proved to be a huge challenge and one that I will never forget. I was only five years old but I remember that I almost died! We attempted to cross the border ten times, ten different ways, with a "coyote" (man who gets paid to get people across the U.S. border) I had a terrible cough and we kept getting caught because of my cough. In order for us not to get caught again, my mother put her scarf around my mouth so that the immigration officers wouldn't hear me but she was so scared that she didn't realize that she covered my nose as well. She almost suffocated me, all I remember is waking up in a jail cell with lots of bunk beds and my little brother yelling out of the cell "tengo hambre" (I'm hungry). After the 10th attempt, we made it and we were heading to Los Angeles, California with big dreams. A few people that were part of our group made it across the border and a few died trying, one boy drowned, a young woman was raped and murdered and others just couldn't go on due to lack of money or hope.
Thanks to my father's boss who had immigrated to the U.S. from Japan with his family long before us, we quickly became acclimated to our new home and picked up a few Japanese words and traditions along the way. I started kindergarten immediately! I remember being made fun of at school because of the way I was dressed and because I didn't speak English. I was always being sent to the nurse with a stomach ache and one day she asked me in Spanish what was going on and I told her the kids made fun of me and called me names because I didn't speak English and she took me to the school library and introduced me to my English teacher…Dr. Seuss! The nurse recommended that I be sent to the library for one hour on a daily basis, she became my bestest friend and Dr. Seuss and I started a long relationship. I wasn't to fond of school but I would eagerly wait for the clock to signal the start of my Dr. Seuss hour. As soon as it was time, I would jump out of my seat, rush to the library, put on my headphones, pop in the cassette that went with the book, press play and follow along, sometimes so loud that the librarian would tap me on the shoulder, put her index finger to her lips and signal for me to quiet down. I was speaking English in no time and sometimes rhyming too. The kids still bullied me and called me names because of the way I dressed and because I wasn't pretty or feminine girl. Somethings were just out of my control and there was nothing I could do but fight, so I did and I got in trouble and suspended all the time.
As I grew up, things really got out of control, the bills started piling up so my mother with her second-grade schooling had to get a few low paying and degrading jobs to help make ends meet often working Monday-Sunday, sun up to sun down. My father became an alcoholic and there was domestic violence in our house, among other issues such as neglect and sexual abuse from male relatives. We were latch key kids and I was pulled out of school for months so I could stay home and babysit my brothers and sister. My father preferred it that way because he would say that I was never going to amount to anything and that I was an idiot just like my mother so school was a waste of time. My brothers and I would look out the window and watch the older guys hanging out, drinking, smoking and having fun with the pretty girls and we would tell each other that when we grew up we wanted to be just like them because they were cool, people respected them and they didn't have to answer to anyone. A few years later we became that group but what we didn't see when we were kids was the "dirt you had to do to be part of the group" (bad stuff) I became a teen mom at the age of 16. Four daughters later, that lifestyle wasn't for me anymore and I moved Long Beach with my then boyfriend to start a new life but domestic violence struck again but this time in my own home. Six years later, I left that abusive relationship that almost killed me. I am one of the few that can say I am a survivor.
With a new lease on life and a new perspective, I started attending Long Beach City College and got my General Education Diploma and picked up credits for my Human Development Degree, I became a certified health educator and started teaching all over Long Beach and Los Angeles. I also became a proud U.S. Citizen. Contemplating where I had came from, the adversities that I had overcome, my mission in life was clear and I felt unstoppable. After working for a few reputable organizations and a few elected officials I started feeling like I wasn't being true to my mission, I decided to start my own nonprofit organization California Families in Focus and with the help of my co-founder Robert Spieth, lots of volunteers and supporters, we were incorporated in April of 2002. Since then, we have provided an array of programs, projects, and services for youth and their families to achieve empowerment and purpose. Because of my background, I have been asked to speak all across the State of California at schools, prisons and community events. I am also an ordained minister and I love performing wedding ceremonies and being part of such a personal and joyous occasion is an honor for me.
We're always bombarded by how great it is to pursue your passion, etc – but we've spoken with enough people to know that it's not always easy. Overall, would you say things have been easy for you?
The road to becoming the CEO of California Families in Focus has not been smooth and there have been lots of struggles along the way, but I believe that the struggles we face during our journey to find our mission in life are good, why? Because they are learning experiences that challenge us to do better and to readjust our sails if we are heading in the wrong direction.
When I decided to create California Families in Focus, finding board members and convincing them to join a nonprofit that was new was a challenge but we were blessed to choose a great team and they all accepted and together we created a vision and goals that we all believed in and 17 years later I am still friends with the original members and they are very supportive of everything we do.
Another ongoing challenge is raising funding to address every issue that we identify in our community, especially with our youth and families because for California Families in Focus, there are many community issues and everything is urgent! But thanks to our consistency and follow through we have built a great reputation of the "Can do" attitude and for genuinely caring for our community, which is very diverse and beautiful, Long Beach is one of the most diverse Cities in Southern California and the projects, programs, and events must be innovative and take all of our communities into consideration in order to be successful in meeting their needs. We have to do constant surveys and forums to ask our community what they need instead of telling them what they need.
We are still working on the funding part because as a nonprofit that is always a challenge, especially when you are 100% volunteer run. For the past year, we have revisited that issues and discussed the benefits of having a consistent staff and we envision having paid staff in the near future, which will entail raising lots of funding to be able to pay salaries and benefits but we feel that we are well positioned to step up to the next level.
The biggest obstacle by far was losing my wife and partner of 17 years Kimberly Maddox, who not only encouraged me when I was just starting the organization but she helped me keep it running for many years and besides money, she poured her heart and soul into making it into a reputable organization. I had finally found my soul mate and we were married in 2008, together we raised my four daughters and adopted my brother's son and daughter because they had become orphaned when my brother was brutally murdered in Sacramento on September 28, 2013, by a group of gang members. Soon after we adopted the kids, my wife decided to retire from the Long Beach Police Department in October of 2014 so that she could help me raise the kids. We bought a house and moved to Sacramento and left everything behind. In December of 2014, my wife was diagnosed with stage IIIC ovarian cancer and I found myself taking care of the adopted kids and my sick wife. After numerous surgeries, chemotherapy and trying everything imaginable to save her life, my wife died on September 12, 2016.
17 years of a wonderful and happy life and in the blink of an eye, she was gone! I was lost without her, dazed and confused, uncertain about my future and angry at the world. It took lots of different types of therapy and grief counseling for me to want to live life again. I now feel like I have an additional mission to live for and a legacy to leave behind when I am gone so I live life to the fullest, I treat people with kindness and respect and I work hard at creating a better world for our future generations and teaching our youth to do the same.
California Families in Focus is an ethical, well respected 501 (c)(3) nonprofit organization and we are very proud and grateful for all of the community support and all of the blessings that constantly come our way.
So let's switch gears a bit and go into the California Families in Focus story. Tell us more about the organization.
California Families in Focus is a Nationally recognized 501 (c)(3) nonprofit organization that has been providing services for youth and their families for over 25 years but officially became incorporated in April of 2002.
Our Mission is to develop and provide positive and innovative events and social service programs for youth and their families to achieve empowerment and purpose.
Some of our current programs, projects, and events are:
The Padrino Project benefiting Trans youth. The Padrino Project provides Trans youth a tailored suit or gown so they can attend prom or graduation. A school counselor, teacher or parent can nominate the youth. To qualify, the youth have to be excelling academically and doing community/volunteer work in their school or neighborhood. This project is ongoing.
The Familia Y Fortaleza parent support group. This group addresses issues specific to Latino/a families and provides resources, workshops, and training on subjects such as parenting, stress relief, financial literacy, domestic violence, drugs and alcohol, gangs, immigration, healthy cooking, discipline and many more. Wednesdays from 6:30pm-8:30pm at St. Lukes Episcopal Church in Long Beach.
The M.A.D. Program (Music, Art, and Dance) this is an alternative therapy program for youth who suffer from anxiety, depression, loneliness, or bullying. Music, Art, and Dance are used as tools to draw out emotions in a positive way, youth show us how they feel on paper, canvas, in a song, through a musical instrument or dance. Different schedules.
The "I MATTER 2" Anti-Bullying and Suicide Awareness Campaign, which involves a youth fashion show where Long Beach high schools compete against each other for an opportunity to attend New York Fashion Week and receive backstage passes. The objective is to create eco-friendly designs using one of five categories which in include, Denim & Diamonds, Leather & Lace, Silk & Steel, Pleather & Pearls or Satin and Silver plus incorporating an Anti-Bullying and Suicide Awareness message into each design. This event will also showcase our youth's talent. July 6, 2019
The Rainbow Family Festival, which is the first ever Festival for LGBTQ+ families to come meet other families, exchange parenting information or just build new friendships and for the children and youth to see that there are other families just like theirs. September 22, 2019, at MOLAA (Museum of Latin American Art) in Long Beach.
The Kimberly Maddox Youth Scholarship, which benefits youth seeking a career in law or law enforcement. This includes a one-year internship with California Families in Focus and a check ranging from $2,000-$5,000. November 13, 2019.
The Spirit of Christmas Awards Banquet, this will be our 17th Annual and will benefit women and children living in domestic violence, drug rehab or homeless shelters during the holidays. The youth receive gifts from over 400 motorcycle riders along with face painting, arts, and crafts, bouncers, carnival games and snacks, photos with Santa and a magic show. The women receive self-esteem and self-care bags that include pajamas, slippers, personal hygiene products, makeup, perfume and self-help books. Besides the self-esteem bag, the women are escorted to their tables and treated like queens for a day and everyone enjoys a delicious brunch. December 21, 2019. This is an invitation-only event
Has luck played a meaningful role in your life and business?
Most people believe that if they are at the right place at the right time, they are lucky and if they are in the wrong place at the wrong time, they are unlucky.
I believe that we all have a destiny, I believe in karma and that every event and circumstance shape us to be the people that we end up being.
I look back at my life and say to myself, you've had a rough life…but how much of that were you responsible for bringing into your life based on your decisions. I have to take personal responsibility for a lot of things that happened in my life because I chose to ignore my gut feeling or my intuition.
Now, if I don't know how to proceed or if I don't know the answer to something, I pray, meditate and ask for guidance and I usually make the right decisions.
Contact Info:
Address: 525 E. 7th St. Long Beach, CA 90813
Website: www.mycff.org
Phone: 562-900-8686
Email: cffocus@gmail.com
Instagram: mycff
Facebook: California Families in Focus
Twitter: CFFocus

Image Credit:
Leslie Renee Smith, Smile Factory, Ignacio Flores
Getting in touch: VoyageLA is built on recommendations from the community; it's how we uncover hidden gems, so if you know someone who deserves recognition please let us know here.