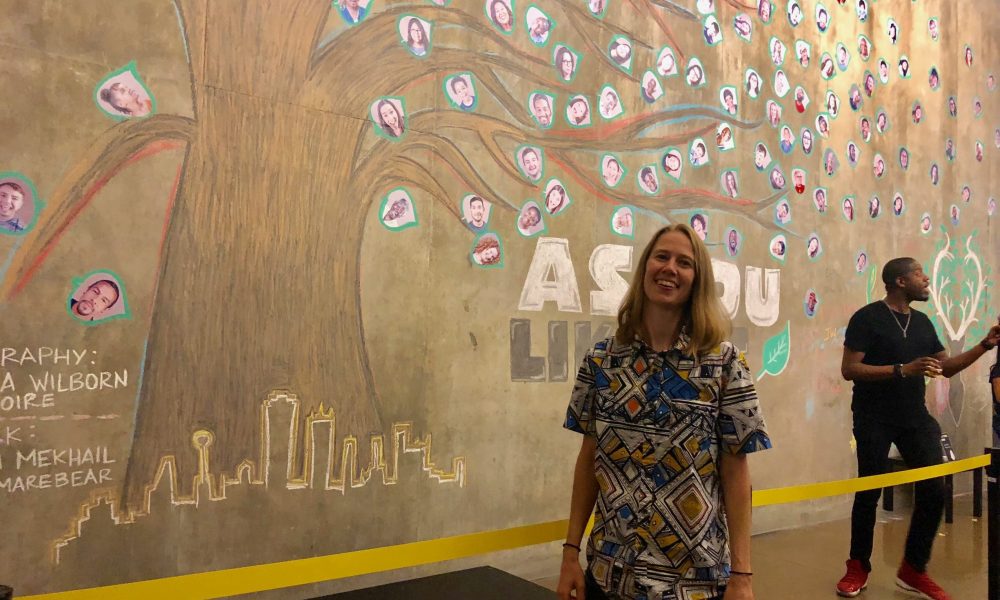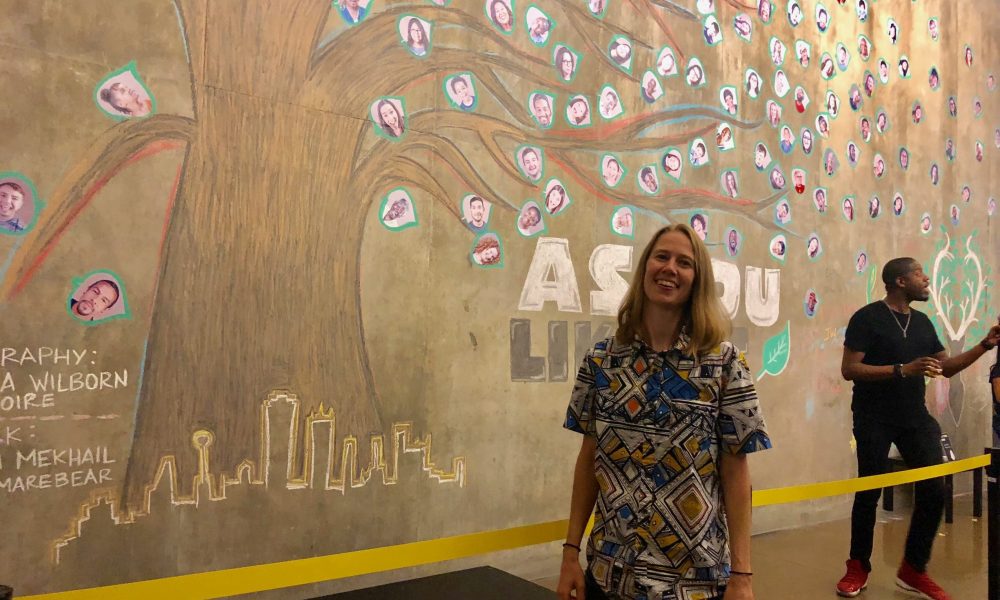 Today we'd like to introduce you to Andrea Allmond.
Andrea, can you briefly walk us through your story – how you started and how you got to where you are today.
I am a freelance theatrical Sound Designer, Composer, and Engineer originally from DFW, Texas. My path to working as a professional sound designer was a bit unconventional. I wasn't involved in my first theatre production until the tail end of my college career. I have always had a deeply emotional connection to music, but for a long time it remained a hobby. My first spark into pursuing sound design as a career was in an art class at Texas Wesleyan University called "Integrated Arts Core", or something to that nature. This class integrated theatre majors, music majors, and mass communication majors (I was first a mass comm major in college). In this class, we were teamed up with people outside of our major to create various multimedia art projects. I was always drawn to creating a song or soundscape for these projects and one day my professor, Jeane Everton, turned to me and said: "You know this is a job, right?" That's all it took. I looked into more theatre classes, declared theatre as my minor, and even had the opportunity to design the musical "Sweeney Todd" for the theatre department at Texas Wesleyan.
From then on, I was hooked. I knew I could not do anything else but work with music in some capacity for the rest of my life. After graduating college, I freelanced at local theatres and corporate events as an audio and lighting tech. I was lucky enough to snag a full-time audio engineer position from the overhire calls I took at the Dallas Theatre Center. This regional theatre was doing many Broadway tryouts at the time so I received wonderful experience and knowledge from my three years in Dallas. There, I had the opportunity to work with Tony Award-winning sound designers Rob Kaplowitz and Brian Ronan; my time there was invaluable to my trajectory as a theatre artist.
Despite the wonderful opportunities, after three years of working as an engineer at DTC, I craved to be on the artistic side of things again and knew I was ready for a change. I was contacted by Vincent Olivieri, a sound design professor at the University of California, Irvine, whom I had met in undergrad at USITT (a conference for the performing arts, professionals and students alike) about applying for their program. Vinnie and the department chair, Mike Hooker, were two of the first professional sound designers to take notice of my artistic sound design potential, not just my abilities as a technician. UCI has one of the strongest design programs in the country and this was evident from their projects, equipment, and the competitive drive of their students. They wanted to push each other to be better, but not tear each other apart in the process. I was seeking an environment like this, best suited for growth amongst other talented individuals where I could really hone my skills. And that was exactly my experience in the three years I spent at UCI studying Sound Design.
After earning my MFA, I almost immediately took a job on the road with "Something Rotten the Musical" First National Tour. My friend and fantastic musical mixer Mackenzie Ellis, Head Audio Engineer, was in need of an assistant for the last leg of the tour. She gave me a shot which I will always appreciate. During the tour, I booked my first regional show as the designer at the Dallas Theatre Center. I had assisted and engineered there many times but this was my first design; it was a full-circle moment. The show was for Public Works Dallas, which is a project that merges community groups and theatre professionals; it is very near and dear to my heart. At the time, the project was in the hands of the ever so talented Dayron Miles who took a chance on me as the designer. After my first professional design, I continued to book more design work. I was given the privilege to co-design "Gloria: A Life" with Tony Award-winning designer, Rob Kaplowitz, who I had been a mic technician for many years before; it was another full-circle moment. I am now a member of IATSE USA 829 and still do audio engineering work from time to time. I have designed fourteen professional shows since graduating and assisted on many others. I have designed shows Off-Broadway and regionally at The Dallas Theatre Center, The American Repertory Theatre, Daryl Roth Theatre, Second Thought Theatre, The McCarter Theatre, and the 11:11 in West Hollywood and assisted at many others. I am excited to see where the work takes me next.
Great, so let's dig a little deeper into the story – has it been an easy path overall and if not, what were the challenges you've had to overcome?
I wish I could say it was a smooth road, but it really was not for me. I always struggled in school since I am Dyslexic and have ADHD. Music and art were the subjects that I could grasp and succeed in without any roadblocks, as opposed to subjects like Math and English with a ton of written material. I struggled greatly in grad school with certain things that were extremely easy for others. I would get frustrated by this, but a good friend and associate of mine, Andrew Tarr said, "Would you rather be able to do what everyone can do, or do the things you can do that no one else can?" That really stuck with me and I still think about that today when I get down about something. Dyslexia has created huge struggles for me with reading and writing, but it has also made my critical listening skills stronger than most. In a way, ADHD has helped teach me how to daydream, which in turn has helped my creative flow. The gender bias that exists in sound design and audio as a whole is vast and it is something I feel I am constantly trying to navigate and overcome, regardless of my experience or suitability for a project. The statistics of female sound designers is just outright sad.
Jessica Paz, the only female sound designer to win a Tony, won just last year for "Hadestown." The design is incredible and well deserved but is so late in the game of sound design. The only other female nominee in history is Cricket Meyers, who was nominated about nine years ago. Other than that, it has been completely male-dominated and not because of skill or talent. There is a stigma that women are not meant to do technical jobs or won't be as strong as their male counterparts. This is the same at the regional level. I was the first female to ever sound design a musical at the Dallas Theatre Center. It is 2020 people!!! Despite this, the gender disparities in professional theatre appear to be shrinking and this makes me hopeful for future generations of women, people of color, and non-binary designers so long as we continue to actively seek change.
We'd love to hear more about your work and what you are currently focused on. What else should we know?
I freelance mostly in theatre, but I also dabble in film, podcasts, and video games. I am also a guest artist and mentor at a couple of universities. I make healing and meditation music under the handle Sherpa Slim and I perform sound baths and drum journeys. I was trained by a Shaman (Tony Kubiak) in grad school and learned a ton about frequency healing which was the subject of my thesis. My knowledge of frequency healing is something that constantly influences my design aesthetic and approach; I lean on this knowledge as much as possible. So, I may throw a tone into an underscore that no one can hear, but they can feel, which in turn changes the way the listener perceives the play.
I am best known for having a good ear for live mixing and designing musicals, I am also known for my soundscapes and electronic music scores. I am most proud of the fact that I usually work on activism-themed material; I am constantly drawn to it. I want to use my art for good, to cause a shift in society for the better and I have been fortunate to work on some amazing projects that boldly push boundaries with no apologies, new works such as: "Gloria: a Life", "Black Super Hero Magic Mama", and "Famous".
Is there a characteristic or quality that you feel is essential to success?
My success as a designer has always been guided by my passion. I do not think I am the smartest technician or the best musician, but I will dig deep into a story and do everything I can to tell it as honestly as possible. I will never give up. I will persist, which is a quality you must have in this business. I love the collaborative aspect of theatrical design which goes back to my athletic experiences early in life. Being on a basketball team, on a design team, or show run crew is more similar than you would think. I have been told "no" many more times than I have been told "yes". I just keep my head up and keep moving.
I also am a human jukebox and remember every lyric to every song I have ever heard which makes me good for pulling and mixing music. I have a really good ear for making intelligible mixes, which is a challenge in a live theatre setting. I am not afraid to make bold choices and broad brush strokes. I am interested in what we could do – not what has already been done, which sets me apart from more classically trained designers.
Pricing:
Sound Design and Composition for Theatre – $2,500 to $10,000 based on venue size.
Audio Engineering – $25 to $60 an hour depending on scale.
Audio Editing – $30 an hour
Mixing and Mastering – $100 per a song
Original Music Creation – $100 per a minute of content
Sound Baths and Drum Journey's – $500 per a group session
Reiki and Sound Healing – $60 an hour
Contact Info:
Suggest a story: VoyageLA is built on recommendations from the community; it's how we uncover hidden gems, so if you or someone you know deserves recognition please let us know here.