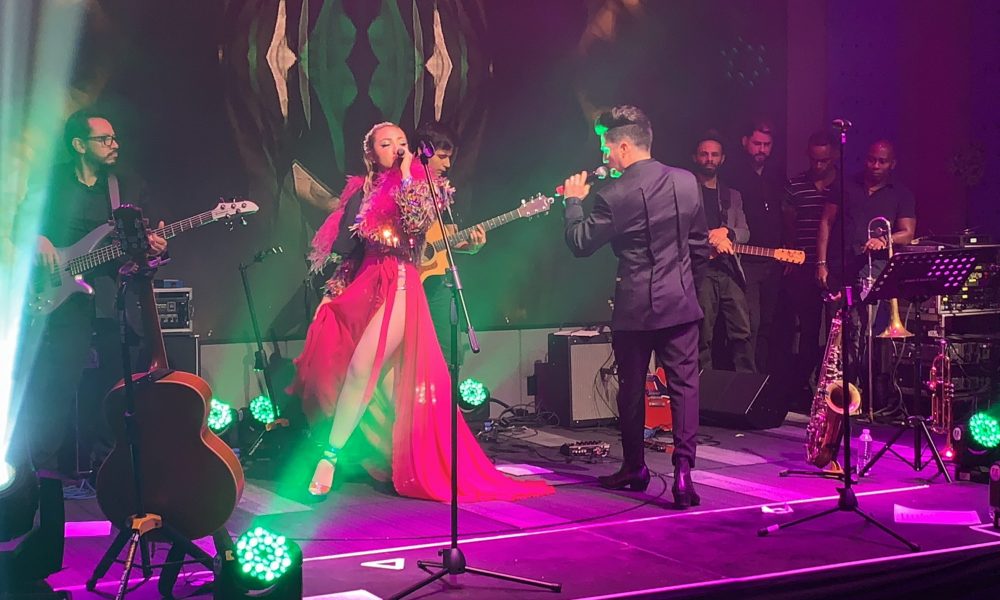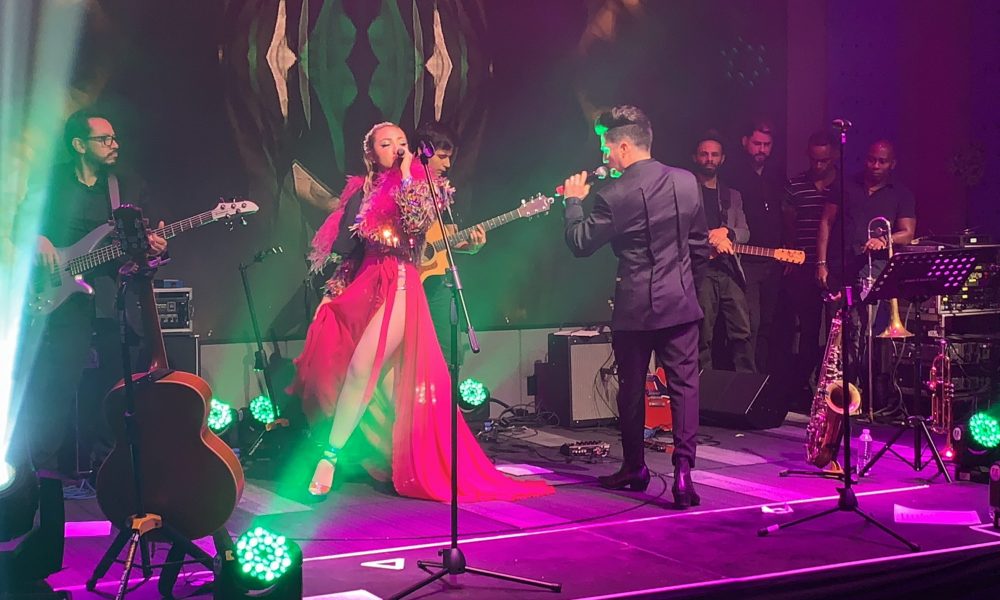 Today we'd like to introduce you to Andie Sandoval.
Andie, can you briefly walk us through your story – how you started and how you got to where you are today.
It all started when I was six years young in my hometown, Culiacan, Sinaloa in Mexico. I found my passion really young, I was inspired by big voices like Whitney Houston's and Aretha Franklin's. I'm the youngest of three siblings and it was my brother who organically started inviting me to sing his original songs at family events. I always joke about the fact that I feel that's the way I communicate, through music or at least it was my way of making other people be quiet and listen. So I started up performing from junior high events to National Original song competitions. I was 15 years old when I was basically pushed by the Universe to get over my fear of judgement by submitting two of my first ever written originaI songs to a competition held by ITESM. Little did I know I would win first place in regionals and continuing to do so all the way through Nationals. Both of my older siblings were the songwriters in the family to me, hence why it was until that event, taking place in 2007 that I started writing my own songs.
In 2009 I moved to Monterrey, NL to study a career in Fashion Design and Textiles in UDEM College. Fashion has always been my second passion and I'm a very crafty person, so life as a student was easy for me. I continued writing songs, playing gigs around the city and even joined what would be best described as the Glee club in College. That was the time in which I was the happiest, on stage. So due to circumstances out of my control, things started to get violent between the Cartels from Sinaloa and Nuevo Leon. Friends were getting kidnapped by them and life just wasn't as pleasant in that city to outsiders like me anymore. I moved back to my hometown with despite being close to graduating with only two years left. I spent a whole year writing and recording my songs (by myself on garage band) until I decided I had to pursue music and find out why my soul kept yearning for it. So I moved to Hollywood in September of 2012 and got an Associate of Arts degree in Vocal Performance with an emphasis on Independent Artistry at Musicians Institute. Ever since I worked on my craft and started collaborating.
I have been blessed enough to have some of my work featured on TV and Film and polishing my craft by helping other artists by songwriting or collaborating with them for their projects. I've always believed music has no barriers, I personally don't believe in labels or identifying yourself as a certain something or someone that comes from wherever as it only limits us to get as far as we've been taught to believe we can. So I'm proud of being recognized for breaking the barriers and stereotypes of Latin talent positioning myself as an international singer and songwriter.
As a songwriter my work has climbed the charts in China, holding my collaboration on "Adore" by the rapper and singer Z.Tao as the #1 song for 8 consecutive weeks in Billboard China having my vocals also featured on the record. I've also worked with producer Andres Torres (Despacito, Echame la Culpa) co-writing the single "Invencible" for the Colombian artist Arevalo. Extending my name to Europe co-writing "Dame Dame" for the greek artist Claydee ft. Lexy Panterra, "Ritmo Psicodélico" for the greek singer and dancer Eleni Foureira. Proving international versatility having placements such as "Los Santos del Amor" "El Gigante de Hielo" and "Pa' Morir Nacemos" for the Mexican duo MITRE, "Peces en el Agua" for the Mexican influencer Carlos Zaur and my most recent collaboration in "La Despedida" single for the Chilean artist CAMI.
I love languages, it's part of the generous education legacy my parents granted me and my siblings. I speak Spanish, English and French, and I love playing around with them implementing them as textures in my music. I've worked on several projects in order to expand my knowledge and explore my versatility as an artist and songwriter. I put my solo project on hold for a few years while I was trying to find my place, I was the lead singer of a prog/rock band in 2015, I became part of a duo which got me to amazing opportunities such as opening for Hall & Oates at the Blue Sun Festival which totally prepared me for the following chapter. Because basically of the blue was that I got offered to become part of another duo, this time exploring my Mexican roots as part of MITRE. I was signed to Universal Music Group 2017-2019, this project taught me a lot about my own country, I guess I needed to learn about where I come from to embark on a new chapter.
I'm proud of "El Callejon del Beso" (the alley of the kiss) as my debut body of work as a duo, in which I learned to compromise and create through collaboration. Funny enough, everything I've been through in my journey has led me back to basics. 2019 has been a crazy year for me, a lot of spiritual development and growth also, professionally a huge shift. I learned that the most important aspect to my music has always been about vulnerability and that's what "The Andie Diaries" is all about. I decided to be the vessel that shows the 3-dimensional complexity of being an artist. I grew up thinking that being an artist was all perfect, only to realize that being one turns out to be an enhanced and sometimes even over-dramatized version of a human. I feel truly blessed to have the opportunity and responsibility to grasp emotions and encapsulate them into 3-4 min long stories narrated through sounds. I believe it's my job to share my gift of music with those who yearn for deep connection. We all feel the same emotions, only that some of us have to feel them deeper in order to canalize them as art.
Has it been a smooth road?
Not at all. It's been a process of self-discovery and acquiring maturity to understand that the ultimate goal is to become the best version of yourself. Any journey is difficult, it's part of the beauty of it, but I've faced struggles of having to constantly prove myself, like to get an Artist Visa (in the era of Trump and his beliefs about Mexicans). Facing rejection causes timing is everything. But the most important I guess has been learning to become my own Hero. Understanding that people will always have their own opinions, but if you listen to what others say you should be, you lose yourself, your authenticity, and the alignment with the magic that pushed you through everything in the first place.
Can you give our readers some background on your music?
I've been blessed with the gift of versatility because I was exposed to a wide variety of music. Because I was born in Sinaloa, I would listen to traditional music + big talents such as Juan Gabriel, Rocio Durcal, Amanda Miguel, Alejandra Guzman but also Whitney Houston, Aretha Franklin, Guns n' Roses, The Beatles, Coldplay, John Mayer, Keane, Sigur Ros, Kimbra, Sara Bareilles etc… Moving to LA really nourished me. I think that at the end of the day, I'm a fan of songs more than being married to a genre. To me, that's the real artist.. the song.. that's the only thing that transcends.
How do you think the industry will change over the next decade?
I'm not a big fan of limiting my possibilities according to my narrow perspective in my present, I rather have a broad spectrum of an idea of what I want to explore. I honestly think that we are living in a fast-paced world, everything is changing very fast, so I try to allow the flow to guide me and act accordingly. I think the ultimate trend will be to learn to adapt to change as that's the only constant in life. I see technology changing the way we create and consume music, so I believe taking control over our own craft and collaborating is the future. We need each other, but we also need to be able to thrive independently.
Contact Info:

Image Credit:
Antonio Estrada
Jesus Estrada
Suggest a story: VoyageLA is built on recommendations from the community; it's how we uncover hidden gems, so if you or someone you know deserves recognition please let us know here.