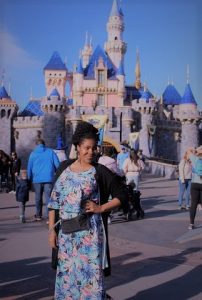 Today we'd like to introduce you to Anastascia Duchesse.
Anastascia, can you briefly walk us through your story – how you started and how you got to where you are today.
I'm a Texas-born, San Diegan vibe to be reckoned with who moved to the OC/LA area for college over a decade ago. I studied media, French and psychology as all three subjects interested me. I have stayed in the area since graduation with the initial premise of working in media production because I've always enjoyed the creative and storytelling process.
Growing up, I was often told I was a strong writer in school, but never planned nor dreamed I would write a book someday nor start a publishing company. As a young adult, I initially started writing for fun while I was living in France during a 2-year teaching residency I undertook shortly after college at the height of the last recession. I was assigned work in a tiny countryside town that had no bus service and a population of 3,000, and through the initial discomfort and excess downtime, I found myself on an unintended journey of spiritual and personal development through writing poems into journals and releasing past traumas onto notebook paper.
A few months after moving to France, I created the outline that became the concept for my debut novel, Dabresha Goes to France, in one afternoon. I made about 30 bullet points and as time went on, each of those bullet points became a chapter I penned. I wrote old-school in a notebook that I carried around with me everywhere I went. I eventually realized I should save all the pages of handwritten material I was carrying around, so I began transcribing the notebook pages onto my laptop in the evenings. Surprisingly, most of the character names and situations from that original 3-page outline ended up sticking through to the final draft of the book. Unsurprisingly, the protagonist of the novel (Dabresha) develops a special connection to the country of France while undertaking her own pivotal journey as a first-time traveler through Europe.
I returned to the States with roughly 70% of the novel completed, and after drifting away from the writing process for about a year and a half while adjusting back to 'regular life,' I quit my full-time job to concentrate on finishing the 30%. I spent almost a year 'living artistically' without a steady paycheck but thankfully made it through without missing a car or rent payment. Getting back on track has been a repeated lesson over the years, when health, family, and relationship situations deterred me.
I released the book independently on Amazon and on consignment in local bookstores and mainly run the business out of my apartment and at pop-up booths. The writing process itself is usually done near a beach somewhere in So-Cal, and the majority of 'Dabresha' was written on the Mediterranean coast in the South of France. There's just something about being near the water that calms me and helps me write! I always carry a notebook with me so I'm prepared to write anywhere inspiration hits, and I take pictures of the places I write so I can revisit them visually. I'm currently developing a sequel entitled Delilah Takes the Yucatan that details how Dabresha's little sister, after being inspired by her, takes her own international adventure.
Has it been a smooth road?
I wish I could say the road been fully wonderful, but once I transitioned from the mindset of "writing for fun" to "planning to publish", a lot of fun flew out the window lol. I was brand new to the trifecta of book writing, publishing, and starting a small business, so I took a weekend class at PCC to learn more about the legalities of publishing, in addition to joining local writing groups to garner business advice and recommendations. Finding an editor was probably the hardest and most critical step of my journey; I basically sent the same sample chapter to almost a dozen editors and asked them for feedback without giving much context of what happened in the story beforehand. The editor I selected had the best sense of the story's direction while giving the most constructive notes, and most importantly, had a lot of patience! I decided to publish independently to avoid waiting or begging for a publisher to acquire my book rights, so I created an 8-month timeline and target date from my first finished manuscript draft to have it edited, printed, and published as a first edition.
Nerves and doubts haunted me strongest just before my release date. A small part of me would think, "are you really going to do this? it's not too late to quit!" But I'd always push the apprehension aside and remind myself why I started: to uplift others, especially youth like those I've often worked with in some capacity as my dayjob. I knew my story was unique, transformative, and hadn't been told before, and that it needed to be heard in this era where young minorities often struggle to form a positive self-image, like me when I was younger. I would have loved to read a story like mine as a teen and know I could not have survived the things I've been through without the help and encouragement of teachers and mentors. I hope the stories I publish can provide encouragement to those who need it, and focusing on the mission helps ease the apprehension about putting myself out there.
The successes and challenges have been substantial, but I learned quickly that my business income was directly correlated to the amount of energy I put out. I used to be reluctant to tell people I wrote a book unless I was at an author event. Now I scream it out loud and keep my business cards ready!
After the first novel's release, I started finding pleasure in the 'non-writing' aspects of the business; the book festivals, speaking engagements, and community events that had waves of positive energy. I've presented to audiences at elementary schools, orphanages, retirement homes, and every age and background in between. One of my biggest joy comes from receiving emails from people I met at past events, and they share that my book or any advice I may have given them during a meet-n-greet helped make their dream travels come true. I feel my purpose is aligned in helping people overcome their fears and opening their minds to new experiences and interactions through travel; my journeys positively and permanently changed my life, but they never would have happened if I let fear stop me.
We'd love to hear more about your business.
Chateau Foveo (CF) publishing was started with just one book and one idea to publish works that give real stories a chance to shine and motivate youth or really anyone in need of an encouraging word. In Latin, the word 'foveo' means encouragement, and part of my mission was to focus on relatable youth protagonists. I want the company to be known for showcasing organic people, real struggles, and hopefully real victories while keeping charity in mind. I intend to use my book sales as seed money for creating a nonprofit travel agency that helps low-income youth and families see the world by assisting with passport fees, luggage purchases, and cultural education. Until then, I donate a percentage of sales to fundraisers that support youth travel opportunities.
I am most proud of the fact that Dabresha Goes to France is being marketed to production companies as a screenplay or TV series adaptation. My 'optioning agent' happened to purchase my novel at Vroman's bookstore the week I did a book signing there and contacted me after reading the book. I have been under optioning contracts for three years and couldn't be more thrilled about the possibility of 'Dabresha' coming to life on a big screen to audiences on a larger scale!
Is our city a good place to do what you do?
Pasadena is a great artist haven! Pre-pandemic, there were so many cultural and literary festivals happening that there was never a dull weekend. It's a great city to grow an artistic career from and hopefully, we'll start to see more events post-pandemic.
Pricing:
Dabresha Goes to France: $12 on Amazon (including shipping)
Speaking Engagement: $300
Proofreading services: $80/hour
Contact Info:
Suggest a story: VoyageLA is built on recommendations from the community; it's how we uncover hidden gems, so if you or someone you know deserves recognition please let us know here.